Monthly Archives:
April 2011
I'm pretty sure the statue of limitations has expired, I was a juvenile then, and I'm not in Virginia any more, so I hope it's safe to admit that back in 11th Grade Honors Chemistry, I knew about the class still and the making of Ol' Innertube. Actually, pretty much everyone in the class was in on the secret (and I wouldn't be at all surprised to find that the teacher knew, too). I didn't drink the stuff, of course, but it was a fun, if illegal, project.
Tonight, Diane and I blended our own wines at Cinnabar Winery. It was fun, and completely legal – and this time, I absolutely plan to drink the product!
We had three reds to use in our blending:
2008 Sonoma Syrah, aged 29 months in Hungarian Oak, 30% new
2007 Solana Vineyards Paso Robles-San Miguel Petite Sirah, aged 40 months in French Oak, 30% new.
2008 50/50 blend of Paso Robles-Templeton Gap Grenache-Mourvedre, aged 29 months in American Oak, 20% new.
I tried each wine separately and decided I preferred the Petite Sirah to the other two; then I tried a few combinations before settling on 80% Petite Sirah, 12% Syrah, and 8% Grenache-Mourvedre as the recipe for Traffic Calmer.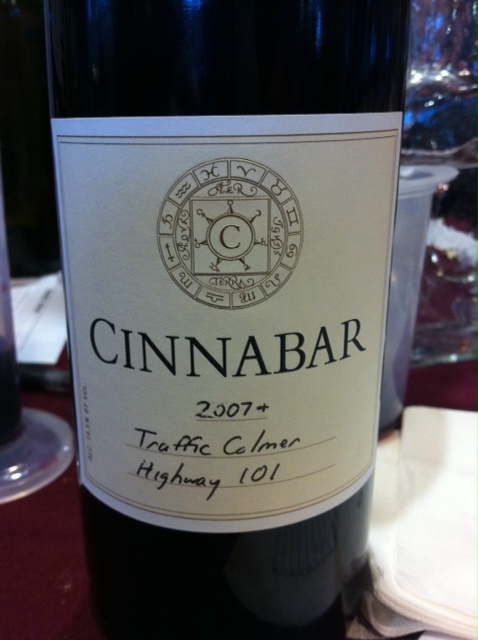 Diane went for more balance, ending up with 55.5% Petite Sirah, 40% Syrah, and 4.5% Grenache-Mourvedre in her After Work Red.
We have to wait a few months for the wines to marry and mature…maybe for Thanksgiving!
Somehow, we missed The West Wing when it was first broadcast, but now we have it on DVD (actually, it's Jeff's), and we're slowly working our way through the best Democratic Administration never to really inhabit the White House; tonight, we watched The War at Home from the second season.
We almost watched the next episode, too, but I wanted something lighter, so we turned to our brand new TiVo Premiere for Ovation's Orange Blossom Special special.
It was entertaining and full of music, but it didn't have any full performances of the song, so I let my fingers do the walking on YouTube in hopes of making my ears happy. We found (and played) a few conventional versions, and then stumbled across The Ukelele Orchestra of Great Britain's version, which was distinctive, to say the least.
That wasn't quite enough ukelele for the night, so we kept looking and finished the evening with the Ukelele Orchestra's memorable performance of Shaft.
Can you dig it?
Posted in
Life
Comments Off

on From War to Shaft