I'm pretty sure the statue of limitations has expired, I was a juvenile then, and I'm not in Virginia any more, so I hope it's safe to admit that back in 11th Grade Honors Chemistry, I knew about the class still and the making of Ol' Innertube. Actually, pretty much everyone in the class was in on the secret (and I wouldn't be at all surprised to find that the teacher knew, too). I didn't drink the stuff, of course, but it was a fun, if illegal, project.
Tonight, Diane and I blended our own wines at Cinnabar Winery. It was fun, and completely legal – and this time, I absolutely plan to drink the product!
We had three reds to use in our blending:
2008 Sonoma Syrah, aged 29 months in Hungarian Oak, 30% new
2007 Solana Vineyards Paso Robles-San Miguel Petite Sirah, aged 40 months in French Oak, 30% new.
2008 50/50 blend of Paso Robles-Templeton Gap Grenache-Mourvedre, aged 29 months in American Oak, 20% new.
I tried each wine separately and decided I preferred the Petite Sirah to the other two; then I tried a few combinations before settling on 80% Petite Sirah, 12% Syrah, and 8% Grenache-Mourvedre as the recipe for Traffic Calmer.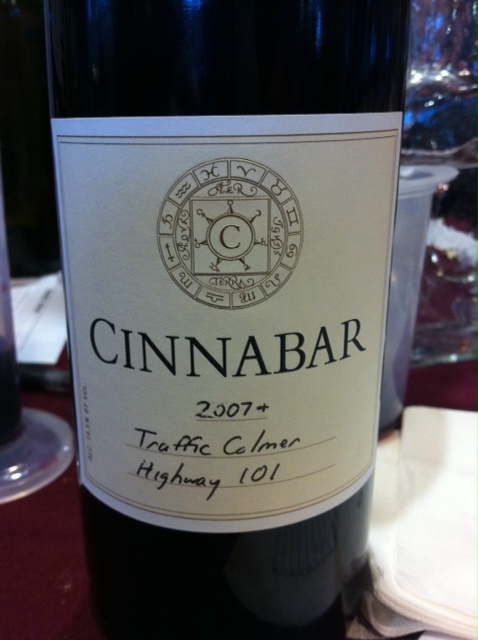 Diane went for more balance, ending up with 55.5% Petite Sirah, 40% Syrah, and 4.5% Grenache-Mourvedre in her After Work Red.
We have to wait a few months for the wines to marry and mature…maybe for Thanksgiving!