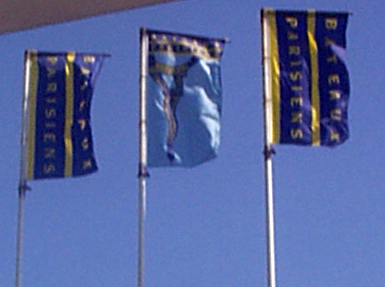 Voilà, as Dave Barry Would Say
Sunday dawned bright and clear (as did almost all the days I was in Paris). I took a morning run in Parc Montsouris, then breakfasted on my way back to the hotel, stopping at a boulangerie and a fruit merchant (I was quite pleased with the quality of fruit available on the streets of Paris, and of course, the bread is well-known to be wonderful). I then started a long, hard day of tourism by walking to the Gare Montparnasse, having lunch, and then continuing onward to the Hôtel des Invalides, where Napoleon is buried in the Église du Dôme. The Hôtel itself was originally established to house injured veterans of the French Army, and it is still being used for that purpose today; large parts of the grounds are off limits to tourists.
My next stop was the Eiffel Tower. The tower is set in a popular park, and the grounds were crowded -- but most of the visitors were in lines waiting to ascend, either by foot or by elevator. I decided not to ascend, but rather to descend to the docks beneath the tower and tour the Seine with Bateaux Parisiens. The tour was interesting, but I got onto the boat just before it left, and I wasn't able to get a very good spot for photography (this was the view forward).
I had thought today was going to be a day off, but I got a reminder of the importance of the software industry: I guess everyone in Paris must be worried about the Y2K problem!
After leaving the boat, I wandered along the Seine to Pont du Carrousel, leading back into the grounds of the Louvre. I crossed the river and continued exploring, eventually winding up at the Pompidou Centre. I then found a small restaurant for dinner, then walked to Ile de la Cite and Notre Dame, with its famous gargoyles. Finally, I walked back to my hotel; by the time I was there, I'd been on my feet for eight hours, and, as Dave Barry said, "Voilà!" (which, of course, is French for "my feet hurt!").
---
Tomorrow: Some thoughts about rugby (but not yet....)