I had an uneventful flight (I slept more than usual for a trans-Atlantic flight, which was nice…but probably only four hours, which is not really enough). But I got to Amsterdam too early; the hotel wasn't ready for me. So I left my luggage and walked to Centraal Station to buy a train pass for my entire stay; then I took the tram down to the RAI convention center to register for WWW9, and that's where I am as I type this.
But en route, I stopped for lunch, having an old Dutch favorite…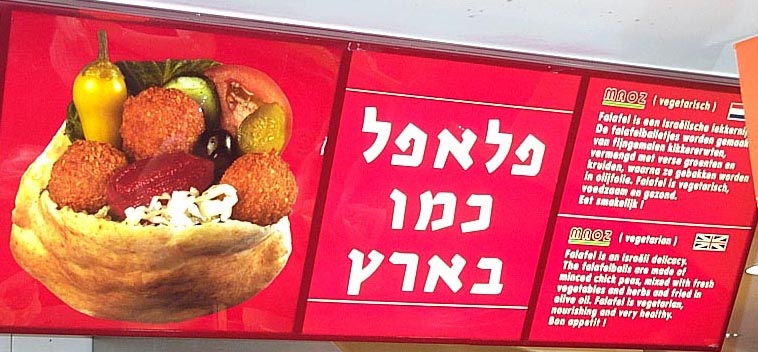 I also noticed that some of the least savory aspects of the global culture have reached Holland.
It's a beautiful day in Amsterdam, making for very pleasant walking. And my path took me past the street of flower markets, which was very pretty.
I only wish I were wearing short sleeves — it's probably 80 or so, so long sleeves are less than optimal (on the other hand, they're keeping me from getting sunburned). I have a few pictures, but they'll have to wait till I get back to my computer — this one doesn't seem to have a PCMCIA slot. (Thanks to Rohit Kahre for loaning me his computer; it's different enough that I'm going to stop editing now after getting one picture up. Macs may be easy, but I'm too imprinted on Windows….)
But now it's 3:15pm here and my hotel room should be ready, so I'm going to blow off the tutorials here and head back to the room. More later, perhaps.
Later the same day…
I eventually got into my hotel room, where I discovered that the phone charges are rather high by my standards (roughly 40 cents/minute (US), topping out at $10/hour/call, or $1.75 to access AT&T, plus AT&T charges), so I don't think I'll be connecting up from the hotel very much!
I went to dinner with Rohit; we ate at Little Tel Aviv, which, of course, was a pizzeria. I declined the ham pizza in favor of mushroom, which was very good.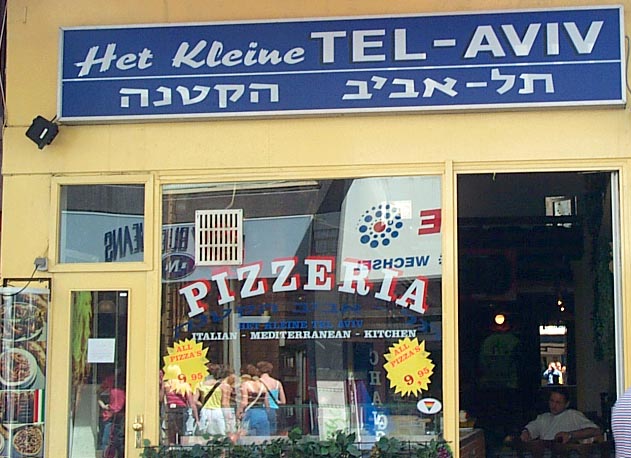 After that, I joined a private canal tour set up by Sally Khudairi of ZOTgroup.
I'll post more pictures when I get a chance to edit them.
Amsterdam pages: [15 May] | [17 May] | [18 May] | [19 May] | [20 May] | [21 May] | [22 May] | [23 May] | [25 May]