The answer, at least today, was 2.5 times.
Maybe I should start closer to the beginning.
My team at work had its annual kickoff meeting yesterday in Southbury, CT, near Hartford. I needed to be there (actually, I even wanted to be there!), so I booked flights on United between San Jose and Hartford, out on Wednesday, back today, changing in Chicago both ways. Easy.
Wednesday morning comes, and just before the taxi gets here, I check United's web site to see if I'm likely to have any problems making my fairly short connection in Chicago. The outbound flight from San Jose is going to leave 20 minutes late, but they expect to make up some time in the air (or, to be more honest, to use some of the buffer they build into the schedule) and land only 5 minutes late, so I shouldn't have much trouble if the gates are fairly close. Check the second flight and…it's cancelled. What???
The taxi arrives right then, and I hop in and immediately call the travel agency, who confirms that the flight from Chicago to Hartford has been cancelled due to bad weather in Chicago, and that United hasn't reticketed me yet. I ask them to see what alternatives I have, and they suggest several; the best one has me taking a bus from San Jose to San Francisco, waiting there for a couple of hours, and then taking a non-stop to Hartford, getting in about two hours later than my original schedule — the agent wasn't too happy about this because of the long "layover" in San Francisco. All of the other choices would get me to Hartford much later (and I'd have to be sitting for a long time in San Jose Airport, Terminal C, but I guess that wouldn't count as a "layover"), so I tell them to take it…but they suggest I have United do it so there'll be no change fee. *sigh* By this time, we're almost at the airport, so I'm willing to wait the extra five minutes and see what happens.
Sure enough, United is delighted to put me on the bus and the non-stop, at no charge, and I'm even able to upgrade on the flight (not the bus, though). And having the long "layover" at SFO gives me time to have lunch in the new International Terminal (I tried Burger Joint and enjoyed it), connect up and do some e-mail, and still stroll calmly to my gate. The flight goes well, and I finally get to my hotel room at 11:20pm, not too fried, and drop off to sleep.
Thursday dawned earlier than I'd like, but not insanely early, and the meeting was informative and mostly enjoyable. I presented my Sash weblication, which helps me manage trips on my Lotus Notes calendar more easily, and people like it — we had a contest, and I took third place (the winner's app was visually stunning; mine, to put it kindly, wasn't) and qualified for a small award. But just before I'm ready to present, my phone starts chirping at me, telling me I've got voicemail — since almost no one has my cell number, it's almost certainly either a wrong number or something important happening at home. I check as soon as I'm off the stage, and find that United had called my house to ask me if I'd be willing to change flights on Friday, and Diane was relaying the message.
When I called United, things there were confused — it turns out it was the Hartford airport office calling me. The flight I'm on is oversold, as are the other flights to Chicago, and they're offering me a gratis upgrade to first class on the nonstop to San Francisco — there's a catch, though: the flight leaves at 7am, which would require getting up awfully early. I'd already planned to switch hotels and stay near the airport Thursday night, so I decide to take them up on the offer — I really want to be sure of getting home on Friday, and I just don't trust connections in Chicago during the winter. Or the summer.
So Friday morning dawned insanely early, but I pried myself out of bed and was in the lobby in time to get the 5:30am shuttle. Which is overfull. As is the airport — long check-in lines, long security lines, full flights…I hadn't realized how many people would be leaving for vacation today. But no worries for me…I've got plenty of time and an upgrade and a non-stop flight home (or close enough, anyway).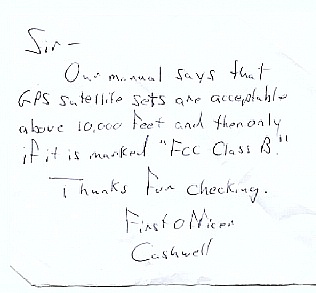 After a brief refuling stop, we continue on to San Francisco, making the usual approach over the Bay, approaching the airport, down to a few hundred feet…and suddenly the engines speed up and we start gaining altitude instead of landing. A few minutes later, the pilot comes on the PA and tells us that just as we were about to land, the tailwind increased above the legal limit to land on that runway, and so we had to abort the landing and we'll be coming in on a different runway as soon as ATC lets us. So we circle north and try again; this time, we land without problems and, after another short delay, we pull up to the gate and I get off the plane.
From there, it's easy — back to the International Terminal for lunch (Lori's Diner for fish and chips this time; I wish I'd gone back to Burger Joint), then pick up my car and go home. Hertz has just opened a location a bit over a mile from my house, so I drop the car then and walk back home — I'm glad I won't be getting on another plane for over a week!