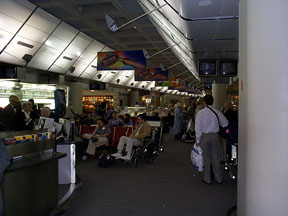 I Could Have Been a Terrorist!
---
I took Eurostar, the Channel Train, between London and Paris. All the literature for Eurostar makes a big point of its security, but when I arrived at the terminal at Waterloo Station, I was waved around the metal detectors and X-ray machines. I guess, even though I was carrying a backpack, I must not have looked like a terrorist.
Once through "security", I found myself in a concourse which looked just like an airport concourse, only smaller and more crowded. Once boarding time arrived, I found the escalator, showed my ticket to a human being for the only time in the whole process, and headed for the train. I was surprised how small the space allotted to me was, especially considering that I had to carry on all my luggage. Fortunately, the car wasn't packed, and I was able to move over and get a seat to myself. The actual trip was uneventful, except that I had to chase down the passport control officer to get my passport stamped -- he hadn't bothered when he zipped by, but I wanted a stamp if possible. The food and wine were better than I usually get on an airplane, but otherwise, it was awfully similar. The top speed of the train is 300 kph (186 mph), and we reached that a few minutes into France; it still took a long time to get to Paris. I was surprised (again) not to have any kind of formalities on arrival -- no Customs barrier, so I guess I could have been a smuggler, not just a terrorist!
I got into the taxi queue (skipping the "first class" taxis in favor of the run of the mill version). My driver spoke English quite well, but swore in French (using one of the few words I can recognize when I hear it) when the traffic got bad or when the car ahead of him wasn't as fast as he wanted, which was pretty frequent.
Once I got checked into the hotel (a more compilicated job than I would have expected), I set off to explore as much of Paris as I could in a late afternoon. My hotel is not far from Place Denfert-Rochereau, with its famous statue of a lion.
The district around the hotel seems to be typical of Paris, with buildings of four or five stories, mostly residential but with many stores and restaurants on the ground floor -- there seems to be a brassiere every 20 meters, for example. And there are Metro stops everywhere -- the Metro signs are works of art, but sometimes harder to notice than, say, a New York City subway sign. The Metro itself is not all that unusual -- it's a fairly clean, busy, big-city transit system; the signs are a little harder to read than I'm used to, but otherwise, it felt familiar.
Some of the cafes and brassieres are famous, such as Les Deux Magots; they tend to be crowded, mostly with tourists! But even the "normal" restaurants are lively, spilling out onto the sidewalk.
I hiked from my hotel to the Seine; I was staying in the 14th arrondisment, on the left bank, but quite a distance from the river (probably two miles in a straight line, but it's not possible to walk very far in Paris in a straight line, since the streets aren't laid out on a grid).
I crossed the river and found myself in the middle of the Louvre. Since the museum was going to close soon, I didn't actually go in; instead, I went through the Arc de Triomphe du Carrousel and on into the Jardin des Tuilleries. I walked thrugh the garden, eventually getting to the Place de la Concorde, where I got my first good view of the Eiffel Tower.
Then I wandered to dinner, and thence back to the hotel.
Tomorrow: Voila, as Dave Barry Would Say