For the last couple of years, Jeffrey's school has started taking the week of Presidents' Day off, along with many other schools in the area. It's unofficially known as "Ski Week", but we're not very big on skiing (certainly not downhill!), so we do something else. Two years ago, we put Jeffrey into the daylong childcare program at the Y, but they don't operate on Presidents' Day itself, and it seemed a shame to use up a vacation day near home.
Last year, we got rained on at Disneyland; Jeffrey would have been happy to go back, but I didn't want to get near the place so soon after the new California Adventure park opened.
This year, we considered many choices, none of which really appealed, and then I suggested, half-jokingly, Las Vegas (I'd been there once, during Comdex, and thought it was an interesting place). Much to my surprise, Diane and Jeffrey thought it was a good idea, so that's where we spent last week.
Sunday
We left Sunday morning, bright and early by our standards (10am); we had hotel reservations in Las Vegas beginning Monday, so we were in no great hurry. The drive was uneventful, and traffic was light; we had lunch at Harris Ranch near Coalinga. I recommend the Tri-Tip — beef is their speciality, and they do a nice job of it. Jeffrey and Diane had chicken and were not particularly impressed. We reached Bakersfield at about 3:30 and decided it was too early to call it a day; the next obvious stopping point was Barstow, about 130 miles away, so we used the AAA book to pick out a hotel there, the Best Western Desert Villa Inn, gave them a call, and made reservations. We arrived about 6:10, and, after some confusion, got checked into our room. Our noisy room.
I didn't do enough research before choosing the hotel; this was one of the two three-diamond hotels in Barstow, and the price seemed reasonable, so I went for it.
I should have checked their location more carefully. The AAA book said they were a half-mile from an exit from I-15, which was true and useful for navigation — what the book didn't say was that the hotel was conveniently located between an uphill grade on I-40 and some very active freight tracks, so that there was a veritable symphony of engine noises just outside the window. Fortunately, the room also boasted a noisy heating system, and that provided a steady roar which masked the sounds from outside. But I was glad we only were planning to spend one night there.
We found a nice Chinese restaurant nearby, the China Gourmet, and had a pleasant dinner. Then back to the room, and to bed. And, eventually, to sleep.
Monday
The next morning, we had the continental breakfast (also not outstanding) and took off at about 9:30. Again, the drive was uneventful; traffic was heavy coming the other way, as people were leaving Las Vegas to go home for work on Tuesday. We stopped at the Nevada Welcome Center in Jean at about 11 and picked up some brochures and coupons for two free buffets at the nearby Gold Strike Casino; we were ready to eat, so the buffet seemed like a good idea. Of course, since there were three of us, we had to pay for one meal, but that still seemed cheap. It was, but Jeffrey couldn't find anything to eat, and we wound up feeding him at Burger King (he got the best meal, too!).
Then we continued onward, visiting the Ethel M Chocolate Factory and Cactus Garden. I have no pictures of the Chocolate Factory (the tour is brief; the candy is yummy!), but the Cactus Garden is another story.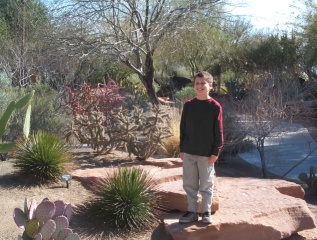 Here's Jeffrey in the garden.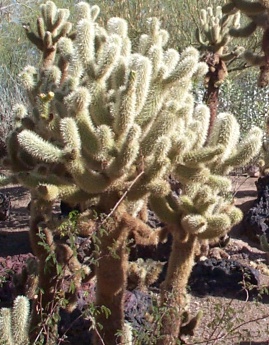 This stuff (Teddy Bear Cholla) looks tame compared to Jumping Cholla — I didn't want to get close enough to the latter to get a picture!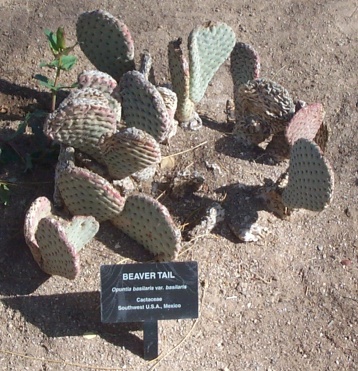 We see cacti that look similar to this (Beaver Tail) near us. I don't know if it's the same variety or not; I do know that Prickly Pear thrives as near as our next-door neighbor's house.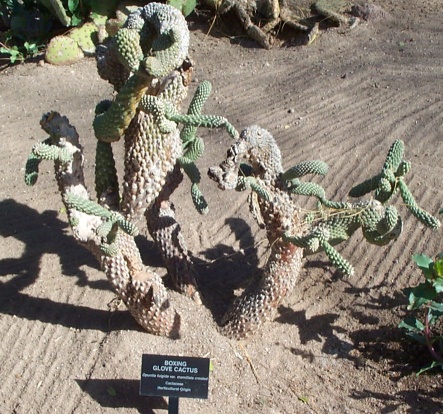 And last, this is a picture of Boxing Glove cacti.
By this time, it was nearly 3, so we went to our hotel, the St. Tropez All Suite Hotel, to check in and unpack. We'd picked this hotel because it wasn't too far from the Strip, had mini-suites with a foldout couch in the living room for Jeffrey, and didn't have a casino. Of course, staying in a non-casino hotel costs more! The room was nice enough, though the air conditioner in the bedroom didn't seem to work right, and they could have used significantly more sound insulation between suites (we had neighbors on Jeffrey's side one night; they watched TV until well after 11, and it was loud enough that he couldn't sleep in his room). But it was far better than the hotel in Barstow.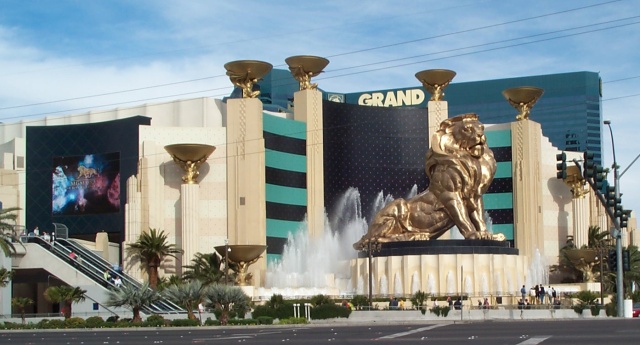 We drove down to the MGM Grand and parked, ready to go exploring. We never quite made it into the hotel; instead, we took the monorail to Bally's, got out to the Strip, and started wandering. We had a list of free shows from the Welcome Center; the closest was the musical fountains at Bellagio, so we walked over there and were enthralled (and only slightly dampened). Then, to the Mirage, where we admired the statuary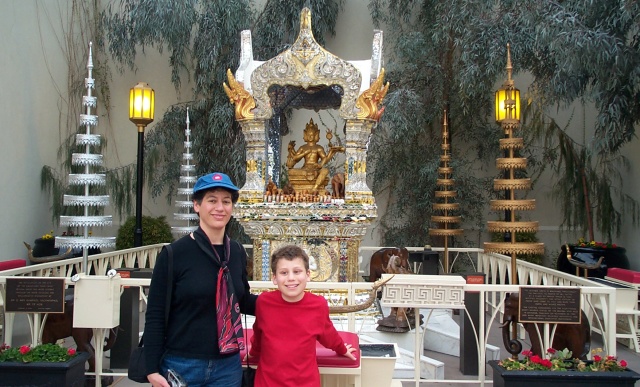 and the tigers.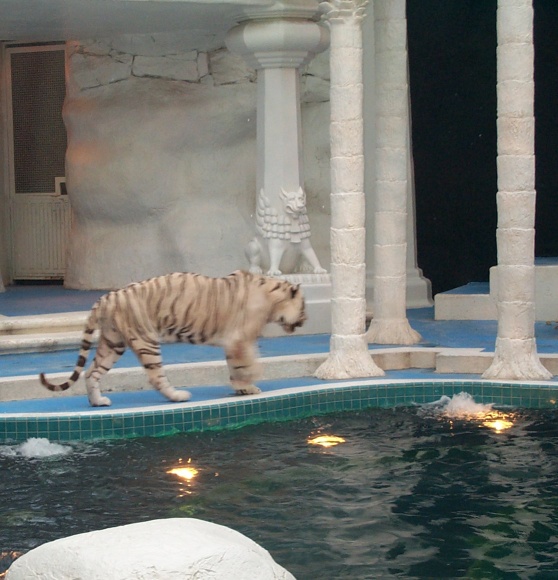 After a quick trip to Treasure Island, we came back to the Mirage for dinner at California Pizza Kitchen, overlooking the sports book; we spent most of dinner trying to explain horse racing to Jeffrey, since that's what they had up on the big screen.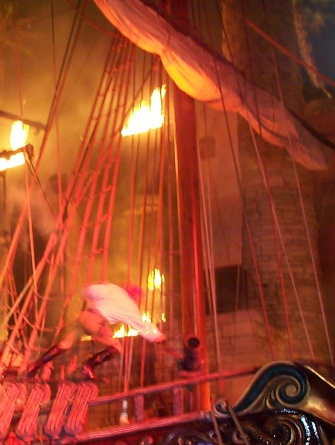 Then back to Treasure Island for the pirate ship battle,
and over to the Mirage for the volcano.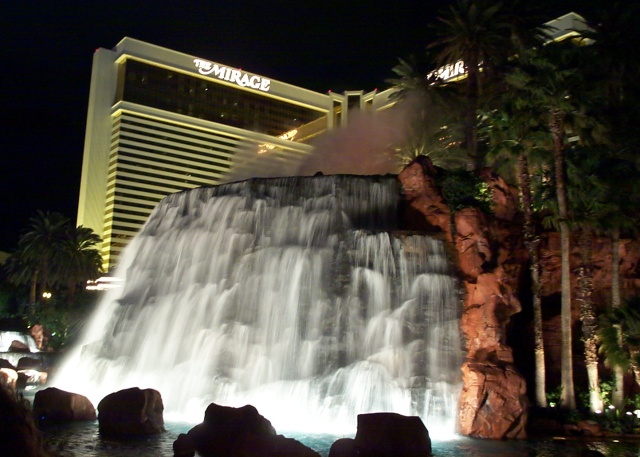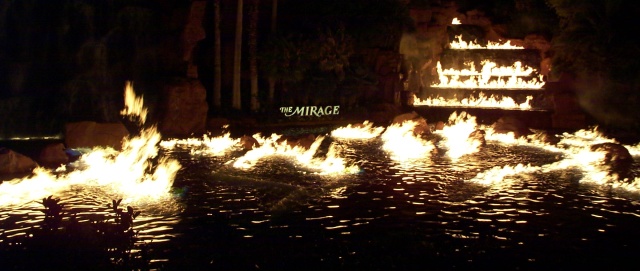 Then, to the Forum Shops at Caesars Palace to see the Fountain Show, buy some shoelaces, and go on our first motion simulator ride of the trip, Race for Atlantis, which I thought was only OK — the 3-D effect was blurry, the story made no sense, and I didn't feel at all caught up in the action.
After that, it was back to the room for Jeffrey and Diane, while I found a grocery store to buy some fruit. And then another grocery store, because the first one had no cantalope. And back to the room, and to bed.
Tuesday
Tuesday morning, we had breakfast at the hotel, then drove to the MGM Grand and parked. This time, we hiked the quarter-mile from the parking lot to the Strip (with a detour to see if the theme park was open — it wasn't; I had expected it to be inside, like everything else in Las Vegas, but it's outside, and so it was closed for the winter) and looked around.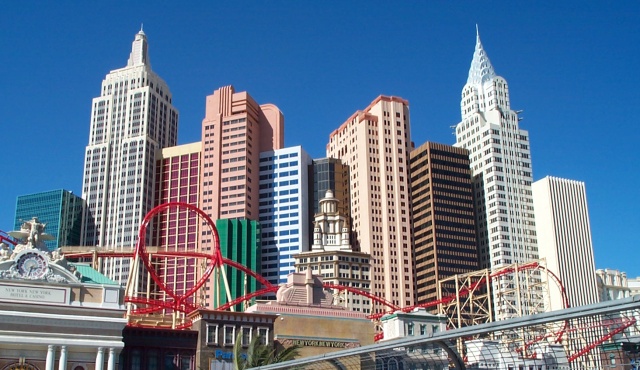 New York, New York beckoned, just across the street — and Jeffrey was most interested in riding the Manhattan Express. He was just barely tall enough (54 inches) to do so; neither Diane nor I wanted to join him, so we waved farewell and sent him on his way. Like many rollercoasters, they take pictures and try to sell them to you — we were a little unsettled when the pictures from his ride came up on the monitors and he wasn't visible…instead, there was a picture of what looked like an empty seat! But that was just an optical illusion; he returned, happy, a few minutes later, and we set out in search of lunch. There are many restaurants in New York; the casino didn't have quite as many, but it still took us a while to find one we could all agree on — America (the coffee shop).
After lunch, we took the elevated path to Excalibur, where Jeffrey and I rode Space Race, one of Merlin's Magic Motion Machines (yes, a motion simulator). We both liked this one, although the story was pretty weak. Then we took the moving walkways to Luxor and all saw In Search of the Obelisk, their IMAX Ridefilm — yet another motion simulator. This was the best show we'd seen yet — the story made some sense, the preshow was engaging, and the guides helped get us into the mood. Great fun, highly recommended.
After that, we went back to the MGM Grand and saw the lions, picked up our car, and drove to the Las Vegas Hilton for Star Trek: The Experience. And it was quite an experience — we were there for several hours. First, we checked out the History of the Future Museum (a Star Trek timeline and paraphenalia), and then we rode the ride. Three times, in fact; one nice thing here is that you're allowed to ride as many times as you'd like for one admission fee (AAA members get a $5 discount, by the way). This was my favorite ride — it was yet another motion simulator (of course) — but it was very well done, the pre-show is very good, and the cast members really interact with the participants. Riding it three times let me look at a lot of the details; I don't want to spoil the ride for anyone who hasn't been on it yet, but I would advise paying very close attention to the labels on panels once you're on your way…there are many inside jokes to be spotted and enjoyed.
Before we left, we had dinner in Quark's Bar and Grill and bought some stuff at the Deep Space Nine Promenade; we also had a family portrait taken with some of our more distant relatives.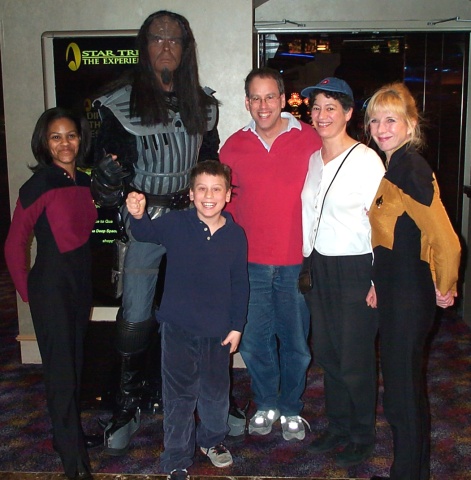 Wednesday
By this time, we were tired of free continental breakfasts, so we drove to the MGM Grand and enjoyed their Grand Buffet. I'm glad I don't eat like that very often, though.
After breakfast, we went to M&M World and took in their 3-D movie, "I Lost My M in Las Vegas", featuring Red and Yellow; we pocketed the free bag of M&M's that they gave us afterwards (breakfast had been quite filling!), and headed North along the Strip. Some time later, we got to the Desert Passage shopping center, part of the new Aladdin complex, and went exploring. It was yet another mostly high-end shopping mall, featuring a food court whose restaurants were named only after the cuisine they offered. Jeffrey ate at Chinese; Diane and I decided to wait for something better.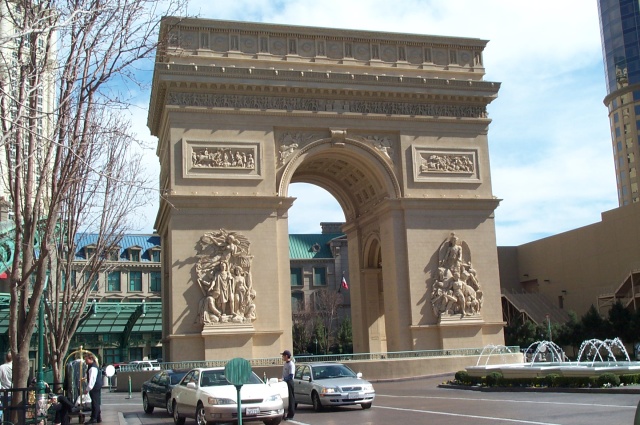 Paris offered us that something better — we ate in JJ's Boulangerie and followed up with gelato and sorbet at Le Nôtre. Then we strolled the shopping street inside the hotel (which was just like the real Paris, if you ignored the lack of dog poop on the floor), and eventually came out at Bally's, where we found the monorail back to the MGM and our car.
Then we drove to Circus Circus and watched two acts; in between, we finally succumbed to the lure of the machines and dropped a buck on pinball and a bit more on the Spiderman video game. Then, back to the car and down to Excalibur for the Tournament of Kings dinner show. The show was great fun, and the food was OK, too, even if the dessert was chocolate-less. Then we went back to Luxor, rode In Search of the Obelisk again, and made up for the lack of chocolate at dinner. Then back to our hotel and to bed.
Thursday
Thursday, we drove home. 538 miles, roughly, counting stops and detours for food. When we left, I wasn't sure we'd do it all in one day, but we were really ready for our own beds, and the traffic and weather cooperated to make it an easy trip. We did have bad timing on dinner — we were in enough of a hurry to make fast food the right option, but the Burger King near Coalinga was busy hosting two Greyhound buses when we pulled up, so we continued on to Santa Nella before finding a place we wanted to eat. And the rain didn't start until we were off the "Special Driving Zone — Double Fines" on Pacheco Pass Road above Gilroy — it was wet the rest of the way home, but that was only 35 miles or so, all freeway, and all flat.
Summing Up
We all enjoyed the trip; it would be nice if they issued gas masks for the walks through the casinos (Nevada is California's smoking section), though!
I'm not sure I'd stay at the St. Tropez again — even though we'd deliberately selected a non-casino hotel, I felt like I was missing part of the Las Vegas experience by being there. I definitely would not stay at the Best Western Desert Villa in Barstow again, at least not without industrial-strength earplugs.
I wish we'd tried to make arrangements to see Hal while we were in Las Vegas (especially since Susan was also in town at the same time); I do appreciate the advice he gave us when we were planning our trip. And next time, we'll probably see more than casinos — but as first-timers to Las Vegas (Comdex doesn't really count), the casinos provided a lot of entertainment in a short time.