I'm writing this entry from the Fairmont Banff Springs Hotel, site of CSCW 2006, the annual ACM-sponsored conference on Computer-Supported Collaborative Work. My trip here yesterday was interesting and complicated (of the 13 hours I spent en route, only 2.5 hours was in the air — I waited almost that long in the Calgary Airport for my colleagues from New York to arrive); we had hoped to drive up in daylight, but that was not the case. But even the small bits of the mountains I could see in the moonlight were spectacular.
This morning dawned too early, and I spent almost the entire day in a workshop on Trust in the Online Environment. But the view out every window here is wonderful — sadly, my camera can't do it justice, but here's a small sample. This is what I can see from the hotel room: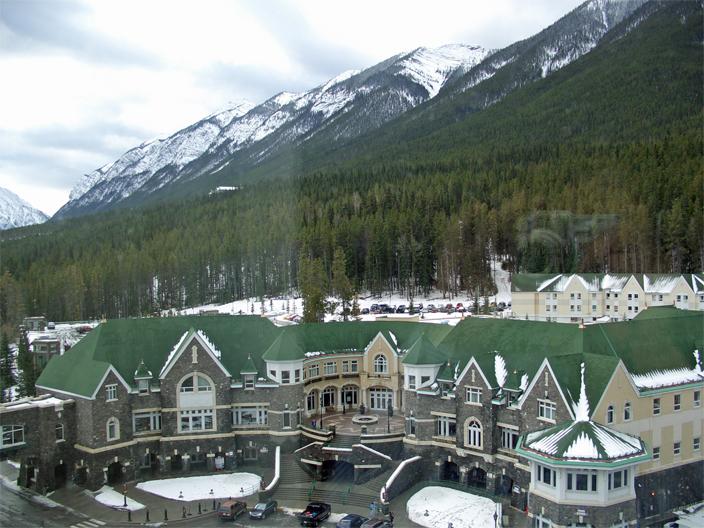 The workshop itself was very interesting, and I am hopeful that something useful (and publishable) will result.
After the workshop, we adjourned to one of the many restaurants here in the hotel, Castello, which appeared to have reasonable prices. Somehow, my bill ran to an unreasonable number, but I enjoyed myself nonetheless. We had a Canadian wine, Tinhorn Creek 2004 Pinot Noir, which was pleasant enough that we ordered an additional bottle (there were six of us sharing it, so that's not unreasonable), and which I would gladly have again, though preferably without the 200% hotel markup.
Tomorrow, I hope to do a little geocaching; I also need to work on my report on what I did this year at work. *sigh*
And then the conference begins for me again on Monday.