We've been members of Tobin James Cellar's wine club for several years. Their wines are tasty, priced well, and don't need a lot of aging before being ready to drink, which fits our needs well. Their shipments always include a little gift with the Tobin James logo; we've gotten serving trays, bottle openers, mats, and, a couple of years ago, a throw pillow which turned out to be almost perfect for Diane to use at night. She's taken it on many trips; it's showing its age. We looked for a replacement the last time we were at the winery, but they didn't have any on display.
On Sunday, we got a call from Tobin James – they weren't trying to get us to order, just reaching out to members. During the call, I happened to mention the gifts we'd gotten, and Shawna, who'd called us, said that they had some pillows left over. So yesterday, we ordered two pillows (50% off! $13 for the pair!), and to ensure free shipping, we also ordered 14 bottles of wine. :-) It arrived today; that should hold us for a little while.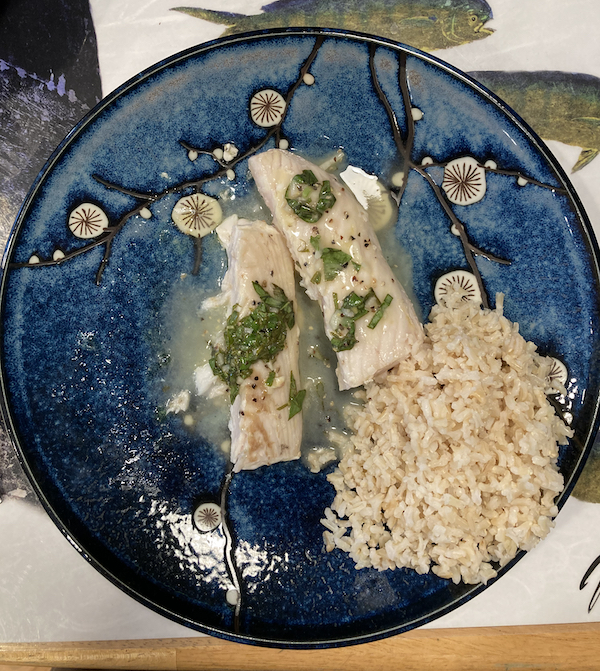 Dinner tonight was a new recipe, possibly the simplest new recipe we've tried recently: Seared Mahi-Mahi with Zesty Basil Butter from the Food Network. The only tricky part of the process was remembering to defrost the frozen mahi-mahi! Frankly, I'm not sure it would have been any better with fresh fish – zesty basil butter covers a lot of sins.
To make the day even better, British Airways came through with the refund for our cancelled trip to Spain and Portugal, much sooner than I'd expected. The only remaining pieces of the trip to deal with are the flights between Spain and Portugal; I'm waiting in hopes that the airlines will cancel them, but if not, at least they were inexpensive.