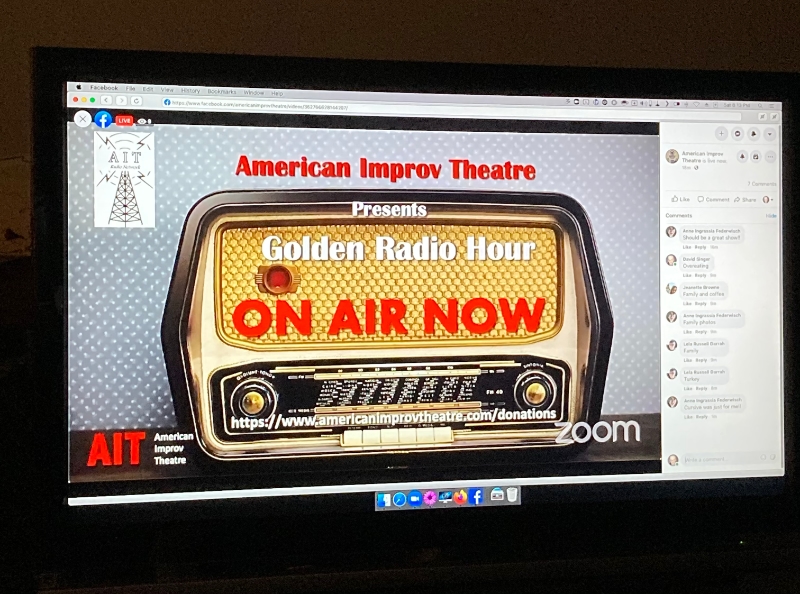 Diane read Torah and I led Shir Shabbat services this morning – it was a nice way to spend the morning, but next time, I may take advantage of the offer to have someone else run the Zoom meeting and the screen sharing.
The weather was nice this afternoon so we took a walk a little earlier than we usually would – as we were crossing the footbridge over Ross Creek, I heard a voice calling "David!". It was Jeff Ringgold, who had been my improv teacher a few years ago; he was walking his dog. He'd moved into the neighborhood a couple of months ago, but this was the first time we'd crossed paths.
He told me that his theatre, American Improv Theatre was taking a different approach to performing during Covid. Instead of doing the typical Zoom show, they were going audio-only, calling it the "Golden Radio Hour", and that they had a show this evening on Facebook.
We tuned in and enjoyed it – doing improv via audio-only offers some opportunities that a Zoom show (or an actual in-person show) wouldn't. It also puts a bit more of the burden on the audience, because there aren't any visual cues to help keep the characters and locations fresh in our minds.
The show (and their previous shows) are on their Facebook page; tune in!