We had to be out of the house this morning for our housecleaner; Diane had scheduled a dentist's appointment for that time, and I came with her. While she was being worked on, I did a walking tour of the five shopping centers nearest her dentist – there's been a lot of turnover since the last time I was in the area. The biggest of the centers, Westgate Mall, has done some landscaping, which was a pleasant change from parking lots and sidewalks.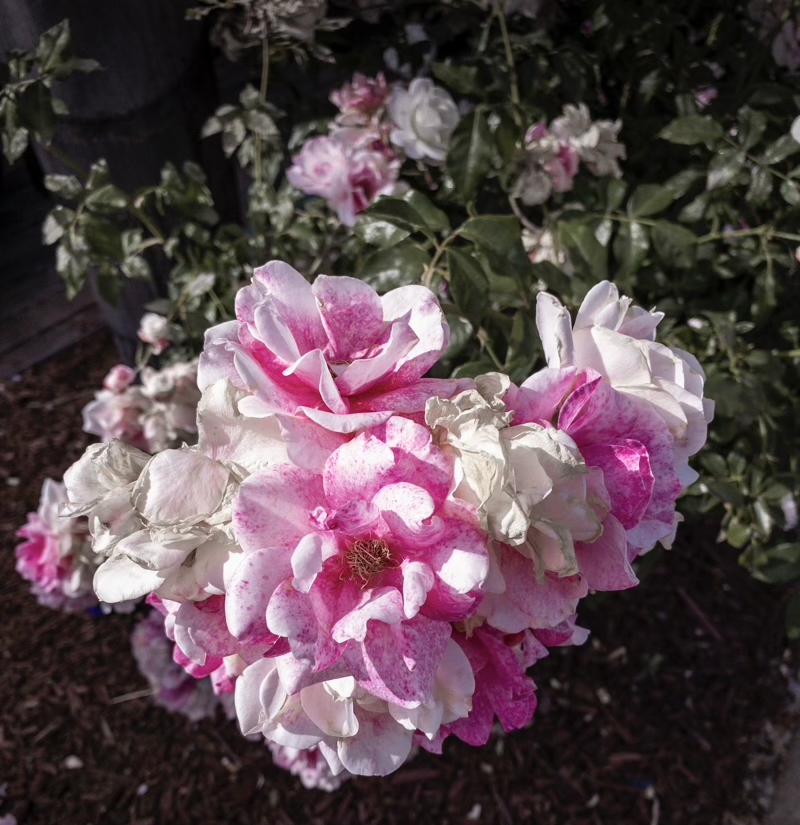 After the dentist was finished with Diane, it was still too early to go home, so we took our usual walk on the Los Gatos Creek Trail, and that put us near the Pruneyard Shopping Center at lunchtime. The next thing on our agenda was grocery shopping, and it didn't seem like a good idea to shop on empty stomachs, so we decided to throw caution to the winds and eat at a restaurant. Outside, of course.
The Pruneyard was in the middle of yet another revitalization when the pandemic hit (it's at least the third major renovation since we moved to Los Gatos). They've opened a lot of new restaurants in the last couple of years; today, we tried Starbird Chicken.
First, I tried ordering through their kiosk, but there was no way to ask for anything "on the side", so we went to the counter and ordered from a human being. A few minutes later, the food was ready, and we discovered that they didn't seem to know how to put anything on the side even if they could take the order – Diane's salad was already dressed, and I didn't get the sauces that should have come with my Korean Fried Chicken sandwich. We should have gone back to get the order fixed, but we didn't. The food was bland; the fries weren't even worth finishing. I can, though, heartily recommend the Ginger Mint Limeade.
Today was also XM renewal day – I've been paying $5/month for the "Select" package, and it was about to go up to their usual rate of $16.99/month. I went to their website, hit the chat button, and in less than 10 minutes, I got another year at $5/month. Easy.
Our trivia friends have been recommending the PBS/BBC series, Life at the Waterhole. They were right – we watched Episode 1 this evening and it was fascinating. We're supposed to go to South Africa this fall, so we're also using it for familiarization. Sadly, the excursion to Tanzania was cancelled because of the COVID-19 situation there; I'm guessing we have a 50/50 chance of making the rest of the trip this year (there's already a backup date for next year).