It was time to make pretzels again today. I followed the advice I got on Facebook from Lucinda, Meri, Alison, and Sam after the last time I made pretzels, and it made a difference.
I took out the butter in advance so it could properly soften. I put the yeast in the water and let it sit for a few minutes before adding it to the dry ingredients. I was extra-careful in measuring the dry ingredients and smoothed them out in the bowl before I added the water and yeast.
I had to add water after the first mixing cycle to get all of the flour incorporated, but, as suggested, I did so a teaspoon at a time; it took four teaspoons before everything was included, but then the rest of the mixing went well.
When I took the dough out after it had risen, it was only slightly tacky, and it was easy to roll into logs (and later, to shape into pretzels). I used waxed paper instead of parchment paper until I was ready to bake.
It went so well that I made a second batch so we should have some left after Memorial Day – and making that batch was uneventful, too.
What I didn't do was take any photos of the finished pretzels, and they're all in the freezer now. :-) But I did get a photo of the first batch after shaping them.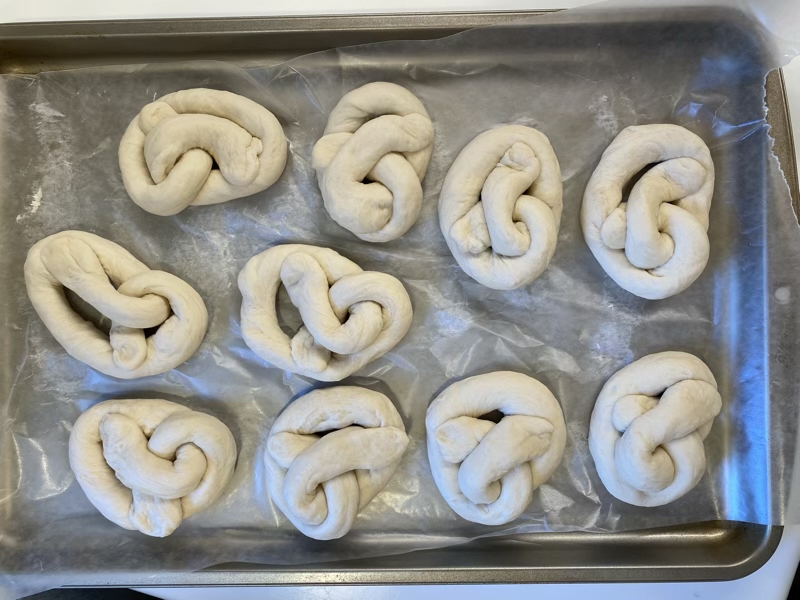 Thanks, everyone!