We left the Fairlawns Hotel and Spa at 7:30 to go to Johannesburg Airport for our flight to Hoedspruit and drive to the Makanyi Private Game Lodge. Getting to the airport was no problem – getting through security was. One of my bags was hit by a random search and I discovered that cable ties are a no-no; Diane lost her nail scissors, too. But they didn't care about liquids, so we brought a couple of bottles of water along with us, just because we could!
The flight was uneventful (though I'm impressed that Airlink could feed us and give us drinks on a 45-minute flight); we were met at the airport and taken to the lodge, which is located in a private game reserve, complete with checkpoint to ensure no one brings anything in or out that they shouldn't. They want to keep their animals safe, so there are strict driving rules.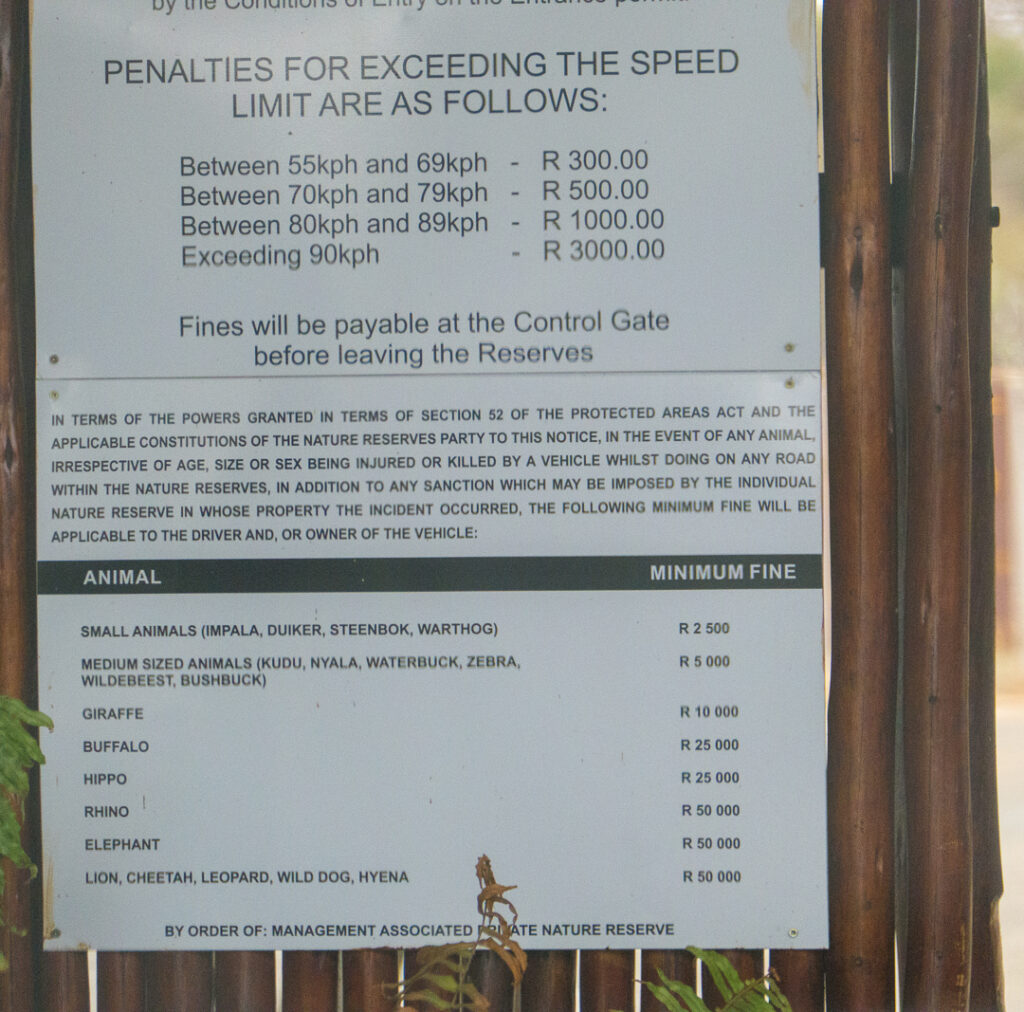 We saw a few animals on the hour-long drive to the lodge, including zebra by the side of the road, much closer than the ones we'd seen in Chobe National Park last week.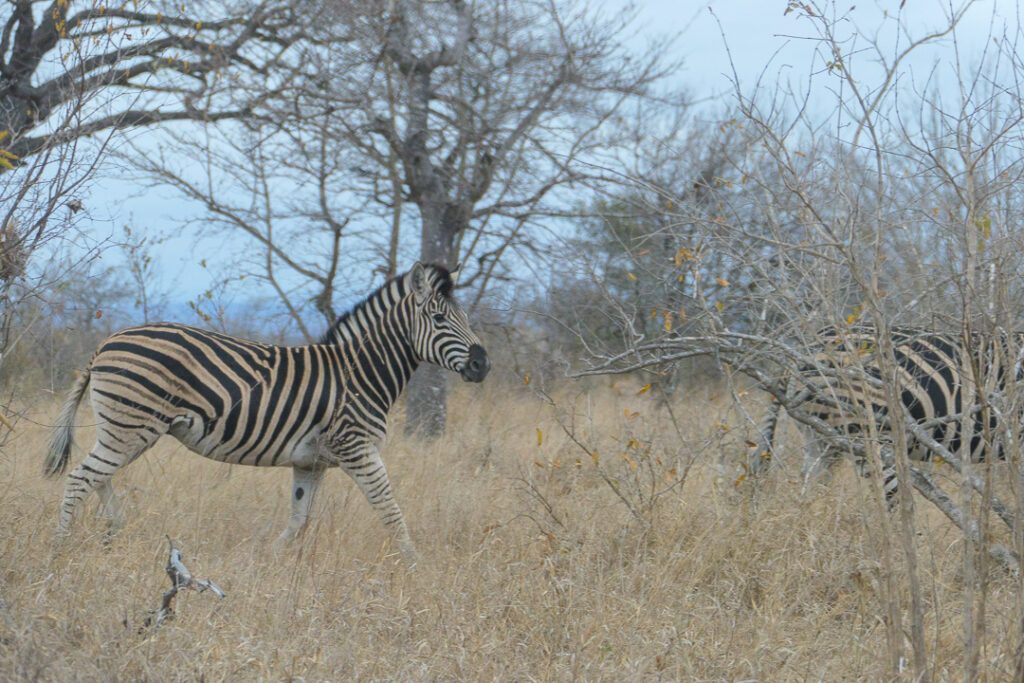 We were greeted at the lodge and given a safety lecture about the animals who roam the grounds, like this warthog. We're not allowed to leave our suites after dark without an escort, and we were warned to keep medications locked in the safe because baboons love them!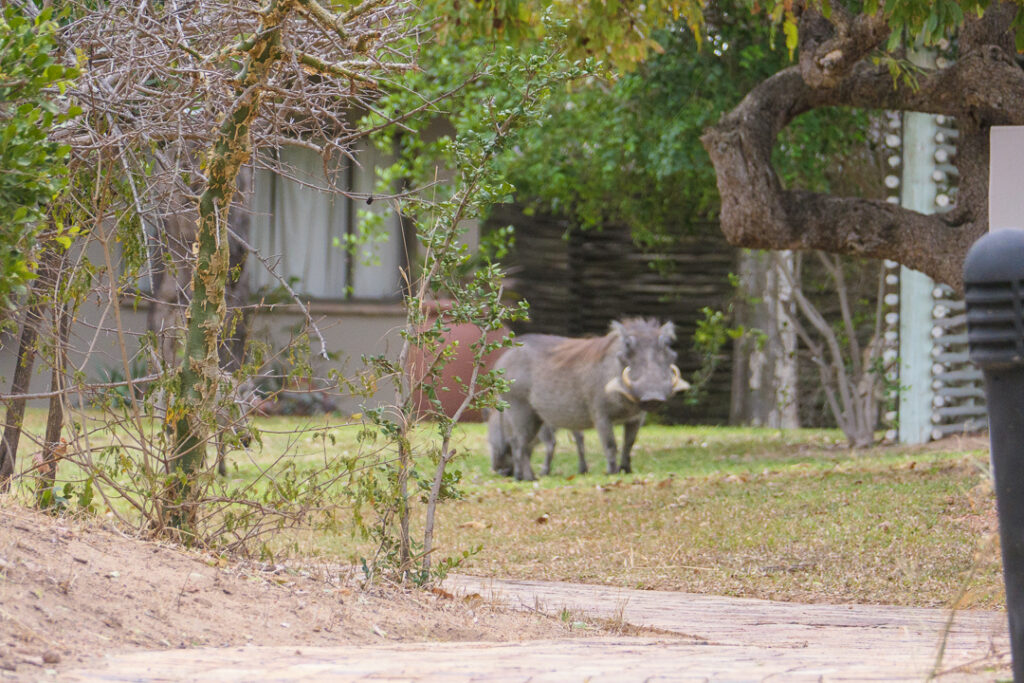 Lunch was delicious (just assume that all the meals on this trip were delicious unless I say otherwise!), and soon we were in a 4×4 with our guide for the four days we'll be here, Alfred, and his spotter, Success. It didn't take long to find our first new species, the red-billed hornbill.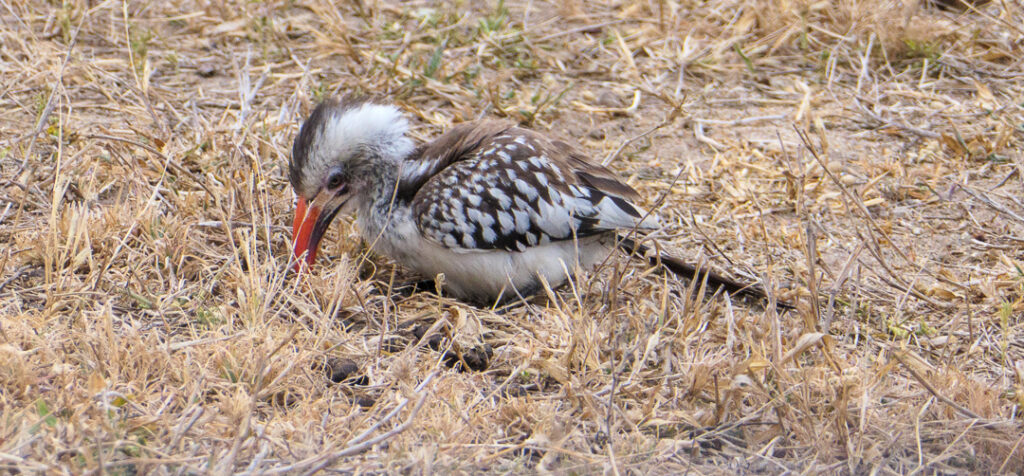 But we were after bigger game – and it was in the offing. A few minutes later, we encountered a small elephant herd, complete with a two-week-old baby elephant and its mother.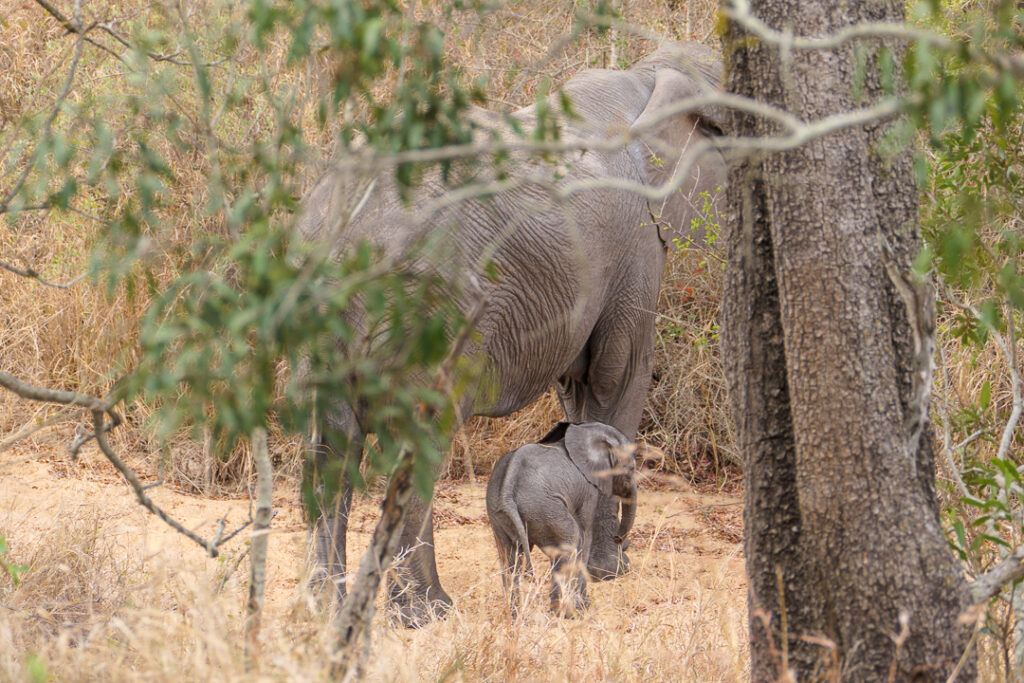 We stayed with the elephants for about 15 minutes, and then took off in search of something new. We have three vehicles for our party, and they keep in touch by radio – one of them spotted a leopard, and we headed over there to find him resting on a termite mound.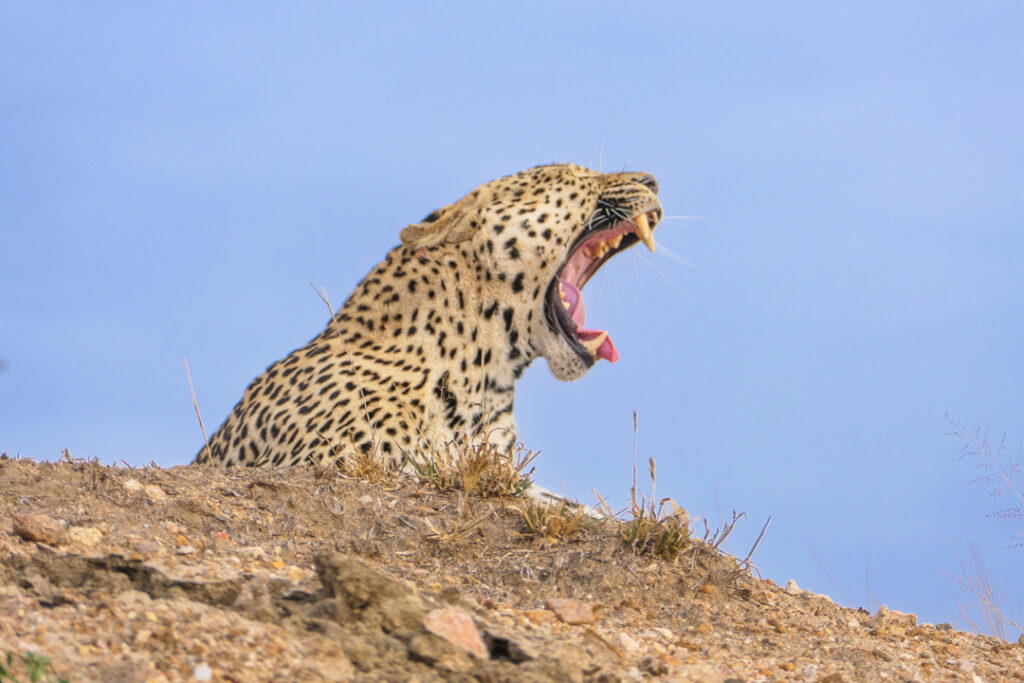 He stayed there for a few minutes.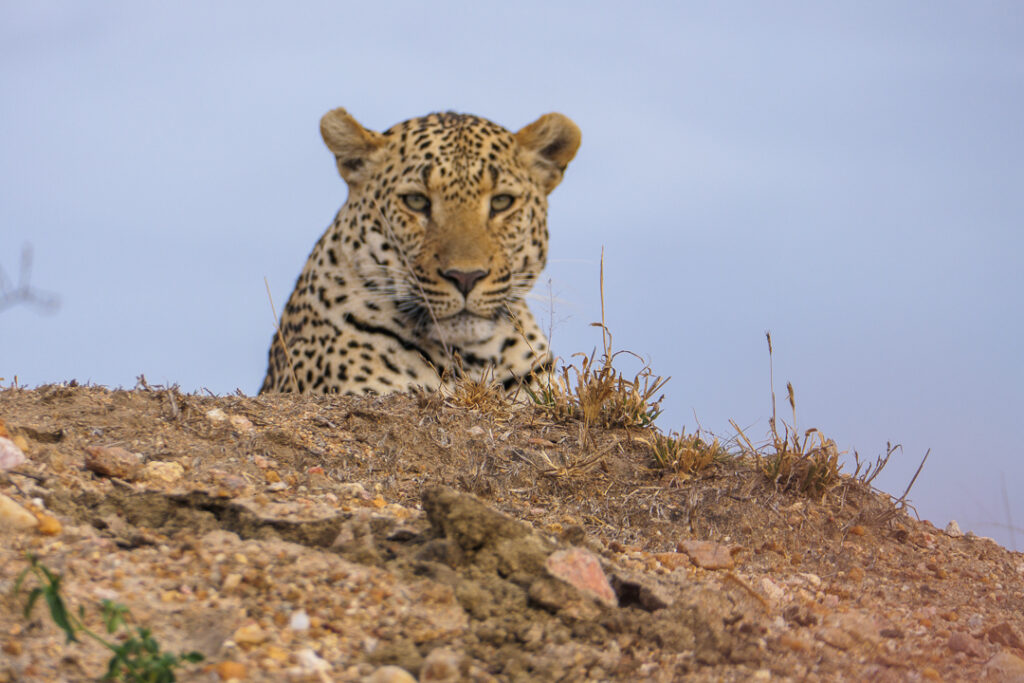 But eventually, he caught a scent and took off. We followed.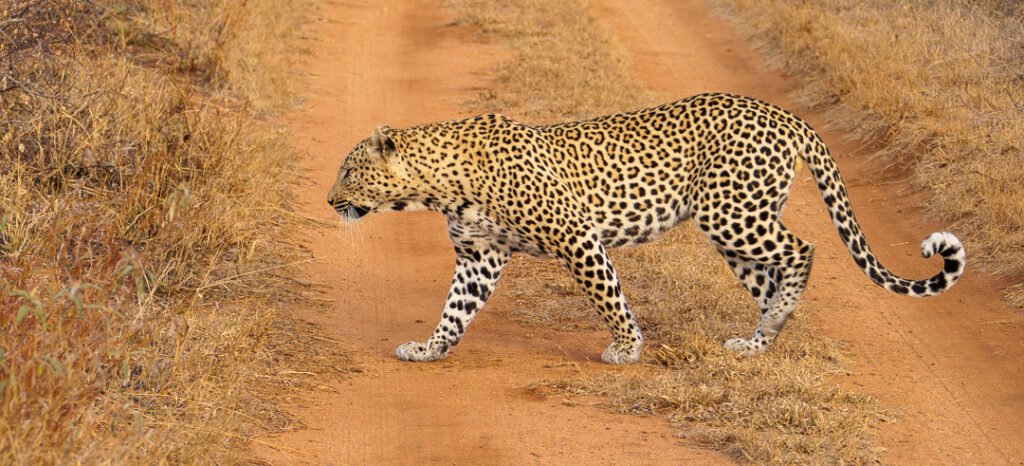 What'd he'd scented was an impala – he settled down to wait for it to move closer.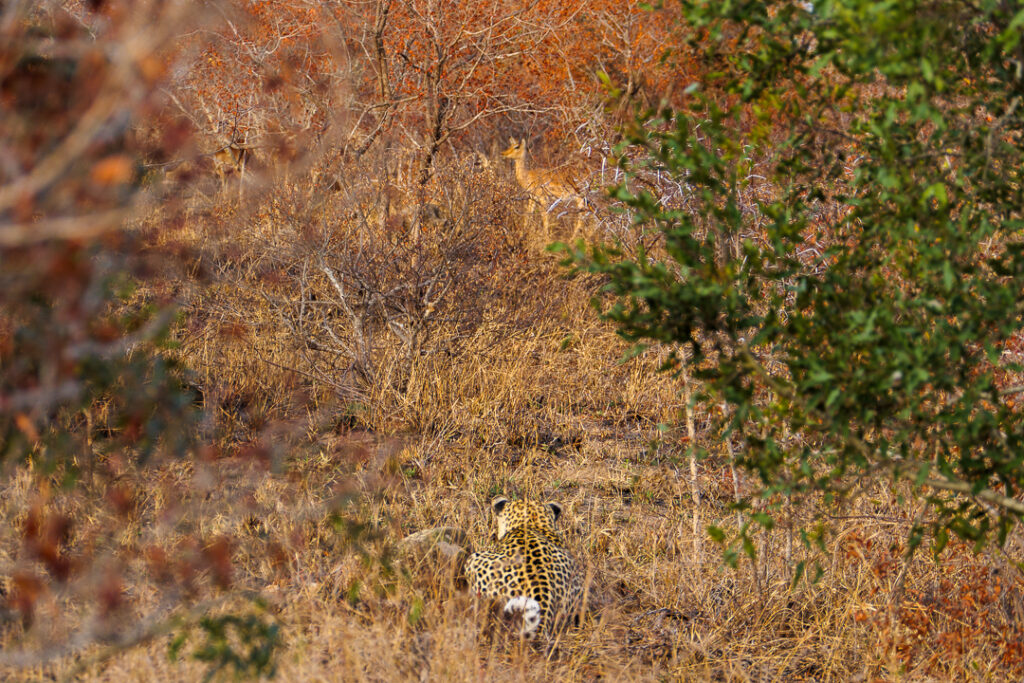 But the impala went the other way, and we broke contact. Our next sighting was a pair of hyenas – they were following the leopard in hopes of enjoying his catch.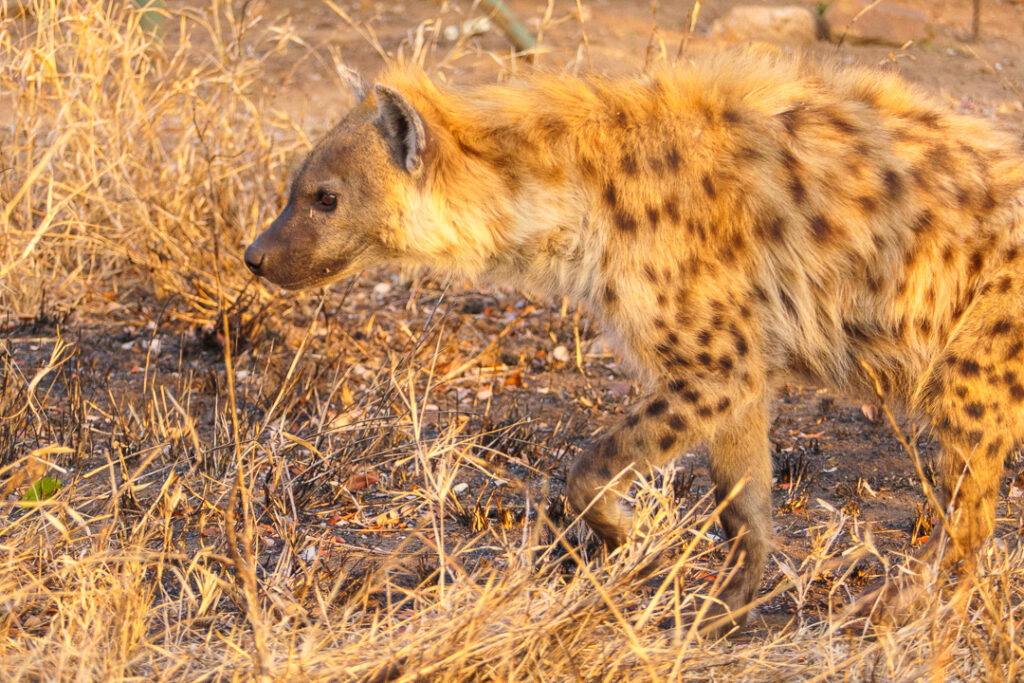 It was getting close to sunset, and we had to rendezvous with the other vehicles for sundowners, so we left the hyenas behind – only to encounter a couple of rhinos, completing the Big Five.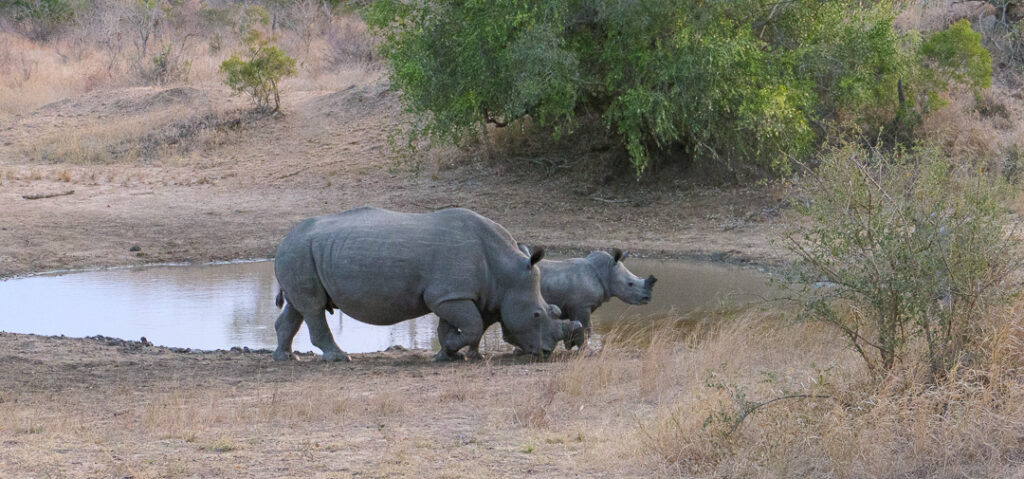 We snacked and drank and talked with the rest of our group until sunset.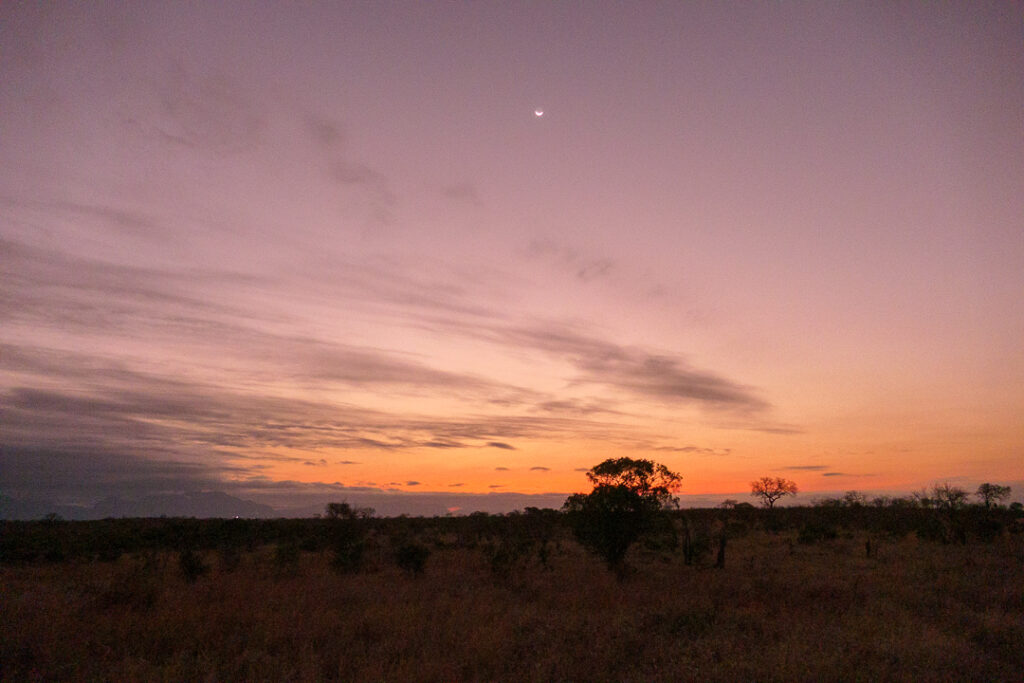 And then it was back to the lodge in the dark. Our spotter swept the road looking for eye reflections, but saw nothing.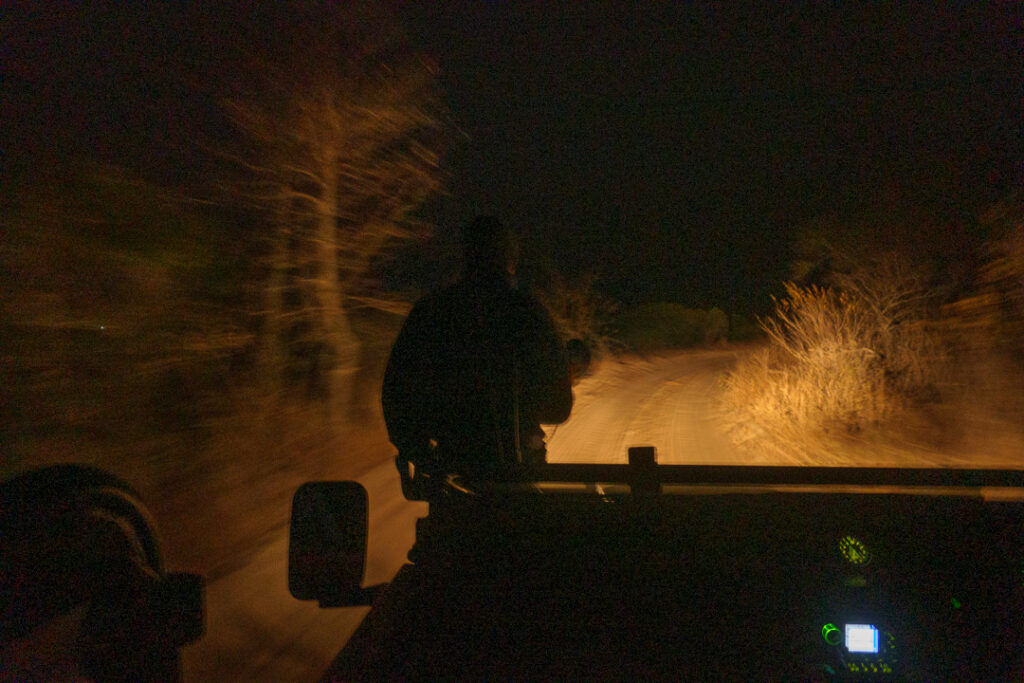 We had drinks and dinner with the group, then we were escorted back to our suites for the night.