When we woke up, we saw a message from Pete and Debbie (Diane's brother and sister-in-law) that they'd gotten to the hotel well after midnight. I was surprised when they walked into the restaurant while we were having breakfast; I didn't think they'd be up so early.
We made plans to meet in the lobby at 9, walk to the tourist information center to pick up our Lyon Cards, and then go find our guide for our 10am Silk Tour. Would you be surprised that things didn't go quite as planned?
I'd misinterpreted the information from our tour leader; he'd sent us numbers for our Lyon Cards, and I thought we could use those numbers to pick up the physical cards. It turns out that he'd had the physical cards mailed to him and sent us the numbers so we could use them to reserve activities – but we won't get the physical cards until he arrives tomorrow. I didn't want to take the time to figure out the Metro, so I suggested we walk to the meeting place under the Jacquard statue in Place de la Croix-Rousse, which Google said was a 30-minute walk from the tourist center.
Google was right; what it didn't tell me was that we'd also gain 80 meters of elevation, mostly on a road called Montaine Saint-Sébastian. But we were at the statue at least 30 seconds early; our guide, Alex, was waiting for us.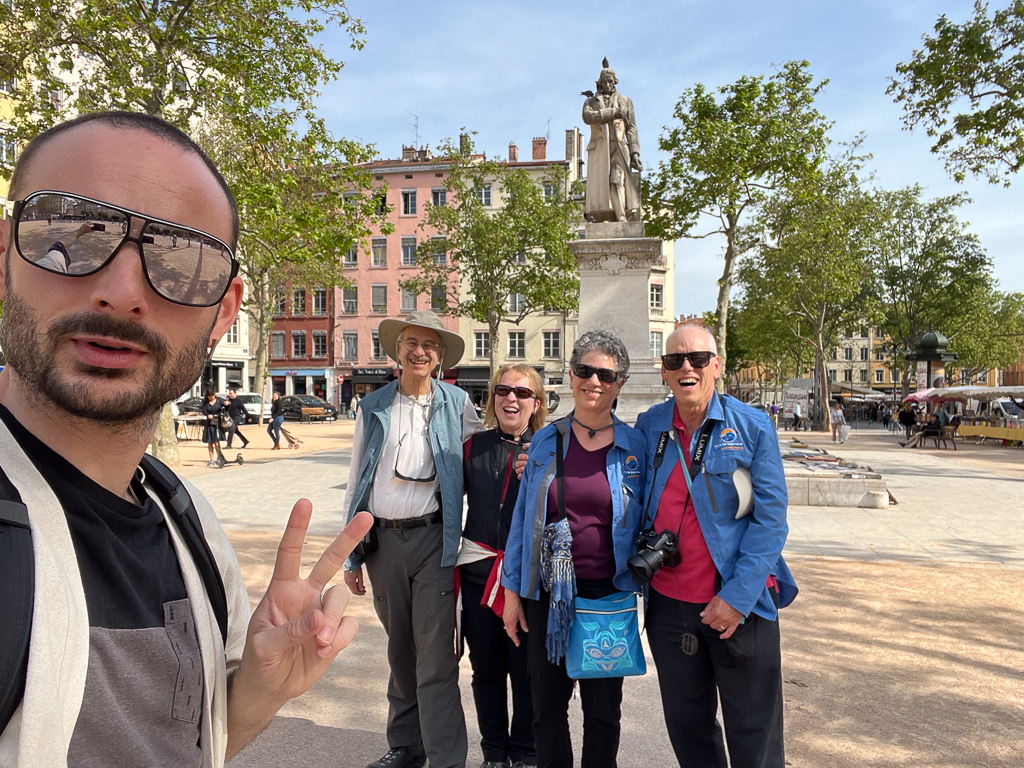 He told us a bit about Lyon, especially the silk industry and some of the businesses that grew up in the area because of silk, like chemicals, trucks, and oil; we walked (downhill!) with him to our first stop, Soierie Vivante, which is in an authentic workshop/apartment and has three working Jacquard looms (one manual and two motorized). Helen gave us a demonstration and explanation of the manual loom.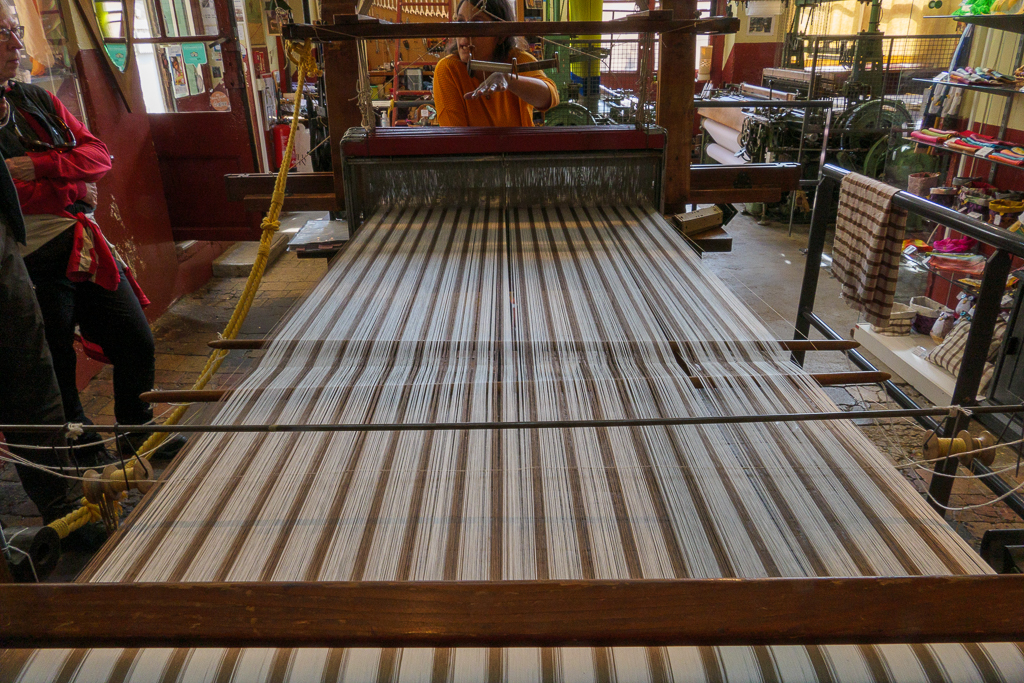 There are 3600 threads in the warp of the fabric on this loom; each one is individually threaded through the eye of a needle and positioned so that the shuttle will be able to pull the weft thread over and under the warp threads to create the final fabric.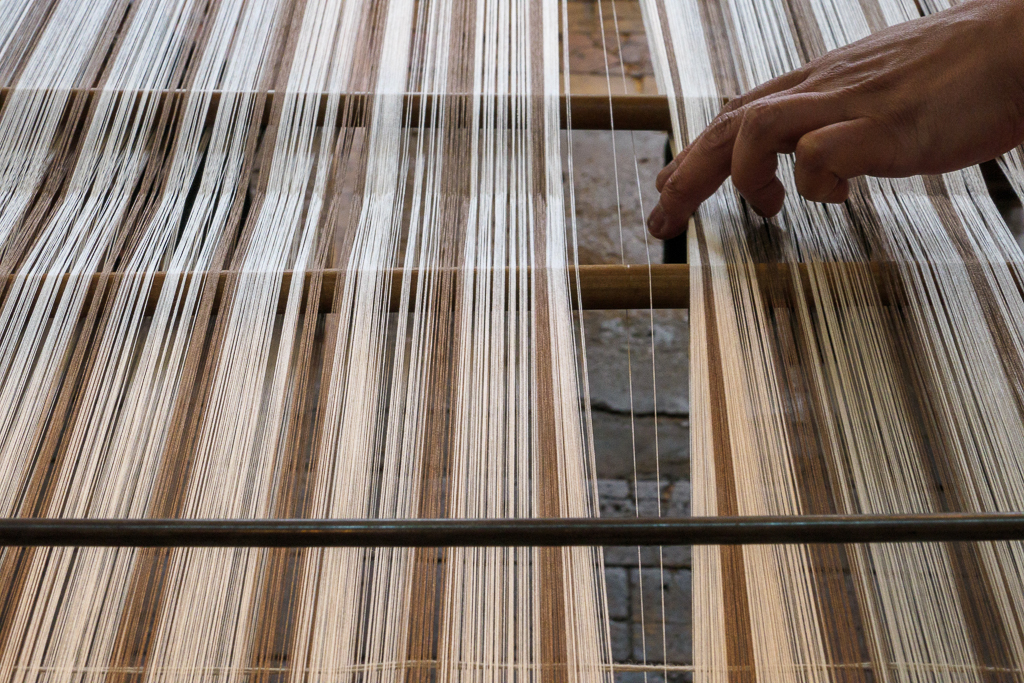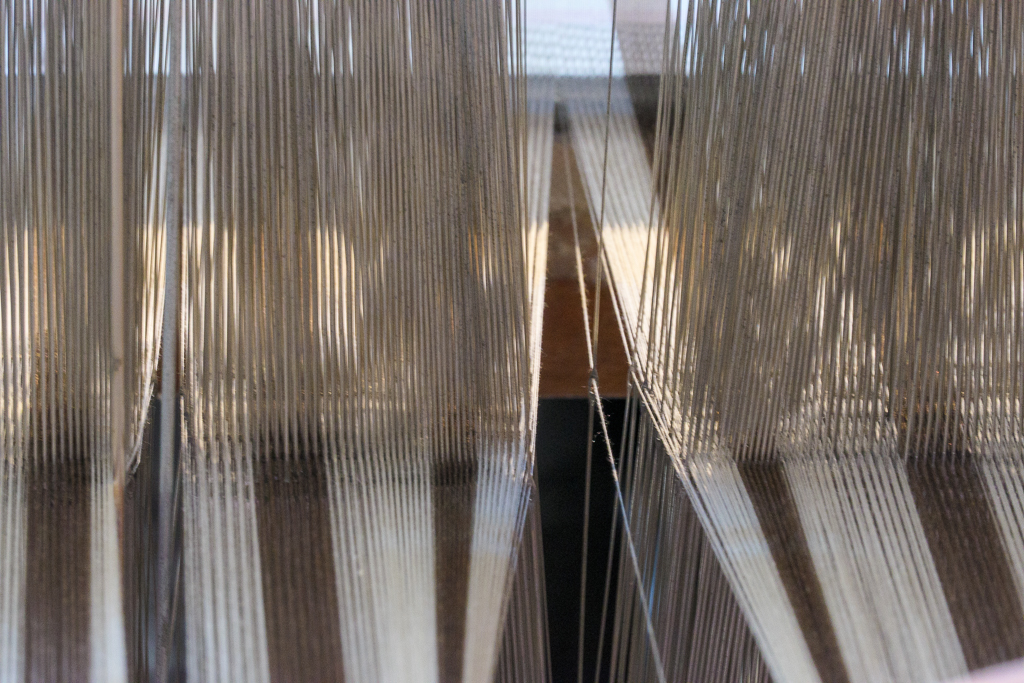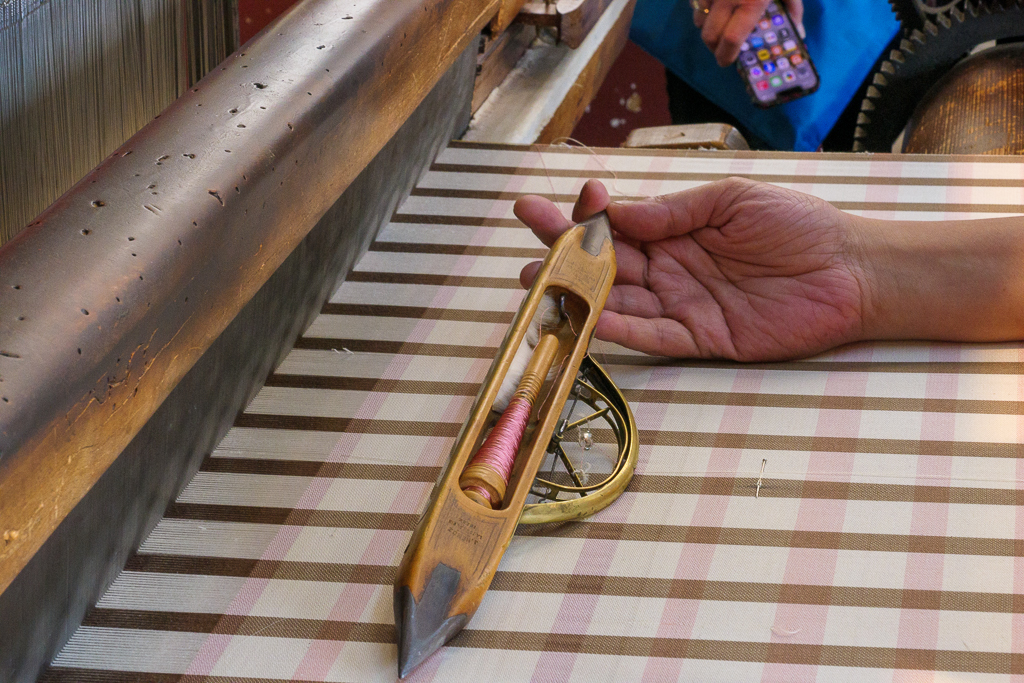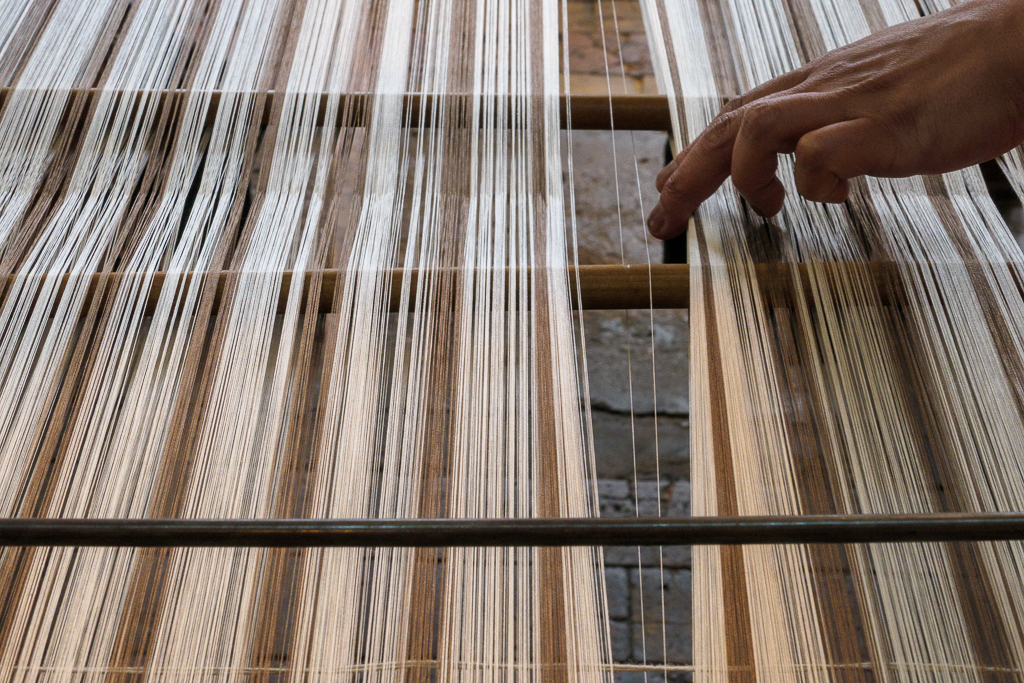 Jacquard's key invention was the punched card, which controls which frames are activated or inactivated for each pass of the shuttle; the frames pull up certain threads so that designs can be woven into the fabric.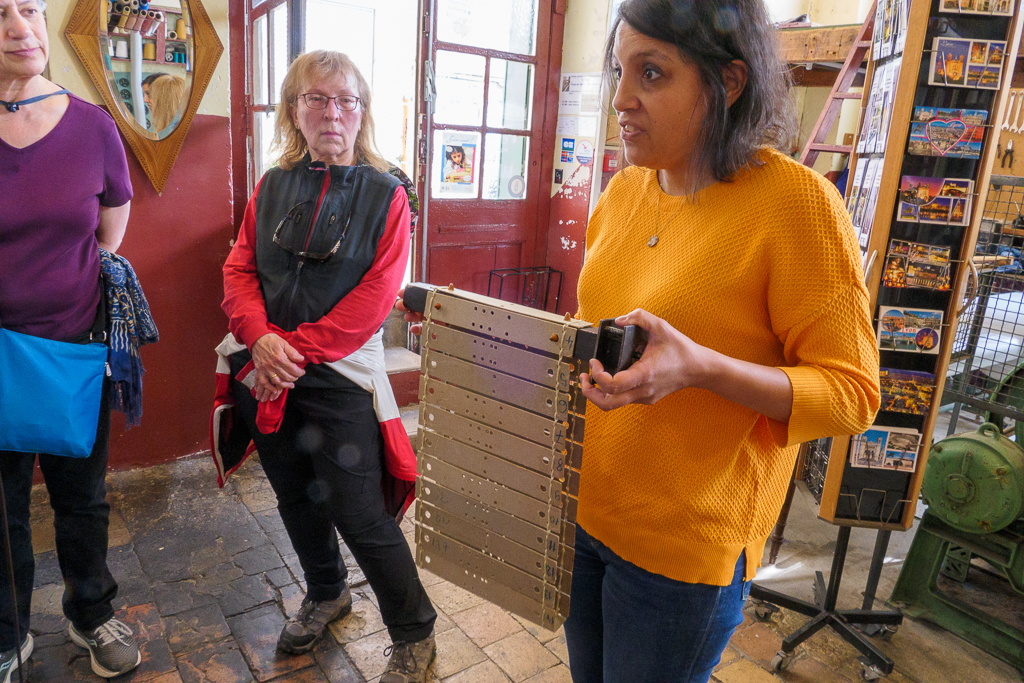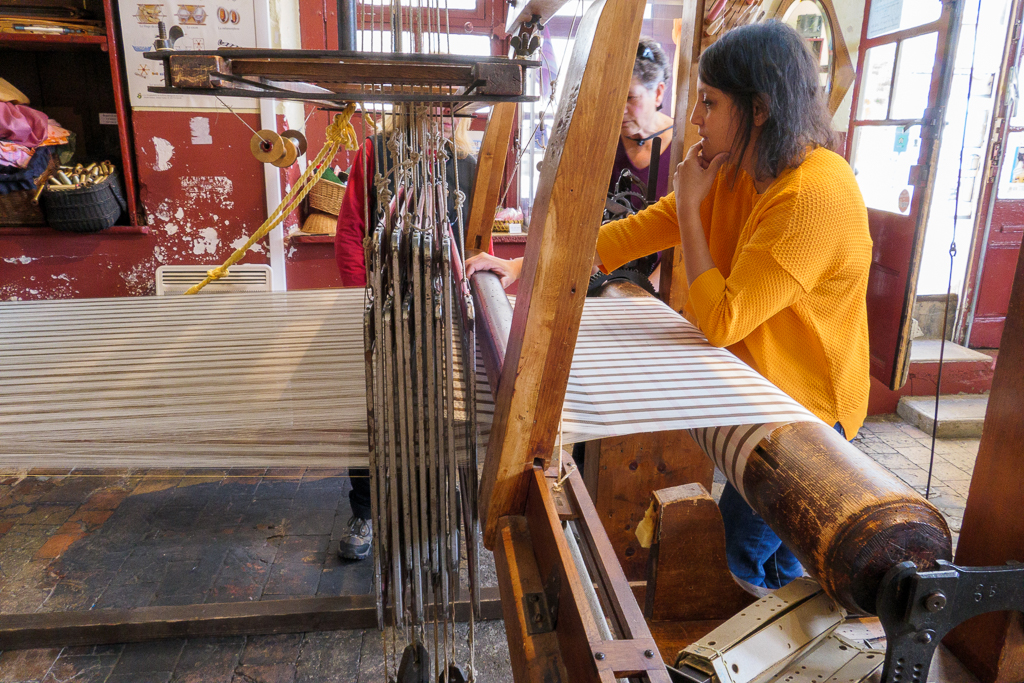 The mechanized looms work in much the same way, but much faster (the shuttle moves back and forth at 40kph!); they use very wide punched paper tape instead of cards and can create more complex designs.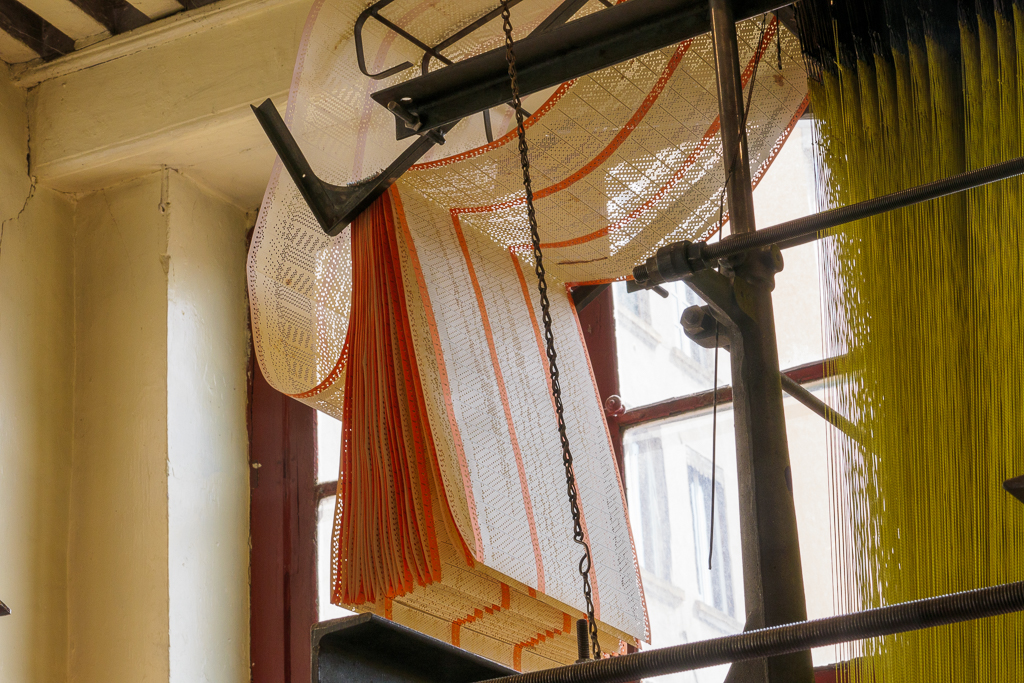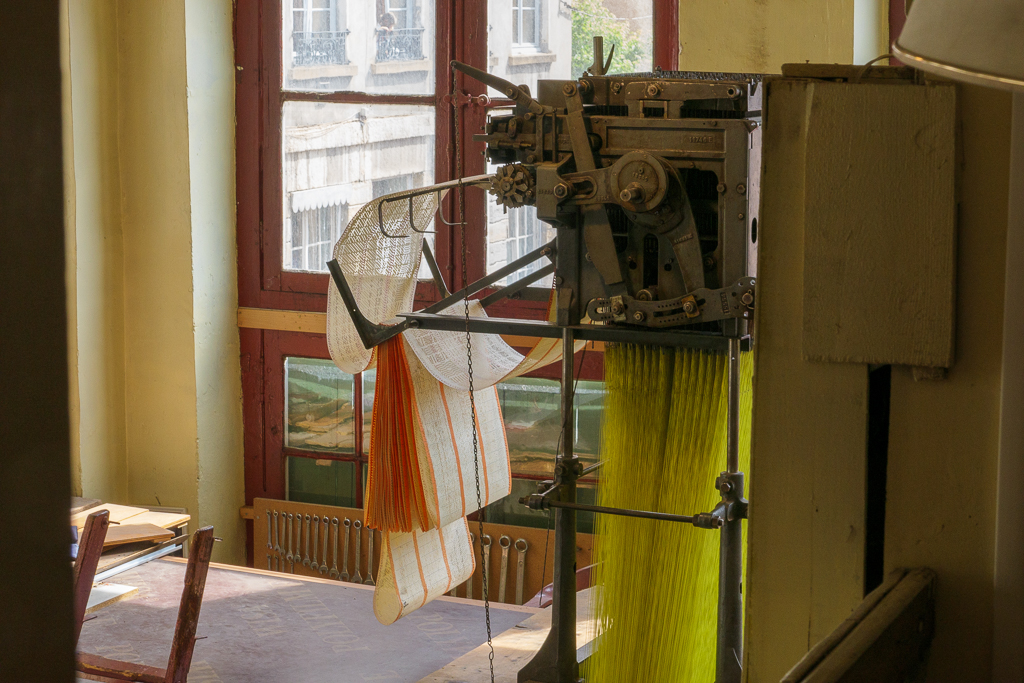 Many of the weavers lived over their work in a small loft; we took a look around and said good-bye, off to our second demonstration in Vieux Lyon, 80 meters down the hill. We saw some of the buildings where the canutes (weavers) worked the mechanical looms; they were up to eight stories high, each story at least four meters high to accommodate the loop and the Jacquard mechanism. Today, most of those buildings have been converted to apartments – expensive apartments.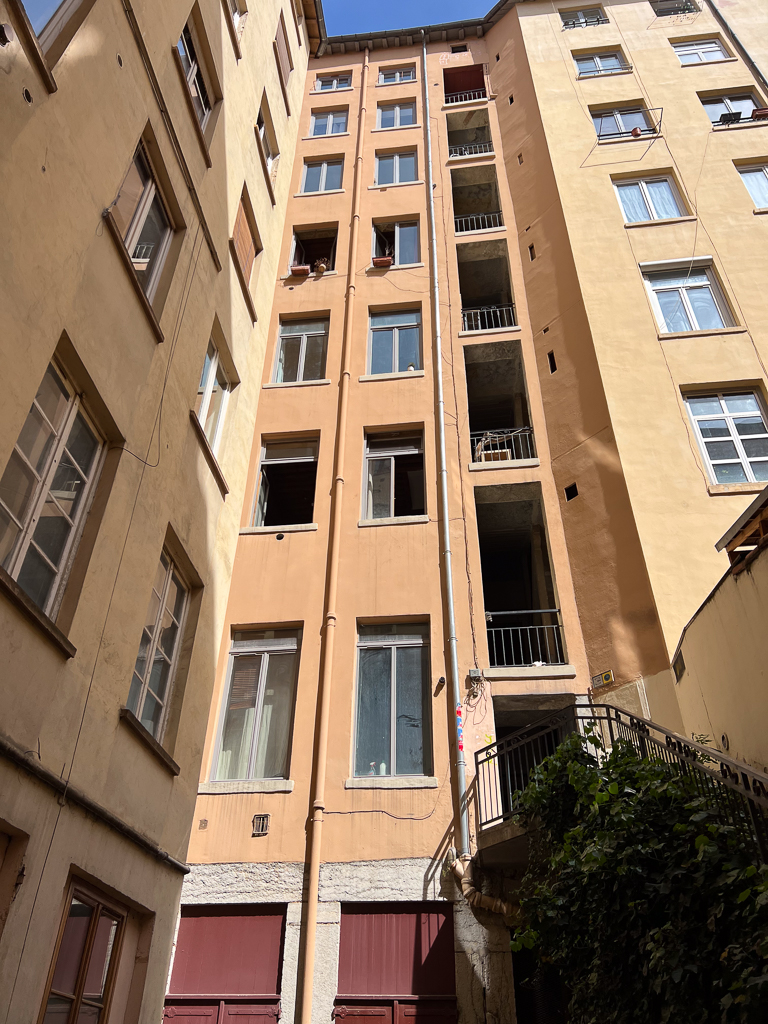 The weavers were freelancers working for the silk trading families, who lived downhill, near the river. As we walked downhill, the buildings got fancier, with ironwork and other decorations missing from the places where the silk was woven.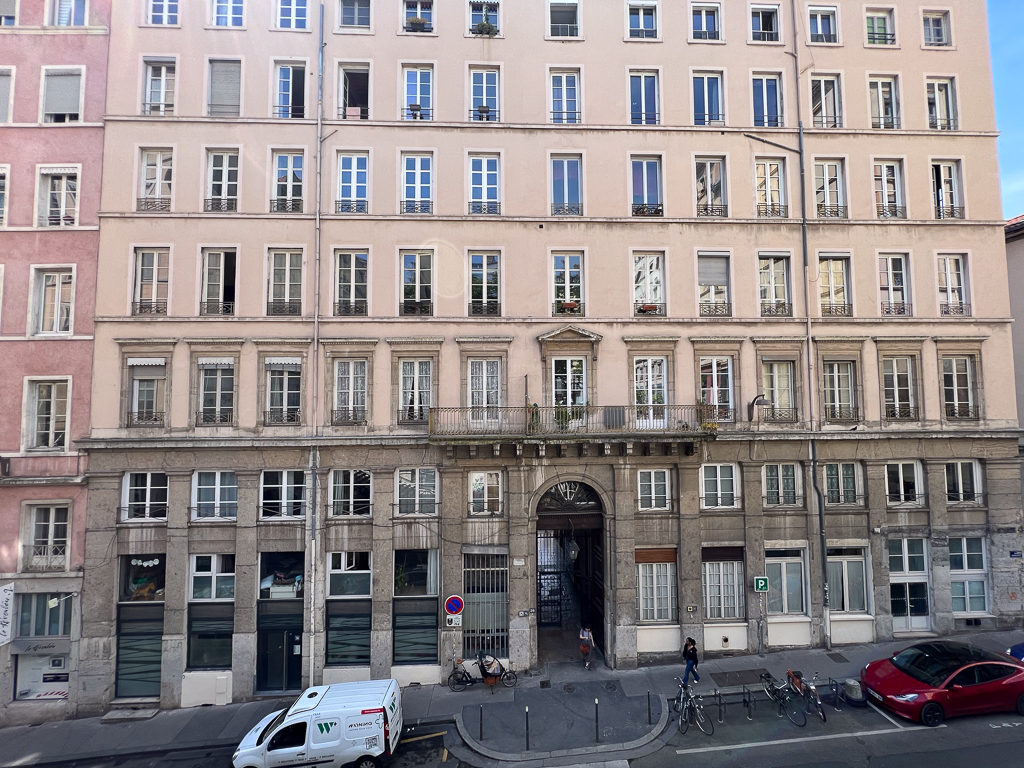 There's a lot of life in the neighborhood today – restaurants, businesses, apartments, and art.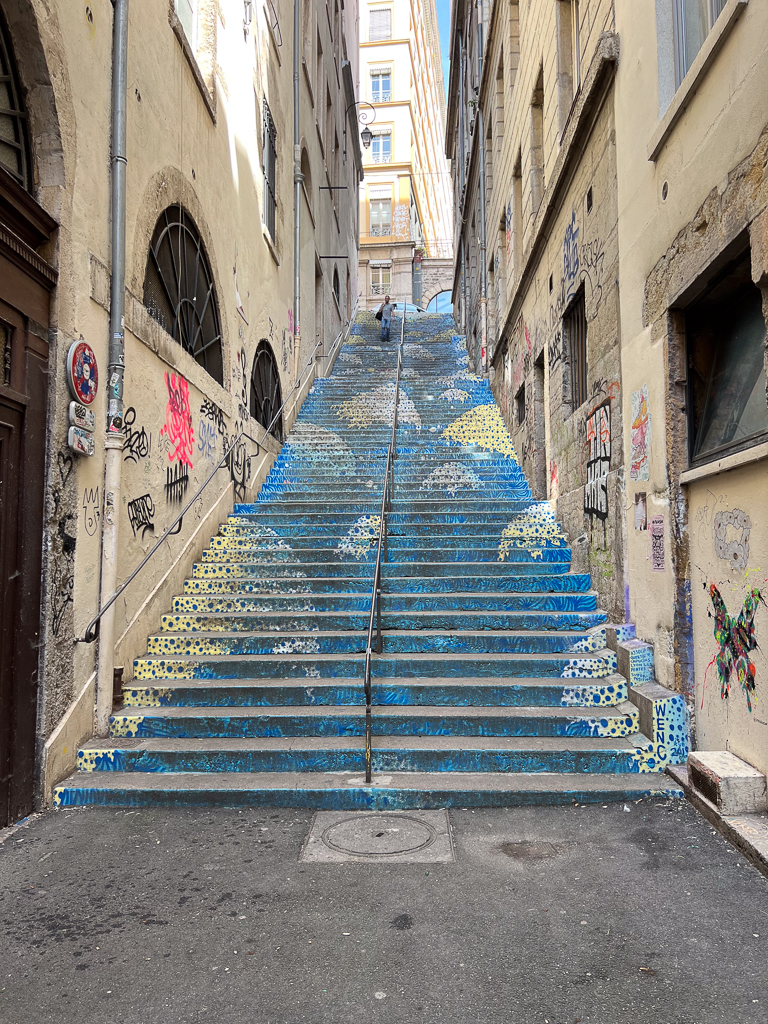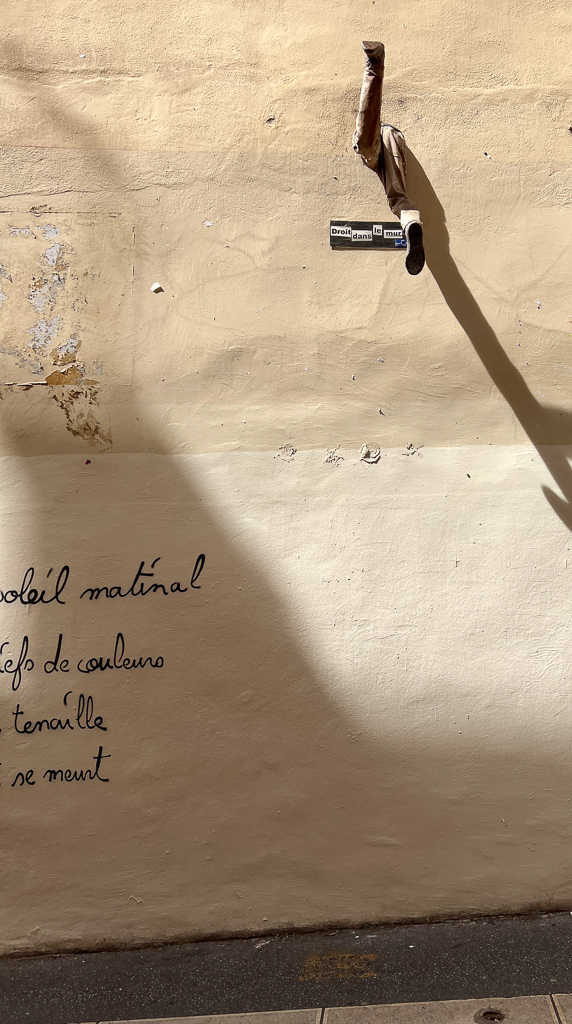 We walked past the Hotel de Ville (City Hall).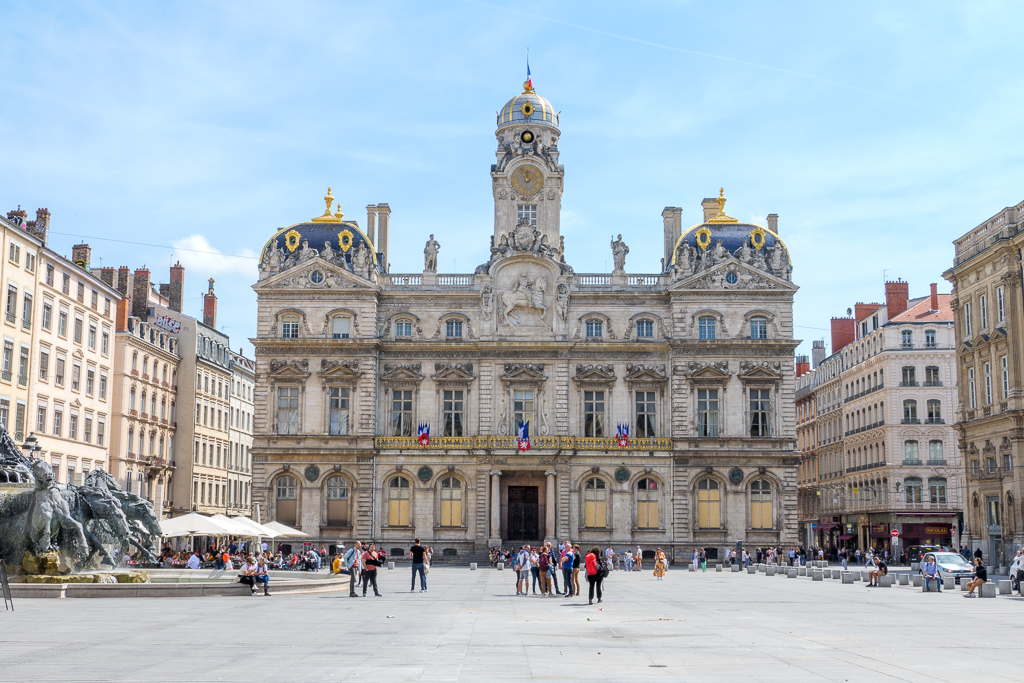 We had to cross the Saône River to get to Vieux Lyon; Alex pointed out the classic Lyon postcard shot just before we crossed the river.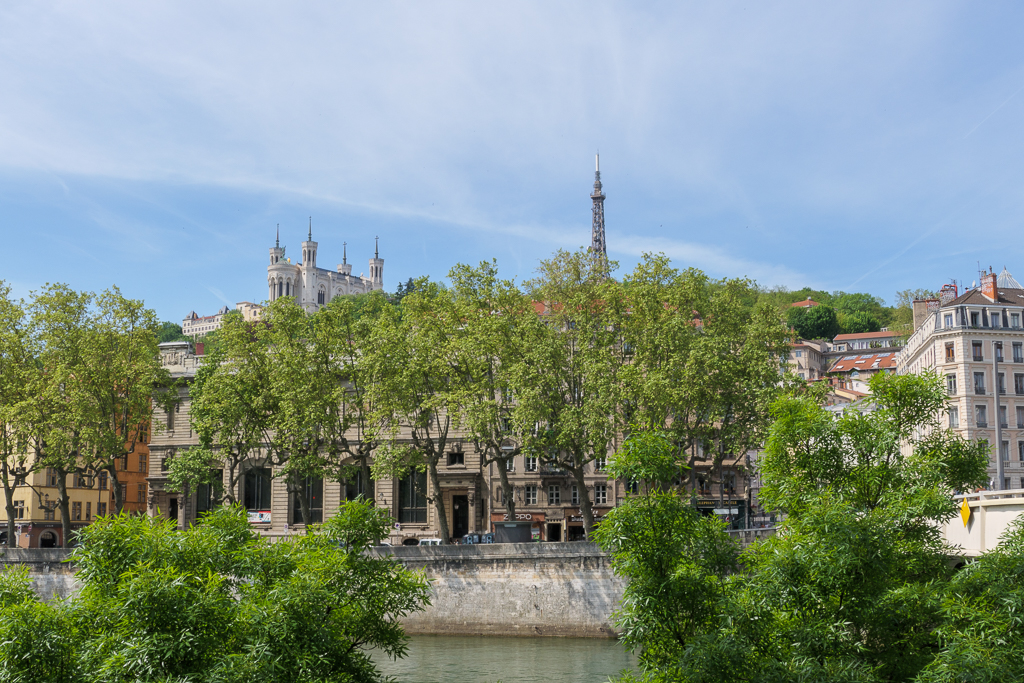 Our second demonstration was at Brochier Soierie, one of the four remaining silk production houses in Lyon. They create beautiful scarves, ties, and other silk products from locally-grown and -woven silk; some of their scarves are silk-screened (the screen is polyester, not silk!), and others are inkjet-printed. They also create velvet-on-silk items; the velvet is sometimes hand-painted, and Eliza showed us how it's done.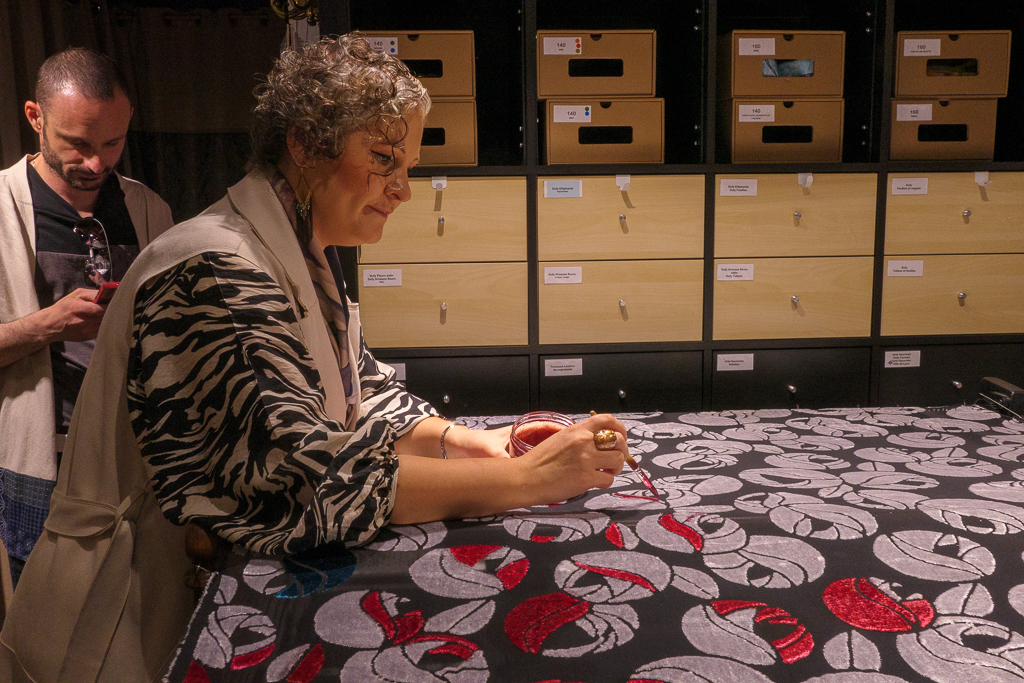 The silkworms are just beginning to hatch for this season; they live on mulberry leaves.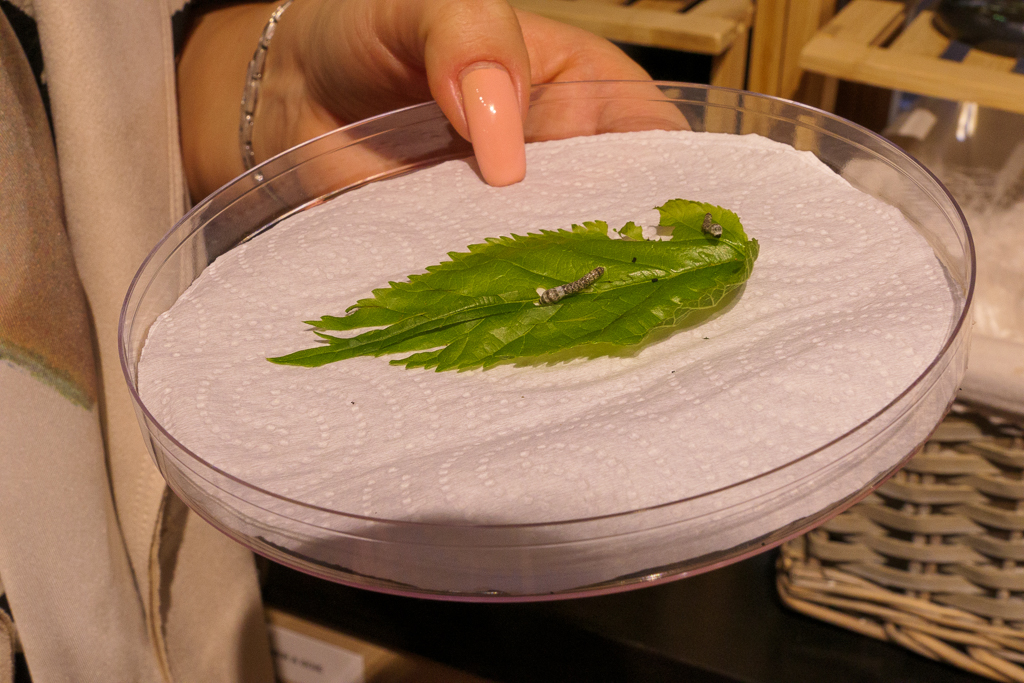 Our tour was over, but not our day. We had lunch at The Phamily, a Vietnamese restaurant nearby, then walked back to our hotel, crossing the Saône on the Passerelle du Palais de Justice.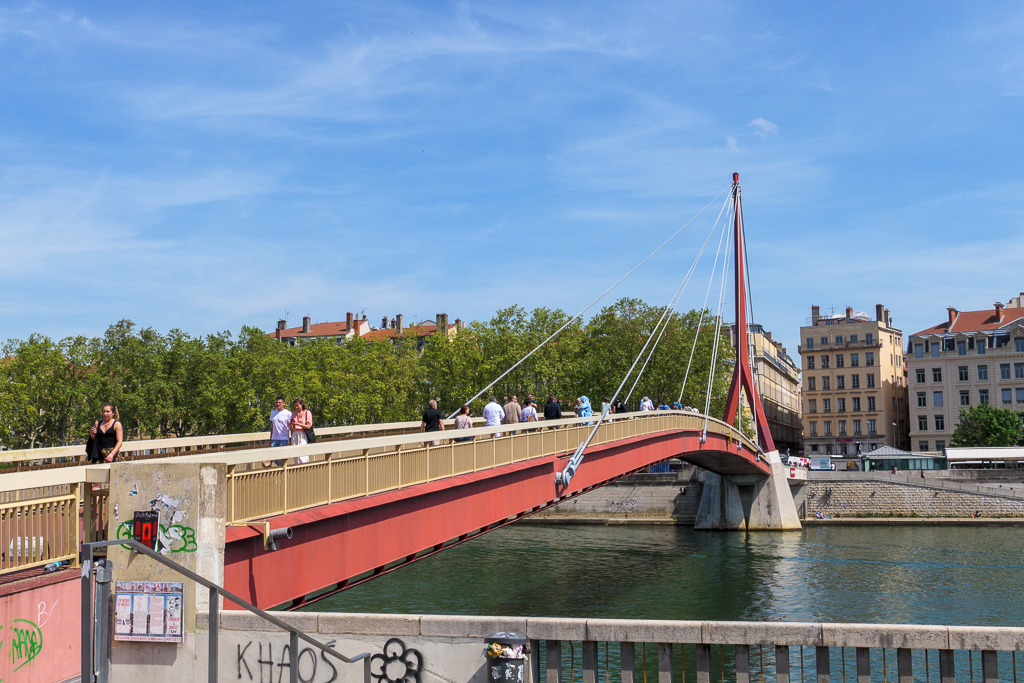 Lyon is putting art at the crossings over the Saône as part of their "River Movie" project. I don't think this one would be allowed in Florida.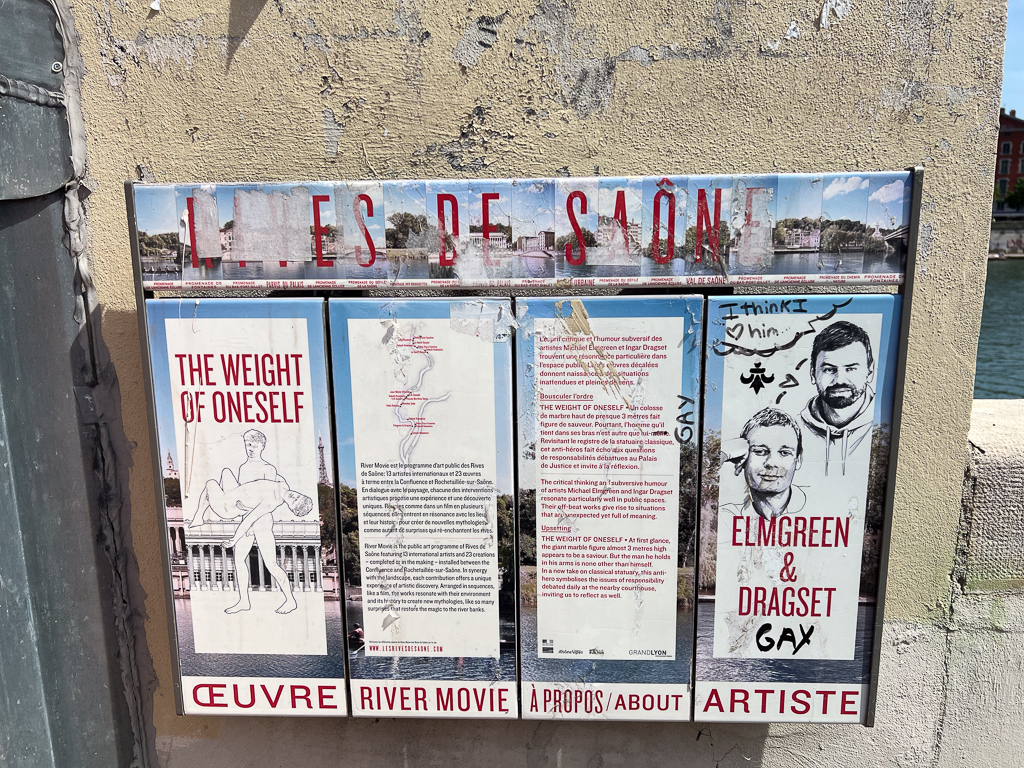 The Palais de Justice was pretty impressive, too, as was the next bridge north, Pont Alphonse Juin.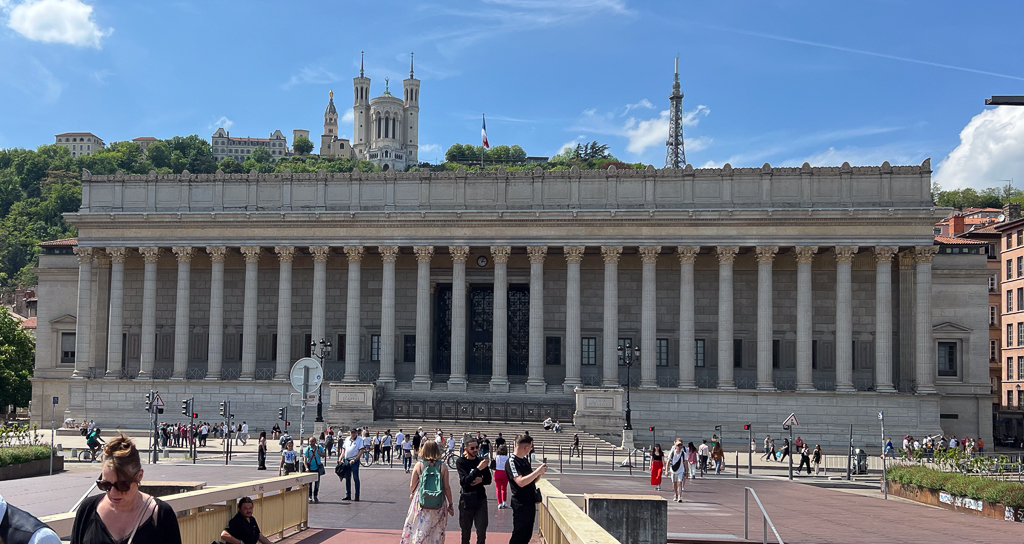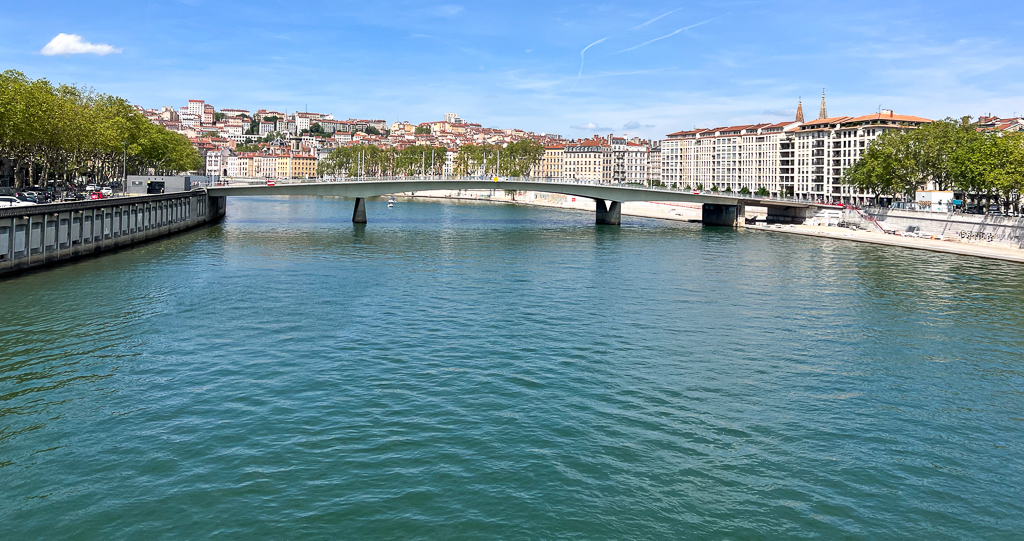 The Fountain of the Jacobins is just a few hundred meters from our hotel; it depicts four famous artists from Lyon:
16th century: architecture: Philibert Delorme
17th century: engraving: Gérard Audran
18th century: sculpture: Guillaume Coustou
19th century: painting: Hippolyte Flandrin
We came back and enjoyed the coolness of our hotel for a few hours, then went out for pizza at Antonio e Marco Festa Love. We got there a few minutes before 7 and had our choice of tables; by the time we left at 8:30, there was a line. I'd go back happily.
We have nothing scheduled for tomorrow. Yet.