Our trip home was boring. I asked BA for "mobility assistance" to keep me from having to schlep luggage around – it sort of worked.
In Paris, they let me sit down until they were ready to let us check in (they tell you to be at the airport 3 hours early, but they don't start checking a flight until two-and-a-half hours before departure time), and then they told me to go sit out in the terminal and someone will come and pick me up. There were two other BA passengers waiting, so I joined them; after 45 minutes, no one had come to pick any of us up (and one of the passengers was getting worried about making their plane). I gave up and we walked to security, the lounge, passport control, and the plane – no problem.
In Heathrow, they picked me up on landing and took us through the Flight Connections and Security maze, which I really appreciated. My pusher, Mohammed, zipped us through Fast Track (which was working for a change) and to the front of the security line – and for the first time in a long time, none of our items required extra screening! He took us to the lounge and promised someone would pick us up an hour before the next flight. But no one showed up for quite a while after the promised time – due to problems with the escalators causing huge lift queues. When my new pusher arrived, we were off on a zippy trip to the B gates, where we discovered that our plane was going to use buses instead of a jetway. I probably would have ben fine, but they put me on a "high lift" along with the other passengers needing assistance and Diane took the bus.
A "high lift" is basically a bus that can lift its passenger compartment to plane door level so you can walk onto the plane. It's not the most comfortable vehicle in the world, but it got the job done.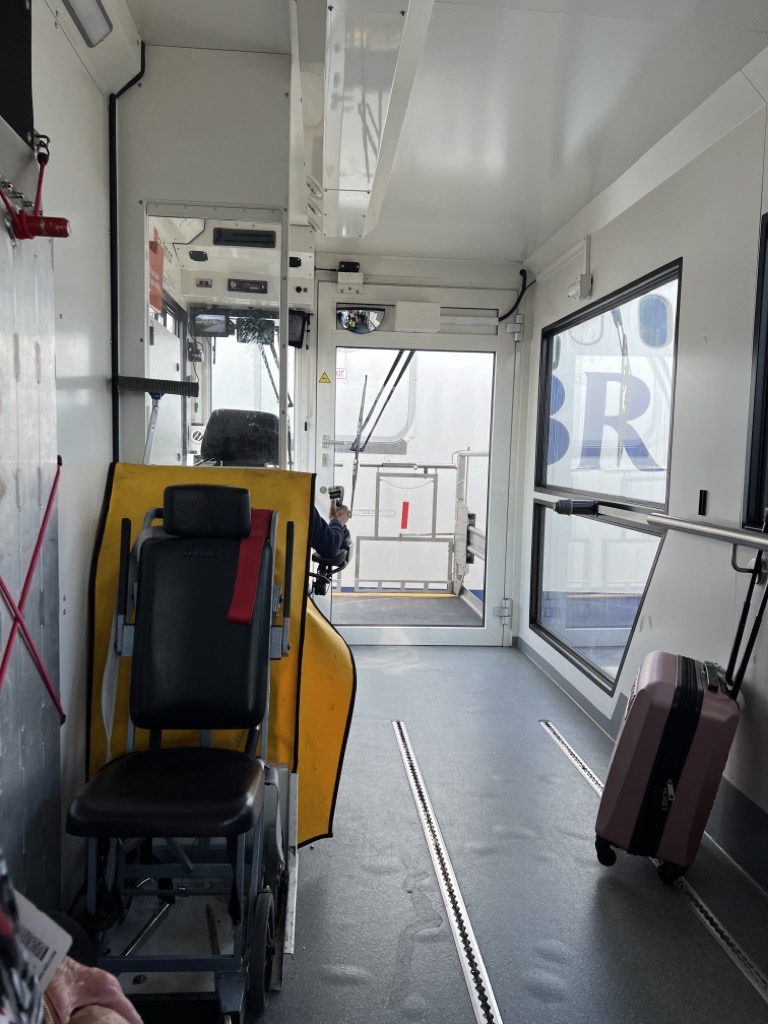 I felt pretty good when we got to San Jose, so I decided to skip the assistance. It was an easy walk to Global Entry and we were cleared in just a minute or so. And then we waited for our bags – I didn't check my watch, but I'm sure it was at least 20 minutes before the first bag was delivered. Our bag came out fairly quickly after that, and we headed off to get a cab (no waiting, unlike ride-sharing).
And we're home.