I was amazed how warm it was when we left the hotel at 5:15am. There was no traffic, so it only took 15 minutes to get to Madrid Airport, and it didn't take very long to check in and clear security, either.
Madrid Airport is huge (at least Terminal 4 is); flights going to non-Schengen destinations (like London) actually leave from a satellite terminal (4S), which you reach by train; it probably took more than 10 minutes to get to Passport Control. The border guard wanted to stamp my passport on the same page as the inbound stamp from Porto, but had a hard time finding it because it was so faint; once she finally saw it, she muttered "Portugal" and made sure that her stamp was nice and clear.
We went to the lounge for a quick breakfast; I'd never seen an airline lounge that you had to enter and exit through the middle of the Duty Free shop before! It was perfectly pleasant, but the food options were pretty limited. Diane hadn't quite finished her bottle of water when it was time to go, so she put it in her bag for later.
Our gate was a long way away from the lounge, but we had plenty of time. My watch told me that I'd walked more than a mile by the time we were on the plane, so I was happy that Iberia offered a nice breakfast on the flight to Heathrow. I didn't quite finish my water, so I put it in the pocket on my backpack and brought it with me for later.
We arrived at Heathrow a few minutes early; when we exited the plane in the C concourse, we had almost two hours to make the connection to SFO. We had our boarding passes and knew we would be flying out of the B gates, so we wouldn't have to change terminals; we were in Business Class, so we had Fast Track for Security; what could possibly go wrong?
Cue the ominous music.
We followed the signs and got on the train to go to Flight Connections. It made a stop at the B gates and I decided to get off to save time. That was a mistake, because there were no escalators going up to the concourse – BA keeps inbound and outbound traffic strictly separated at Heathrow.
The next train was far more crowded but we managed to squeeze in and went one more stop to Flight Connections. There were lots of people crowded around the help desks, waiting for an agent to fix their problems. We walked past them to the automated gate that lets you in to the Security screening area. I put my boarding pass on the scanner and waited for the gate to open.
It didn't. The display read "Go to BA Desk". I tried again with the same result. We were now people with problems.
We trudged back to the help desks and got into the "First and Business" line, which only had four groups of people ahead of us. Ten minutes later, there were still four groups of people ahead of us. Diane stayed in line while I tried using the self-serve kiosk to create new boarding passes; it couldn't read my passport. I tried the BA app; it gave me a digital boarding pass, but wouldn't create one for Diane.
Eventually, we got to an agent. She said that the boarding passes I'd printed on the Iberia site were incompatible with BA's system, even though both airlines are owned by International Airline Group. She also said that at least one of us had missing passport data in the system, even though I'd entered it on both the Iberia and BA sites. Despite all that, she was able to print new boarding passes for us, and off we went. I finished my water on the way back to the Security gate, which opened with no problems this time.
The Fast Track line was closed due to budget cuts and staffing issues, so we got into the regular line, with a little over one hour before our flight. Still plenty of time, right?
Half-an-hour later, we could barely see the actual screening area; I started asking people if we could go ahead of them because we had so little time left. Everyone was great and let us go, for which I'm grateful – and I think I need to refill my karma account now!
At Heathrow, you have to take out any electronics bigger than an iPad as well as the 1-liter bag for liquids and pastes, but you can keep your shoes on. We were ready and got everything into the trays quickly; they didn't even make us go through the millimeter-wave scanner! Things were looking up.
Until the tray with Diane's carry-on bag got diverted to the "extra scrutiny" line, with three trays ahead of her. I asked if they could take her bag next – nope, that queue was strictly FIFO. When it was finally time for her bag, the agent found the water she'd brought from the lounge in Madrid; we'd both forgotten about it.
The agent took everything else out of the bag and found nothing else suspicious; he put the water through the analyzer, which found nothing suspicious. He apologized, said that they had to confiscate the water anyway, repacked the bag, and sent us on our way.
It was 25 minutes to flight time, and we still had to get to the B gates, which meant taking the train again. There were escalators to "All Departure Gates" near where we'd emerged from Security but the area was congested. I knew the escalators at the south end of the A concourse were always less crowded, so we walked there…quickly.
We took the uncrowded down escalator and found the sign directing us to the train for the B gates, which was, of course, at the north end of the concourse. Oops! So we walked even more quickly back to the north end to go down four flights to the train.
Which, of course, was delayed for a security check. After what felt like an eternity (but was probably only three minutes), we were allowed to board for the two minute journey to the B gates, where we took the lift up to departure level.
We ran to our gate; fortunately, they hadn't closed the doors to the aircraft yet! The gate agent scanned the boarding passes and looked at our passports one last time, and told us we could breathe and walk down the jetway to the plane. And we did.
Lessons learned:
• The sign at Heathrow Terminal 5 that says "Flight Connections, all terminals" means all terminals.
• Never put a non-empty bottle of water inside a bag until you're completely past Security.
• The only path to the B and C concourses at Terminal 5 is at the north end of the A concourse.
• Be nice to people in a hurry – you may be them some day.
• All's well that ends well.
I was pleasantly surprised when I got on the plane – not just because we made it, but because this plane had been reconfigured with BA's "Club Suite" layout. BA's traditional Club cabin is arranged so that half the passengers face backwards and many passengers need to walk over a neighbor's legs to get to the aisle (especially awkward when people are sleeping); on this plane, all the seats face forwards and everyone has direct aisle access. There's even a sliding door that you can close between you and the aisle to give you more privacy (at least that's the theory). It's not perfect if you're traveling with someone, though, because the seats are pretty far apart, making conversation difficult.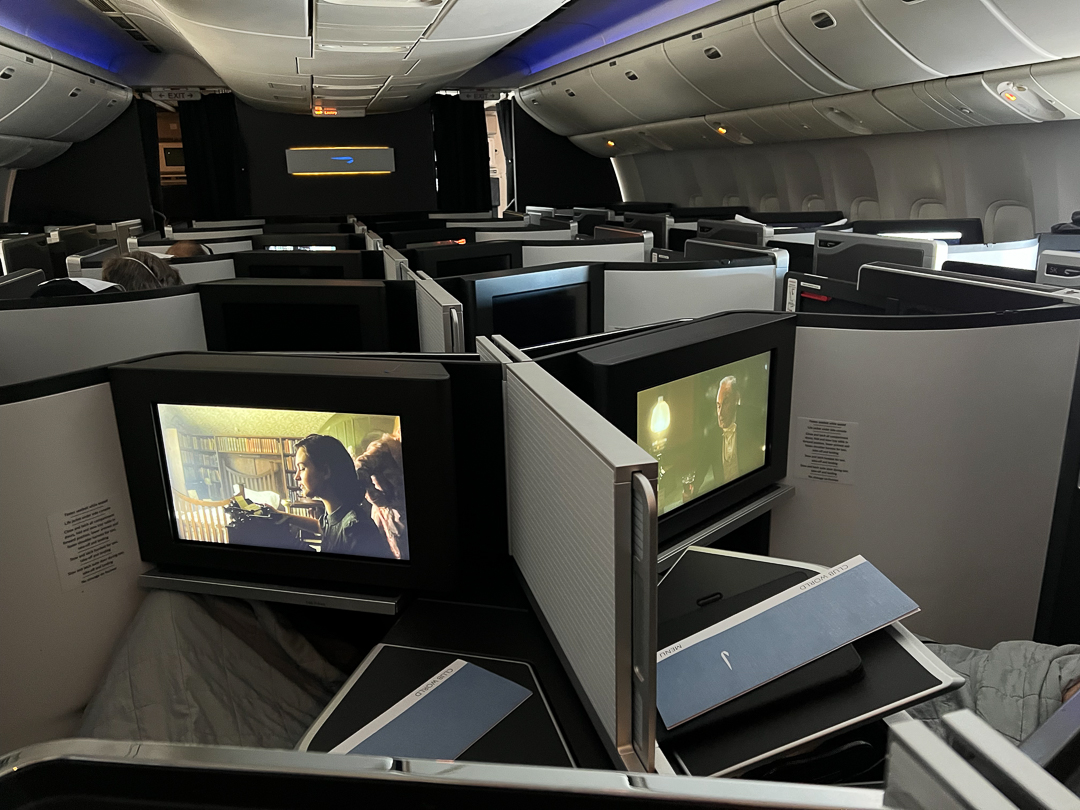 I spent most of the flight editing photos from the trip and learning more about Lightroom, so I feel like I accomplished something today.
We sat on the runway for more than half-an-hour; I think it was a problem getting a ramp crew, but I'm not sure. Once they got that sorted out, things moved more smoothly – the door they used for disembarkation was right behind our seats, so we wound up being the last people to get on the plane and the first to get off. Our gate was very close to the Customs area; this was the first time we'd used Global Entry with facial recognition, and it was quick and easy.
And now we're home – I'm trying to stay awake until at least 9pm Pacific, but it's a struggle!