Saturday, Jeffrey went to a friend's birthday party, while Diane and I saw "Having Our Say" at San Jose Rep. The play was excellent — the audience gave the cast a standing ovation, the first one I'd seen at the Rep for several years, and I thought it was well-deserved.
Sunday, I started the day with a trip to the Y to work out for the first time since going to Amsterdam (and boy, do I need it!), then we puttered around the house — I tried to replace the filter cartridges for the kitchen sink and failed (somehow, I screwed the sumps on more tightly than I can manage to unscrew them). I'm going to try again today — this should not be beyond my capabilities. After that, Diane went to the Y and Jeffrey and I went to the video store, where we bought a fine motion picture, Eegah. But by the time we got home, it was too late to watch it.
This morning, Jeffrey woke up early and watched Eegah (twice — once with the bots and once without). While he was watching for the second time, I installed the USB driver and TWAIN support for my camera so I could upload pictures to my underdesk machine instead of always having to use the laptop. And now we're going to go do the Los Gatos year-round volksmarch and have lunch en route.
Well, I was close. We did the volksmarch (here are before and after photos as proof (you can tell that Diane is more attuned to long walks than Jeffrey is)), but we noshed instead of eating actual meals. Oh, well. And we passed an typical Los Gatos parking lot, full of Ferraris (we don't own one) on the way.
Then we came home and puttered for a bit; eventually, some friends came over (bearing a USB hub, no less!) and we had dinner. They also helped unscrew the filter housing, and I was able to put it back together correctly this time, so we have filtered water again.
And after they left, we watched the first half-hour of Spaceballs, which is not in the best of taste, but is very funny (just what I expect from Mel Brooks). I hope Jeffrey doesn't have too much homework tomorrow so we can finish the movie before it gets late fees.
It's nice being in California in the spring!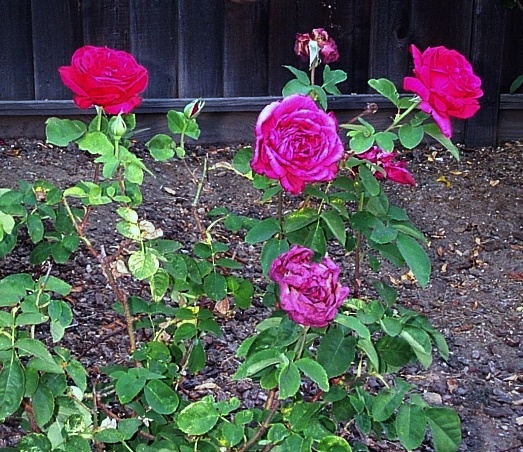 Tomorrow, it's back to the regular grind for a couple of days.