Once more, I'm not going to be able to write everything I want to write about today, at least not today, because it's late and I'm tired. But I did want to make a couple of quick observations about today.
I had hoped to go to Tsukiji Fish Market this morning, but that didn't happen (sleep was a higher priority). But I did have excellent sushi for lunch, at the princely sum of &165;100 per plate of two pieces (plus 5% consumption tax), at Otaru Zushi, near my hotel. If you can read Japanese, here are the details; otherwise, go to 1-8-9 Nihonbashi Hori in Chuo-ko, Tokyo (phone +81-03-3662-4071) and try it yourself.
We went to Ueno Park this afternoon to see the cherry blossoms and the crowds — my pictures don't do it justice (but I'm hoping my colleagues did better), but here's a taste.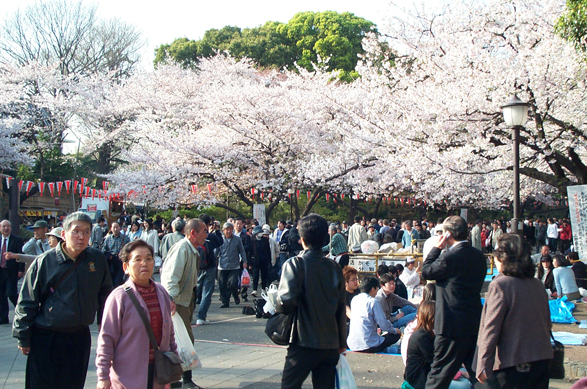 We also went to Akihabara to look around — I was impressed by the variety of stuff on offer, but not impressed by the prices. A Sony DSC-T1 was offered at prices up to $800, and the lowest price I saw was about $600; the US list price is $549.95. I passed. On the other hand, one of my friends saw what he needed: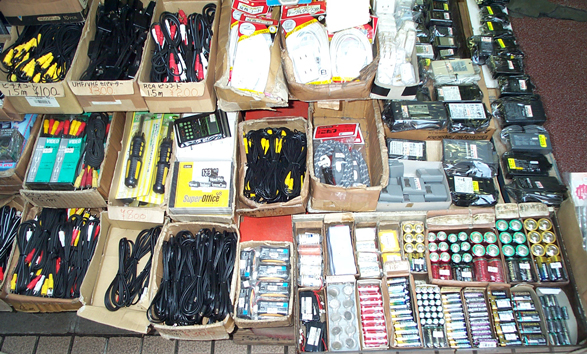 When we were ready to leave Akihabara, we had to walk a bit to get back to the subway. We were going to cross a busy street to get back to the station, but I noticed a bright blue "Tokyo Metro" sign on the same block as we were, so we went there and boarded our train.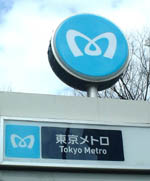 Later, I realized that the bright blue "Toyko Metro" sign wasn't at all familiar — in fact, I was pretty sure I'd never seen one before. But as we continued to travel around the city, I saw them at every station. Including the one right by my hotel, where I was sure there hadn't been such a sign this morning when I went to work!
I wasn't imagining things, though; Tokyo Metro is, in fact, brand new as of today. I'm impressed that they were able to change all the signage in one day.
Who knows what changes tomorrow will bring?