Manresa is the only Michelin-starred restaurant in Los Gatos – it has three. Their Chef's Tasting Menu is $295 per person (I don't know if that includes wine or not) and reservations are difficult. Needless to say, we've never been there – we've never seriously considered it.
Until today. Like all other restaurants, they're closed due to COVID-19; like many other restaurants, they're offering takeout. In their case, they're offering their "Family Menu" (which is inspired by the meal the staff eats every day) at around $50 per person. You have to order a day ahead, and there are limited quantities available. Today's meal was:
Ӣ Salmon poached in aromatic olive oil
Ӣ Couscous salad with braised Swiss chard
Ӣ Roasted Brussels sprouts
Ӣ Roasted market vegetables
Ӣ Mixed green salad
Ӣ Parker House rolls
Ӣ Caramel mousse
When I first tried to order, they were sold out, but offered to put me on the waitlist; a few hours later, I had given them my credit card and was all set for today. We even splurged and got the Sommelier's Choice wine (which turned out to be Château de Brézé – 2018 Saumur Blanc, "˜Clos du Midi').
Pickup was straightforward, and soon enough we'd unpacked a pile of containers onto a protective piece of newspaper: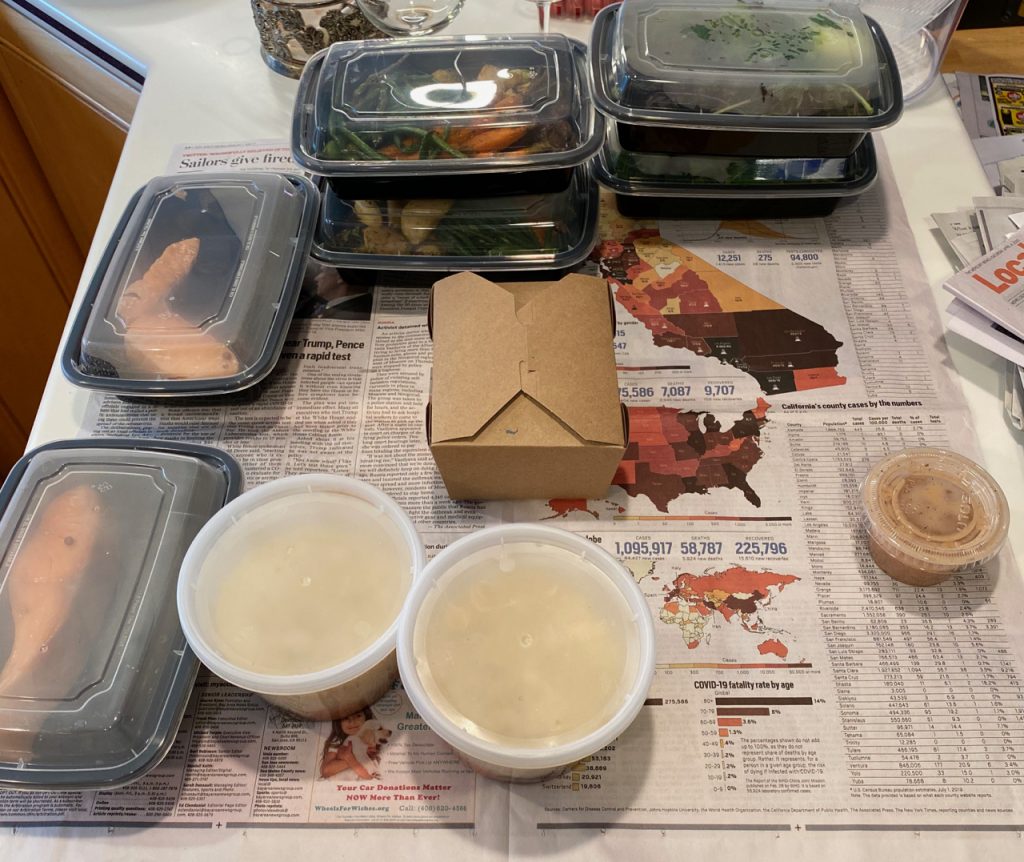 We disgorged them onto plates, popped the plates into the oven, and a few minutes later, dinner was served: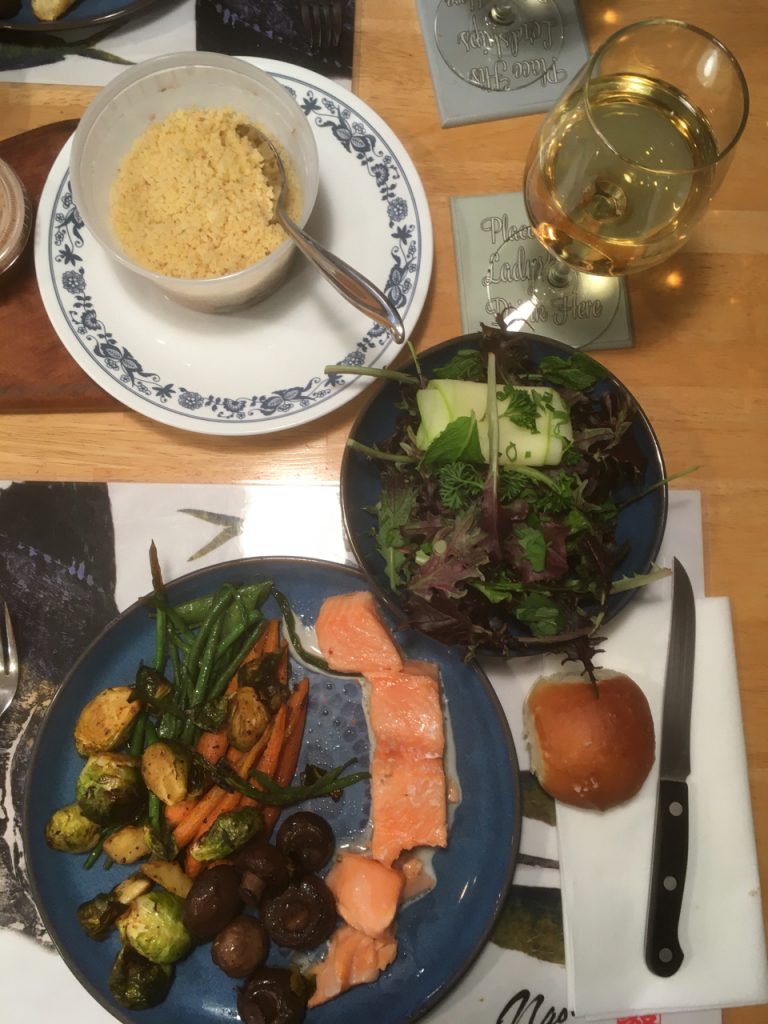 It was quite good! Probably not quite as good (or as hot) as it would have been at the restaurant, but needs must. There was enough food that we didn't have dessert; it'll probably be just fine tomorrow. I'm going to keep my eye on their family meal offerings in hopes of finding another one without pork or shellfish – but not until after Passover.
After dinner, we watched TheatreWorks' production of They Promised Her The Moon; we probably wouldn't have seen it in the theatre, but watching it in the comfort of our own home was appealing. It was their second or third performance, and they'd taped it for archival purposes; after the run was halted, they made arrangements to make it available for a week or so for a donation, and we took them up on the offer. The play was interesting – I hadn't known the story of the "Mercury 13", and it was worth seeing.
My USB gender changers came in today so that I could convert my WyzeCam into a webcam so we can do Zoom calls from the family room and watch on the big TV. I ran into a little trouble trying to reflash the firmware (apparently you have to format the microSD card as FAT, not exFAT), but once I got over that speed bump, it went smoothly. TThe camera has a very wide angle of view and horrible sound, but if I set it up near us and use the phone for audio, I think it'll work.
Of course, since it was Saturday, we Zoomed to Torah Study and took walks in between the raindrops. Not a bad day all told!