I did something today that I haven't done for nearly two weeks – I put on long pants instead of shorts. We had to get out for an early walk and it was still in the 60s when we left.
We had to leave early to be home in time for a virtual tour of Beit Hatfutsot that we'd won at Shir Hadash's 40th anniversary virtual auction. We'd actually bid on a trip to see the Salvador Dali exhibit in Monterey, but….
The tour was interesting and fast-paced; we'd been to the museum during our 1999 trip to Israel, but things had changed in the intervening 21 years. The tour was centered on art and culture, and I really enjoyed it – I'd like to see some of the exhibits in person, but for now, I'll have to settle for what's on the museum's web site.
Today's mail included the Valpak envelope – I always open it and glance through it, and very occasionally find a coupon of interest. Today, though, I was greeted by something different when I opened the envelope: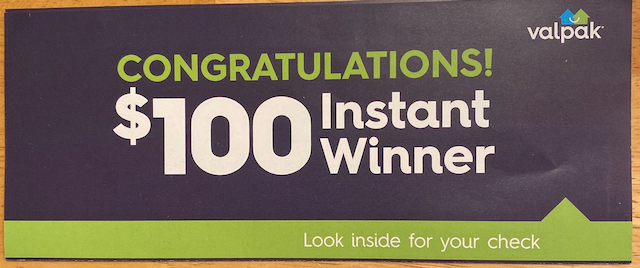 It's already been donated to the Silicon Valley Community Foundation's fire relief fund.