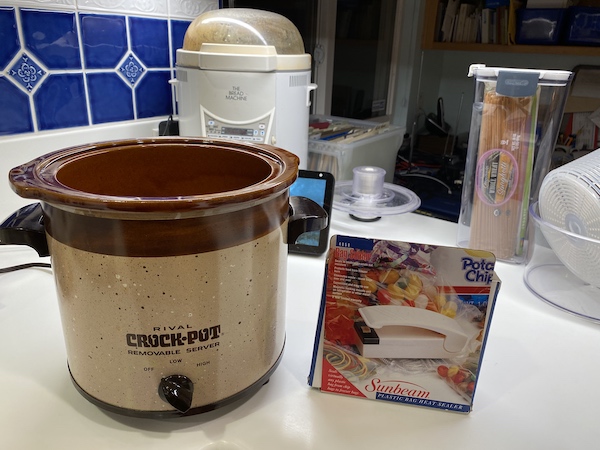 We tried another new recipe tonight, Slow Cooker Spiced Lentils with Veggies from the Mercury News. It was good, but next time, we'll add more spices.
The hardest part of the recipe was getting to the Crock-Pot; we hadn't used it in a while, and it was at the back of the cabinet over the oven, which was also filled with many water bottles, an RPI Class of 1975 pitcher and mug, several rarely used appliances, and various serving pieces which we'd been given as wedding gifts (just like the Crock-Pot).
Some of the water bottles had given their all and made a final trip to the recycling bin; the others, along with the pitcher and mug, got put into storage in the garage in a Container Store bin that I bought last year. The serving pieces went back to the cabinet.
And I used one of my Mom's gifts to us for the very first time – a Sunbeam Electric Bag Sealer. I don't know when she gave it to us, but the copyright date on the manual was 1995, so I know it wasn't a wedding gift. I used it to reseal the bag of dried chiles we bought for this recipe – it worked great!
Thanks, Mom!