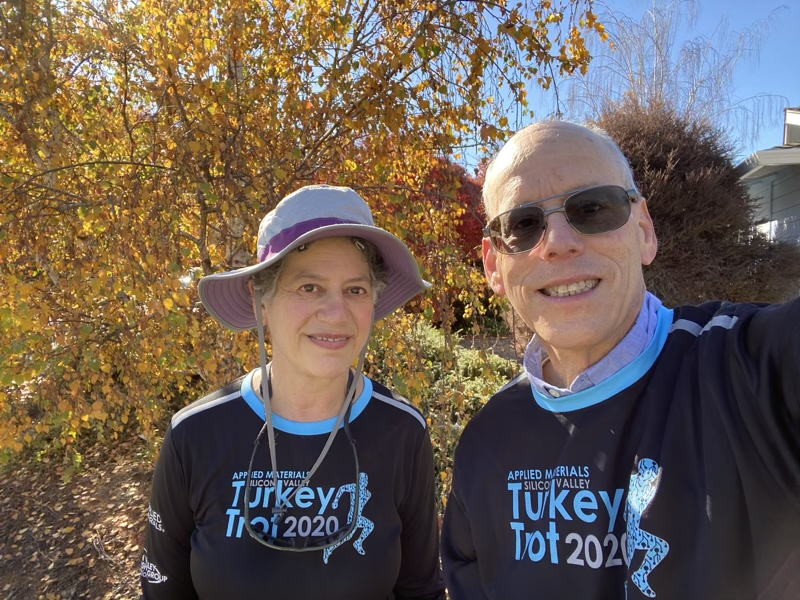 This year, the Silicon Valley Turkey Trot went virtual. That meant that we could walk it any time this week, starting from anywhere we wanted. So we downloaded the RaceJoy app and walked the event this morning – our times weren't as good as they were last year, but we didn't have to stop for traffic lights last year, either. Doing the event from home was a lot more convenient than going to downtown San Jose, but it was much less of an event this way.
Tonight's adventure in e-commerce was a forced march; just after I finished making dinner (Sesame Crusted Seared Ahi Tuna), one of the lamp covers on our range hood came crashing down on the cooktop. Fortunately, it's plastic and only weighs an ounce or two, so no damage was done to the cooktop, but it certainly startled me. After dinner, I tried to fix it and quickly discovered that a piece had broken off; I was surprised to be able to find that the manufacturer (Broan-Nutone) had the part in stock, even though the hood is 22 years old. I ordered two so I could replace both sides at once.
Tonight was also the Los Gatos Interfaith Thanksgiving Service. We've gone a few times in the past and enjoyed it; like so much else, it had a different vibe online than in person, but I'm glad we went.