Our flight from Richmond was scheduled to leave at 1:40pm; an appropriate degree of paranoia about airport security delays dictated that we be at the airport before noon, which meant eating lunch there. Yelp research didn't offer much hope for the airport restaurants, but my niece and sister-in-law had suggestions for places to stop and pick up something to take with us.
My niece is a foodie – she suggested we take a short detour from the direct route and order takeout from Garnett's Cafe in the Fan District. Their menu looked very good, and she assured us that if we ordered in advance, they'd have the order ready for us to pick up when we drove by.
My sister-in-law leans more on the practical side – she suggested we buy gas and pick up sandwiches at the Wawa station two minutes from the airport. Buying gas there was an obvious choice – but we were skeptical about gas station food. On the other hand, I'd heard a lot of good things about Wawa's food on podcasts, and she assured us we'd like it.
In the end, the clock forced the decision on us – we left my brother's house later than we planned, so Wawa was the only option. They offered a wide variety of sandwiches, but it wasn't easy to go through them on their ordering system. The menu tree was deep and it wasn't easy to navigate between types of sandwiches (let alone salads or other options), and we were short on time. I'd had a LOT of beef during the trip, so I didn't want that; I went for a Turkey Vegetable sandwich figuring it would be a safe choice, and Diane did the same thing.
We picked up our food and drove to the airport, returning the car just a few minutes before we'd be charged for an extra day. We ate before going through security and, well, neither of us was impressed. There was nothing wrong with the sandwich, but it wasn't great – in fact, it wasn't even the best gas station sandwich I've had (there's a deli in a Valero station near AutoTec where we have our cars serviced, and I liked their sandwich better; to be fair, I had that one hot, while Wawa's was cold).
We needn't have worried about security delays; I don't think there were more than ten people in the regular TSA line at any time, and there was no one ahead of us in TSA precheck. I even accidentally smuggled a half-full bottle of water through security (it had been sitting in the outside pocket of my bag since our flights on Wednesday).
Our flight arrived in Atlanta at Gate A1 and our connection left from E5; we had more than an hour before the connecting flight boarded, so we walked – it was the longest walk we'd taken since Tuesday. The second-longest walk was at SFO tonight from our gate to the AirTrain to Long Term Parking.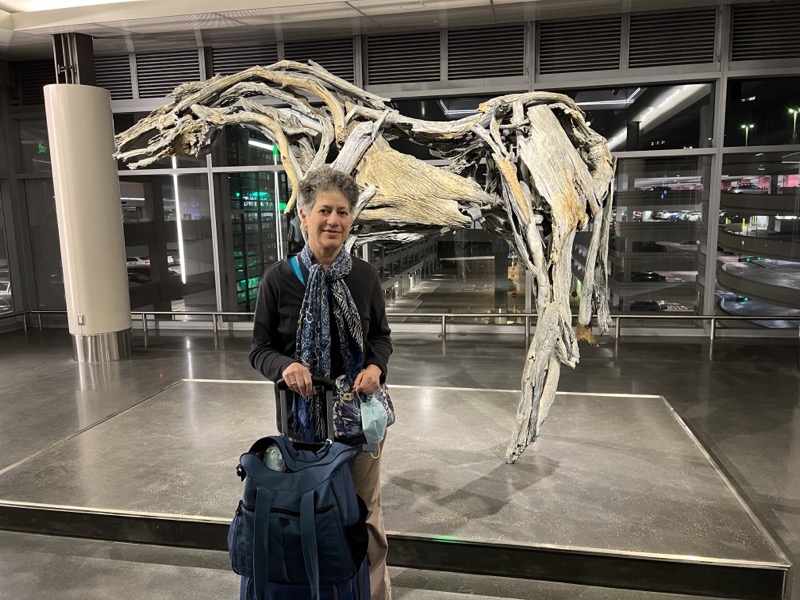 I'm glad that the reunion happened despite Covid, and it was wonderful to see and talk with old friends and spend time with my family. But it'll be great to sleep in our own bed tonight – I'm even looking forward to cooking again!