A few Silver Tongued Cats planned to meet for in-person coffee and conversation at Panera Bread 15 minutes after this morning's meeting. I was game; Panera is a 20-minute walk from my house, so I expected things to be in full swing when I got there. So I was surprised when I got there at 9:20 and found no one from the club – I stuck around for a few minutes, walked home, and then Diane and I set off on our usual Thursday rounds.
Later, I found out that the other people arrived starting at 9:30, long after I'd left. The official start time will be 9:30 next time, and I'll be more patient.
Lunch was another experiment, this time using a recipe for Salmon with Cilantro-Lime Topping + Pear & Nut Salad from Platypus Wine Tours who'd taken us on a Sonoma tour in July. It was pretty good, but I think we had too much celery and could have used more nuts.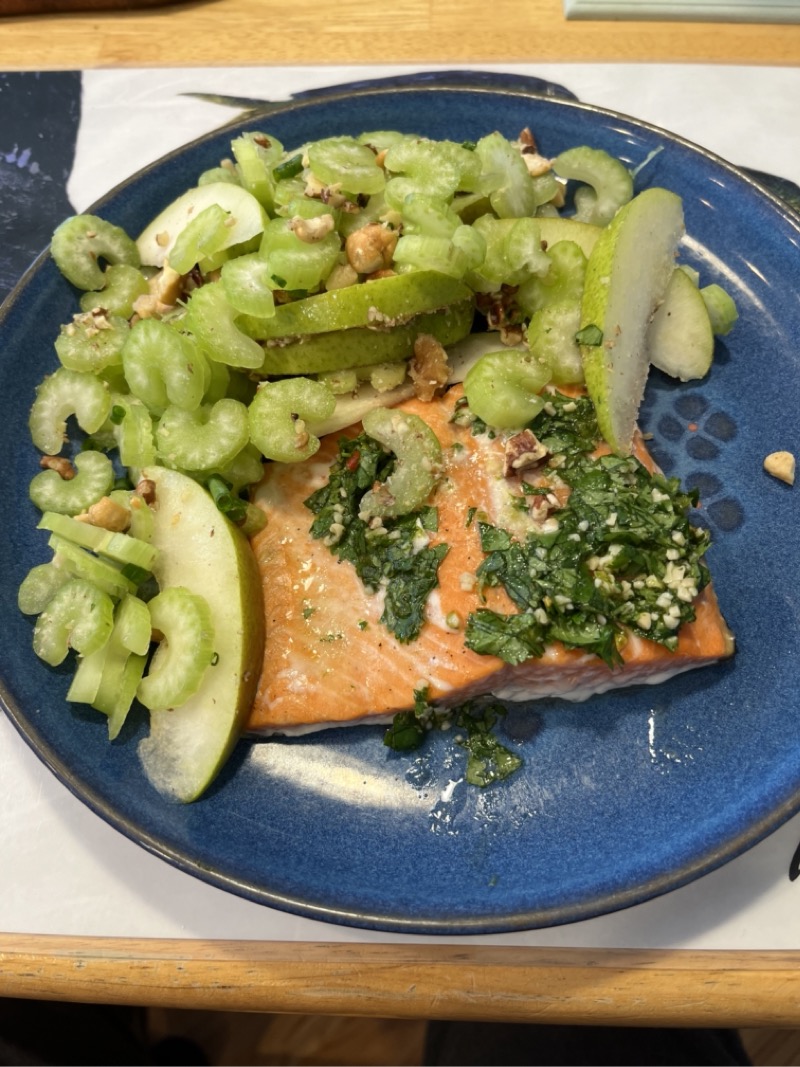 Diane and I took a quick walk in the afternoon, and then we got busy on computers until dinnertime. At 8, I suddenly realized that I was 70 calories short of my daily goal. I'm pretty sure I won't be able to hit it every day this year, but I'm not ready to give up yet, so I took a quick and boring walk up and down the block to make up the deficit.
The saga of my missing Costco shipment continues – I'd called them nearly two weeks ago to ask for a refund for the paper towels that they hadn't included in the replacement shipment they sent, and I was told I'd see the refund in a week or so. It hasn't shown up; this time, I decided to try their chat function so that I'd have a record of the conversation. The current promise is that they'll process the refund within 2-3 business days and send me an email; after that, it's in the bank's hands. We'll see.