Every spring, Toastmasters has a cycle of contests. One of the contests is always the "International Speech" contest which ends with the World Championship of Public Speaking at the Toastmasters International Convention. The other contest is different every year – this year, it was the Evaluation contest, where several people evaluate the same "test" speech (needless to say, the contestants aren't allowed to hear the evaluations given before it's their turn to speak).
I'd won the Evaluation contest at the Silver Tongued Cats, which put me into today's Area contest. Our test speaker, Chuck, gave an interesting speech titled "The Power of Three" – he started with his first exposure to public speaking as a high school student. He had the bad luck to be called as the first speaker in his very first class and had to come up with an impromptu speech based on Mark Twain's quote: "The two most important days in your life are the day you are born and the day you find out why."
Chuck survived the speaking class and discovered that the Twain quote kept haunting him throughout his life. He kept wondering what his "why" was – until a week after his 70th birthday, when someone who'd seen him speak at the Genomics Research Conference wrote to tell him how his speech had shaped the writer's career and encouraged him to work on tricky medical research projects. And then Chuck realized that there were three important days in his life – the two Twain had identified and the day you start making your "why" come true. He encouraged us to look for that third day and to make a difference.
I found the speech moving and inspirational – and hard to improve, which made it difficult to evaluate effectively! But I did find a few places where Chuck could have tightened up the speech or added a bit more to it – and that must have impressed the judges, because I won and will move on to the Division contest in mid-April.
If I can make it. We're going to be on a tour in Charleston on the day of the contest; the contest is on Zoom, so distance is not a barrier, but the schedule might be. I warned our Area Director that I might not be available and to arrange for the second-place finisher to be ready just in case. If I can't make it because we're too busy having fun in Charleston, so be it!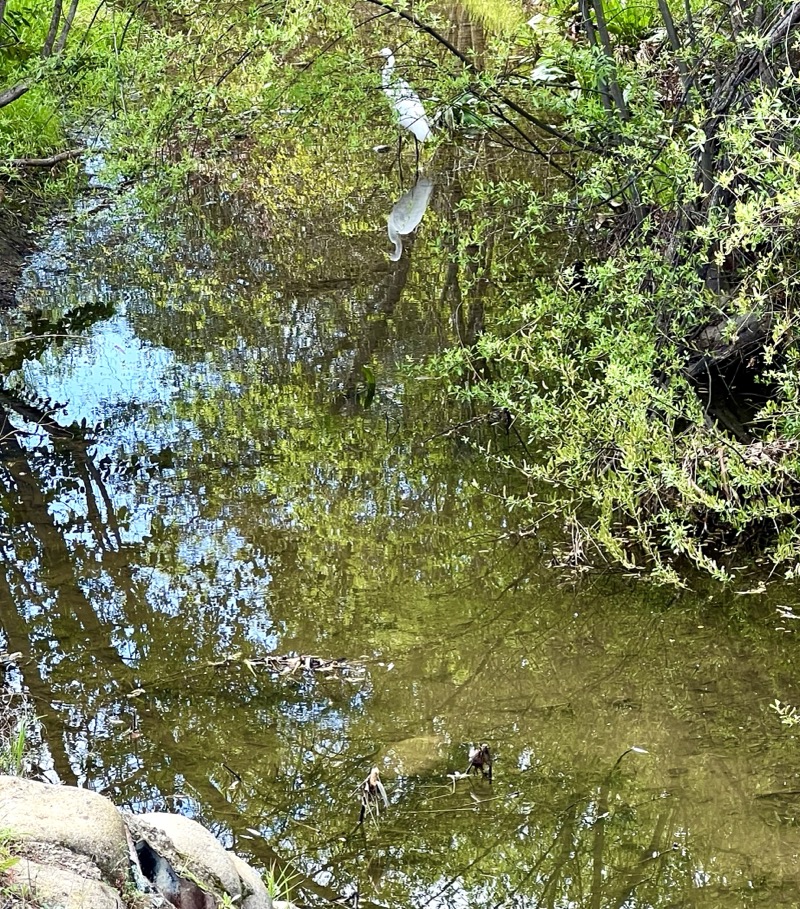 Spring is approaching – the egret who likes to visit the creek near us is back.