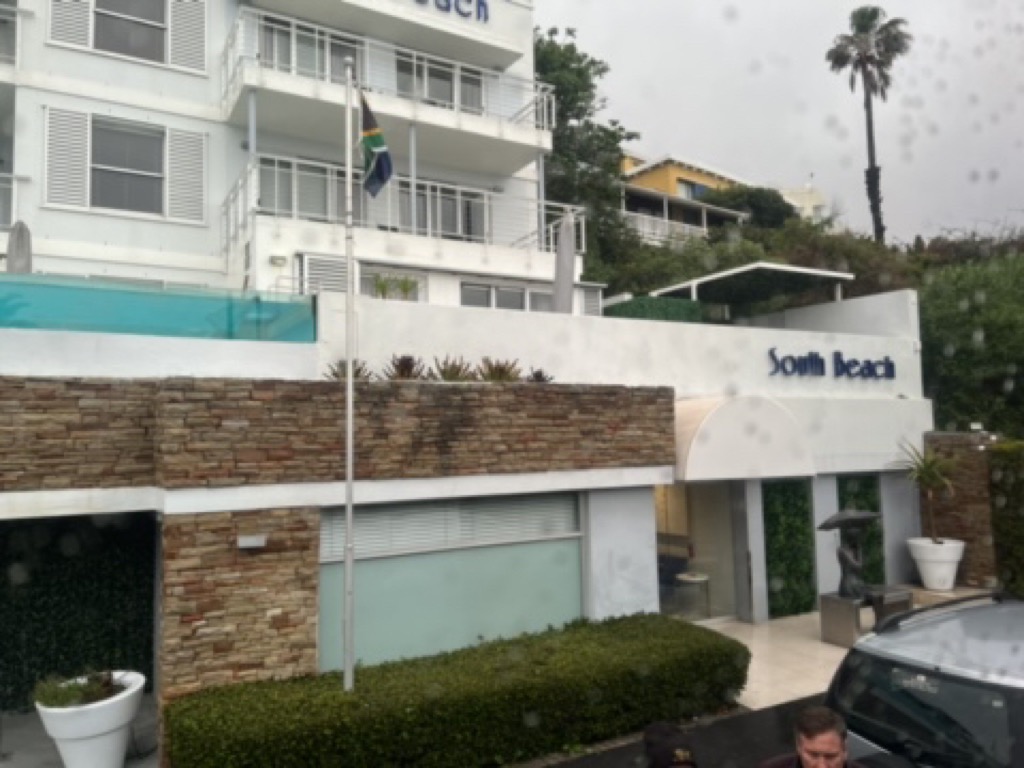 We said farewell to the South Beach Boutique Hotel this morning after a thoroughly delightful stay – I don't think it's likely that I'll be back, but I can heartily recommend the hotel to anyone going to Camps Bay.
I think we had yet another different bus today. It ran, and there was a functional PA system. On the other hand, it was raining pretty hard, and there were quite a few wet seats and floors. At least we found a dry seat for the trip to Stellenbosch, but there really wasn't much to look at because of the weather.
Our first stop was at Groot Constantia Winery, which was the first winery in South Africa in the 17th Century.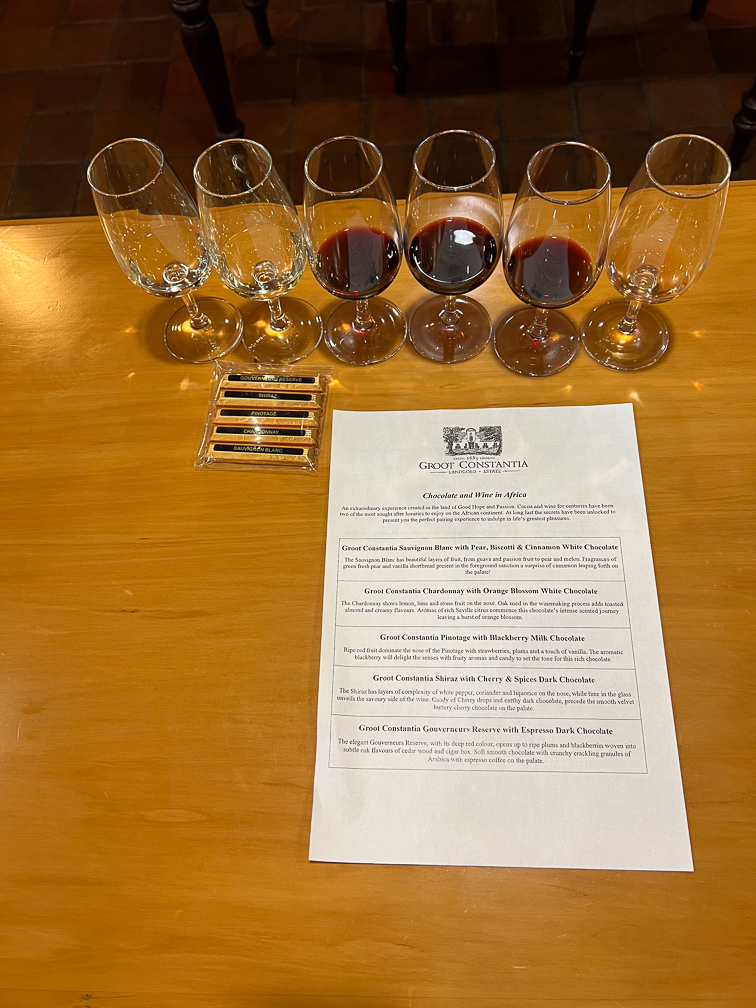 We had a wine and chocolate tasting there – 5 wines, each paired with a flavored chocolate. The white orange were paired with white chocolates, which we enjoyed more than I expected. The Pinotage was paired with a blackberry milk chocolate, and the Cabernet Sauvignon and Bordeaux blend were paired with dark chocolates. It was a very nice touch and a very interesting tasting.
We didn't think we wanted to haul wine around for the next three weeks, so we left with just a little chocolate. I did find, though, that Groot Constantia wines are available from a couple of mail order merchants in the United States, and the pricing isn't too terrible.
Our next stop was Morgenster Wine and Olive Estate, where we had an olive oil tasting (three different olive oils, all estate-grown), followed by two wines. The olive oil was outstanding, and I've found US sources for it, too. I didn't find any reason to look for sources for their wine, however.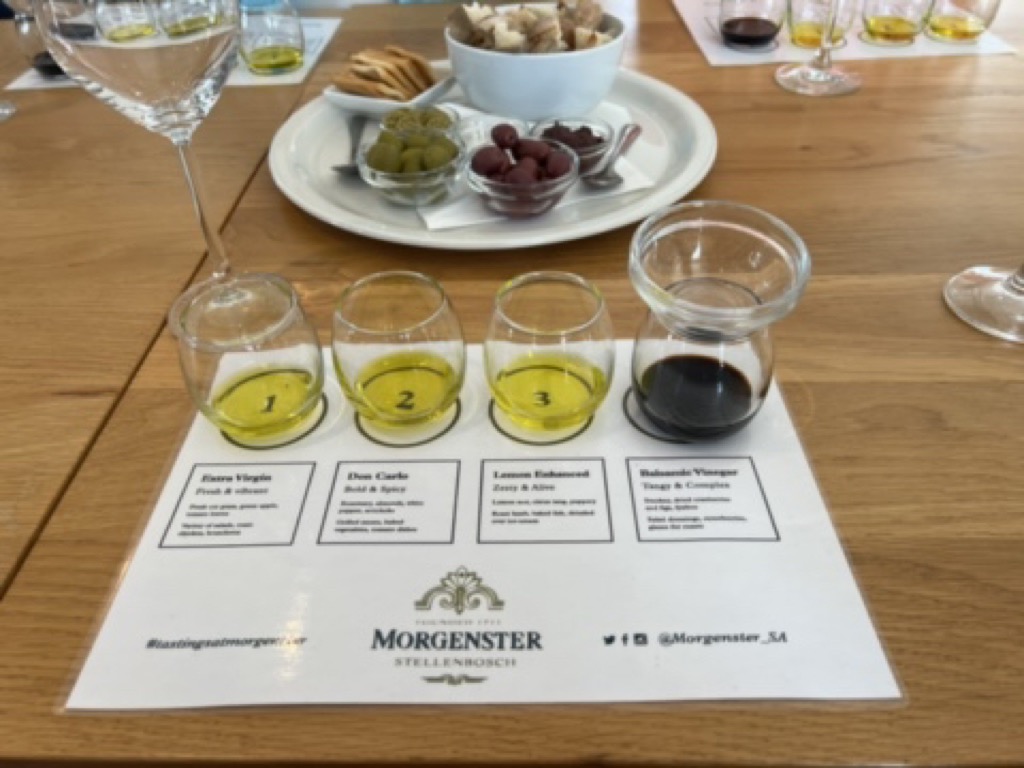 We got a brief break in the weather as we were leaving Morgenster, but the skies were ominous.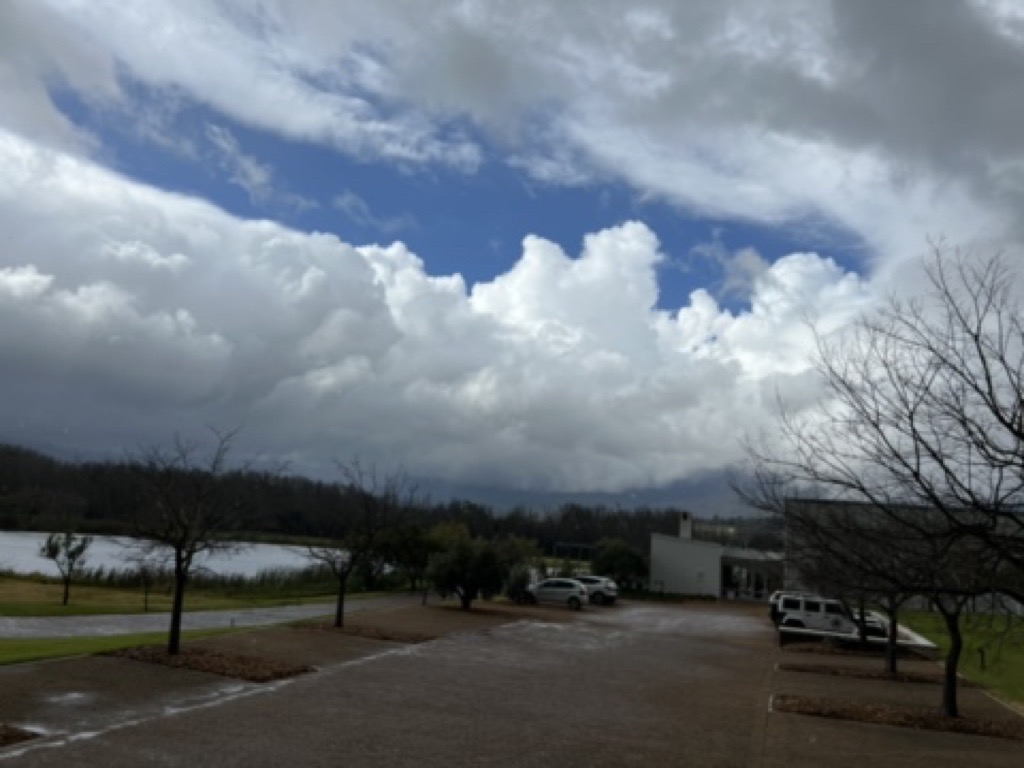 We were supposed to be on our own for lunch and then take a walking tour in Stellenbosch , but the weather made that impossible. Our local guide called an audible and made reservations for the entire group at De Warenmarkt, which took good care of us. Diane and I had the fish of the day, sea bream.
It was delicious, but we were surprised to be presented with whole fish!
After lunch, we walked to the Coopmanhuijs Hotel, which is from a much earlier era than the South Beach.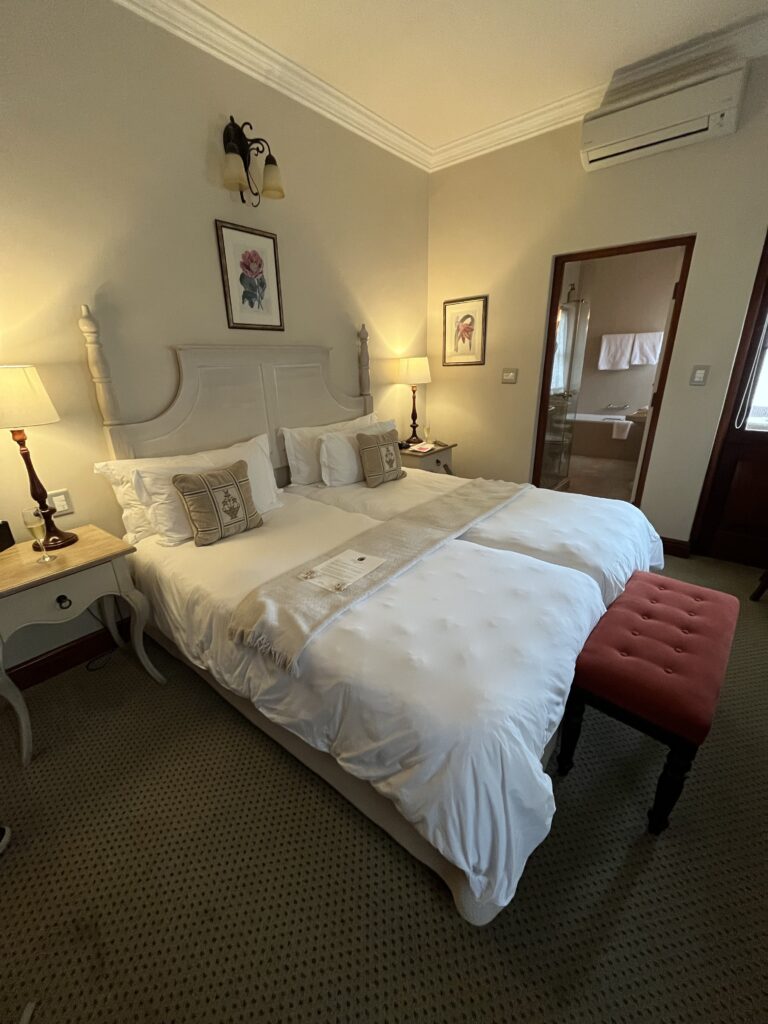 The rain stopped, so we decided to take a walk – as we were ready to leave, I noticed a sign in the lobby: "Load Shedding: 18:00-20:30". I asked the clerk, who explained that the utility power would be cut at 6pm and would be back by 8:30 – and that the hotel didn't have a generator.
We took off for our walk. I looked at my watch – 6:02. Most businesses were closed and dark, though there were a few exceptions, like the supermarket. Some of our friends had decamped to a nearby coffee shop which did have power; we joined them and had a pleasant time.
We returned to the hotel, about a block away – the streets were mostly dark. It was like being in California during the rolling blackouts!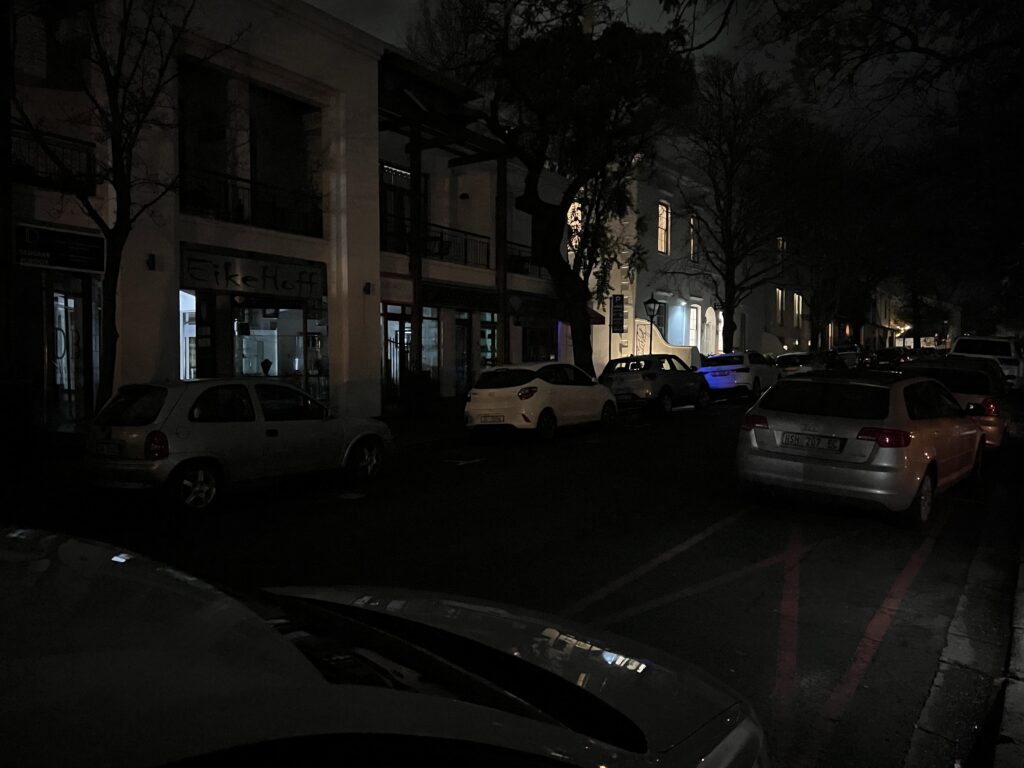 Power was still out in the hotel, so rather than walk up unlit stairs to unlit rooms, we sat in the dimly-lit parlor enjoying the fire until power returned a few minutes after 8.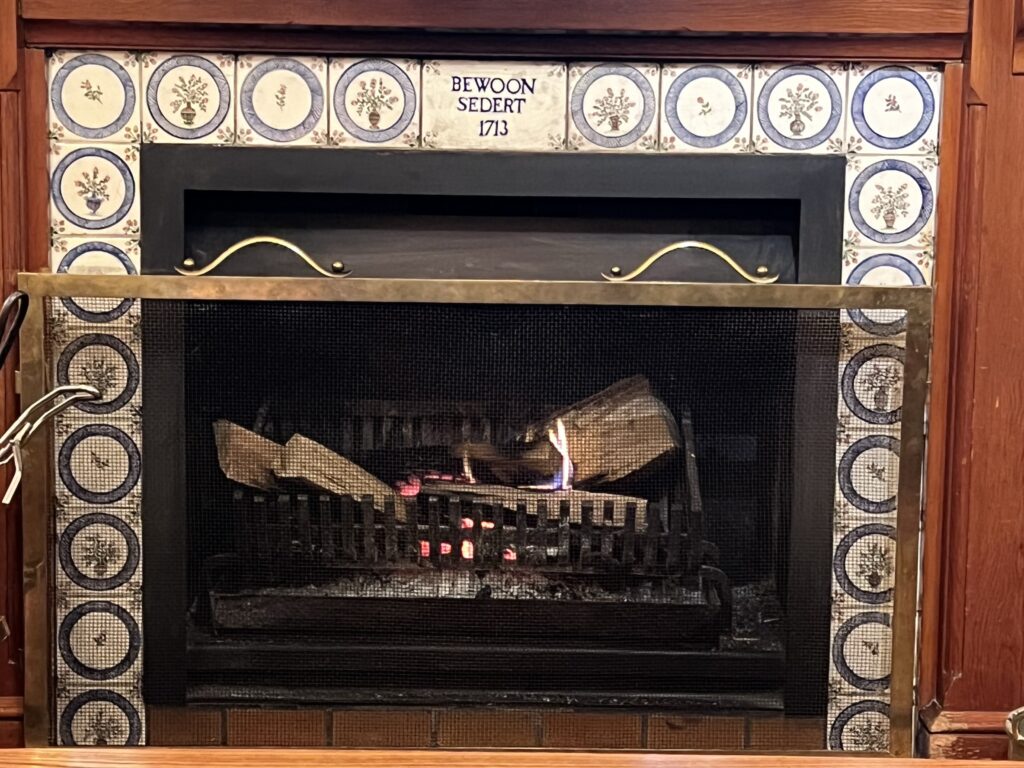 Travel is supposed to be an adventure, right?