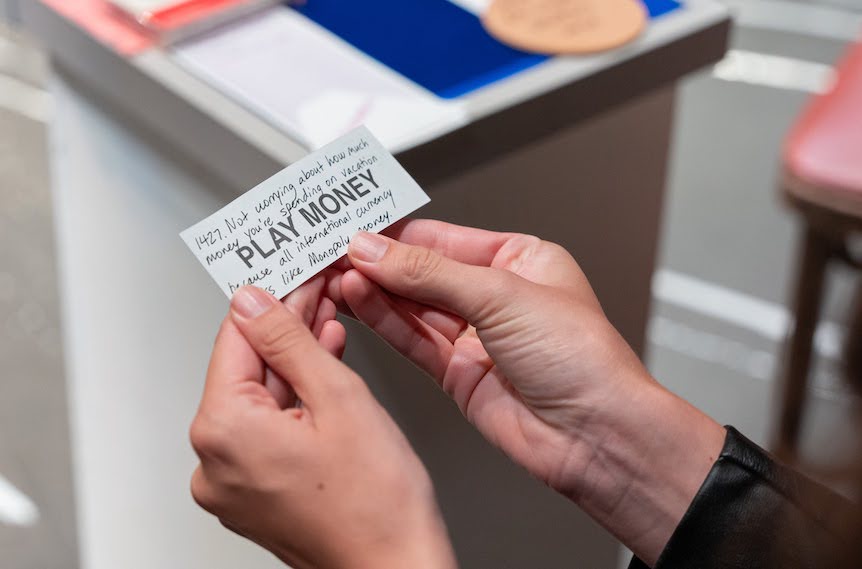 Who would have thought that a play which centers on ordered lists and suicide could be so moving and funny? Not me – not until I saw City Lights's production of Every Brilliant Thing today. It's playing through October 16, and if you're in the South Bay, I think you'll enjoy it. And if you're not in the South Bay, there's a good chance it will come to a theatre near you. And if it doesn't, there's an HBO film of a production in New York, but attending (and participating in) a live production is better.
The audience plays a big part in the play – the Actor (or, in this case, the Actors – but I'll come back to that) offers audience members an item from the list to read aloud when its number is called (you're free to decline, of course). I got number 1 (ice cream), which is reused several times during the play; Diane got 1006 (surprises), which was printed on a kazoo (she chose not to play the kazoo but did read the item when cued). Other audience members got enlisted to play roles in the play, like the Vet, Dad, or the spouse – they improvised their lines and the Actor had to respond appropriately.
This production was "bilingual" – English and ASL, so there were two people filling the role of the Actor. One spoke all the lines and the other signed them – it made the play more visually interesting. Before the play started, they taught us a few signs for items on the list, such as ice cream (licking a cone) and coffee (grinding motion).
I'd like to go back and see how the play changes with a different audience – live theatre always responds to the audience, but this play brings that response to the next level!