Our goal for today was to visit Pu'uhonua o Hōnaunau National Historical Park, just an hour south of our hotel. We succeeded – and it only took us four hours to get there!
We needed to visit the concierge before we left so that we could convert some of our excess "Club Points" into resort credit, which was a smooth process. We mentioned our plans; he suggested we stop for lunch at Coffee Shack before going on to the park. That sounded like a good idea, and we set forth.
We were almost to the restaurant when I saw a sign out of the corner of my eye: "Garden open today". We'd discovered the elusive Amy B. H. Greenwell Ethnobotanical Garden! They are still recovering from the pandemic – they'd given up their phone to save money, and the volunteer we talked to described the website as a "work in progress". Most of the people there were preparing for their "Grow Hawaiian Festival" this weekend, but we did see a few other tourists during the hour we spent walking through the garden.
Their focus is on plants and trees that Hawaiians used; some are now endangered and they're trying to preserve them. Others are very common (like the noni tree), and they're trying to preserve the knowledge of how they are used.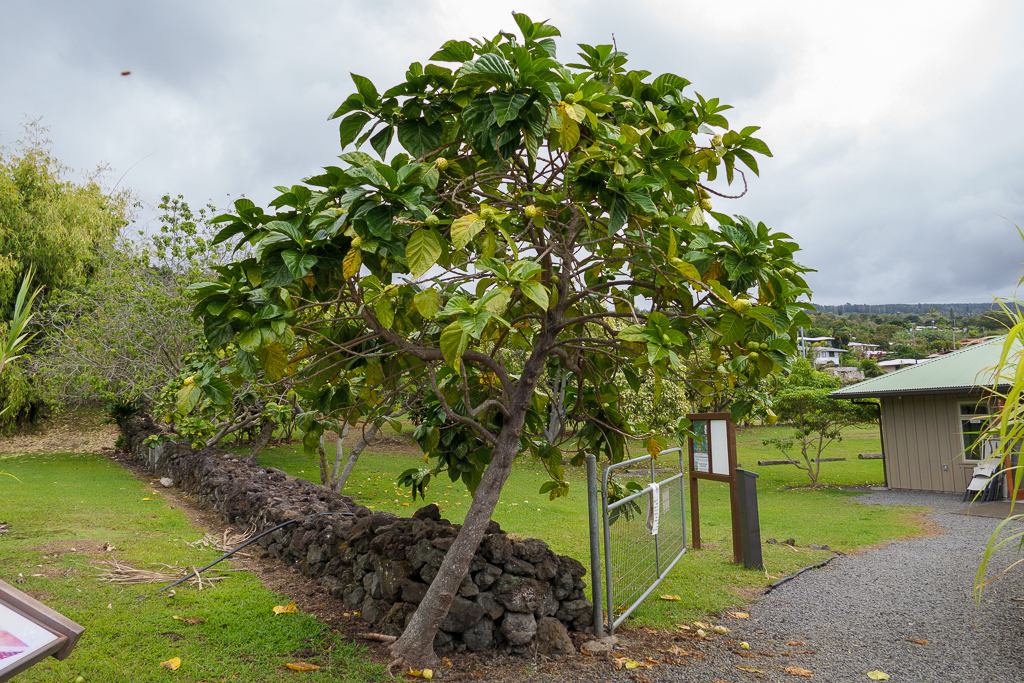 There were chickens all over the grounds, presiding over the goings-on.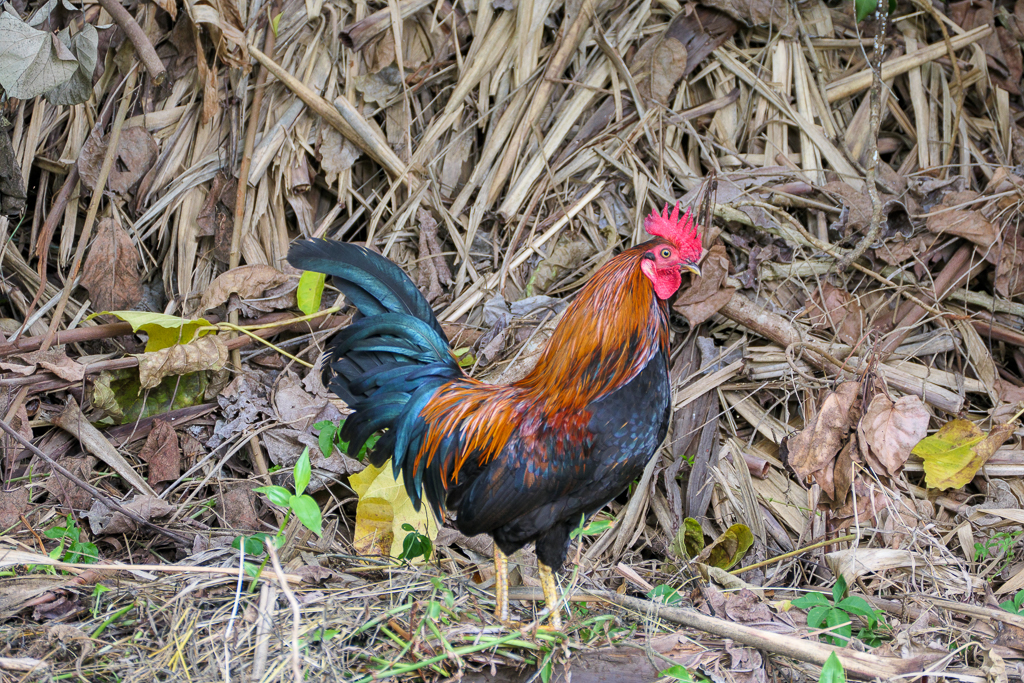 Some of the plants were beautiful as well as being useful, like the Ū'lei and the hibiscus.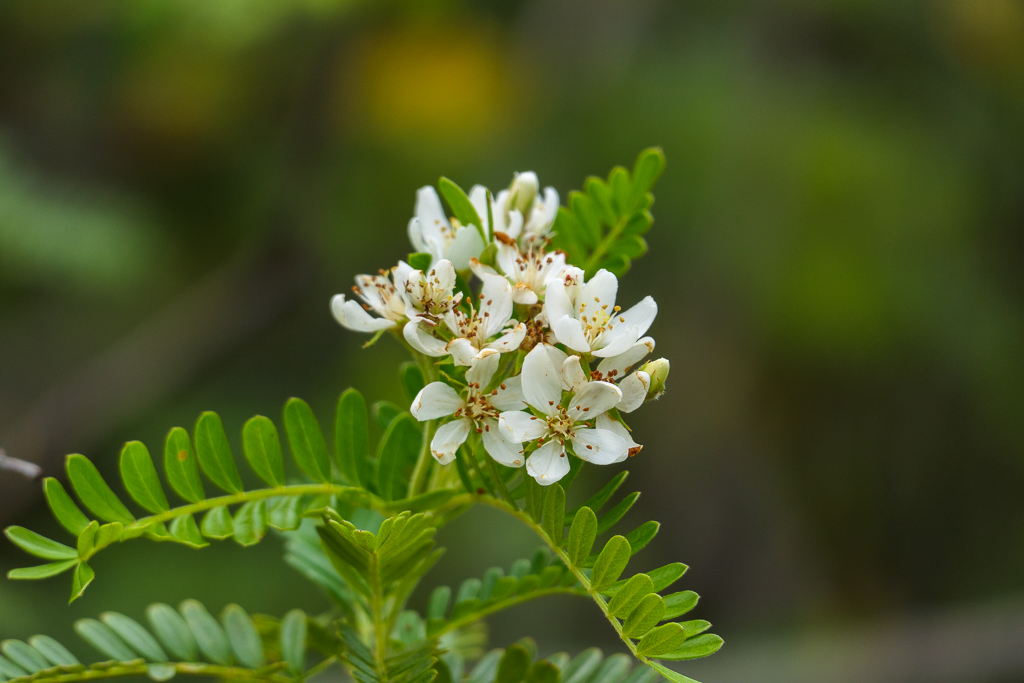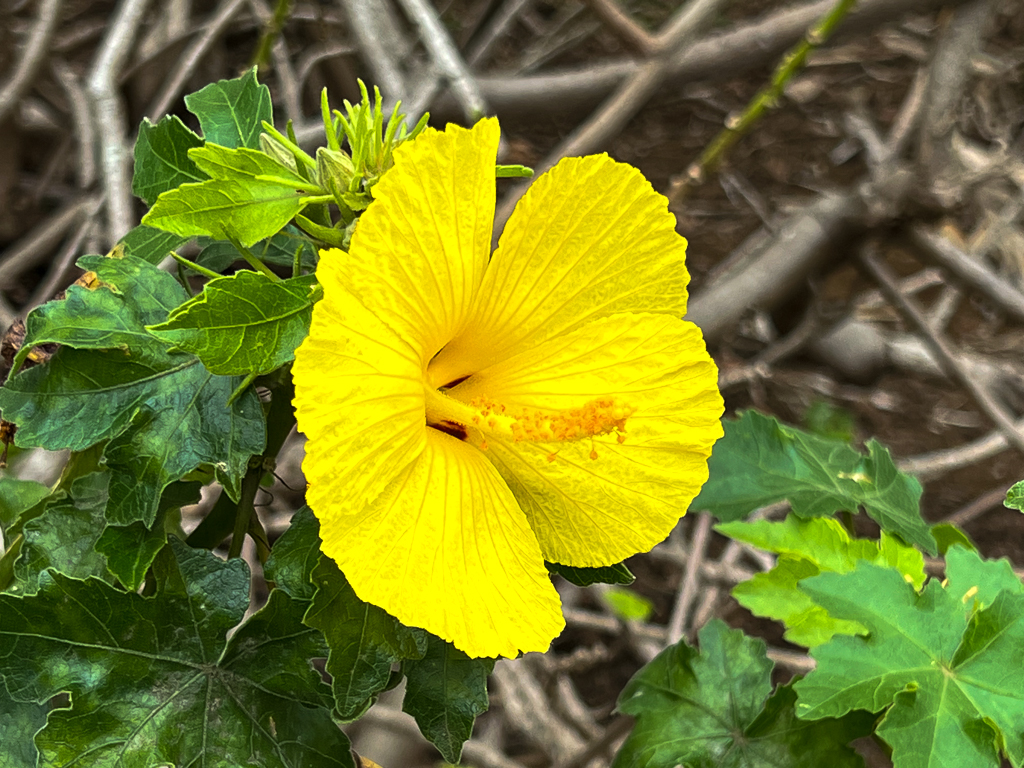 We left the gardens reluctantly and drove another five minutes to the Coffee Shack. It was popular; we had to wait half-an-hour to be seated. Luckily, the view from their deck was stunning, and so was the food. We had the pan-sauteed Ono sandwich and split a lilikoi (passionfruit) cheesecake.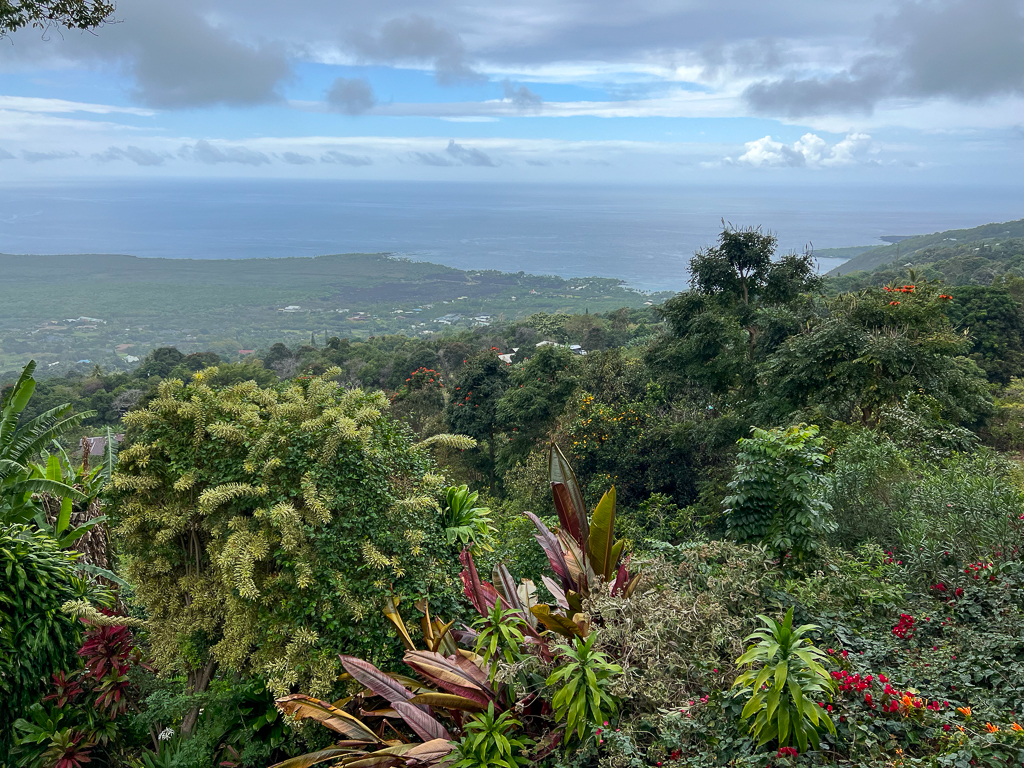 We finally reached Pu'uhonua o Hōnaunau National Historical Park about 2:30pm, just in time to join a ranger (who described herself as a lineal descendant of the ancient Hawaiians) talk about how the ancient traditions survive today. She also talked about the sacredness of the place and urged us to treat it appropriately (not everyone does, sadly).
We spent about an hour walking the Royal Grounds and the Pu'uhonua (refuge). You can read a full description on the park's website; here are some of my favorite photos from our tour.
We began at a scale model of the royal mausoleum, a heiau (temple) just on shore.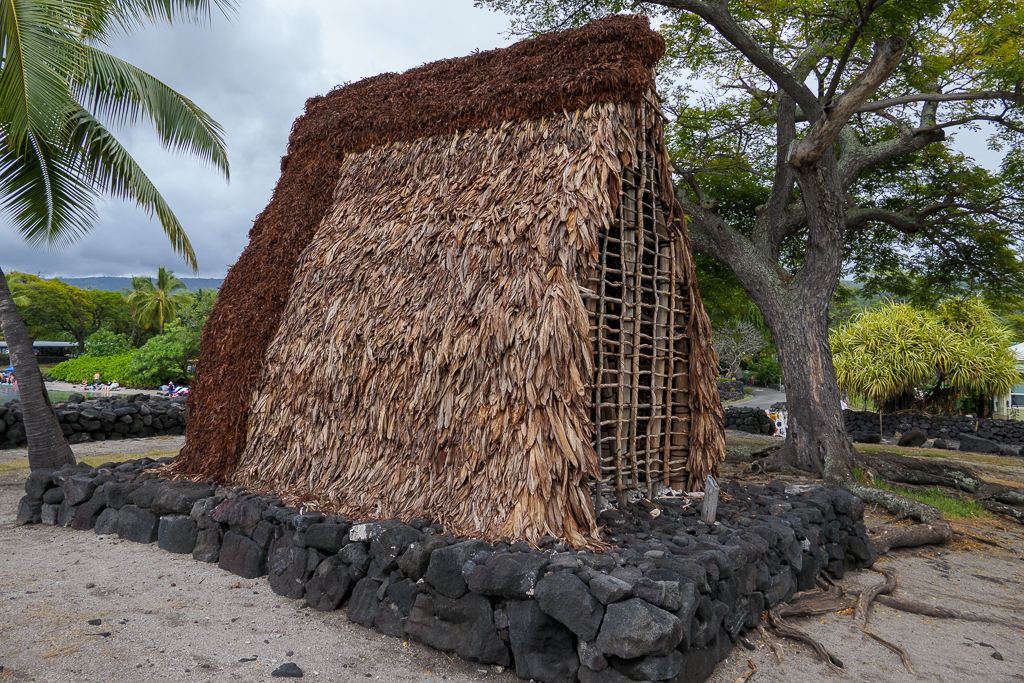 There were quite a few carvings of ki'i (Hawaiian gods) throughout the site.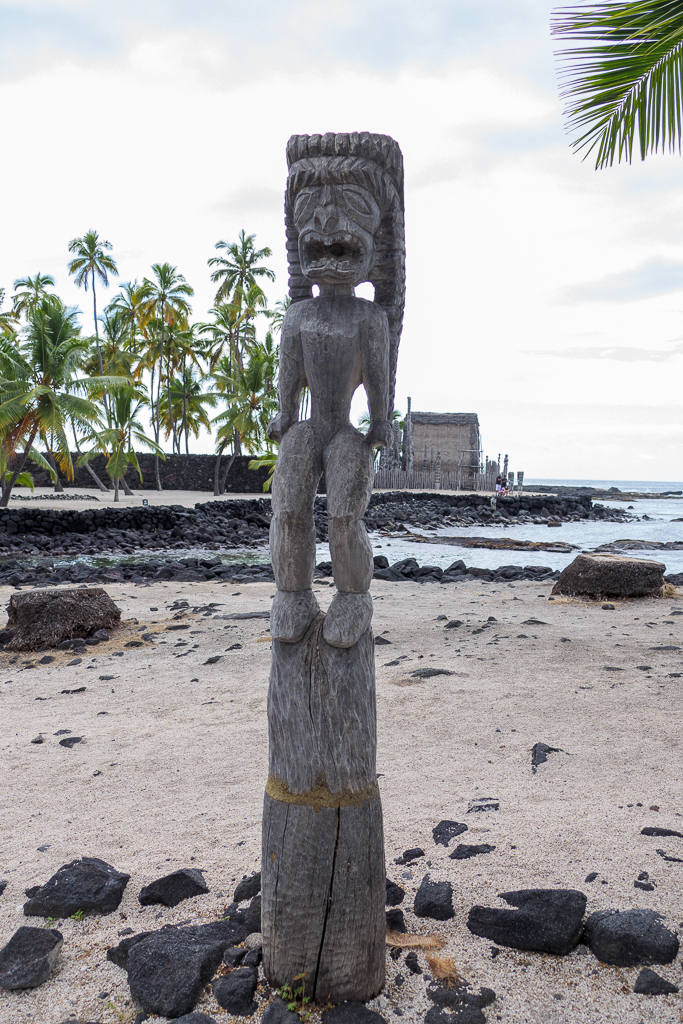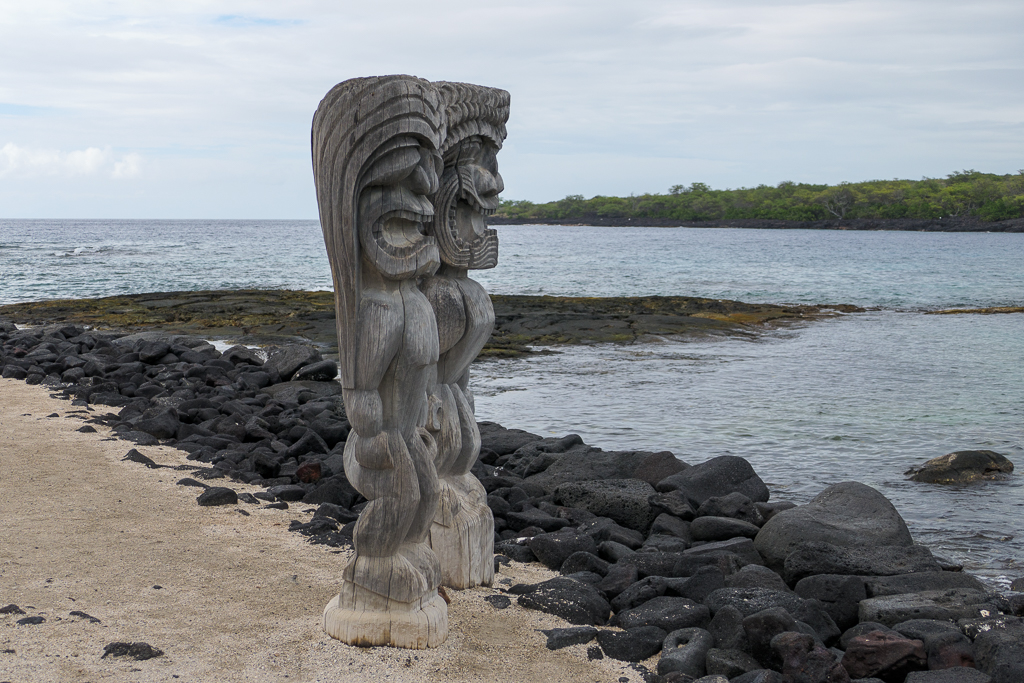 Royalty (ali'i) were the only ones who were allowed to land canoes at the cove here.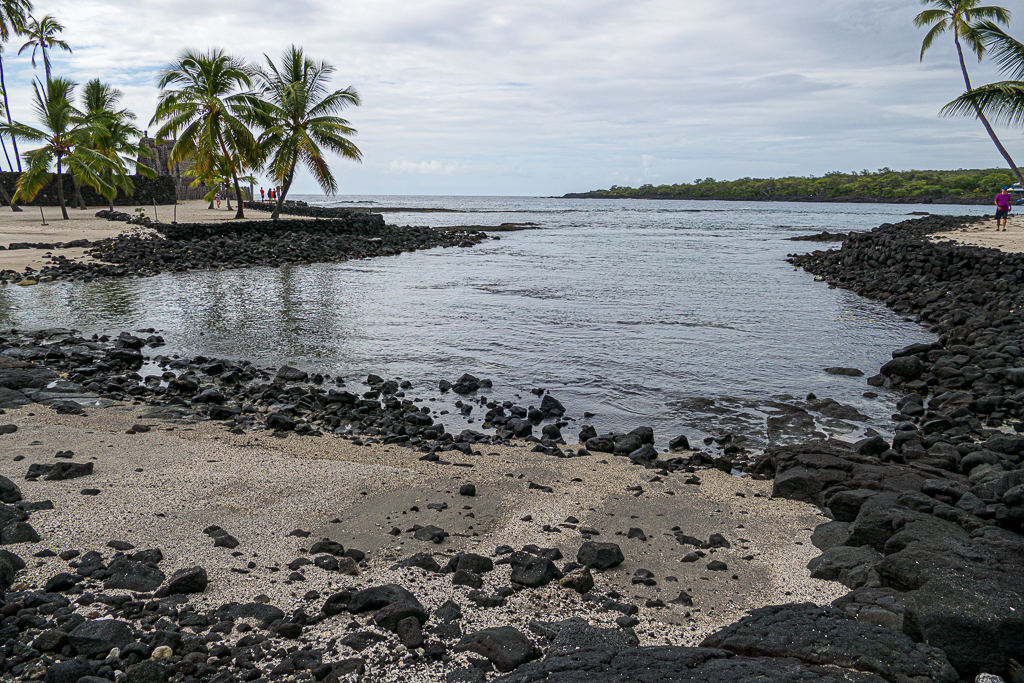 But Hawaiians seeking refuge and rehabilitation from kapu (taboo) violations (punishable by death) also came here to the Pu'uhonua.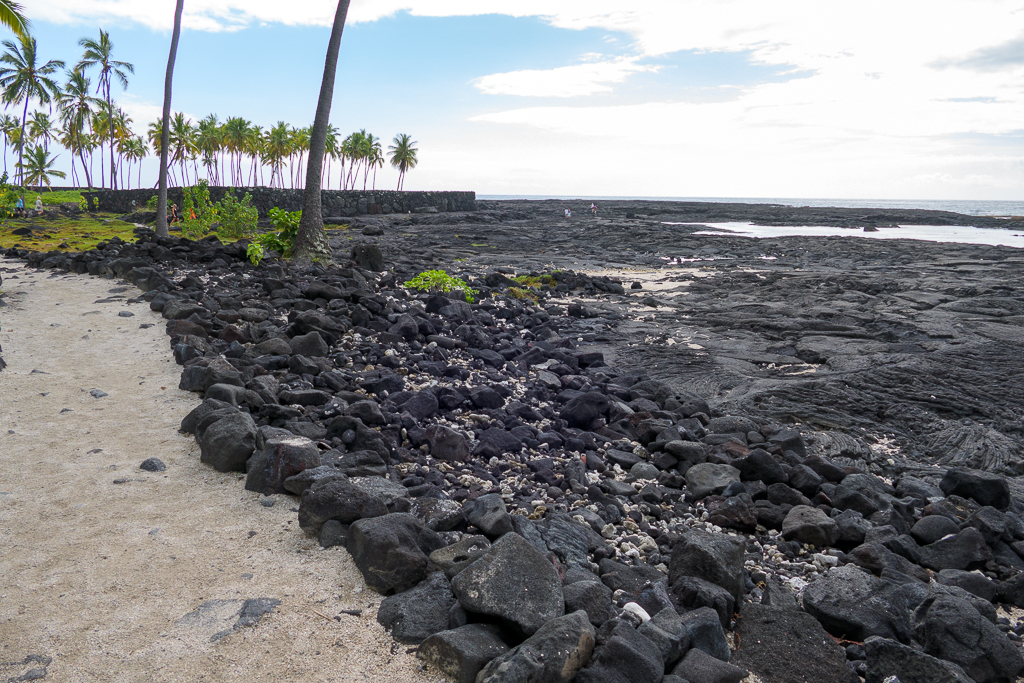 Legend says that Queen Ka'ahumanu (one of Kamehameha's wives) swam to the Pu'uhonua after they quarreled and hid beneath this stone.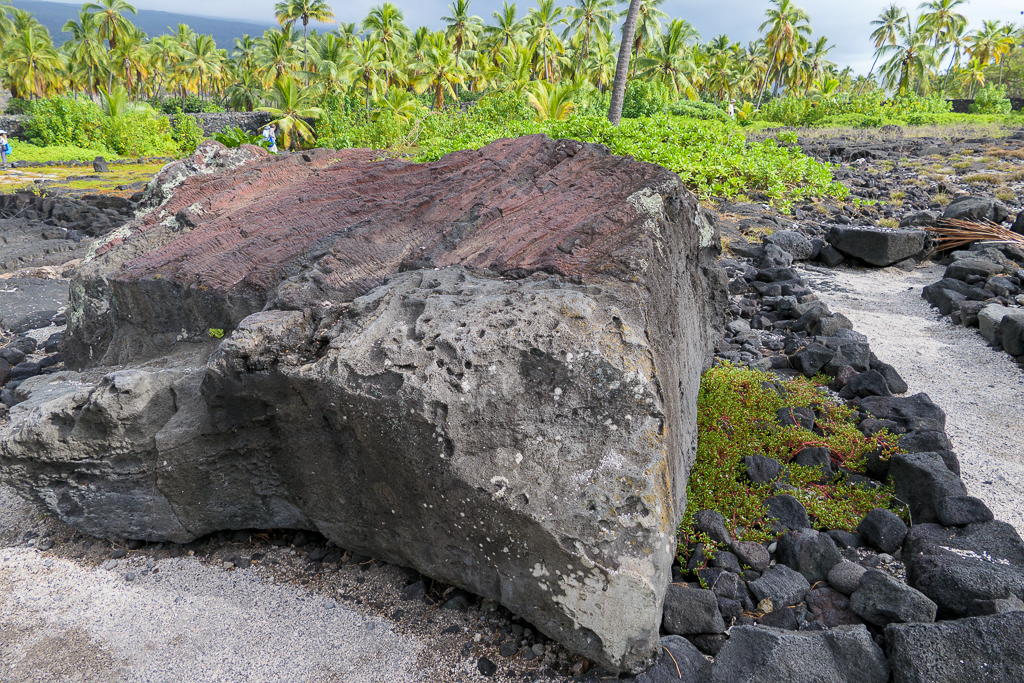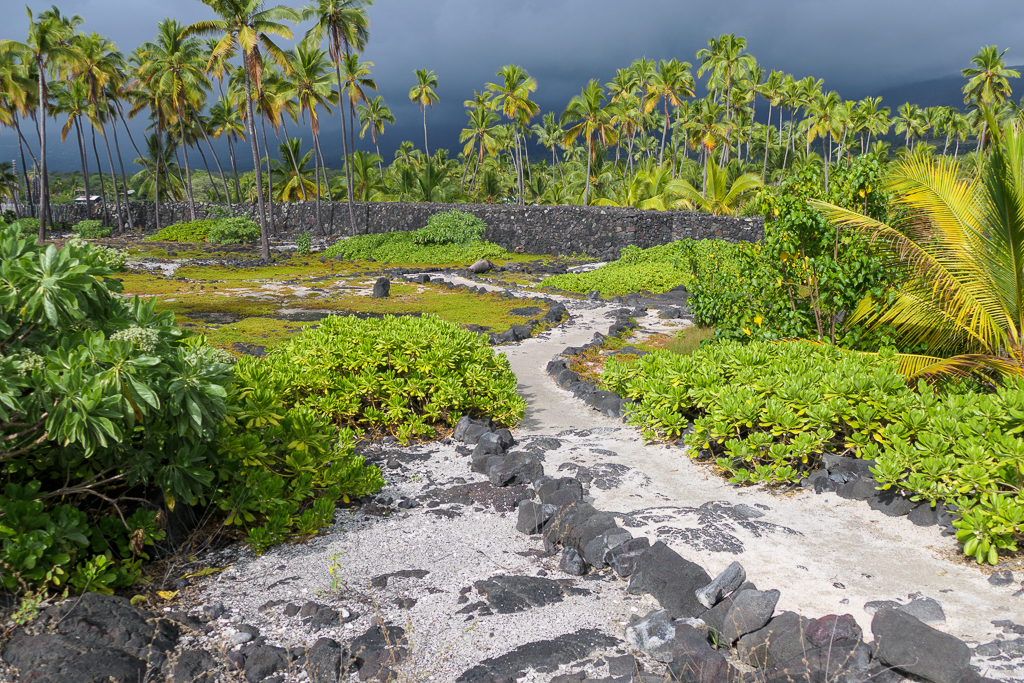 There were fish ponds on the site – reserved for royalty, of course.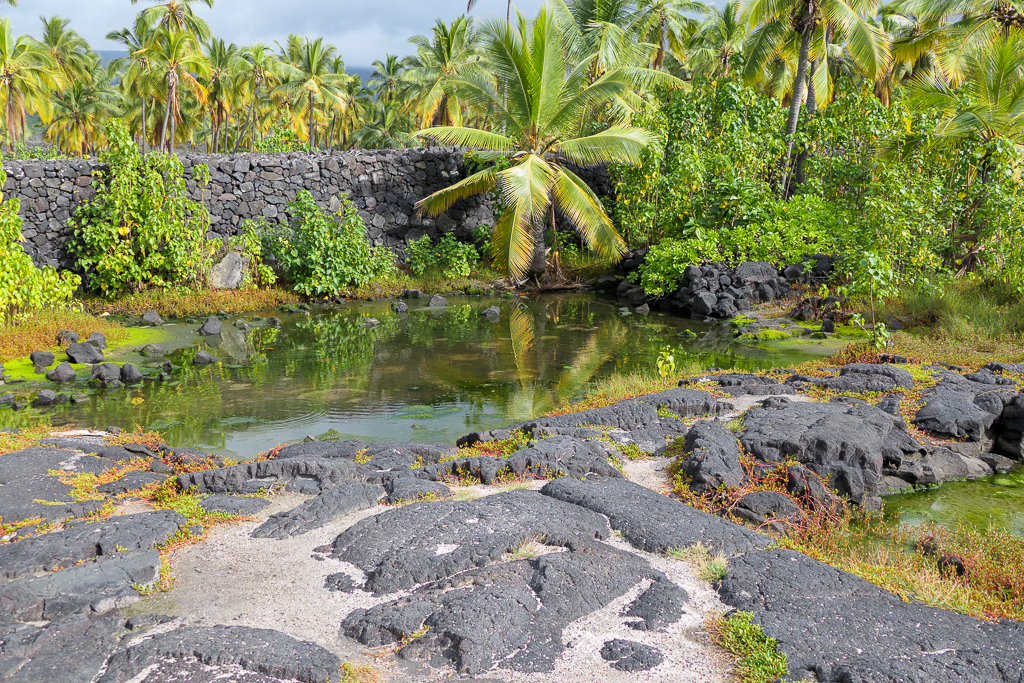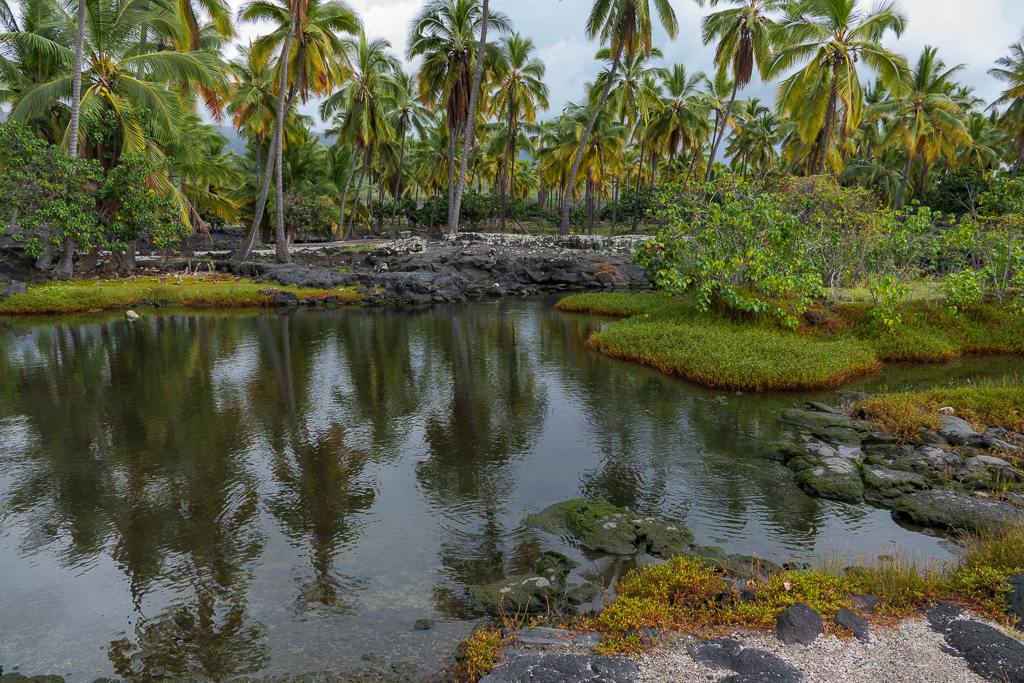 We also got to see some halaus, one of which is used by modern artisans and one of which holds a canoe.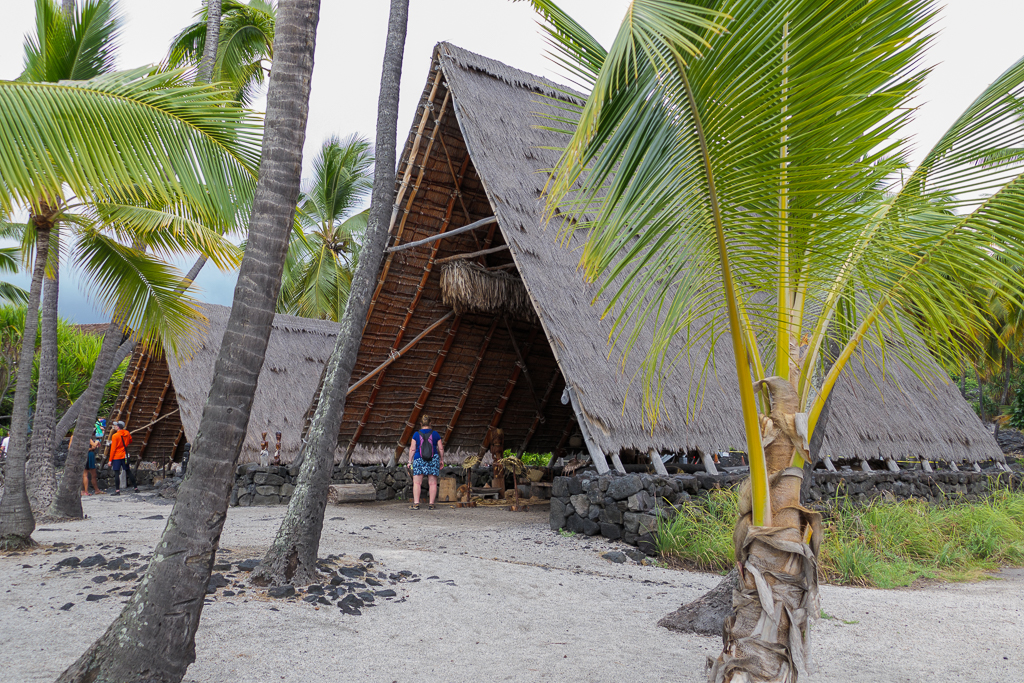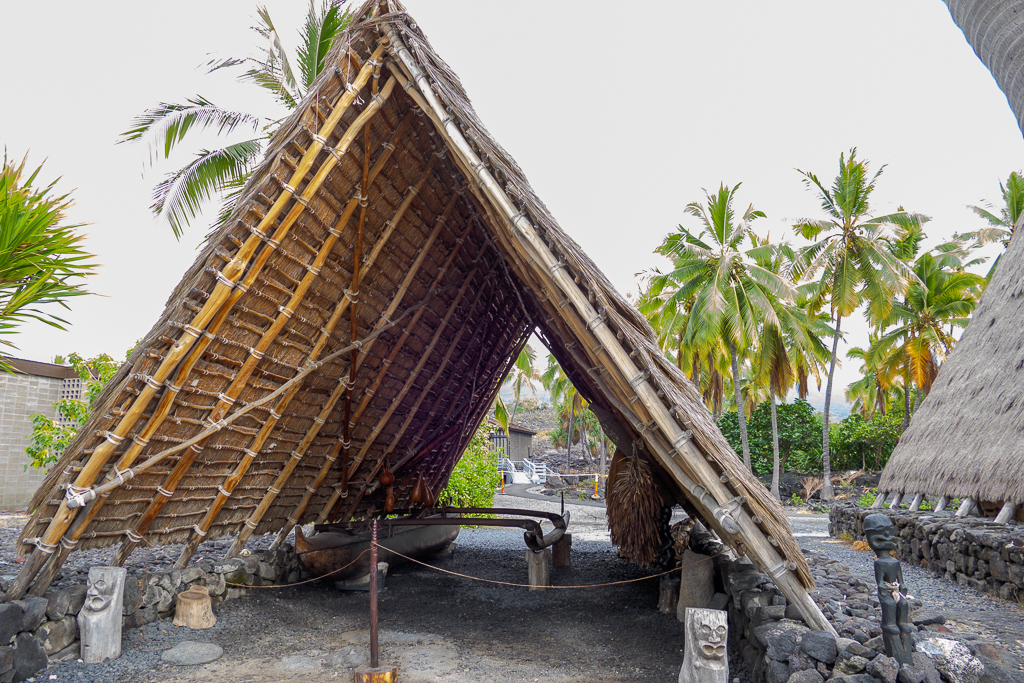 The park asks people not to sunbathe or swim here – but Two-Step Beach is just outside the park boundaries and is very popular!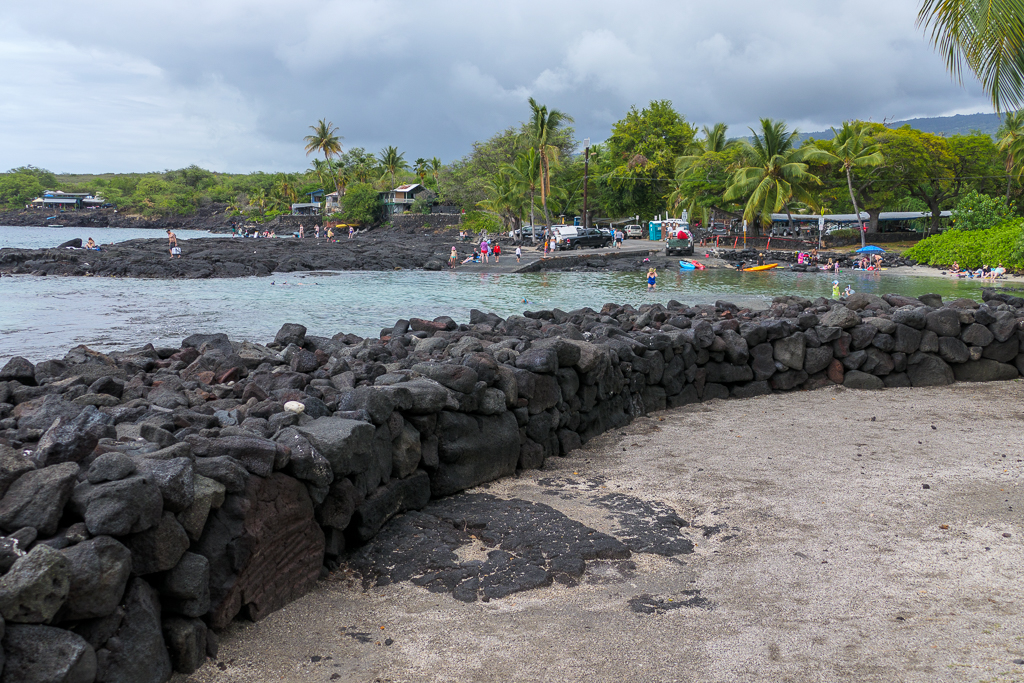 We left the park and headed back to our hotel by way of Ali'i Drive and Kona. We wanted to have dinner at the Kona Brewery in town, but parking there was impossible, so we let Google steer us to a small local pizzeria, Big Island Pizza right behind Costco. It wasn't crowded, they made a fine pizza, and I was happy to take the option to accompany it with a tasty beer from Oregon (Deschutes' Black Butte Porter)!