We slept well last night – the hotel's bed was far more comfortable (and much bigger) than United's lie-flat seat, and there wasn't any turbulence, either.
Our room rate includes breakfast at the hotel's restaurant, Altitude (on the 36th floor). We ordered our drinks as soon as we sat down; I asked for black coffee, as usual. I expected a big cup or mug filled with coffee, and maybe a carafe so I could manage my own refills, but I got this instead: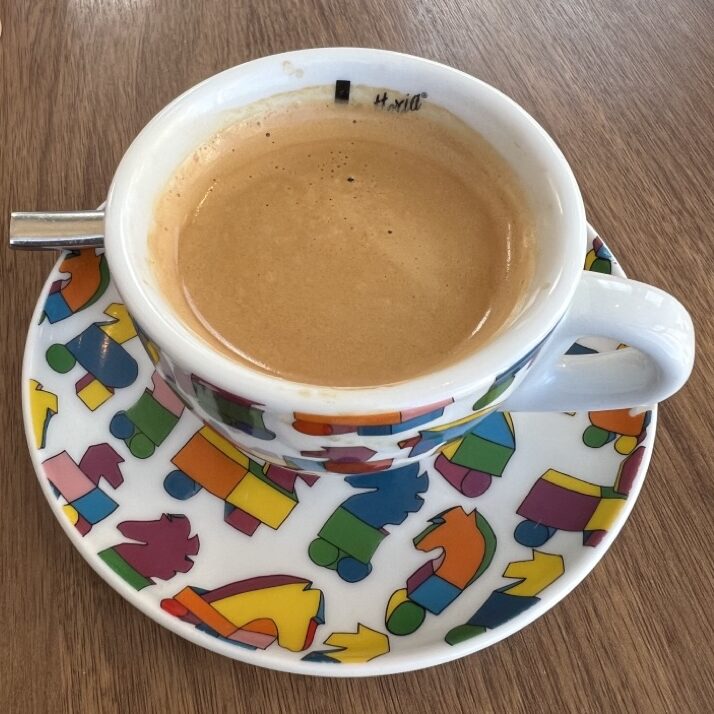 I told the server that I'd ordered black coffee, and she said, "Yes, it's a long black". I drained the cup in two gulps and did a web search to see what a "long black" was – it's an Americano with half the water. I asked another server if I could get "brewed coffee" and was told "no", so I ordered an Americano.
When the server brought that drink, she had some real coffee mugs on her tray; I asked what was in them and was told "lattes". I thought about ordering a latte without the milk, but decided against it; instead, I found the hostess and asked how to get a lot of coffee in a mug.
She suggested asking for a "long black in a mug"; tomorrow, I'll see if that's the magic incantation.