We finally walked to the other side of the Rhône River this morning and enjoyed a splendid view of l'Grand Hôtel-Dieu; our hotel, the Intercontinental Lyon occupies the center third of the front half of the building. The rest of the building is given over to shopping, dining, convention space, a culinary institute, a silk museum, and I'm not sure what else – it is enormous!
We walked as far as the place where our ship, the AmaKristina, will be docked; it's close enough that we'll probably walk over there with our luggage when we leave the hotel on Thursday.
Lunch today was at L'Institut, a "training restaurant" associated with the Lyfe Institute, formerly the Paul Bocuse Institute. I guess that means our food was prepared and served by students – they are learning well! We had a three-course meal, and all three courses were delicious (as was the wine and the bread). We had to order in advance; I'd ordered the fish (corvina) but when we sat down, the detailed menu said that it was prepared with shellfish, which I can't eat, so the server said they'd serve me the beef instead – all was well.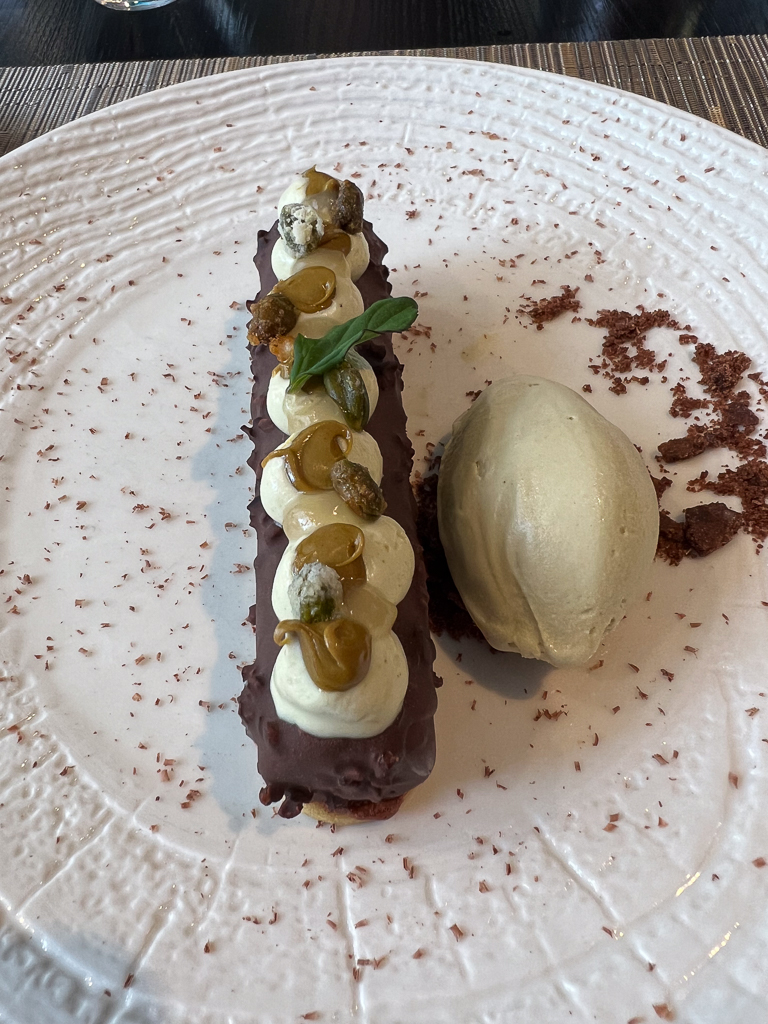 It started raining after lunch, so we stuck close to the hotel for the afternoon. First, we took a quick tour of the Musèe des Soirees Brochier, conveniently located in the Grand Hôtel-Dieu itself. The exhibits were all about the history of the silk business and of the Brochier family and companies. There was a Jacquard loom; there were lots of beautiful clothes; there was even an exhibit showing how they'd woven the radome for the Concorde (using fiberglass rather than silk). Worth a few minutes, especially since it's included on the Lyon Card.
We walked back to the hotel and I took a little nap (did I mention I'd had a big lunch?).
Tonight, we have our group dinner at Chez Louloutte, which bills itself as a typical Lyonnaise bouchon. Another three-course meal awaits – I suspect I will not do it justice.