We saw Lyric Theatre's "The Best of Lerner and Loewe" at the Hammer Theatre yesterday afternoon, and it was a lot of fun; it was like listening to selected tracks from musical albums for five different shows. It was part of their second annual San José Light Opera Festival; the theatre was crowded and I hope there's a third festival next summer.
I had hoped to take advantage of the row of chargers in the parking garage while we were enjoying the show, but it was not to be. We got to the garage a bit late, and the first charger I tried claimed to be "in use" on both sides. I gave up, moved the car to a regular spot, and we barely made it to the theatre before the curtain went up. By the time I got home, the car was down to 35%.
Today, though, I had better luck. Los Gatos has a couple of Chargepoint chargers in each of the downtown parking lots, and the price isn't too bad: a buck to start the session, then $1/hour (for a 7.2kW charger) for the first four hours (it goes up to $5/hour after that). I wanted to leave the car for three or four hours, so we drove both cars downtown so we wouldn't have to wait around.
We took our usual 3-mile walk before going to the market; I was going to go home with Diane when I noticed the traffic heading to the beach, and I realized that it might take an hour to get back to the parking lot in mid-afternoon…so we drove both cars home again; I did get to charge for an hour and a half and got up to 45%; it cost me $2.50.
The PlugShare map showed that Leigh High School, about a mile from our house and on our usual evening walking route, had a charger, and I thought about going there but was afraid it would be in use. When I looked more closely at the listing, I discovered that Leigh had 48 6.6kW chargers, and the price was only 10 cents/kWh. I downloaded the PowerFlex app and we drove over right after lunch.
There were plenty of cars charging and plenty of spaces; I plugged in and we drove away to do a little shopping before retreating to the house to enjoy the air conditioning. Seven hours later, it was finally cool enough to walk over to pick up the car; we got there just in time to hear the "click" as the car reached 100% charged. Total time: 8 hours, 25 minutes. Total cost: $4.64.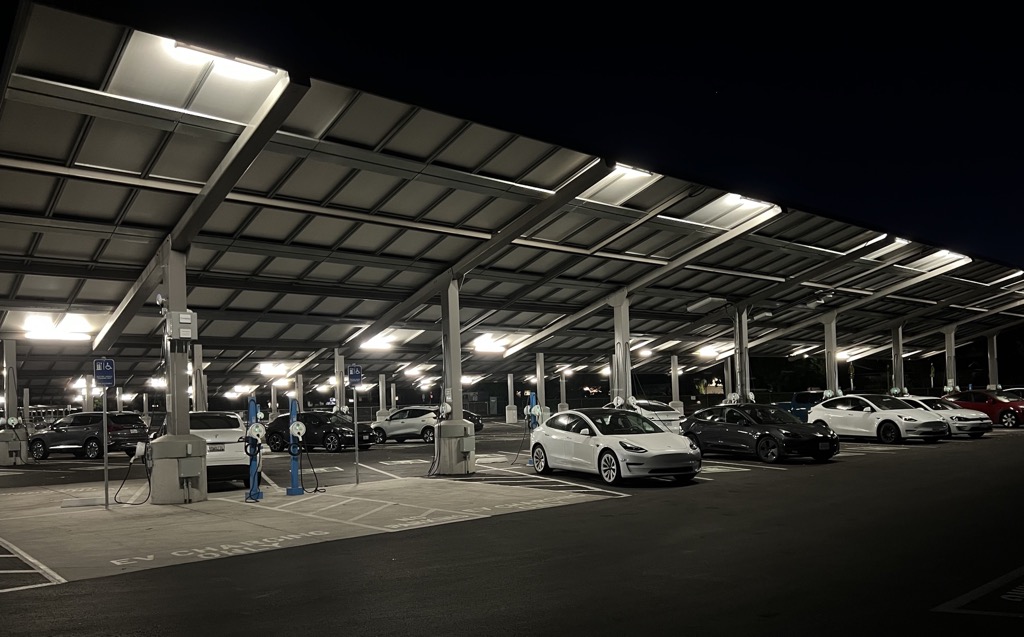 If I need to charge the car again before I can get a charger installed in the garage, I know where I'm taking it.