I am at Charles de Gaulle Airport, waiting for them to call my flight for boarding. The Air France lounge offers free Internet access so I am updqting my page as best as I can zith this very unfamiliar keyboard arrangement. I walked around again this morning and took yet more pictures, but I will not be able to edit or upload them until I get home, which, if all goes well, will be in about 14 hours.
More then, perhaps…au revoir for now!
Last Tango…err, Walk…in Paris
This morning, I didn't have to get up in time to make an 8am meeting; instead, I only had to get to the airport in time for a 1:30pm flight. So I slept a little later than I'd been able to, and still had time to have breakfast away from the hotel (and save some money — breakfast at my hotel cost over $20…no wonder they had smoked salmon freely available!).
I wandered around for a few minutes, then randomly chose a bistro and had a croissant, coffee, and juice. The only glass I had was the juice glass, which was only half-full, but they also brought me a big pitcher of water. I thought, perhaps, that they'd put concentrate in the glass and were expecting me to mix it, but when I tasted the juice, it didn't seem particularly strong. I guess that's just going to be a mystery of French culture I won't solve on this trip.
I didn't have anything to read, and I was on a side street without much pedestrian traffic, so there wasn't much to look at out the window, so I didn't linger; I continued to wander around. And a few blocks later, I finally found some real Paris — a neighborhood with bakeries, greengrocers, and the like.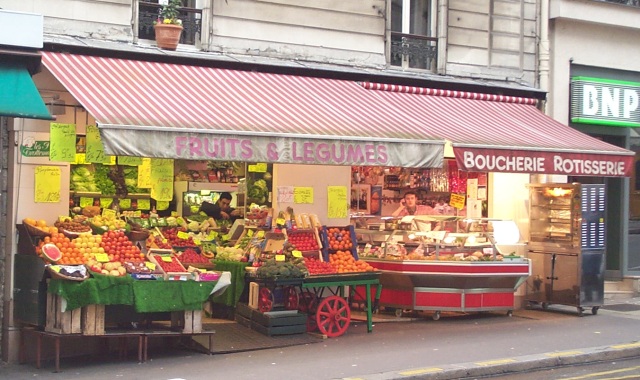 Up till this time, all I'd seen around my hotel was "tourist" Paris — the big department stores, some stores (like one called Paris Look) which explicitly catered to bus groups, and plenty of restaurants and entertainments. On my previous trips, my hotels had been in more residential areas, and so I'd been immersed in the real Paris; this time, I felt isolated.
I celebrated by buying an orange from the closest greengrocer and eating it while I continued walking, then had some pain au chocolat from the next baker I saw. Both were excellent. I even visited another bistro and had another expresso — while it was good, I have to admit that I would have liked to have found an American-style coffee shops and had a big cup of coffee.
And then I kept walking, and found myself at the edge of Montmartre, not far from the tour I'd taken on Sunday morning. The economy must be very good in Paris, because the restaurants all had signs like this: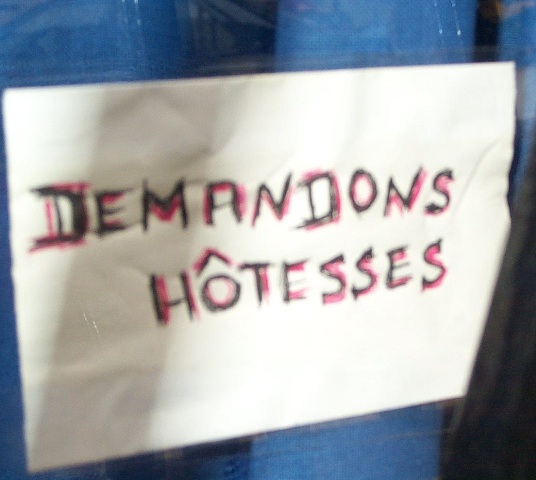 and some of the prices seemed a bit high: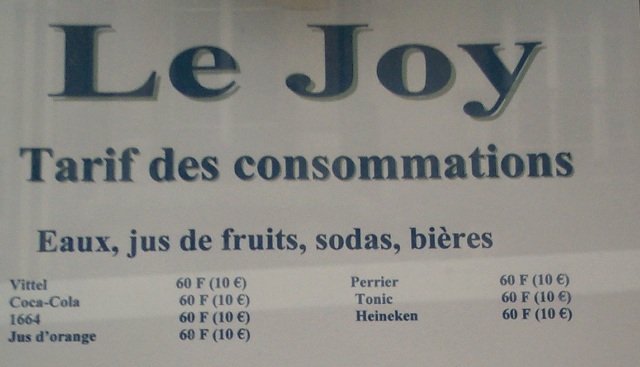 10 euros for a Coke…that's over $9. One might almost think they didn't expect to sell much food and drink — but all of the restaurants on that street had similar signs, so I guess they must make ends meet somehow. The street was the Rue Pigalle, for what that's worth.
Since I didn't want anything that was on offer on Rue Pigalle, I walked back to the hotel, packed, and wheeled my luggage back to Rue Scribe to get the bus to the airport. But as I left the hotel, the tread on one of the wheels partially fell off; I was able to fix it,though, so I didn't have to drag my suitcase half a kilometer — and it didn't even start raining until I was at the bus shelter.
Then onto the bus to the airport and duty-free shop, then the Air France lounge for my first experience with an AZERTY keyboard, and onto the plane, where I'm typing these words. Soon, I get to experience the new SFO International terminal's arrivals hall, see what precautions US Customs is taking about the foot and mouth epidemic (France seemed to go in for signs, but nothing else — there was a sign at the terminal advising people to walk on the specially-treated carpet, but as far as I could tell, there was no specially-treated carpet anywhere), and be driven home, where I'll upload this entry.
Then all I'll have to do is keep my eyes propped open until bedtime tonight. And worse yet, open them and go to work tomorrow, where I already have a few conference calls scheduled.
I'm ready for vacation…hmmm, Paris might be nice….
And now I'm home!
Boy, it's nice to be back in familiar territory. Nobody else is here yet, but it won't be long. I can't wait!