This was the first time I'd planned to fly United in International First Class — I'd gotten an operational upgrade on a flight from Amsterdam to Dulles a few years ago, but that was on a smallish plane (probably a 767, though I'm not sure any more), and the flight was marred by having the sinks not work in the F and C lavatories. United offered passengers in F a confirmable upgrade as a makegood, which I eventually got to use — I wonder if they gave anything to the people in C. But I digress.
This flight was supposed to be on a plane with sleeper seats, and when I checked in at the counter, the agent said that was the case. But ten minutes later, after I cleared security and walked to the First Class lounge, the situation had changed; the agent there told me that they'd had to change equipment to a non-renovated plane. I don't know if I would have spent the miles to upgrade if I had known there wouldn't be a sleeper seat, even though I wasn't planning to sleep going West anyway; but I decided I didn't want to try to switch back to Business. As things turned out, I don't have a seatmate (First Class is just slightly more than half-full), which is nice; Business Class is nearly full, as usual — only six empty seats.
The entertainment system isn't working quite right on the plane, either — there's no audio programming (but the movies work), and there's a horrible noise everytime they use the PA. It's worse in coach — there's no audio at all, so unless you can read Chinese subtitles, you can't tell what's going on with the movie. They made an announcement that they'd be giving out vouchers in Hong Kong because of the problem with the movies.
I watched Sleeper, which was funny, though it's really dated now — not because of the future scenes, but because of all of the references to things happening in 1973 (and Diane, you're right — Jeffrey's not ready to see it quite yet!). I also had lunch; here's the menu:
To Begin: Roasted prawns with vegetable Napoleon or Sliced Parma ham with grilled asparagus. [I passed on that course.]
Garden Fresh Salad, which was mostly lettuce with one tomato and a couple of olives.
Main Course:

Filet mignon with chanterelle mushroom sauce, with basil mashed potatoes and zucchini puff
Salmon and sea bass in a zucchini wrap, with Israeli couscous and tomato basil sauce
Golden sesame chicken with citrus sauce, with fried rice and a vegetable medley
Stir-fried pork with bell peppers and Shanghai noodles, with shiitake mushrooms and Chinese seasonal greens
I chose the salmon and sea bass, which was pleasant though somewhat dry. I asked for steamed rice, as well, which was pretty gummy, so I wound up eating the couscous and found that I liked it.
I only paid attention to the white wines; they had a Hanna Russian River Valley 1998 Chardonnay and a Meursault 1999, Bouchard Pere et Fils Burgundy. I chose the Burgundy, which was very smooth and tasty; I'd be happy if I can find a bottle at home.
And I quite enjoyed the Sandeman's Porto with the cheese course. The ice cream sundae was OK, too, but not as good as the Porto and cheese.
They aren't boarding Godiva chocolate any more; the best mid-flight snack is M&Ms. But they had a chicken entree left, so I had that as a second meal; it was OK, but not outstanding — the fish was better.
The pre-arrival meal is a choice of New England clam chowder with shrimp and mixed pork, or a fresh seasonal fruit plate with creamy yogurt. I'm up for the fruit.
I asked the purser for a copy of the Business Class menu, and now I'm happier that I upgraded. The entrees were BBQ short ribs with Robinson's special sauce, stir-fried scallops with Szechuan garlic sauce, and roasted chicken with green curry sauce. And instead of a selection of cheeses, the only offering was whipped pesto cheese with sauteed sliced bread — I can't even picture that!
I should have had my camera out when we were flying over California; the wine country looked just beautiful. But I didn't, and much of our trip was clouded over, but I did get a few shots of the Kuskokwim River in Alaska, near latitude 62N, longitude 155W.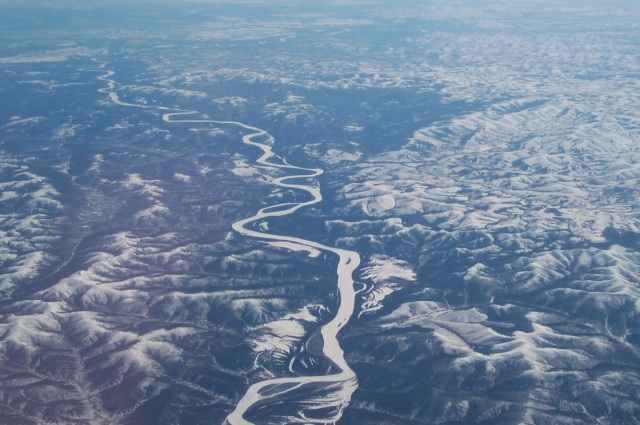 It sure looked cold down there, but not as cold as my first sight of Russia, near Provideniyn, just after crossing the Bering Strait.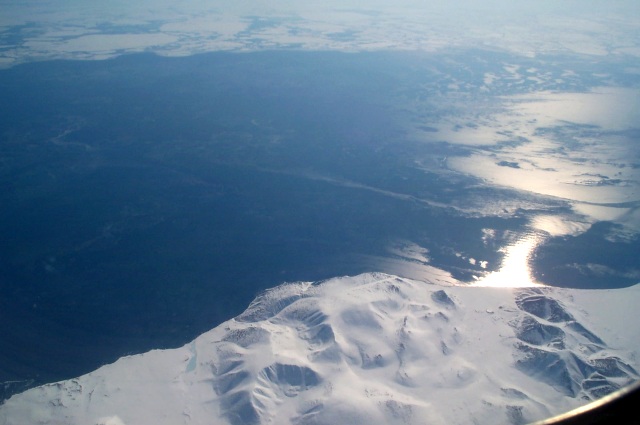 Then I waited until the plane crossed into the Eastern Hemisphere and celebrated by watching Bedazzled, another movie that Jeffrey is not ready to see (but I enjoyed it; I'd like to see the original).
As I write this, we have 5 and a half hours left in the flight; we're still over Russia, just west of Japan.
The rest of the flight continued uneventfully; eventually, we arrived at the new Hong Kong International Airport, and I took the Airport Express to Kowloon and my hotel.
The Airport Express is interesting — it's very modern, very clean, connects with free buses to get you to your hotel, and is fast. It's also cheap; my ride was HK$80 (about $11 US), compared to the hotel shuttle bus at HK$125 (which would have taken longer, too). They have a very simple four-stop system, and an interesting indicator of where you are on your way.

And now I'm in my room at the Marco Polo HongKong, with a truly wonderful view across Victoria Harbour of Hong Kong Island.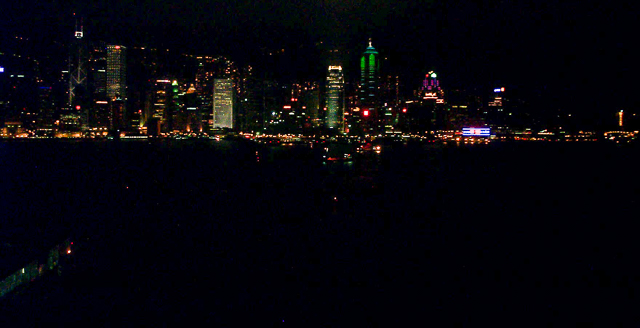 The Star Ferry terminal is ten floors below me; I'll go over to Hong Kong island tomorrow. Right now, it's been a very long day and it's time for bed.