I was out quite late Friday night, celebrating; late enough, in fact, that I didn't want to stay up to edit and annotate the pictures I took yesterday while sightseeing, but I've finally gotten caught up, and the travelogue appears below.
After playing tourist all day, I went to Shabbat services at the United Jewish Congregation of Hong Kong. It was a fairly small group because it's a four-day weekend here, but it was a lively service anyway. And going to services gave me a nice feeling of connectedness, even though I was almost 7000 miles from friends and family.
Oh, and the celebration? After services, several people went to dinner at a nearby Italian restaurant, Pasta e Pizza, and they invited me to join them. The food was good — one of the pizzas used Thai basil and was absolutely delicious — and the company was pleasant.
Shabbat Shalom!
Friday's travelogue
Friday morning arrived a bit earlier than I wanted — 4am, when I woke up very hungry (the cookie I had for dinner was not enough, I guess). Luckily, the minibar in my room had snacks, not just drinks, so I was able to have a nosh and then got back to sleep until the alarm sounded at 7:30.
It took me a couple of hours to deal with my e-mail and have breakfast, but eventually, I was ready to handle the day's business — wandering around Hong Kong while adjusting my body clock, so I'd be ready for the W3C Advisory Board meeting on Saturday. I decided to try the walking route through Kowloon suggested in the guidebook I'd picked up (Fodor's Hong Kong).
The route starts at the Star Ferry dock, right next to my hotel. The Star Ferry crosses Victoria Harbour, which is a very busy harbour — there are vessels going in all directions almost all the time.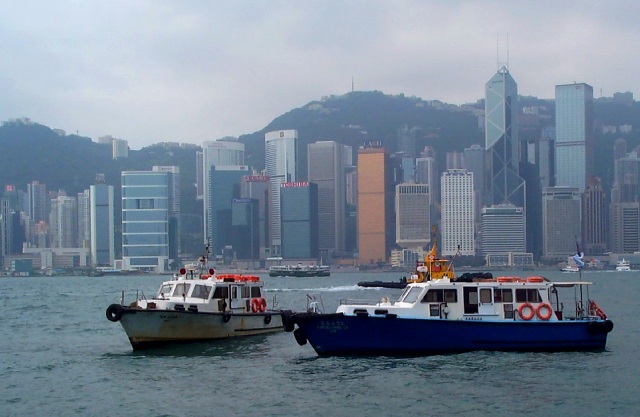 The next stop on the tour was the Victoria Clock Tower, which is the last remaining part of an old railway station.

After admiring the Clock Tower, I continued along the waterfront. There's a two-level walkway; I walked along the upper level and gazed across the harbour to Wanchai, where I'll be spending next week at WWW10. In particular, I'll be spending most of the week at the Convention Centre, the large building in the center of the picture below.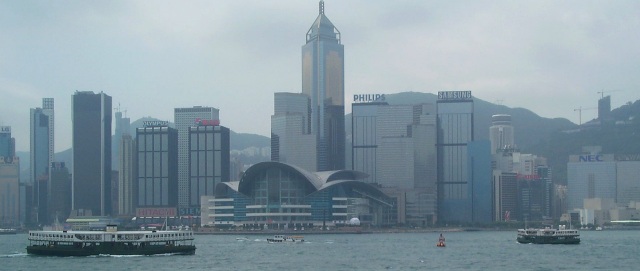 I went back to ground level, to wander around the Cultural Centre. Sudenly, I was set upon by maurauding gangs of English students who had been given the assignment to interview tourists about their experiences in Hong Kong. I'd only been on the ground for 14 hours by this time, so my experiences were pretty scanty, but I was happy to help them out as best as I could — but my price was a picture.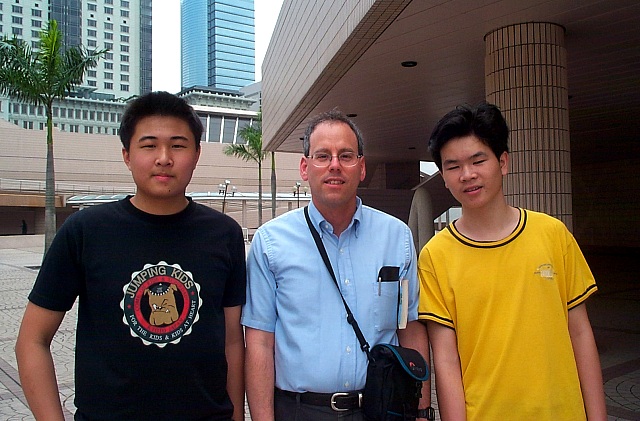 The tour left the waterfront at this point, and so did I. I walked up Chatham Road South, entering a far more commercial area, There are so many shops and businesses that the building fronts don't have room enough for signs, so they extend over the street: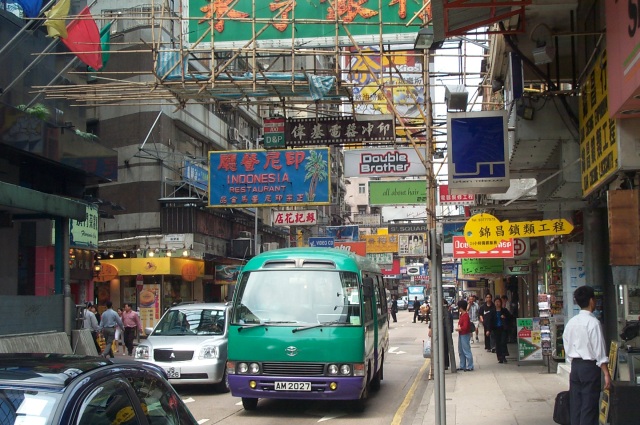 Some of the signs made me wonder:

I decided not to find out just what a Yuppie Sauna was; I also declined to take up any of the invitations being thrust into my hands to visit tailor shops — I wouldn't mind having some shirts made while I'm here, but there's probably a better way to decide where to have it done than to pick a random shop.
The walking tour continued through commercial areas, over to the Golden Mile on Nathan Road. Eventually, the book directed me to Kowloon Park, which was a wonderful oasis in the midst of the commotion.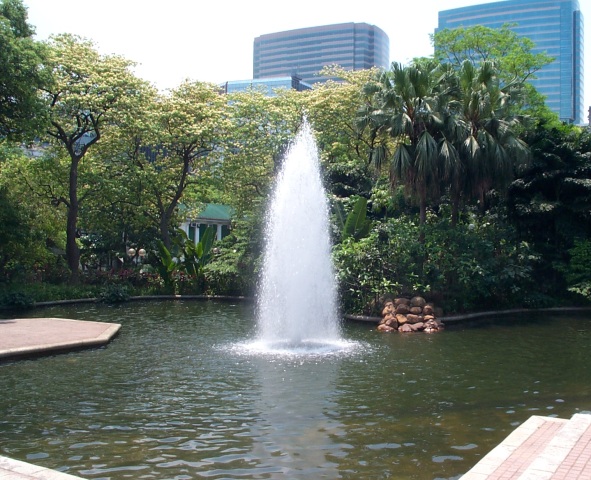 Last year, I'd bought a GSM mobile phone while I was in the UK; it was very handy to have there, but Orange doesn't yet offer international roaming, so I've been unable to use it elsewhere. I knew that electronics shops here sold pre-paid SIM cards so that you could have a local Hong Kong number on your phone, so I brought the phone with me to see if I could use one with my phone. But when I tried using a local card, the phone displayed an "Illegal SIM — enter code" message. I hoped that someone would know how to unlock the phone, but I guess I was going to places which were too reputable to know such things, and after trying a few shops, I decided it was time for lunch.
One of the things I'd been asked by the English students was how well I liked Chinese food. I hadn't had any yet in Hong Kong, and thought I should fix that situation. Fodor's recommended the Happy Valley Noodle and Congee shop, which was conveniently located across the street from my hotel. I got there towards the end of the lunch rush and had to share a table — fortunately, the guy I shared with didn't smoke and spoke English, so we had a pleasant conversation. I decided to stick with something familiar and ordered chicken with cashew nuts, and it was excellent.
After lunch, I went back to my room for a break. I looked across the harbour and thought it was time to visit Hong Kong proper. I splurged for a first class ticket on the Star Ferry (HK$2.20, about 30 cents US) so I could ride on the top deck (riding down below would have saved HK$0.50, 7 cents US).

The ferry crossing only took a few minutes, depositing me in the heart of Hong Kong's financial district, which, like all such, is populated largely by enormous bank buildings, with a few small buildings thrown in for contrast.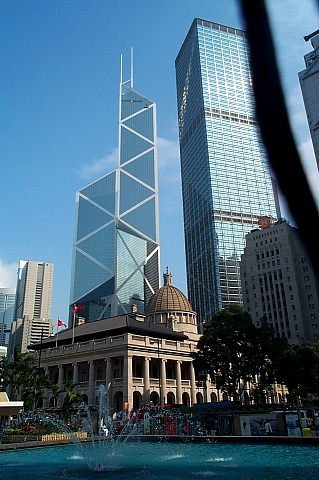 Where there's money, there are places to spend it. The Landmark is a luxury shopping center, with stores like Christian Dior, Kenzo, and Tiffany. There's also a Pizza Hut, which struck me as an odd thing to find in such exalted company, but I guess even rich people gotta eat.
People also have to get around — and in Hong Kong, they use almost every conceivable means. There are subways, taxis, ferries, and trams; like the Star Ferry, the trams are two-level, but I don't think there's a price difference for the two levels.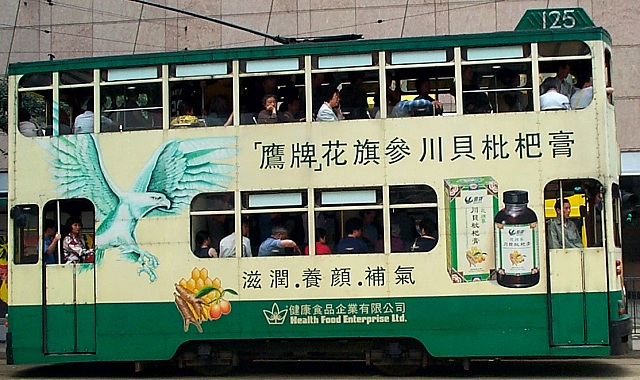 One of the problems with Hong Kong is air pollution — it's so bad, in fact, that they devote expensive downtown real estate to pollution monitoring stations. This one is right across the street from the Landmark.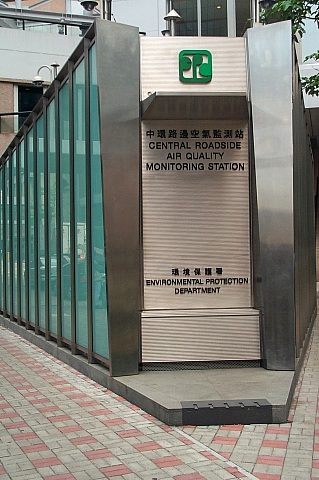 And here ends my Friday travelogue; from this point on, I spent my time going to and from Shabbat services.