The reason we came to the Cotswolds in the first place was because I'd recently read Bill Bryson's book, Notes From A Small Island, and he'd raved about the area, especially the village-to-village walking. He, of course, was actually going somewhere when he did his walking, carrying his belongings on his back. But the walks and the territory sounded interesting, so we planned on spending two nights here.
This morning, we set off on what was billed as a two-hour, five-mile walk, making a loop between Bourton-On-The-Water, Lower Slaughter, and Upper Slaughter. We left our belongings at our B&B, except for those few necessary items for a trip: a GPS, a Palm, a camera, some water, an umbrella, and jackets. We never used the umbrella, though it drizzled a couple of times near the beginning of the walk.
The walk brochure warned us that parking in Bourton-On-The-Water was likely to be difficult, so we started in Lower Slaughter, where parking was easy. The village was tiny, so it didn't take us long to find ourselves out in the fields, searching for the second part of Eye, Eye, It's a Massacre. We didn't find it, though we spent half-an-hour looking. And so we returned to Lower Slaughter for refreshment, and then took off along the walking trail again — this time going directly to Upper Slaughter.
Upper Slaughter makes Lower Slaughter look like a metropolis — the only business we saw there was the Lords of the Manor Hotel, which did not seem to welcome walkers, so we didn't stop. Instead, we continued along the path, passing by what looked like a steeplechase practice ground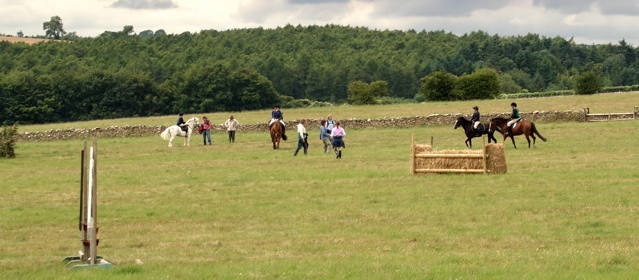 and being passed by a rider on horseback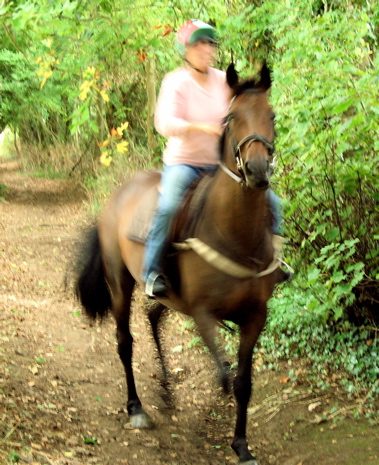 before we finally arrived in Bourton-on-the-Water.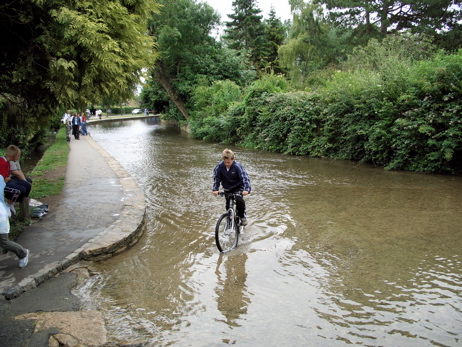 We were ready for lunch, and since Bourton-on-the-Water is a tourist town, we were spoiled for choice. We allowed ourselves to be seduced by the wonderful-looking chocolate cake at The Mad Hatter, only to discover that the main dishes were only so-so. After lunch, we wandered the high street for a while, but the town was too crowded to linger very long, and so we set out again.
But before we left town completely, we tried one more geocache, Milestone. And this time, we broke our losing streak and found the cache (though we nearly gave up). After that, we returned to the trail and to our car, waiting for us in Lower Slaughter.
Unfortunately, I didn't keep the guidemap for the walk as a souvenir, but our path was very similar to the one described here (except we went the other way and started in Lower Slaughter).
A short drive later, we were back at the B&B, where we rested briefly before walking back to Stow-on-the-Wold and another delicious dinner at the Eagle and Child.