It's been another day packed with miscellaneous action and activity!
There was a letter from Chase Bank waiting for me this morning (well, it was really an email telling me to log into my account and look for a letter there – security, y'know) about my non-functioning webcam. They've given me preliminary credit for the purchase and, unless the merchant convinces them otherwise in the next two months, it'll be a permanent credit. I look forward to putting the webcam onto the e-waste pile, whether I get the permanent credit or not.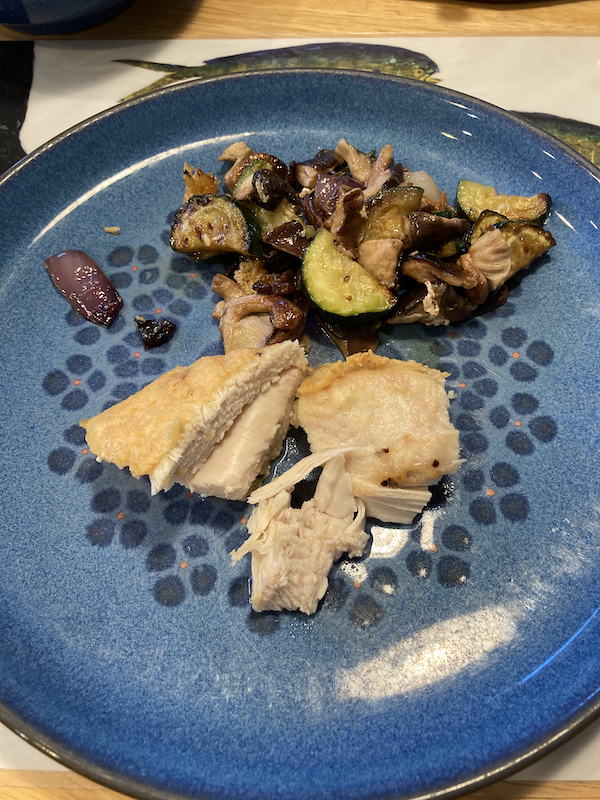 We made another stab at Crispy Frico Chicken Breasts With Mushrooms and Thyme (see May 12 and June 21). The third time was the charm – I used the Anolon skillet for the stovetop work and the Lodge pan for the oven; I also used plenty of just-grated Locatelli Romano Pecorino cheese instead of a measured quarter-cup of Kraft Grated Parmesan. Nothing burned (though there was a little smoke), the mushrooms weren't charred to death, and the cheese formed a nice (but not photogenic) crust on the chicken. And cleaning two pans with nothing burnt on is easier than cleaning one with a lot of residue.
I continued to work on the special High Holiday Honors processing for this year for Shir Hadash; some honors will be divided among two or more readers, so I have to make the code deal with that and create new cue sheets for the divided parts. I started out writing special-case code to handle the changes and quickly realized that I would be better off properly integrating things into my code and control files – now I have to undo the special-case code I wrote yesterday when I thought there were only a few exceptions for this year!
But I'm not working on any of that for the next 24 hours – Shabbat Shalom!