On the Fourth Day of Black Friday
My true love gave to me
An All-Clad Skillet – D3
Well, not precisely – we ordered it on Amazon.
Many years ago, soon after we got married, we bought cookware to supplement what we'd been given as wedding presents. One of the purchases was a set of "copper bottom" stainless steel fry pans and saucepans from Sears – it served us well, but over the years, we've replaced all but one piece, a ten-inch frypan.
I tried to use it a few days ago and discovered that its bottom wasn't even close to flat – in fact, it was easy to spin it on our glass cooktop (it's possible that the last time we used it, we had a cooktop with coils!). It was clearly time for a replacement.
I checked the Wirecutter and Cooks' Illustrated and they agreed that All-Clad makes a very good skillet; the 12-inch version (with a lid) was on sale at several places, but only Amazon claimed to have it in stock, so I ordered it today.
If I like it, I might buy their 10-inch pan, too, since that's the size I'm replacing – but we'll see.
I'm also thinking of adding a portable induction burner to our arsenal (the All-Clad pan would work with that; so, in theory, would the Sears pan, but our Anolon pans that we use every day wouldn't) – if anyone has any experience to share, please feel free!
Because it was only the two of us for Thanksgiving this year, we decided to get a takeout turkey dinner from a local restaurant, Holy Cannoli (as recommended by our favorite pizza place, Tony and Alba's). It was good, but I'm looking forward to having a real Thanksgiving dinner next year.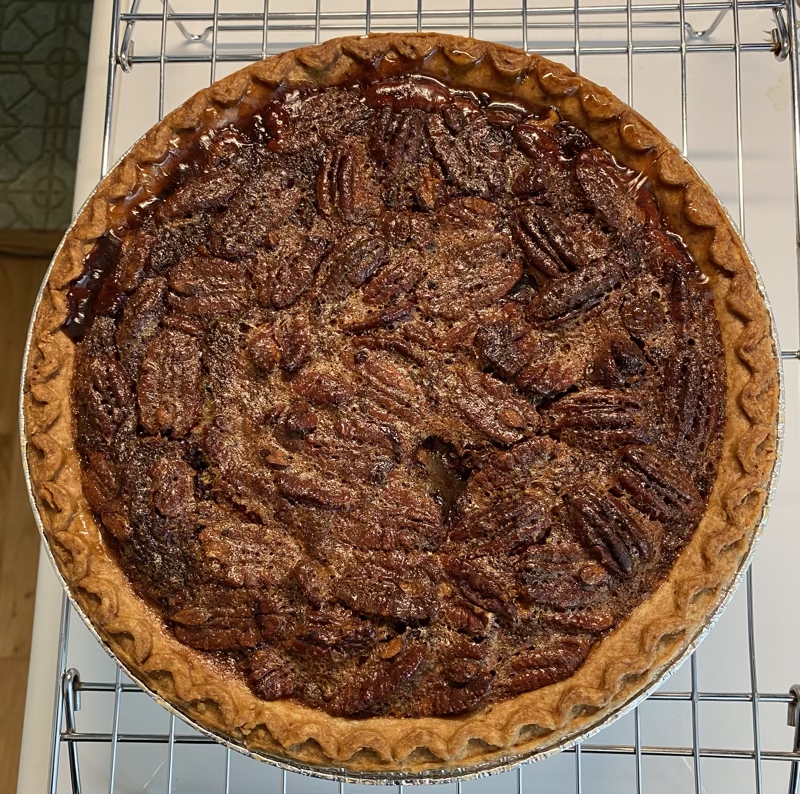 We did maintain one Thanksgiving tradition, though – I made my Chocolate Peppermint Pecan Pie just for the two of us. It may take a week to finish it!
Happy Thanksgiving!