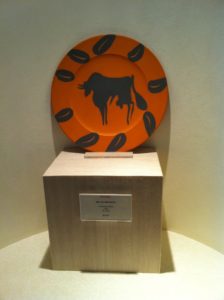 The DeYoung Museum of Art in Golden Gate Park in San Francisco reopened at the end of February with a postponed blockbuster exhibit, "Calder-Picasso". It seemed like a good idea to go see it once we were fully vaccinated, but I never got around to getting the tickets (we're members, so the tickets are free).
This afternoon, we watched a webinar on the exhibit, presented by the Curator of American Art at the DeYoung. They showed a video he'd prepared…but it was very difficult to see the art! People asked about it in the Q&A, and the answer was "due to copyright considerations, we were limited in what we could show online".
Sadly, there are only two weeks left in the show, and no tickets are available. And they're not going to extend it because it's going to the High Museum of Art in Atlanta.
We're going to go to the Legion of Honor, instead, and see its special exhibit, Last Supper in Pompeii: From the Table to the Grave – it's there until late August, but why take the chance?