We tried another new recipe today – a Greek Salad Sandwich. We made it with Trader Joe's Whole Wheat Pita Bread instead of the suggested English muffin; it was worth repeating (though I might try a different pita next time – the Joe's pita was very thin and the sandwich leaked a lot). It's not a big meal, but it was surprisingly satisfying.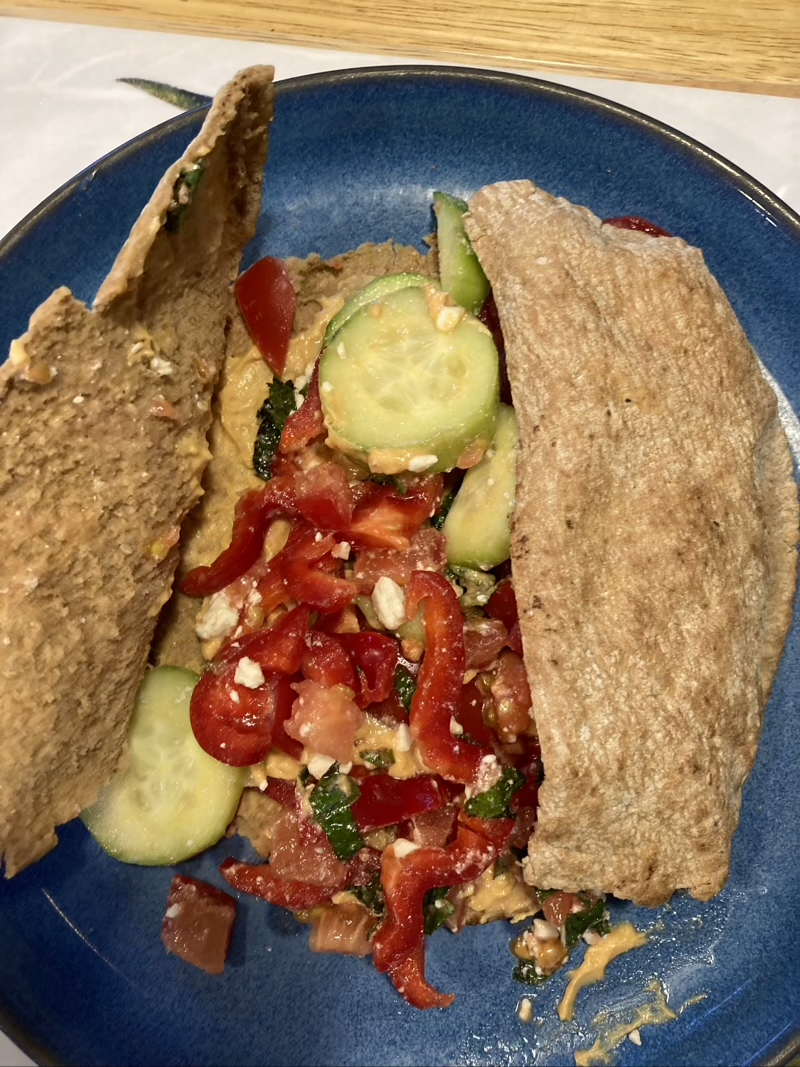 Tonight was the Silicon Valley Storytellers 8th Anniversary Meeting. It's the club's custom to finish every year with a Story Slam, where members compete for prizes by telling 3-5 minute stories that incorporate the meeting theme. This year's theme was "Infinity".
I signed up as a speaker weeks ago and promptly forgot about it – I had photos to edit, recipes to try, and newspapers to read. But it came back to me on Sunday morning when I looked at the week's calendar. I didn't really have a story dealing with infinity, but I did come up with a title: "All the Time in the World".
And that made me think of friends and family who died early; friends who nearly died but didn't; and people who fled one danger only to die in a different way (like the Paraguayan President's sister-in-law, who came to the US to get a Covid vaccination but stayed in the condo that collapsed last week). And that gave me a foundational phrase for the speech: "they had all the time in the world…until they didn't."
This morning, I looked in the Virginia Death Records for two of the people I wanted to talk about. Carol was my age; she died at age 13 from familial dysautonomia. The other was my cousin Ruby, who taught me to play bridge when I was very little and died suddenly at age 67 – the same age I am today.
I also talked about a classmate's husband who keeled over at our most recent high school reunion – I called 911 while people gave him CPR and used a defilibrator to get his heart beating again before the paramedics arrived. He survived and recovered, and I expect to see him in October for our next reunion.
And then, just before the meeting started, I glanced at Facebook and found out that there had been a 4.2 earthquake just a few minutes before – and that gave me my ending.
The club voted on the three top speeches – mine was one of them, and the prize was an Amazon gift card.
Last night, I nearly withdrew from the contest because I didn't have a coherent story in mind; I'm glad I didn't. I may not have had all the time in the world, but I had enough!