It's Day Two of our friend's visit, and we did the Silicon Valley standards.
First, we went to the Winchester Mystery House – the tour was pretty much as I remember it from past visits – no need to stand 6 feet apart, masks optional, corny jokes included.
Then we crossed the street to show off Santana Row and get a snack; I was hoping to find something in the Farmers' Market, but we settled for Smitten Ice Cream. Darn!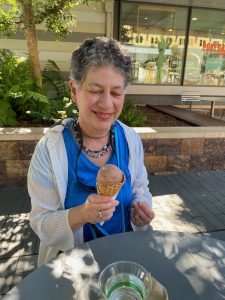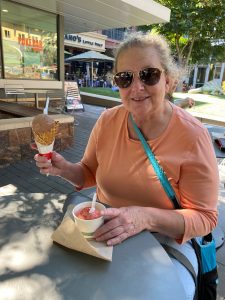 After that, we made a quick visit to Apple Park to see the Visitor Center and Apple Store; I had forgotten that the visitors' entrance was off Homestead, so I made some unnecessarily daring maneuvers to avoid going into an employee-only entrance to the complex. Fortunately, the Sheriff's deputy across the street wasn't interested in correcting my ways. We left with wallets intact…for now.
This evening was my first meeting as Chair of the Shir Hadash Ritual Committee. We had much to talk about and decisions to make; it was a full two hours, but we got a lot done. The Cantor suggested I post the minutes as tonight's blog entry, but I decided to save that for a day when I really have nothing to write about!