t was our last day in Iceland; we had breakfast at the hotel again (the barista there makes a very nice espresso macchiato!) and finished packing before setting out for a little last-minute exploration.
We hadn't walked all the way around The Pond yet, so that was our goal. Along the way, I was playing with Google Maps and found something called "Trivial Earth Lovers" – the description calls it a place of worship, but the photo associated with it appears to be that of the headquarters of the DAS Lottery! At any rate, that made me think of geocaching, so I hunted for easy caches near us and found two virtual caches, The Unknown Bureaucrat and Monument of Jón Sigurðsson – we'd been to both statues several times during the trip, so all we had to do was go back and take photos with one of us in the picture with the statue and submit the log.
We finished our walk around The Pond before getting the necessary photos; it was a pleasant day for a walk (we were amazingly fortunate in the weather the whole time we were in Iceland). If we'd had more time, we might have explored the "Human Expansion Station"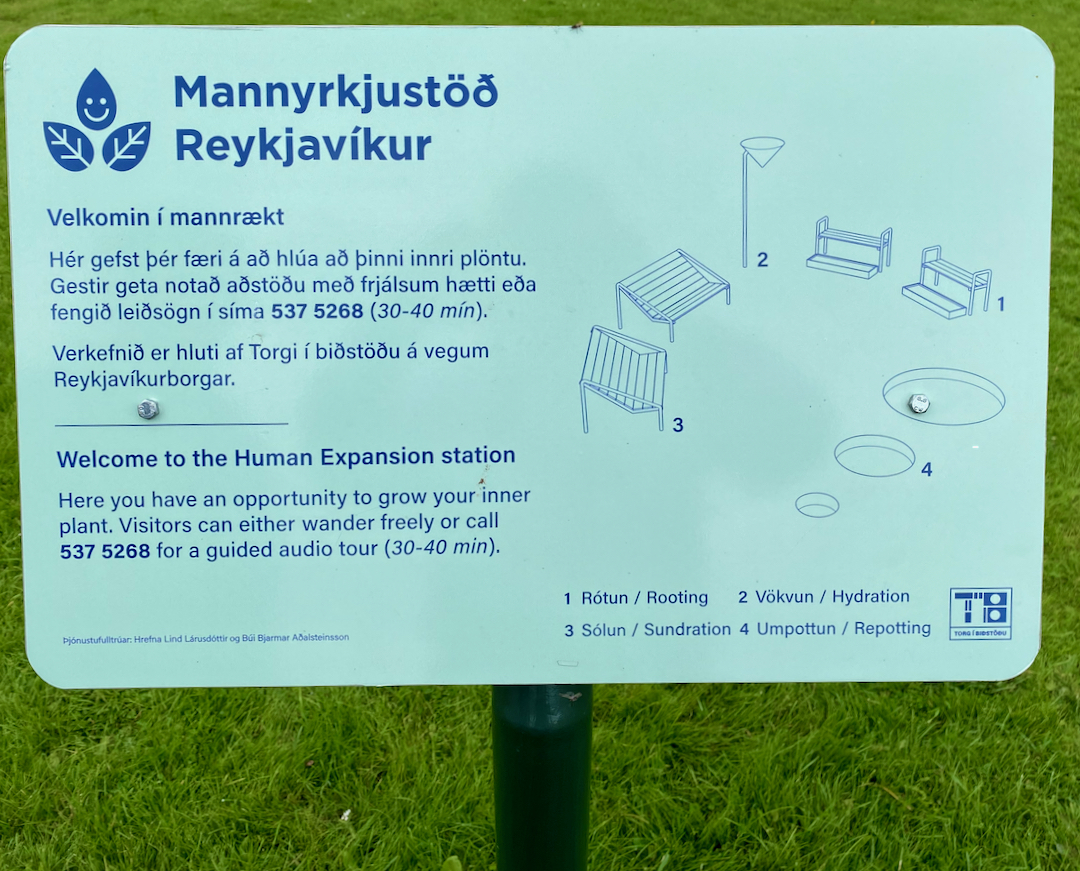 but we skipped it in favor of leaving time for a visit to the National Gallery of Iceland (our Reykjavik cards were still valid, and I wanted to get full value from them!).
The National Gallery had a number of special exhibits – we had just enough time to visit two. The first, Death is Elsewhere, was a seven-screen video showing a couple dancing and singing very odd songs (in English) about Death being elsewhere – we stayed for a few minutes and moved on before the songs became total earworms.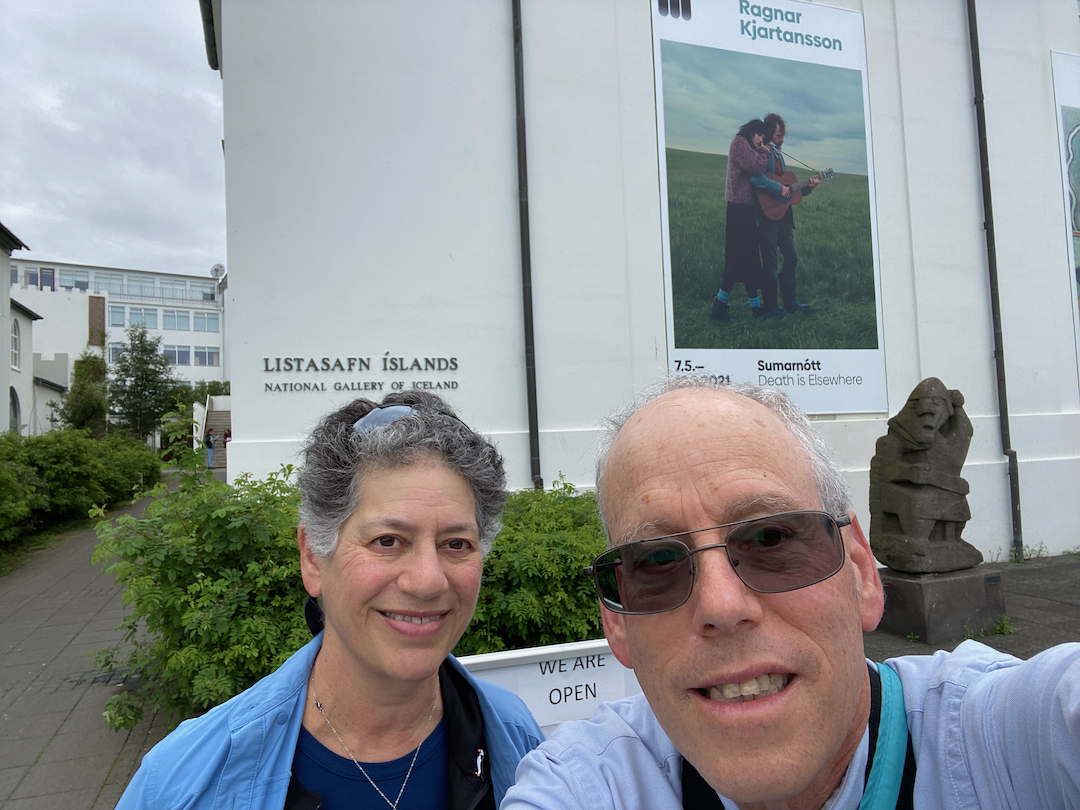 The second, Hello Universe, was more traditional – it mostly had paintings, though there were some odd mixed-media pieces like Halldór Ásgeirsson's Aurora Borealis Bar.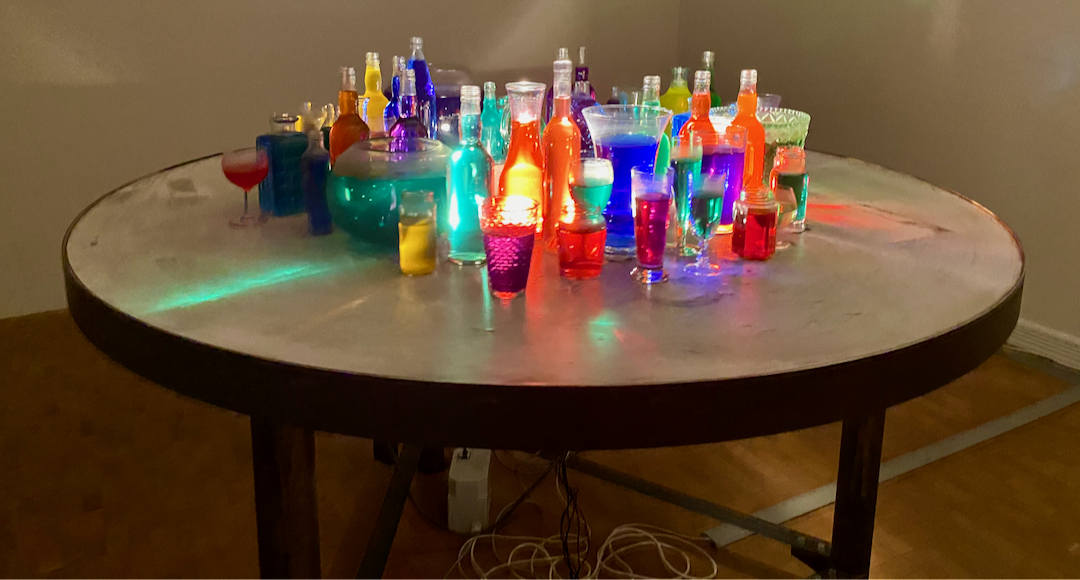 The labels for "Hello Universe" were only posted in Icelandic; fortunately, the museum had put the English versions online so we could look at them while walking through the exhibition.
After visiting the National Gallery, we took photos at the two geocaches and walked back to the hotel to finish packing and to check out, then we set out for one final meal at the Reykjavik Fish Company. I was pretty sure I knew where it was, but I brought it up on Google Maps to be certain – that was a mistake, because Google had the wrong address! We found it anyway and enjoyed fish and chips (they were out of Arctic char). It was next to Valdis Ice Cream – even though I wasn't the slightest bit hungry, I wanted to try the ice cream. Valdis was the place we'd been hunting for the entire trip – our trainer had told us to find a place that served ice cream on waffles – but I had to limit myself to a single scoop on a cone. It was very good; next visit to Reykjavik, I'll plan to go to Valdis for the full experience.
Then it was back to the hotel to retrieve our luggage, a quick walk across the street to the bus stop for the trip to the bus terminal and thence to Keflavik to fly home (well, to Boston).
The route to the airport took us near Fagradalsfjall Volcano. It had been pretty quiet the last few days, but as we passed it, there was lots of steam coming out.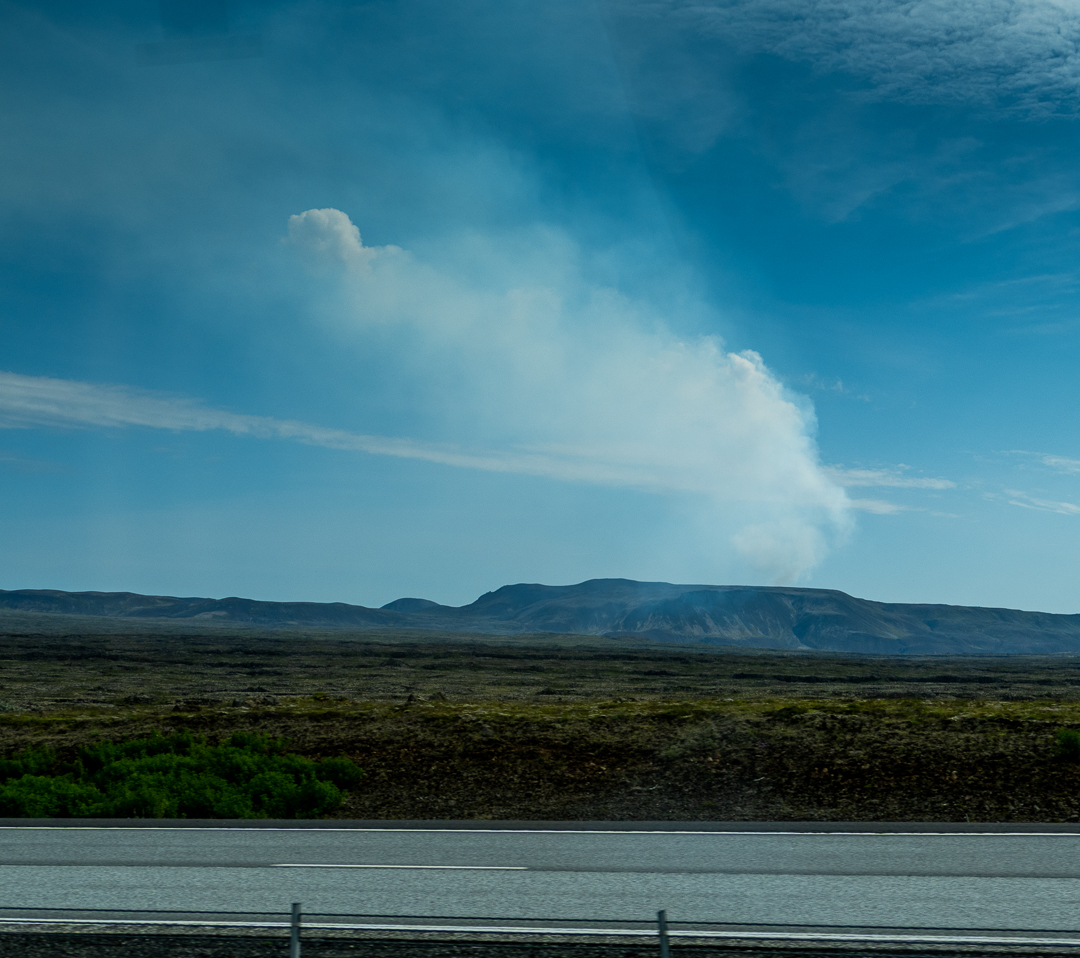 The commentary on one of the YouTube channels carrying live video said that there'd been a wall collapse a few minutes before we passed by, generating lots of lava. All I could do was watch the feed and wish I were there.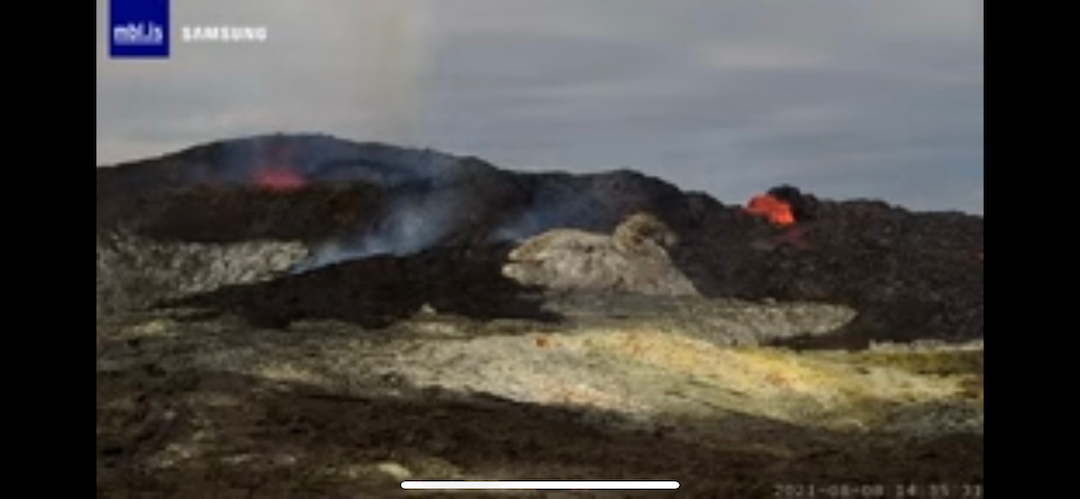 Now we're on our flight to Boston – there was no chance to see the volcano when we took off, but I did enjoy the view of glaciers over Greenland.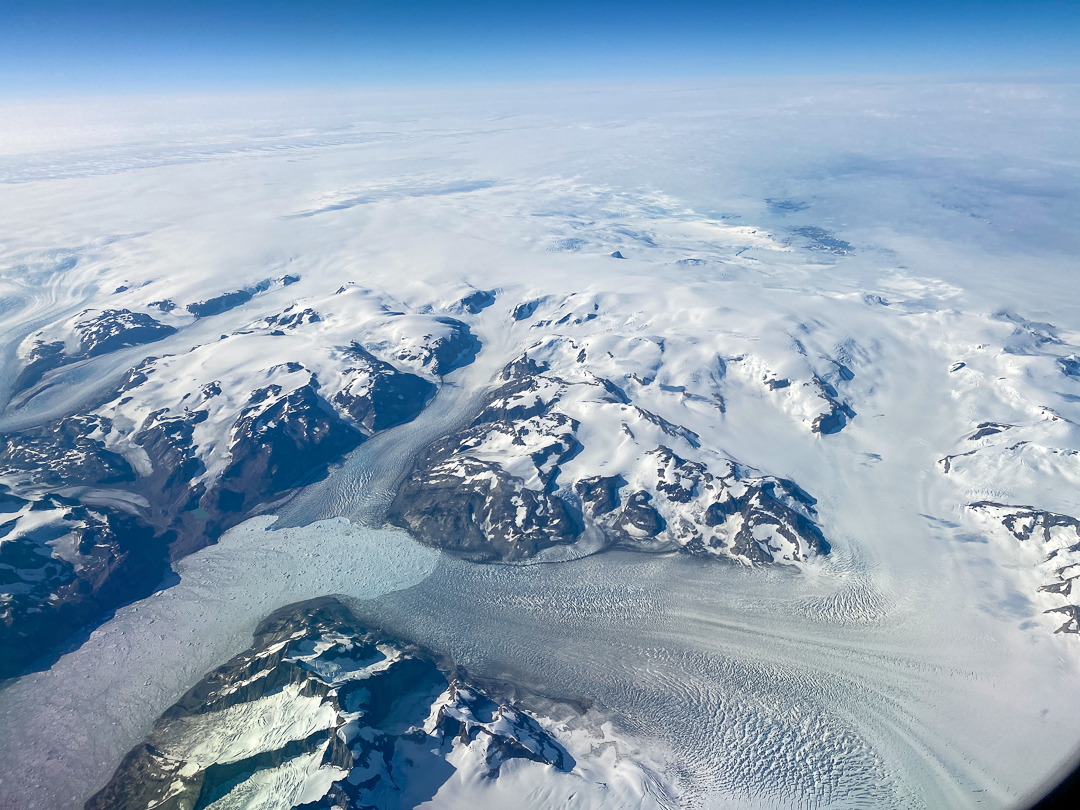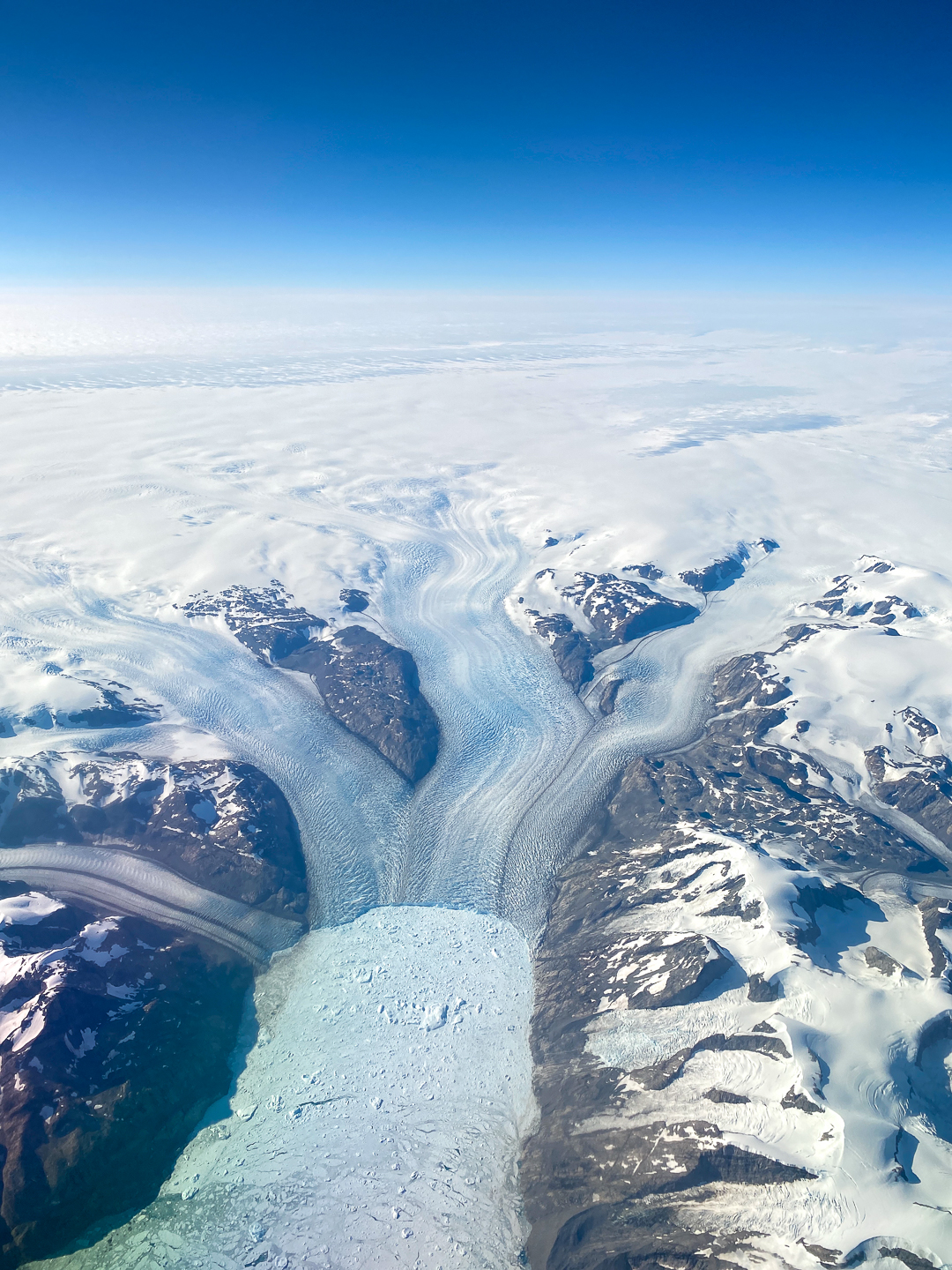 The movies and TV offerings on this flight didn't excite me, but I was drawn to one album, "IBM 1401, A User's Manual" by Jóhann Jóhannsson.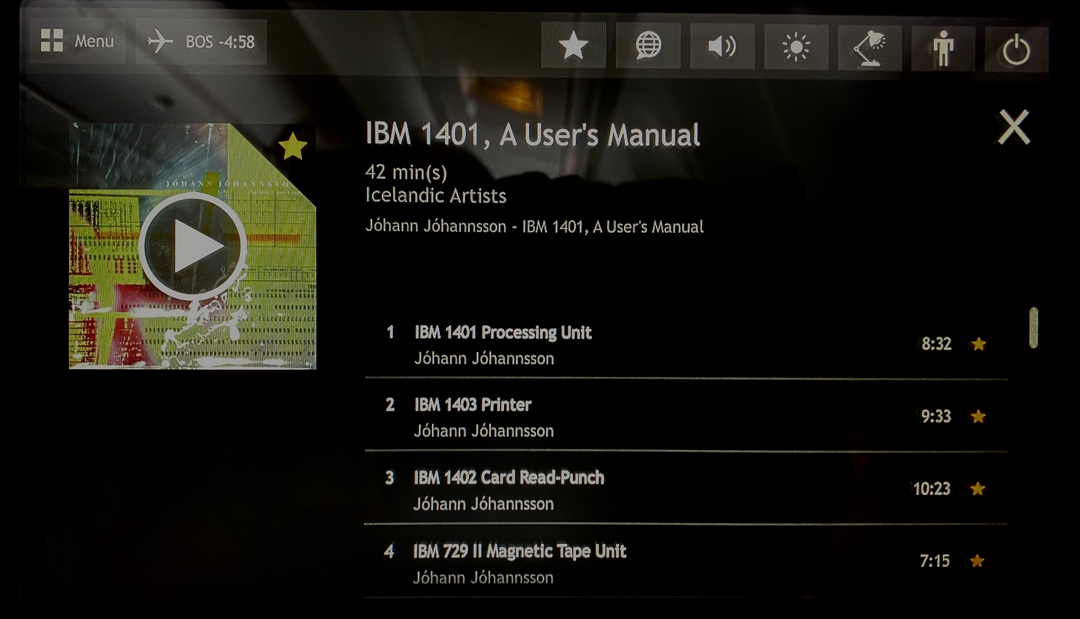 The first track, "IBM 1401 Processing Unit", was strictly musical, so I was really surprised when the second track, "IBM 1403 Printer", included readings of parts of the manual! Diane says she wishes her father had been able to hear this album – he spent years servicing 1401 systems as an IBM Customer Engineer.
We should land in Boston in a couple of hours – we'll have to stay awake until 10pm or so Eastern Time.
Tomorrow, we see our son!