We'd set the alarm on Diane's phone to make sure we'd be at the airport in time for our 11am flight. About ten seconds after it sounded, Diane asked me what the two texts from Delta meant – I'm not sure I'd opened my eyes yet, but I was pretty sure it wasn't going to be good news.
I was right. They'd already changed the connecting airport twice since we booked it (from Atlanta to Seattle to LA). Yesterday, they told us that due to an unplanned equipment change, we'd have to fly First Class instead of Delta One (lie-flat seats) and they were giving us each a $500 voucher for the inconvenience. Since we hadn't booked Delta One in the first place and we were traveling on miles, I thought it was a pretty good deal.
This morning's message was a different story. Our BOS-LAX flight was delayed nearly five hours and we'd miss our connection home. One of the messages implied that we'd been rebooked on a later flight but the other one implied that we'd have to go online to rebook.
I played it safe and went online – we hadn't been rebooked. And the system wouldn't let me rebook. So I called; all agents were busy, but instead of waiting on hold, the system offered to call me in 28 minutes or so.
35 minutes later, after we'd finished breakfast, I downloaded the Delta app to try their text support; their automated agent put me on hold, too!
But a few minutes later, my phone rang and it was Delta – the agent was extremely helpful and got things straightened out to ensure we could take the later flight out of Los Angeles.
What could we do with an unexpected morning in Boston? We hadn't been able to see everything we wanted to see yesterday, so we called our son and arranged to meet at the Paul Revere House in the North End. We'd walked by it on the Freedom Trail many times, but we'd never gone in.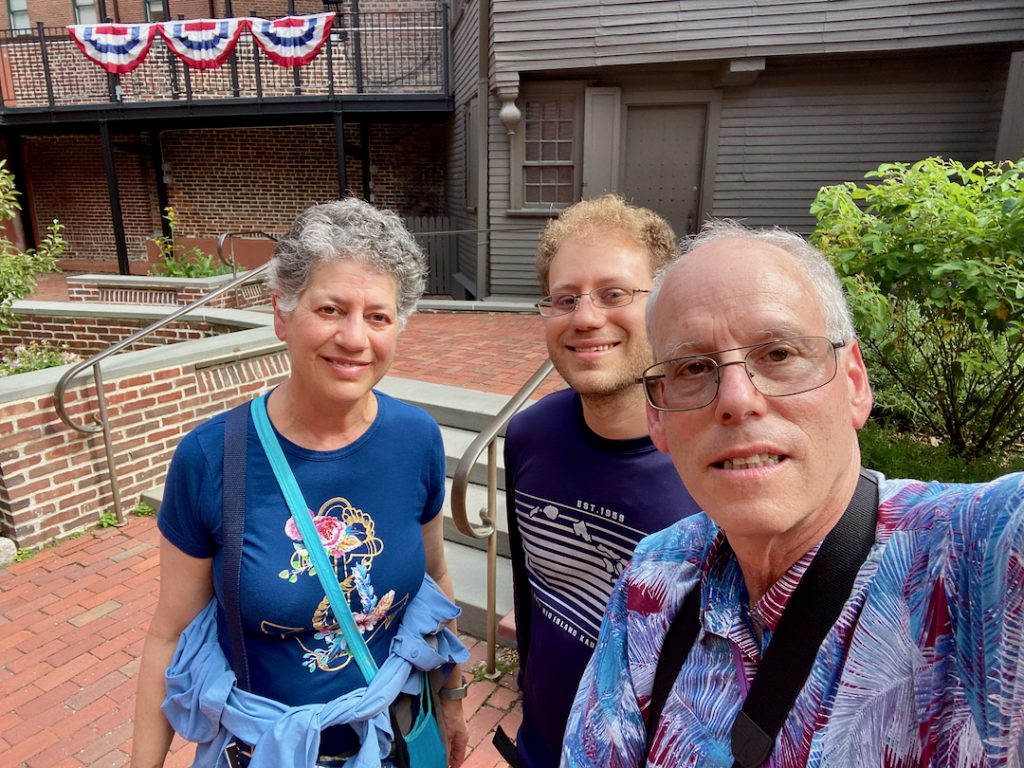 Like the birthplaces yesterday, it was a quick tour – four rooms on two floors, but unlike the birthplaces, the building was air conditioned, which encouraged us to stick around and ask questions. They also own the adjacent building and have filled it with artifacts and information about aspects of Paul Revere's life other than the Midnight Ride. I'm glad we were able to visit.
We continued along the Freedom Trail to Old North Church, another site we'd passed by on previous trips.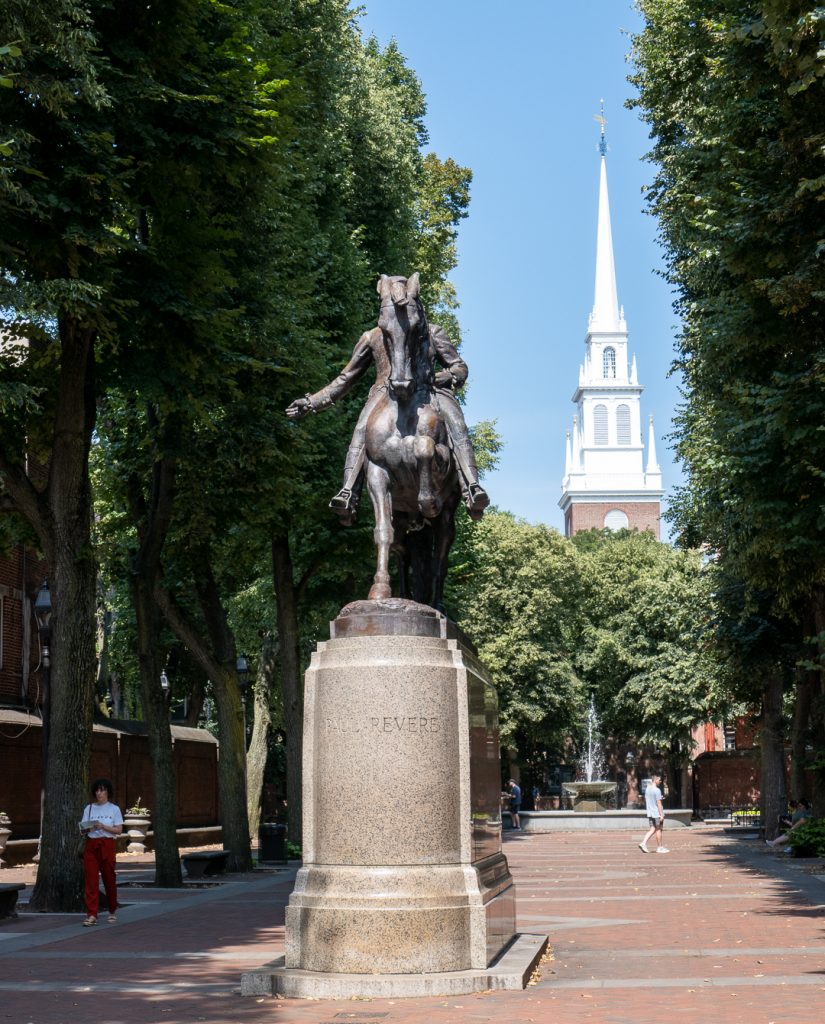 It was quite interesting, but very hot – we decided against touring the crypt, but we did get to see a bust of Washington that Lafayette called a "faithful image".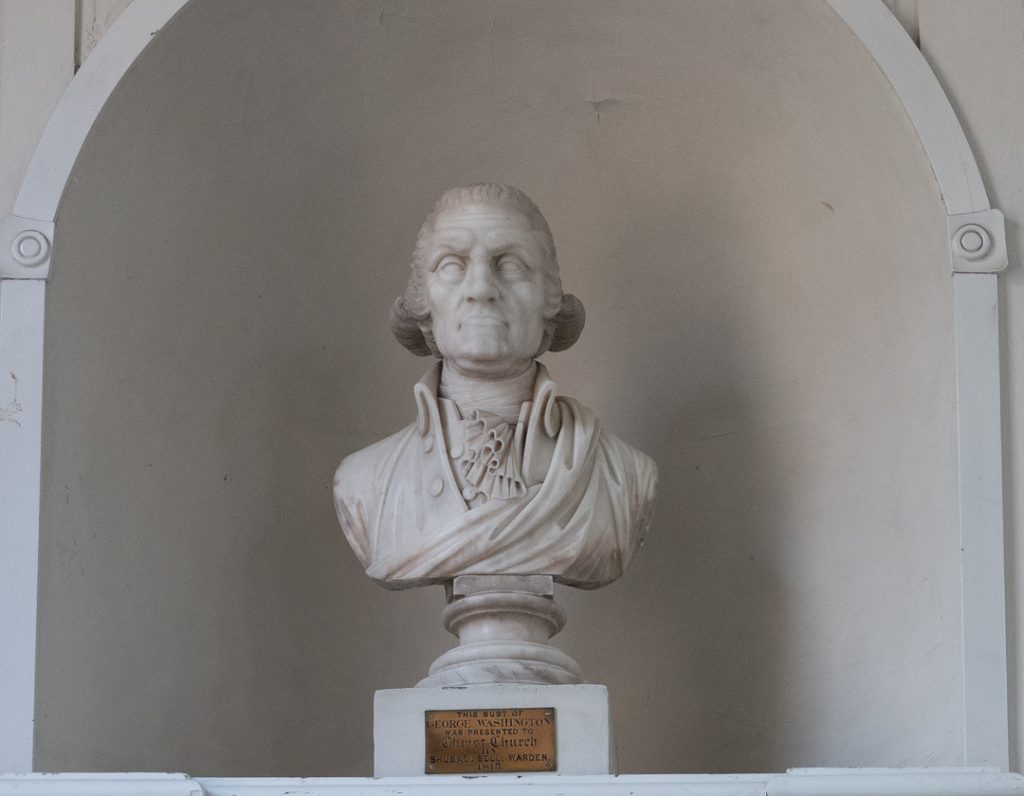 After a relaxed lunch at Boston Public Market, we hiked to Benjamin Franklin's birthplace – which burned down centuries ago. The current building honors him (see if you can find it) – but it wasn't worth the hike.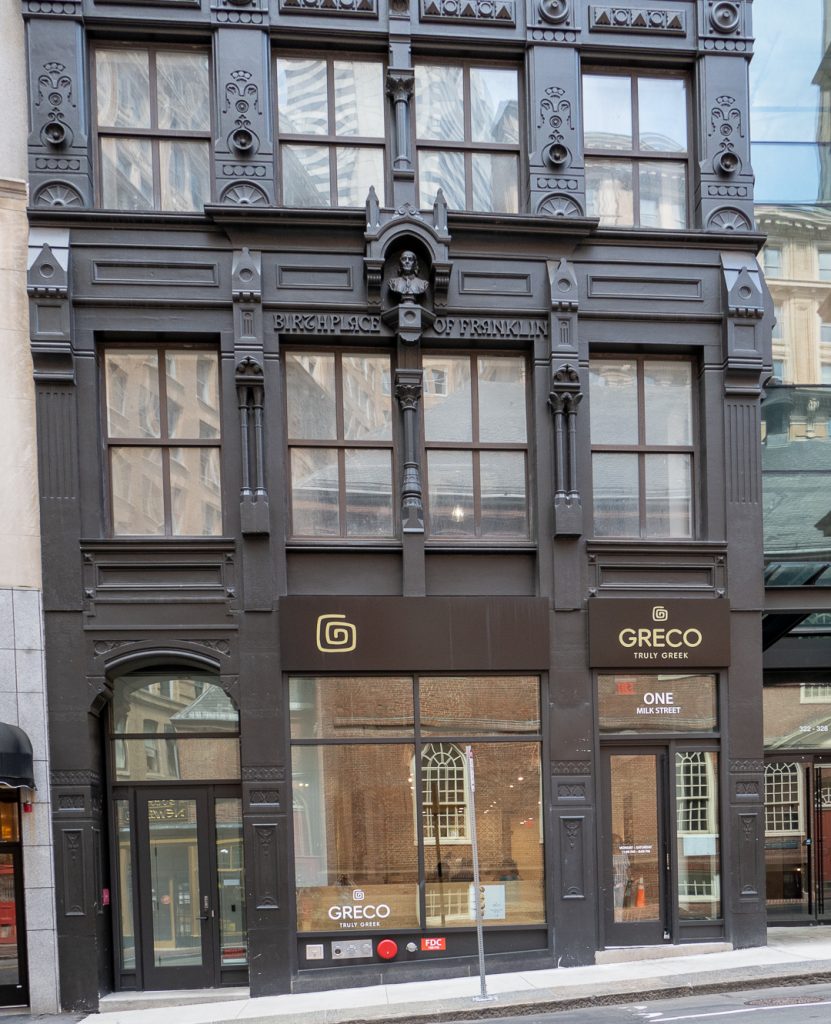 We said goodbye to Jeff again and returned to our hotel, only to discover that our keycards didn't work. Pro tip: if you ask for a late checkout after the start of your stay, stop by the front desk to get your keys updated.
Then it was off to the airport for our delayed flight. We had to walk a long way to get to the right checkin counter, and somehow Diane tripped and fell along the way. We were immediately surrounded by Delta and Logan people who were eager to help her – they called the paramedics and arranged for a wheelchair to take her through the terminal. They even gave us access to the Delta Sky Club! The paramedics wanted Diane to go to the hospital "just in case", but she declined – she's a little bit scratched up and her sunglasses didn't survive, but she's otherwise ok.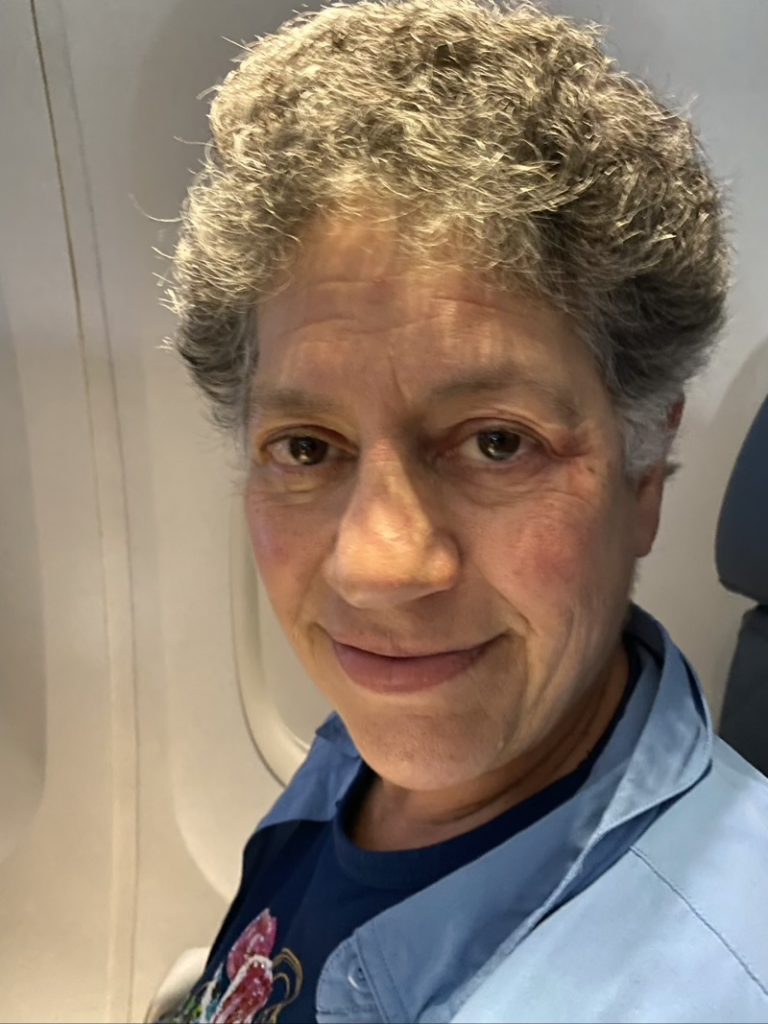 Our flight was further delayed, but we're finally in the air! Our new connection in LA is very dubious, but hope springs eternal. And we have clothes for tomorrow in our carry-on anyway.