Our CruiseTour got off to a great start today. Our first stop was the Museum of the North at the University of Alaska Fairbanks.
The bowhead whale skeleton gets your attention right away!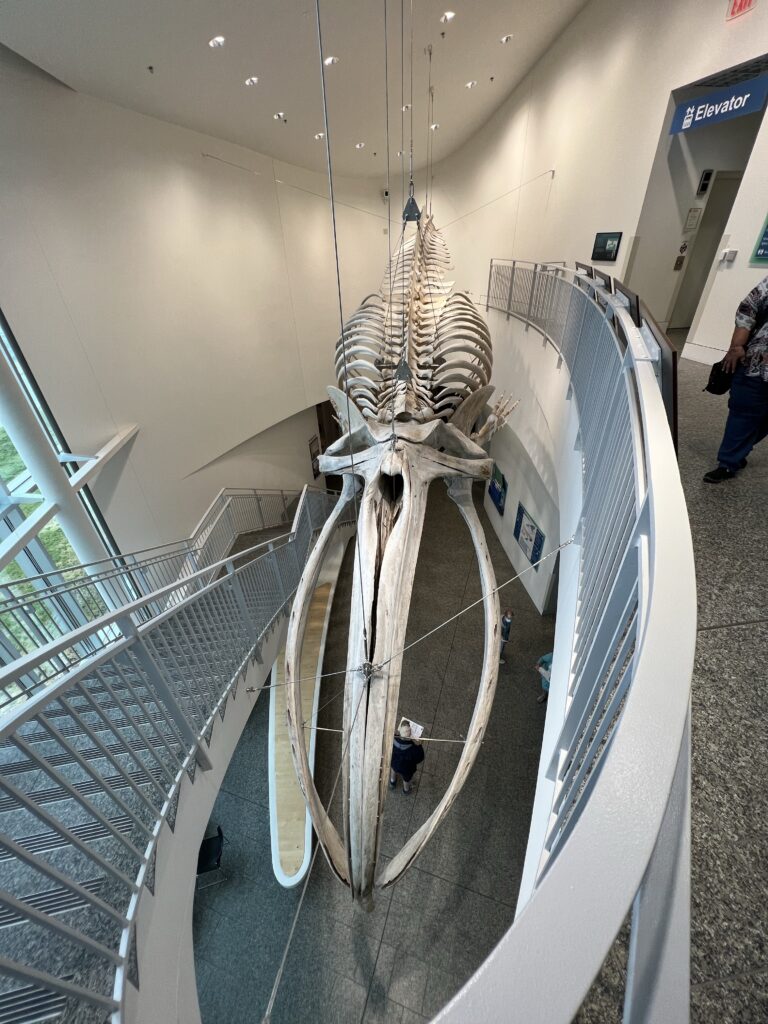 Diane and I went to the second floor to see the all-Alaskan art collection on the second floor. There were pieces by Alaskan artists (both Native and Western), as well as pieces by non-Alaskans of Alaskan subjects. Some of my favorites:
All American Picassoan Inupiaq Shaman Hero (1991) by Joseph T. Senungetuk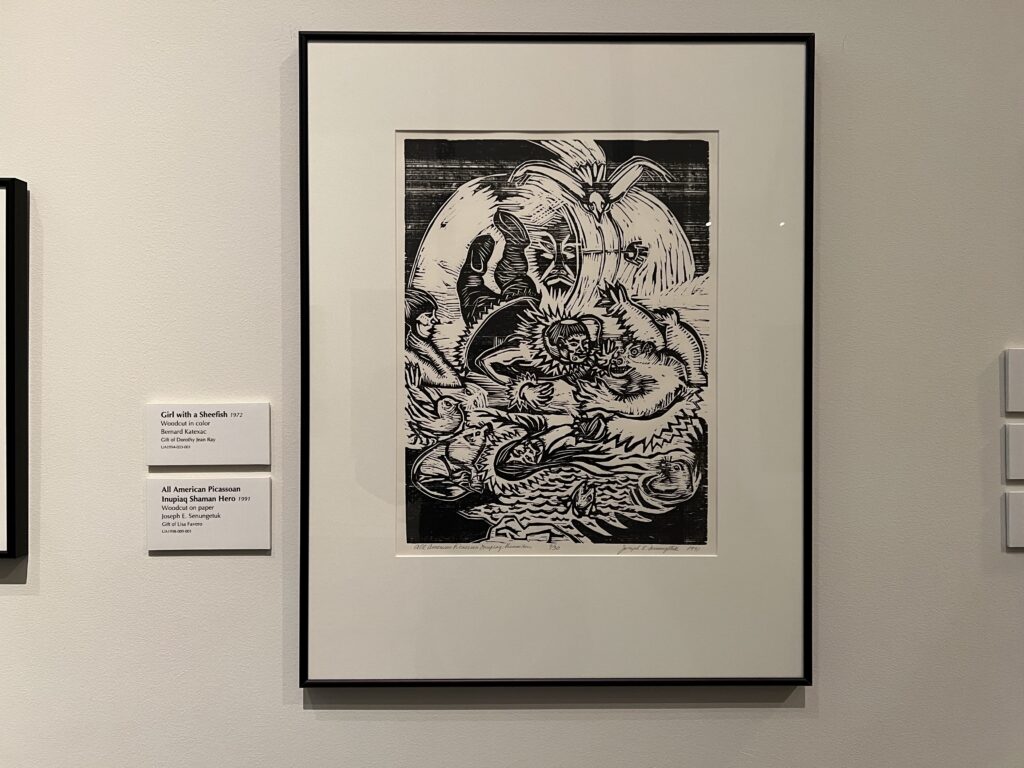 Bering Strait Faces the Last Roundup in the Last Frontier (1982) by Dan DeRoux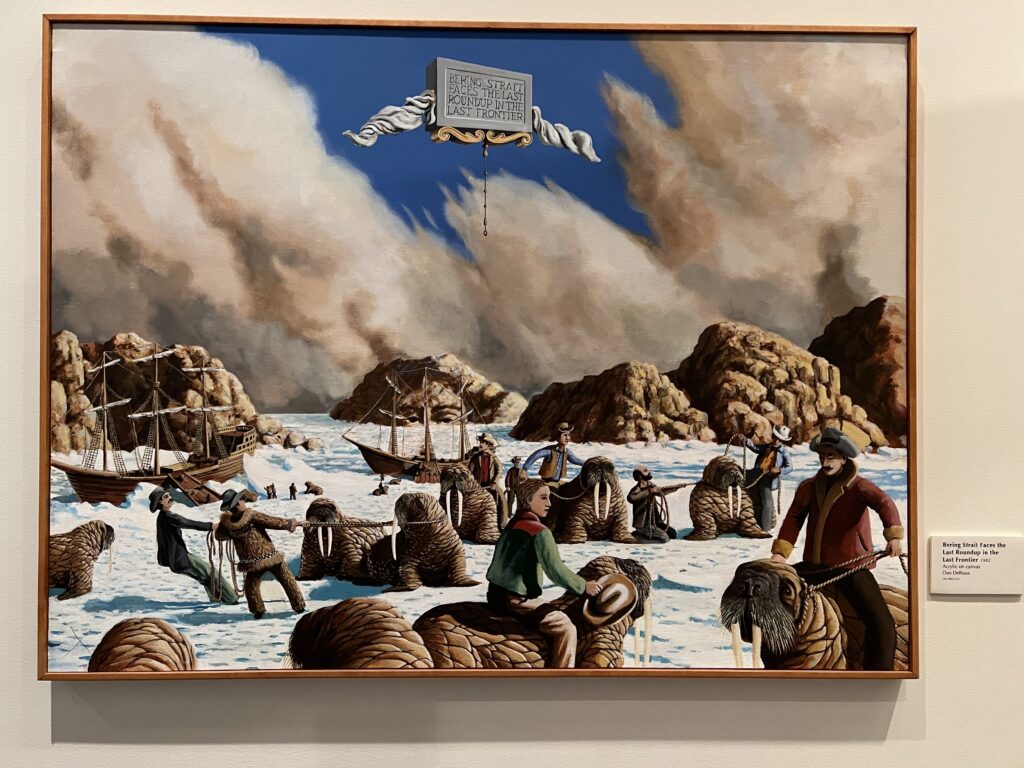 The Great Alaska Outhouse Experience was an interesting piece that you could actually touch and go into; it's decorated with all sorts of interesting artifacts.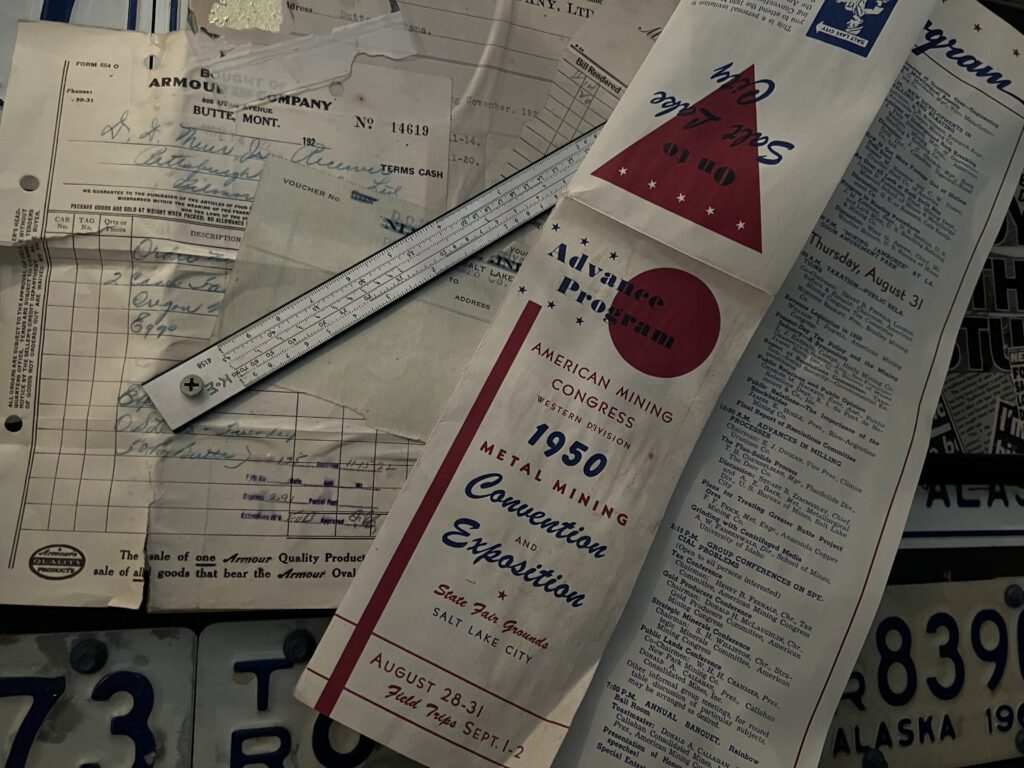 The first floor is devoted to the natural, cultural, and political history of Alaska. Bears are prominent: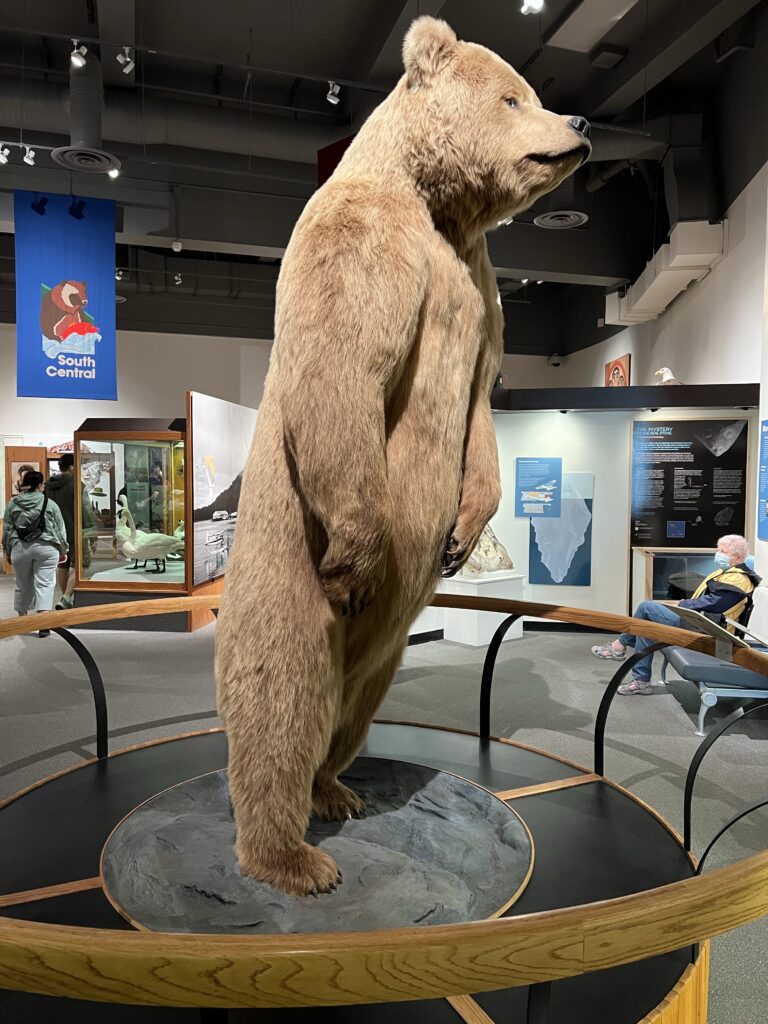 There was a large area that talked about the expulsion and relocation of the Japanese and Aleut population during World War II. I knew about the Japanese relocation, but this was the first time I learned that the Aleuts were also relocated – not so much about trumped-up concerns about their loyalty as much as about "protecting" them from a Japanese invasion (the only part of North America that was occupied (briefly) by the Japanese were Alaskan islands).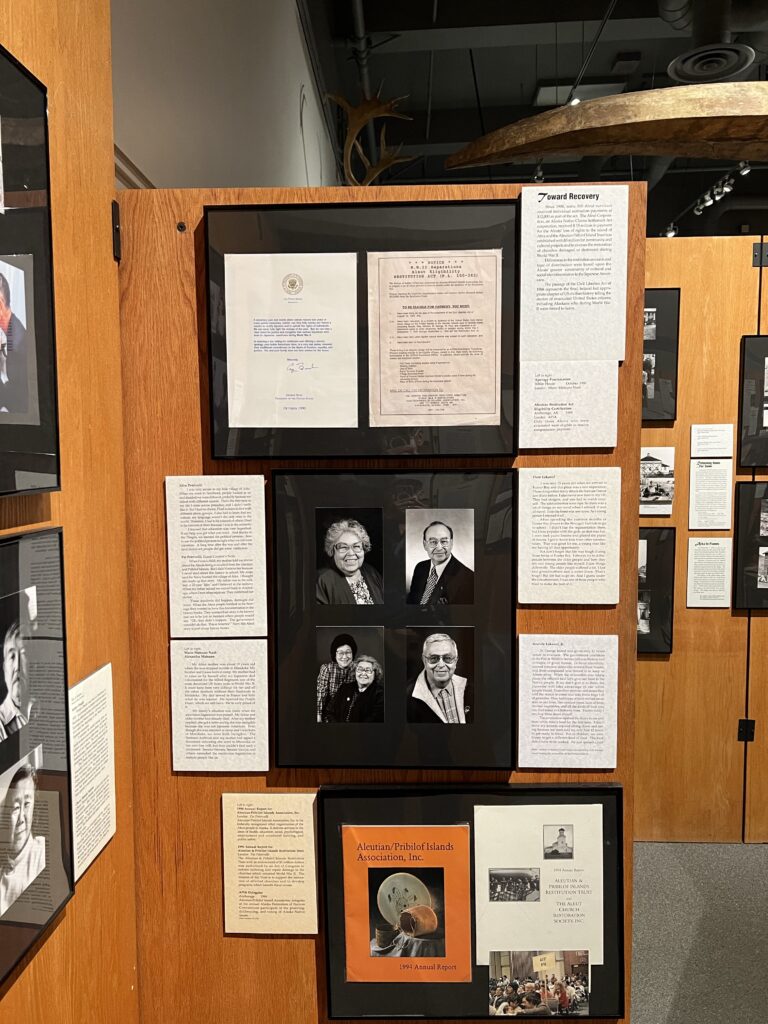 There was a lot of space given over to the megafauna of Alaska, past and present.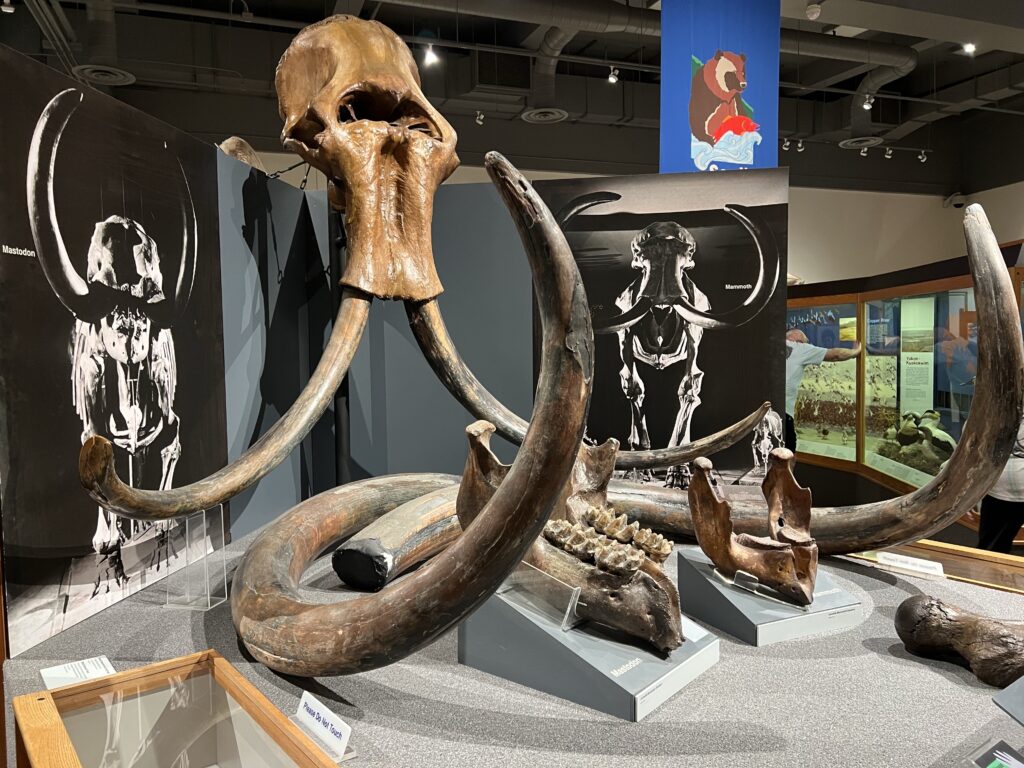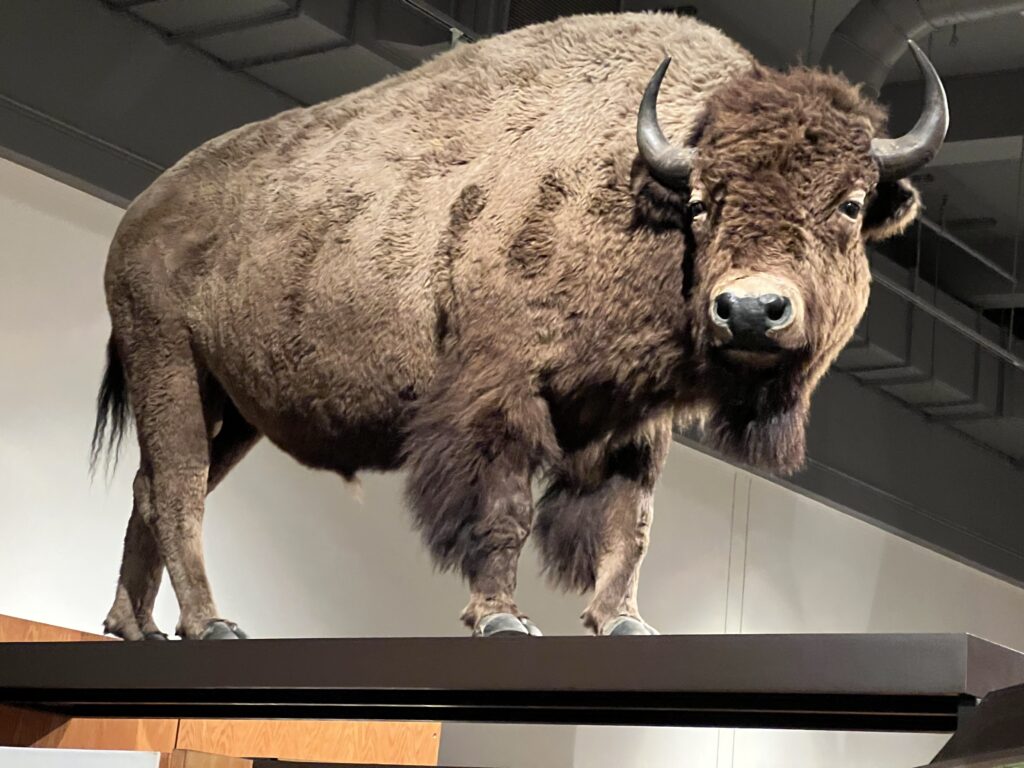 The Gold Rush brought many Western settlers to Alaska, along with their firearms.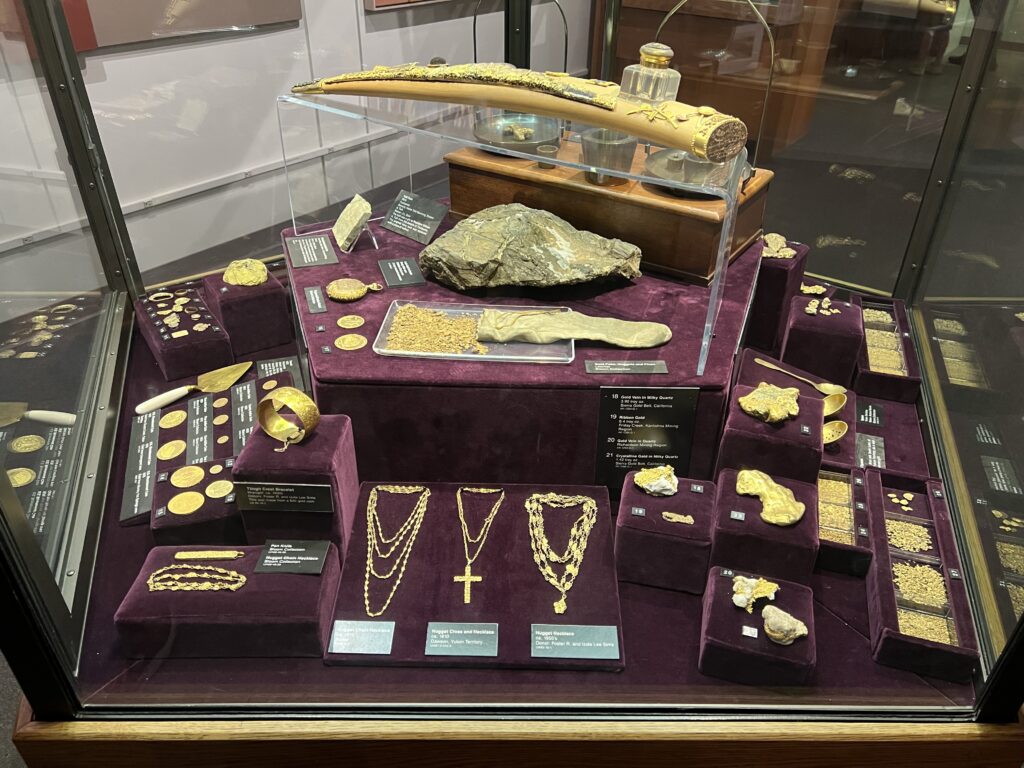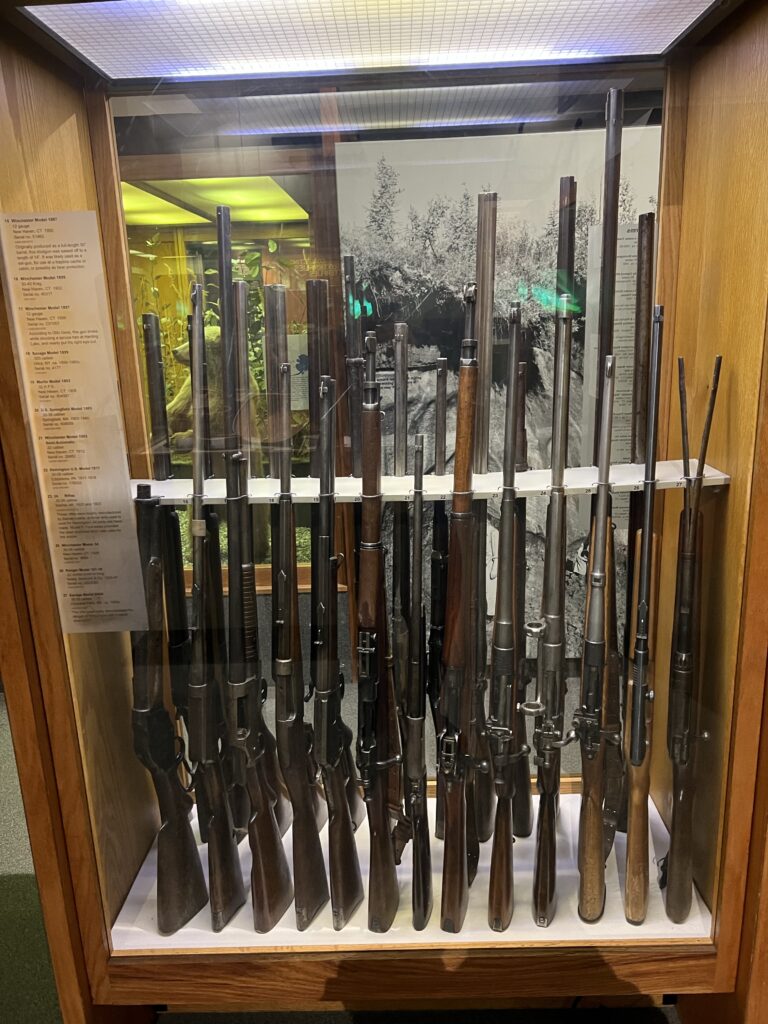 Native culture got a lot of attention, of course.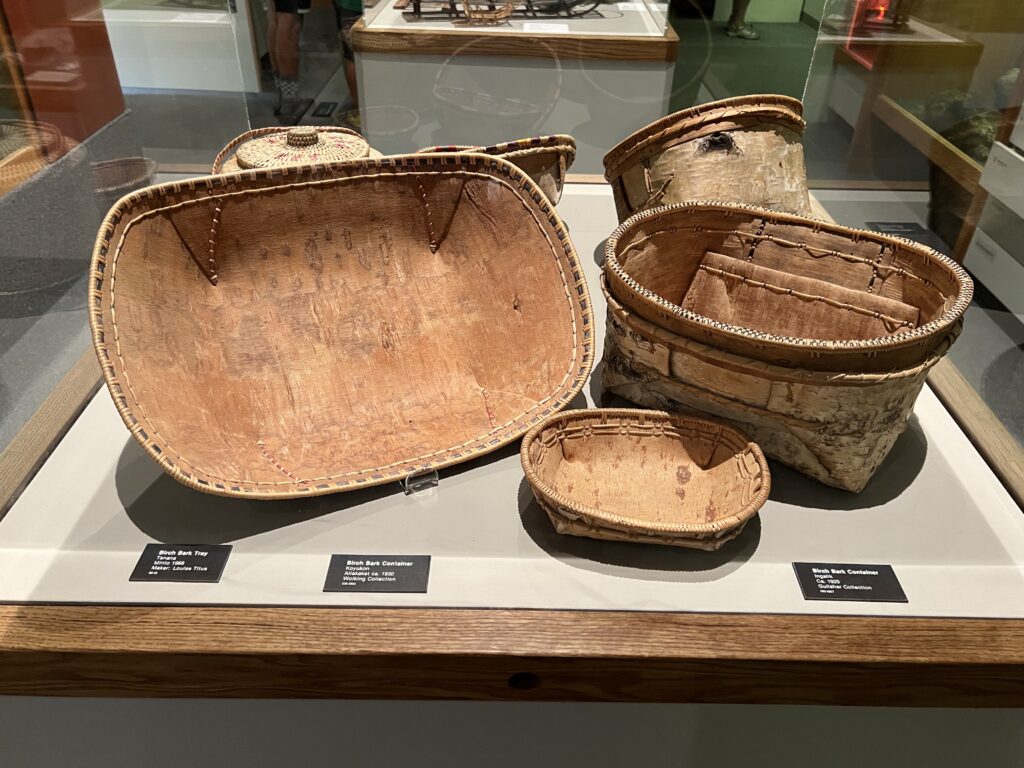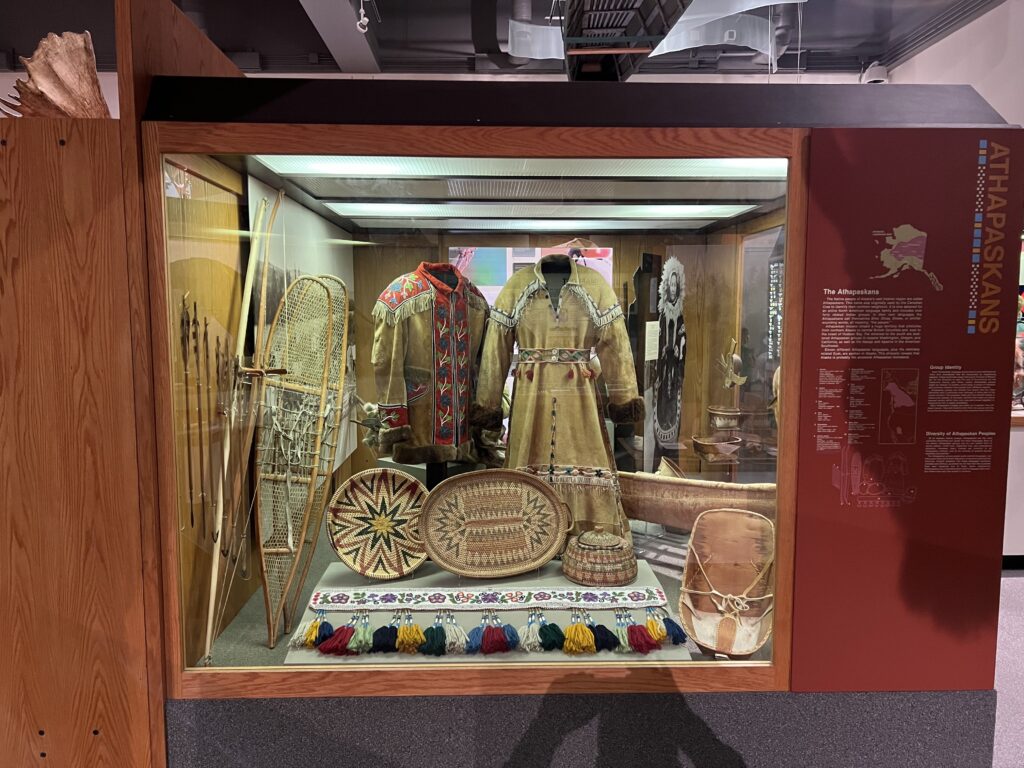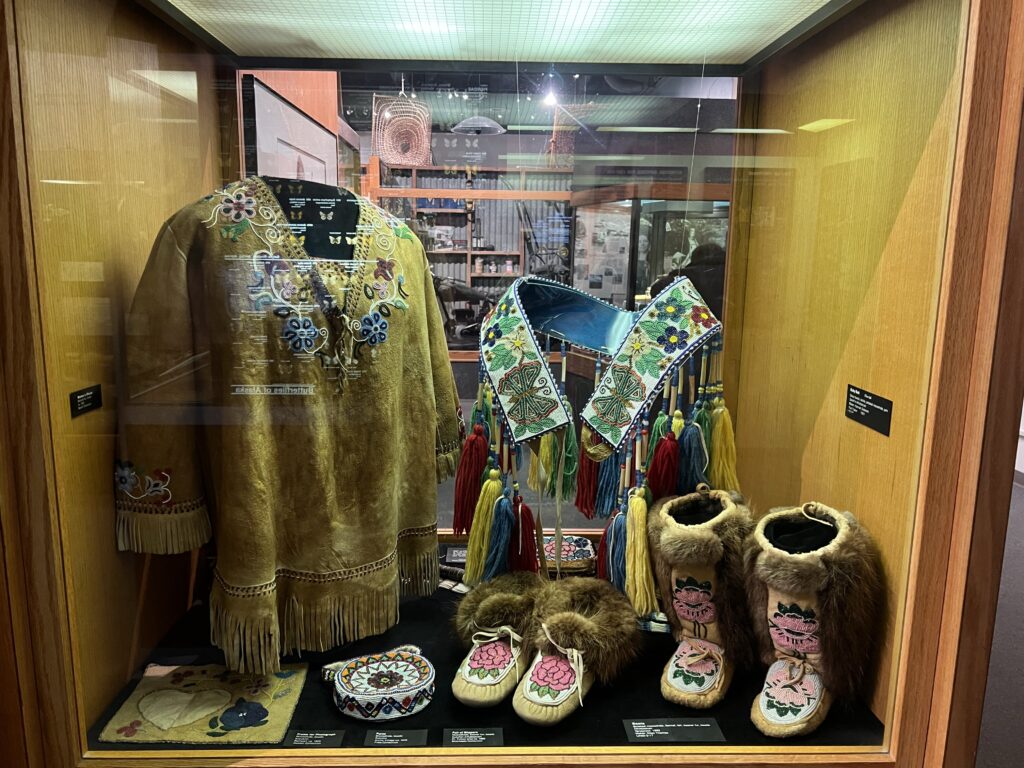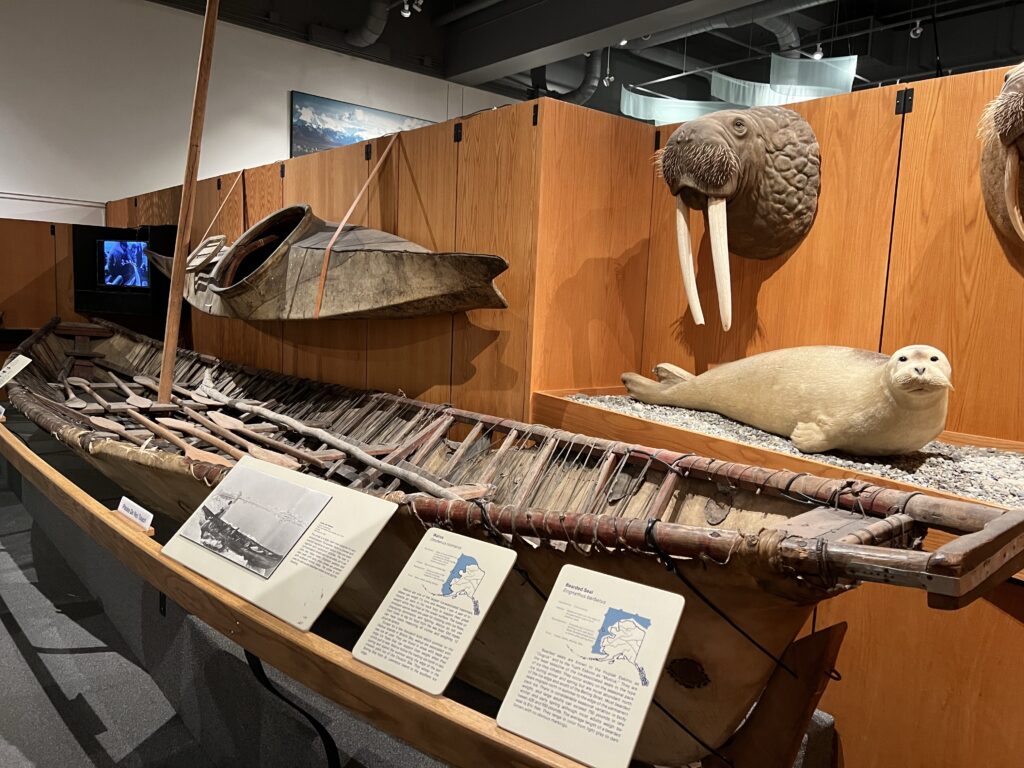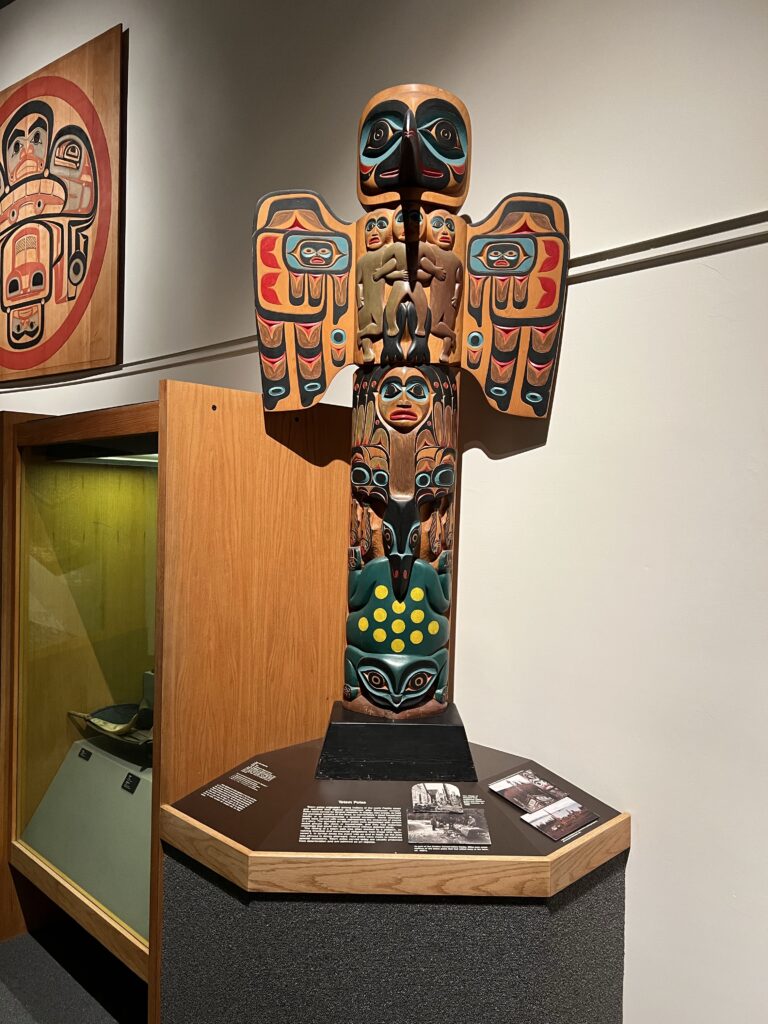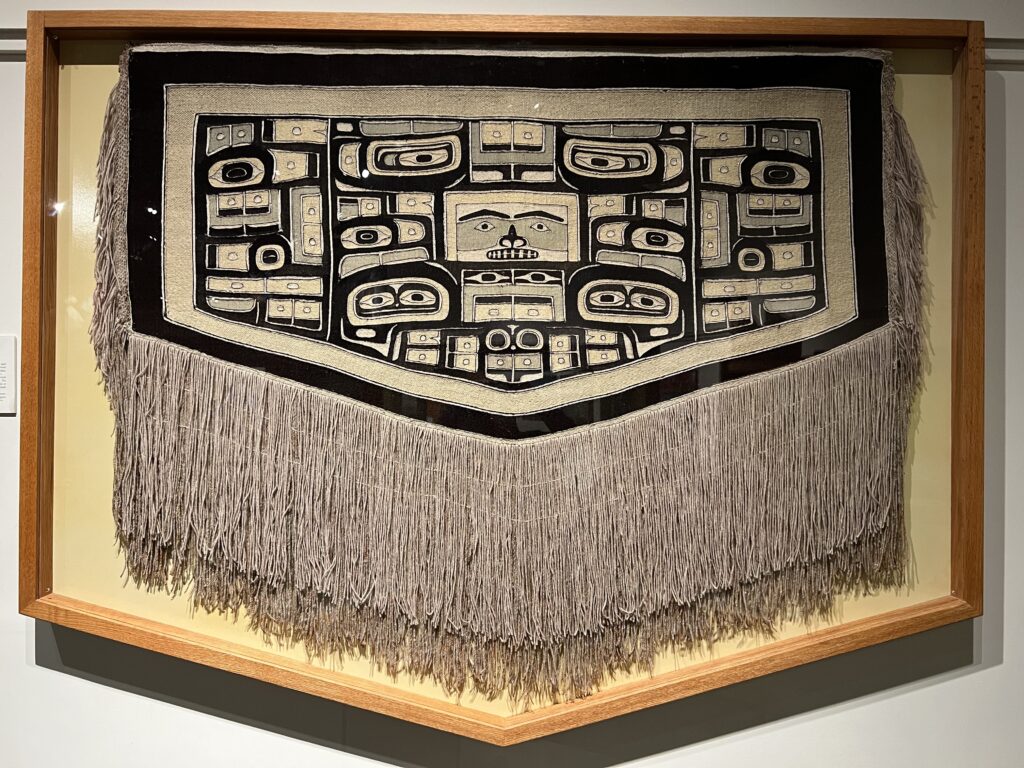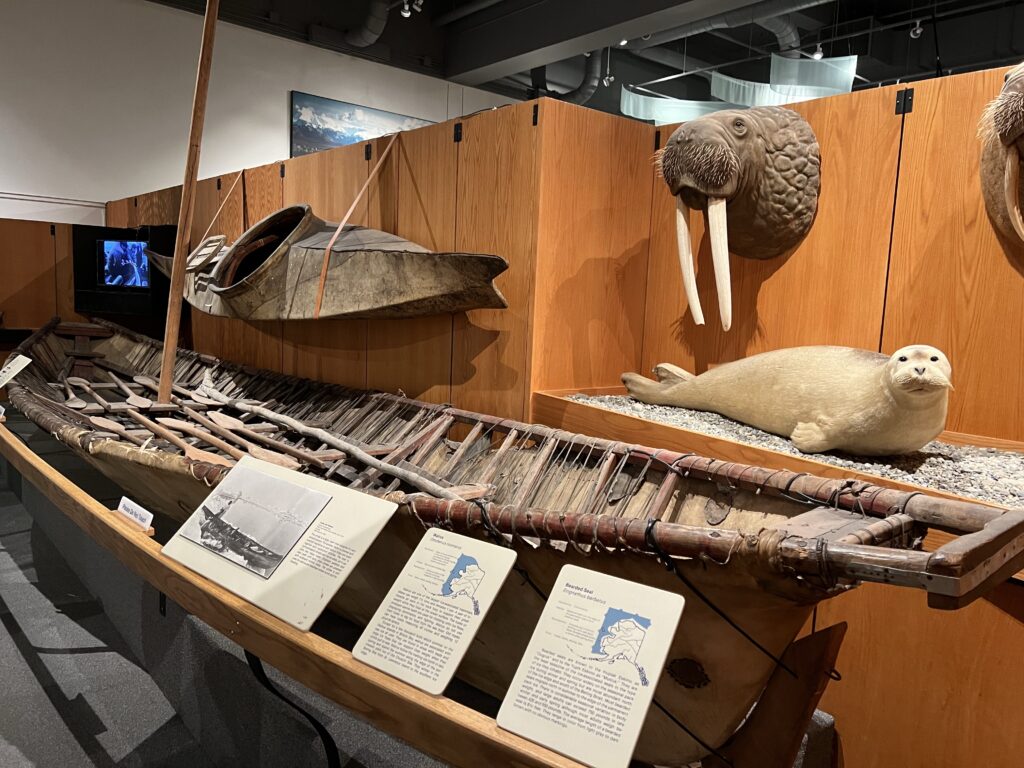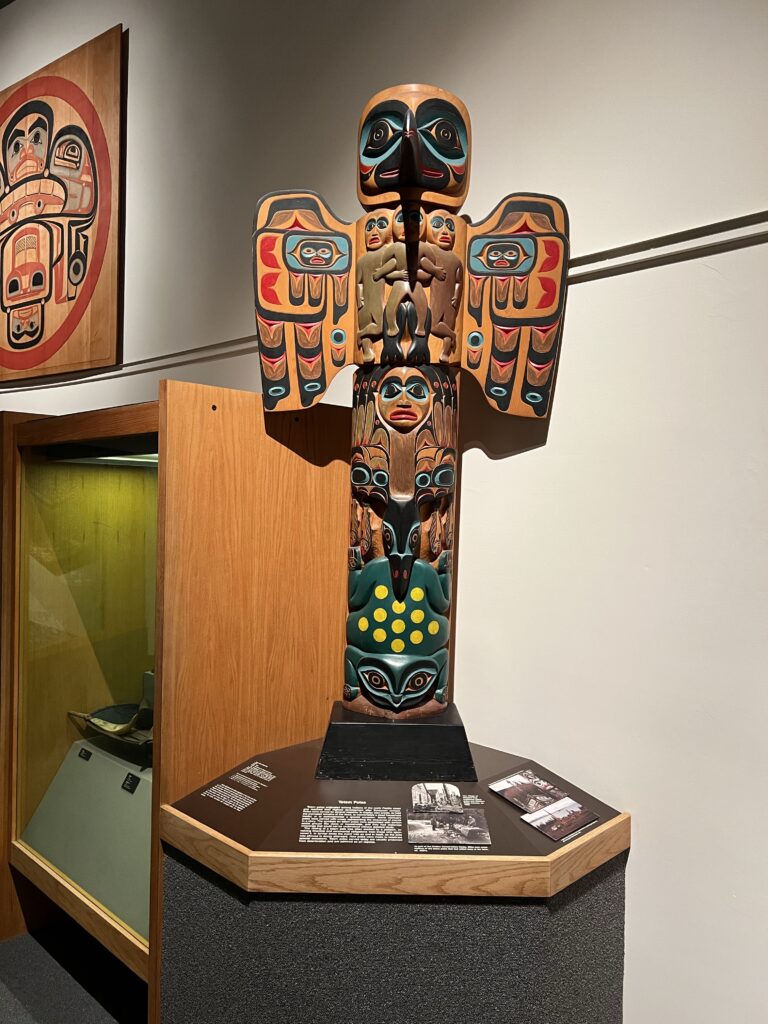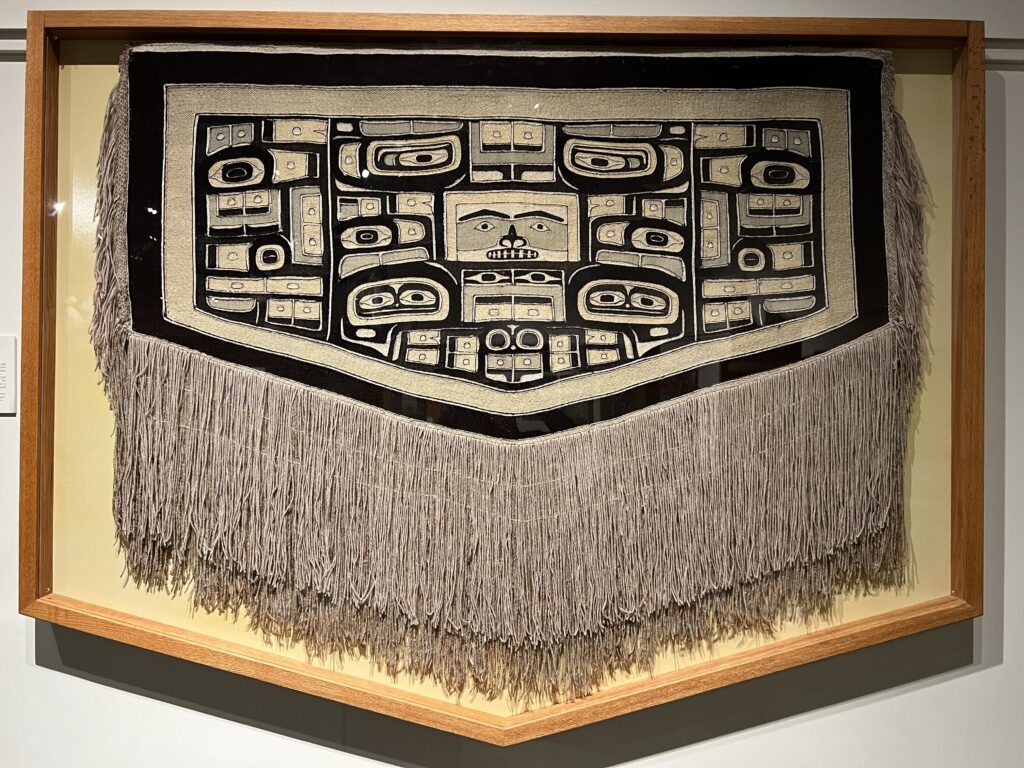 I had just a minute to get a photo of a tiny Northern Bluebell using their scanning microscope.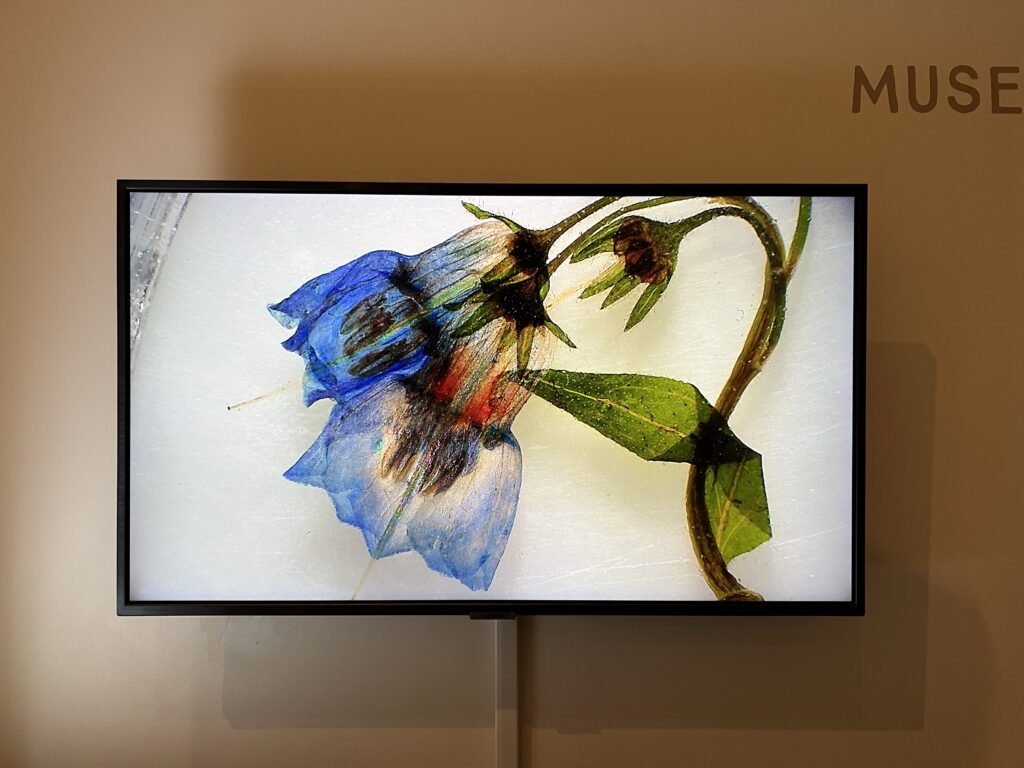 We left the Museum to go to downtown Fairbanks for lunch; our guide talked about the problems of living with extreme cold (for example, tires lose their roundness in temperatures below -50F!). Downtown Fairbanks is served by central steam heat and there are vent pipes all over the area, painted by local artists, such as this painting of Marilyn Monroe.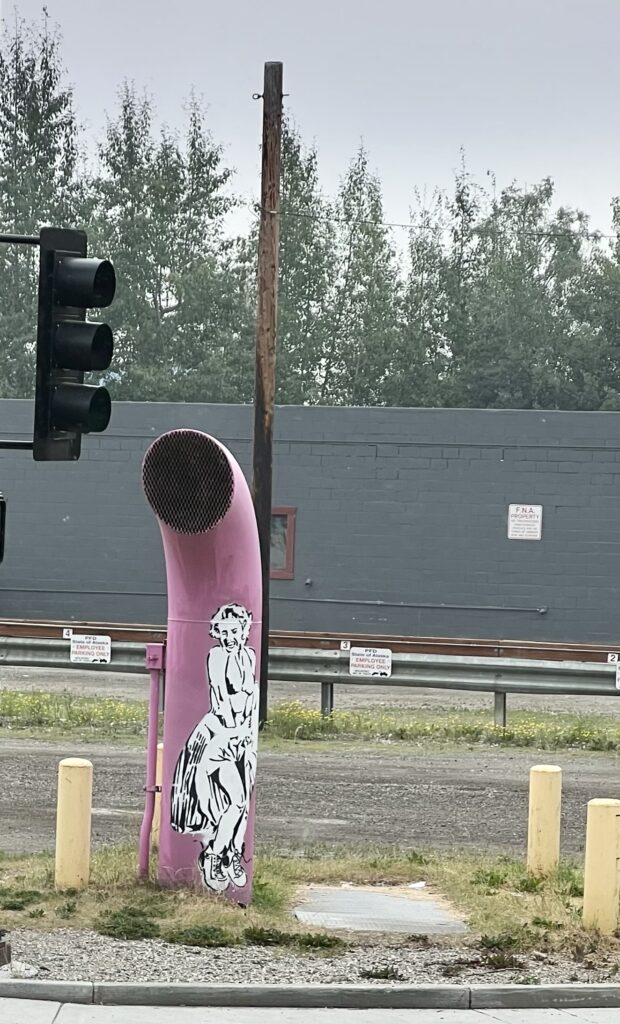 After lunch, we drove to the Riverboat Discovery Landing for a journey up the Chena River on the Discovery III. It was a wonderful afternoon, far more interesting than I'd expected.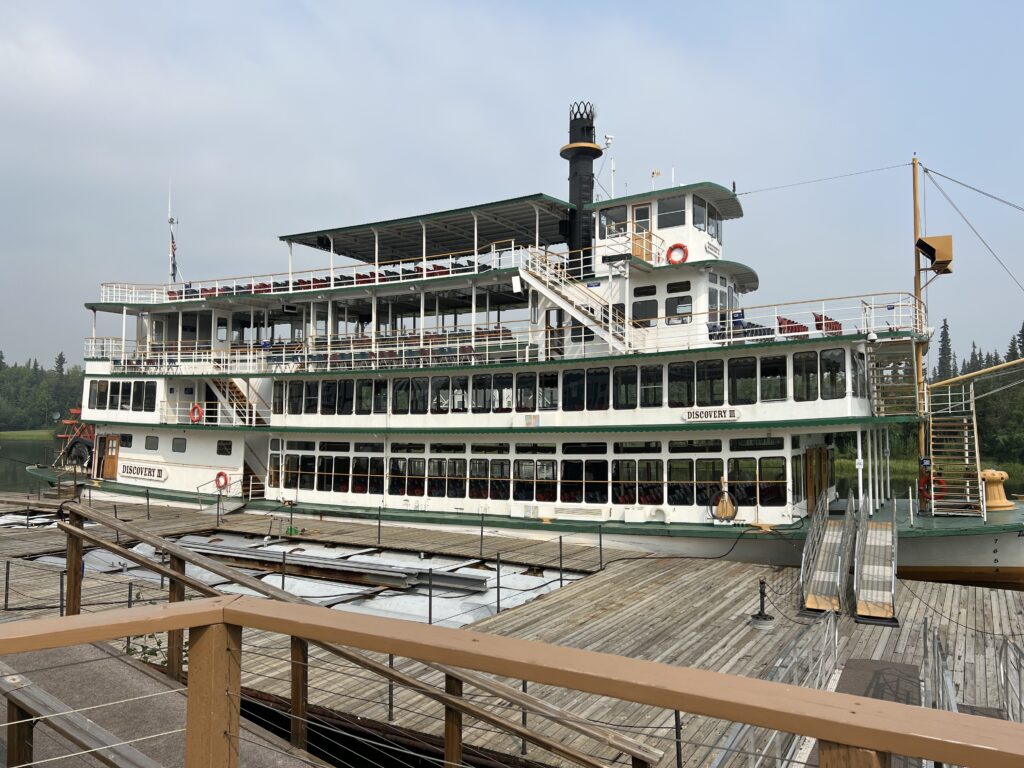 We visited the "40 below" room before boarding the ship for a photo op – it was cold, even if it wasn't quite as cold as advertised.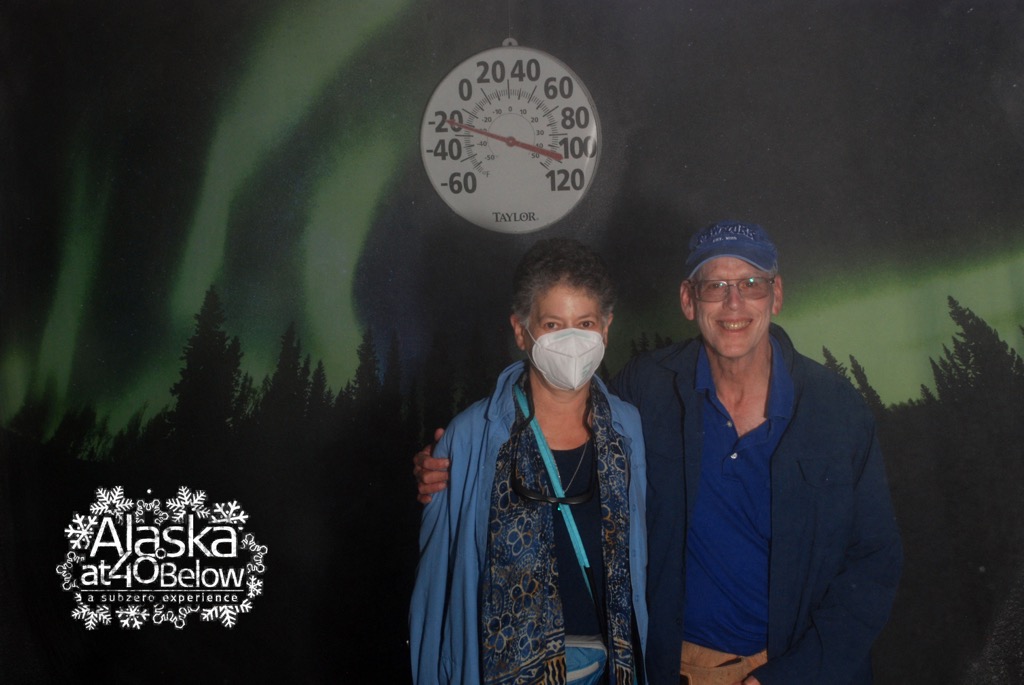 There was a Piper Super Cub on the river near our departure, and by a strange coincidence, not obny did the pilot have to wait for clearance to take off until we were nearby, but he was equipped to talk to the ship over our PA system. He taxiied down river so we could get a good view, then went back upriver and took off right next to us.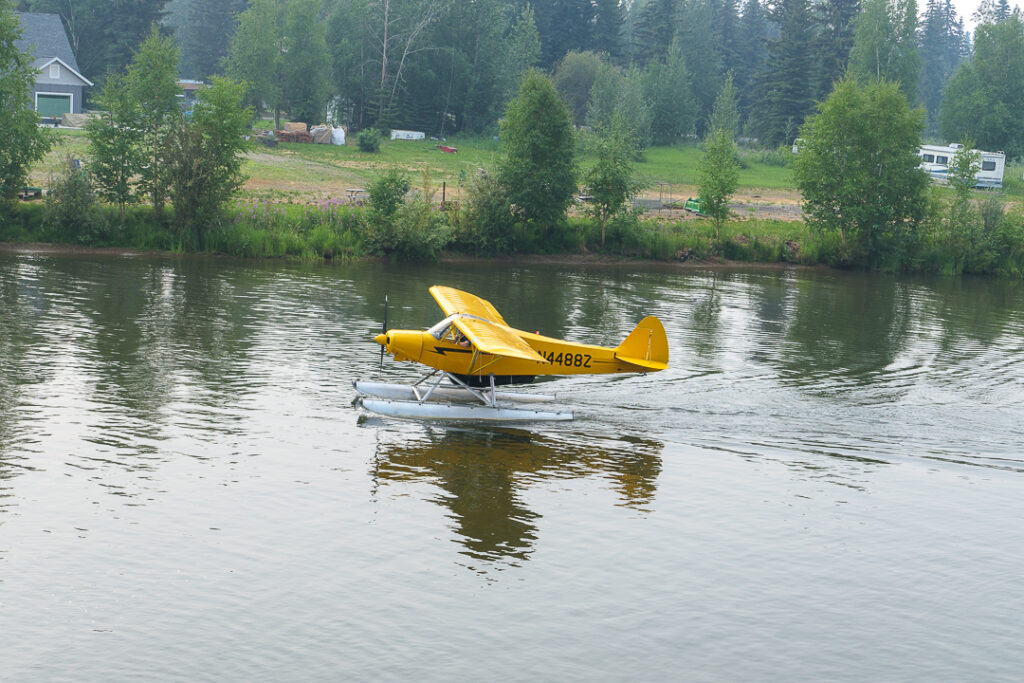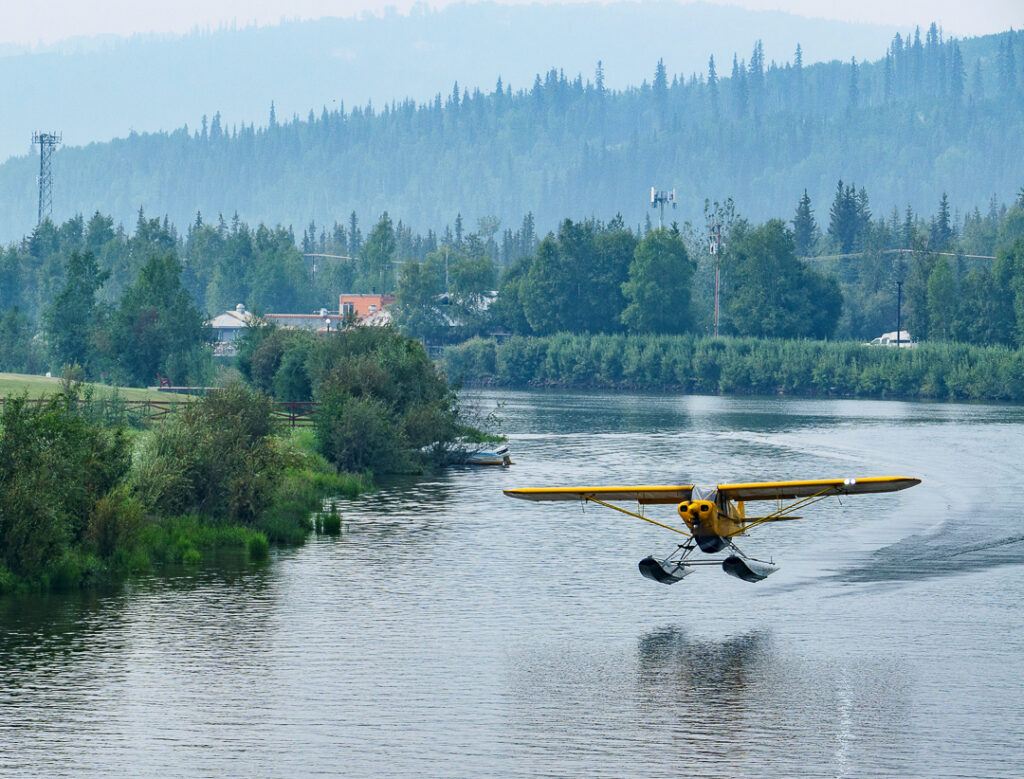 We weren't alone on the river.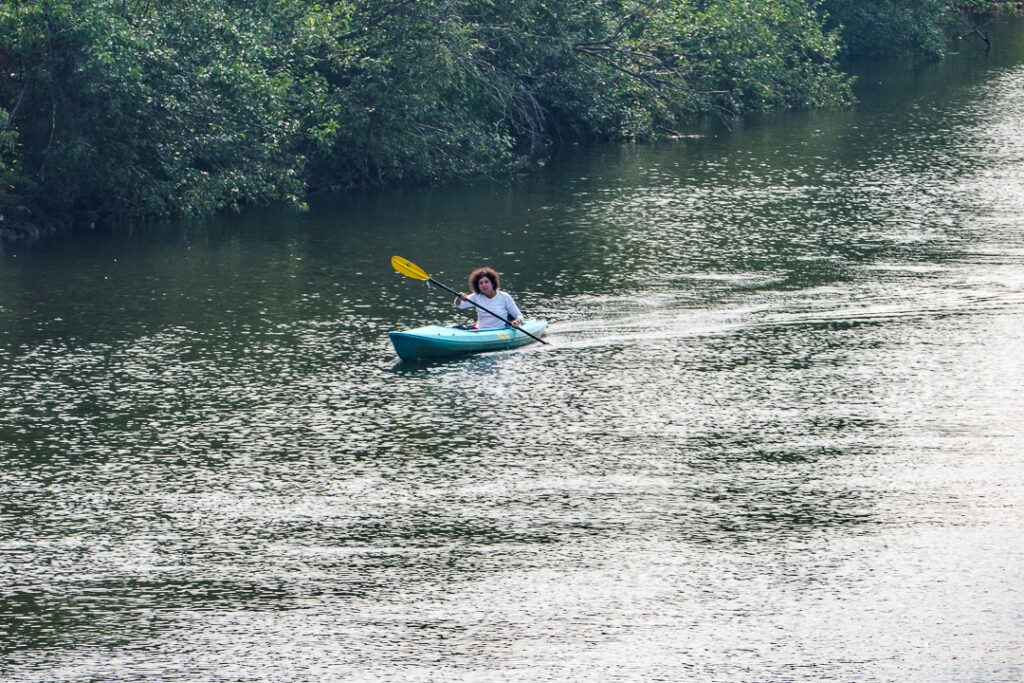 Our next stop was just offshore of the Trail Breaker Kennel, where they showed us how they train sled dogs, even in the summer.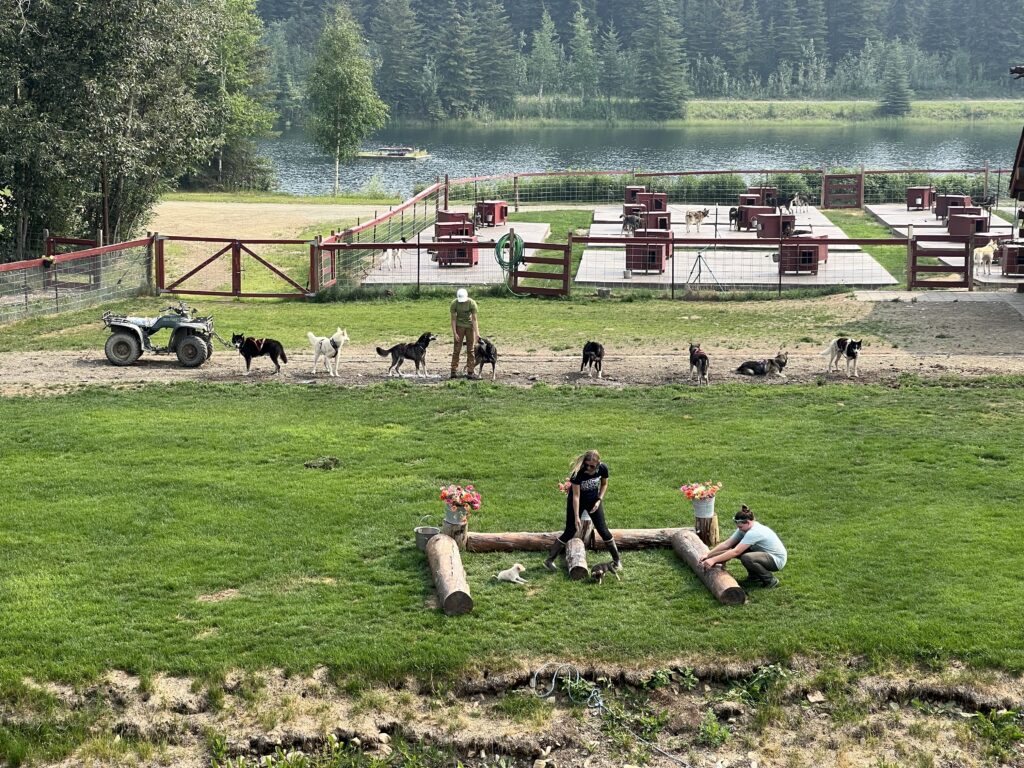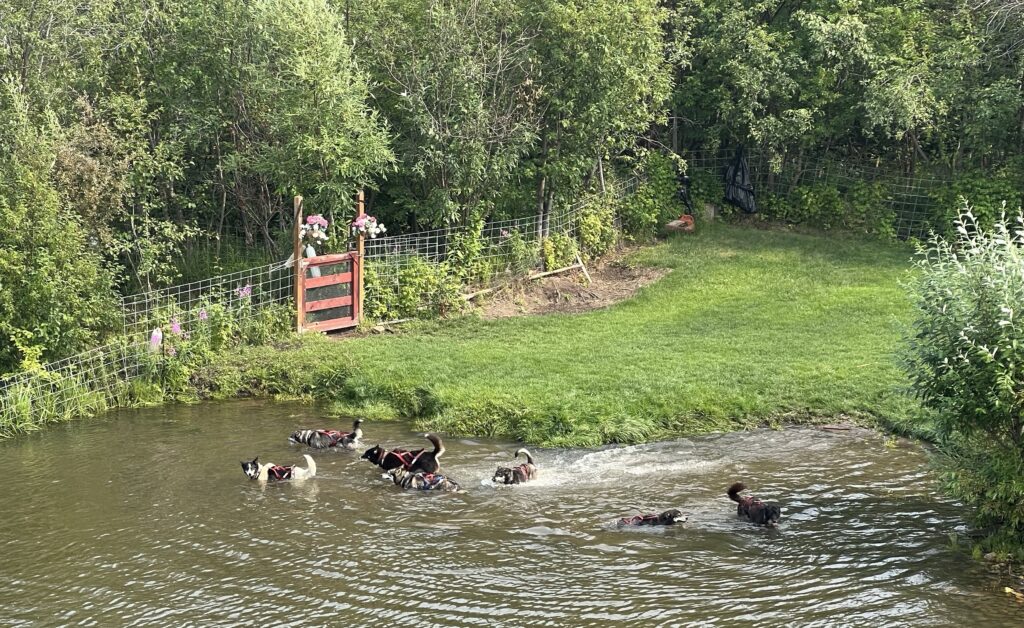 We saw a herd of caribou.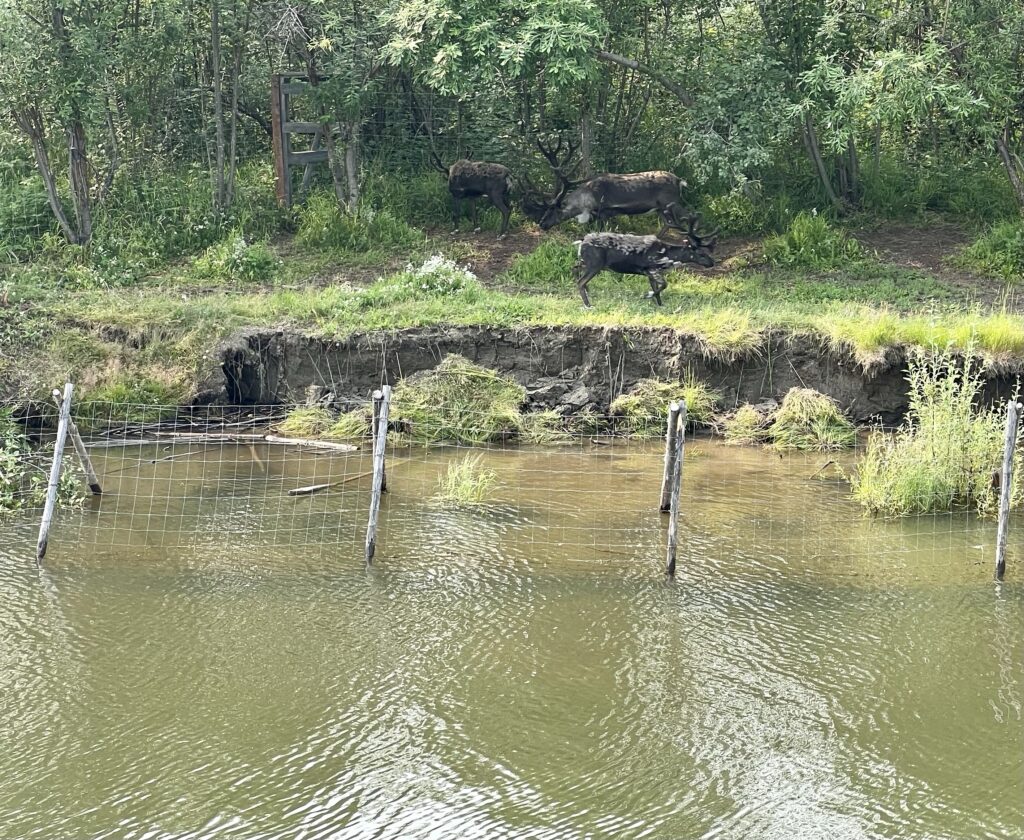 We sailed to the end of the Chena river where it meets the Tanana. The Tanana is glacial and somewhat milky and you can see the boundary – the captain said it made for interesting sailing sometimes.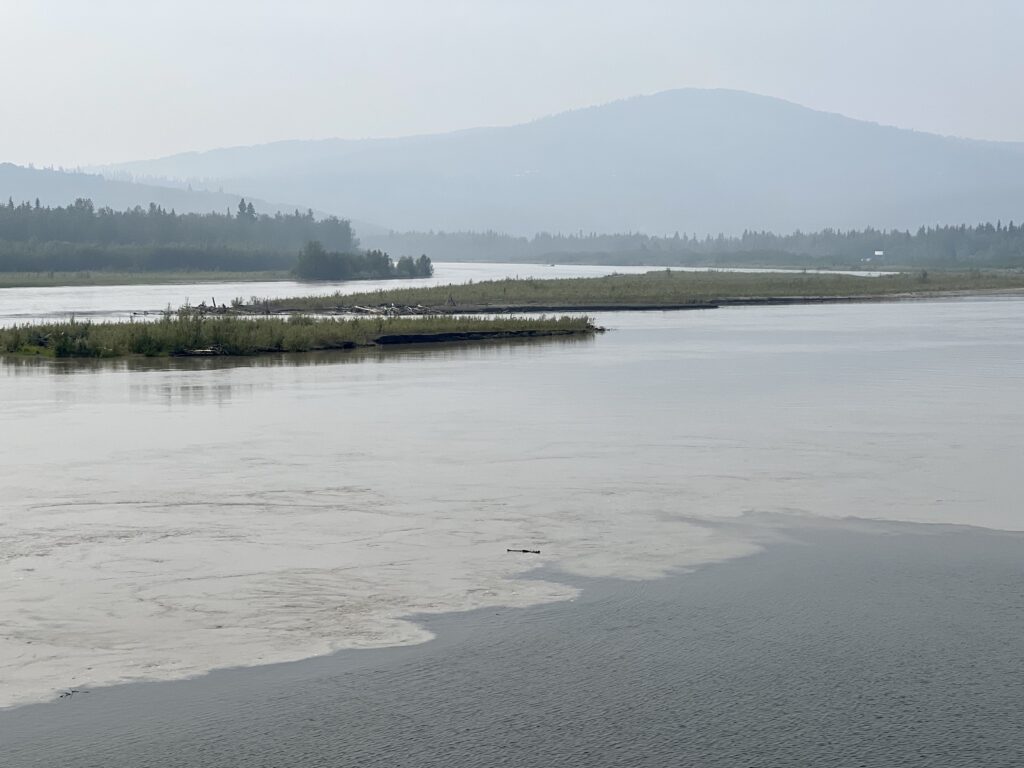 Our final stop was at "Chena Village", which was a reconstructed Athabascan village. We saw demonstrations of various aspects of Athabascan life (mostly before Westerners came to stay), including fishing, textiles, crafting, and more. There was even a stuffed moose.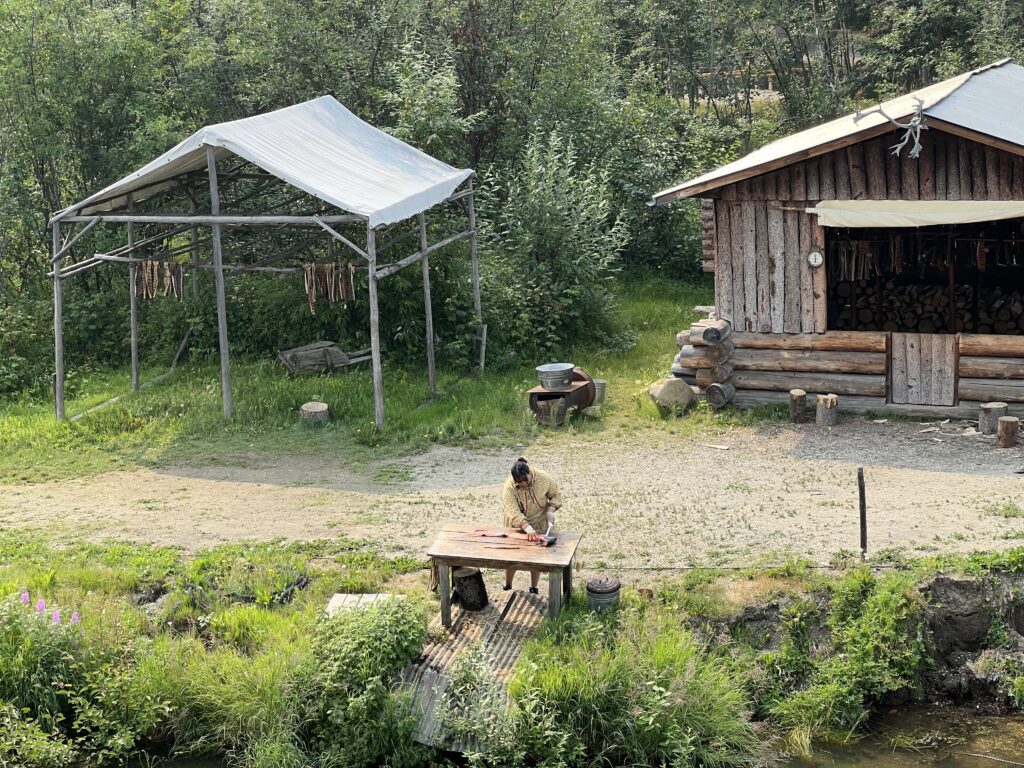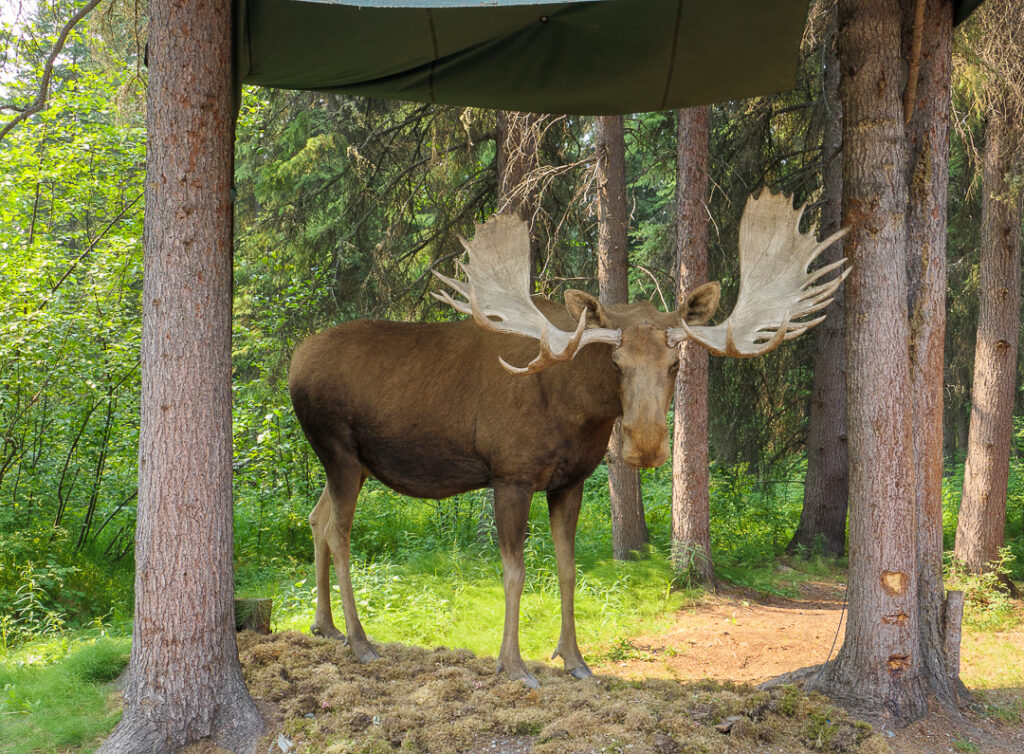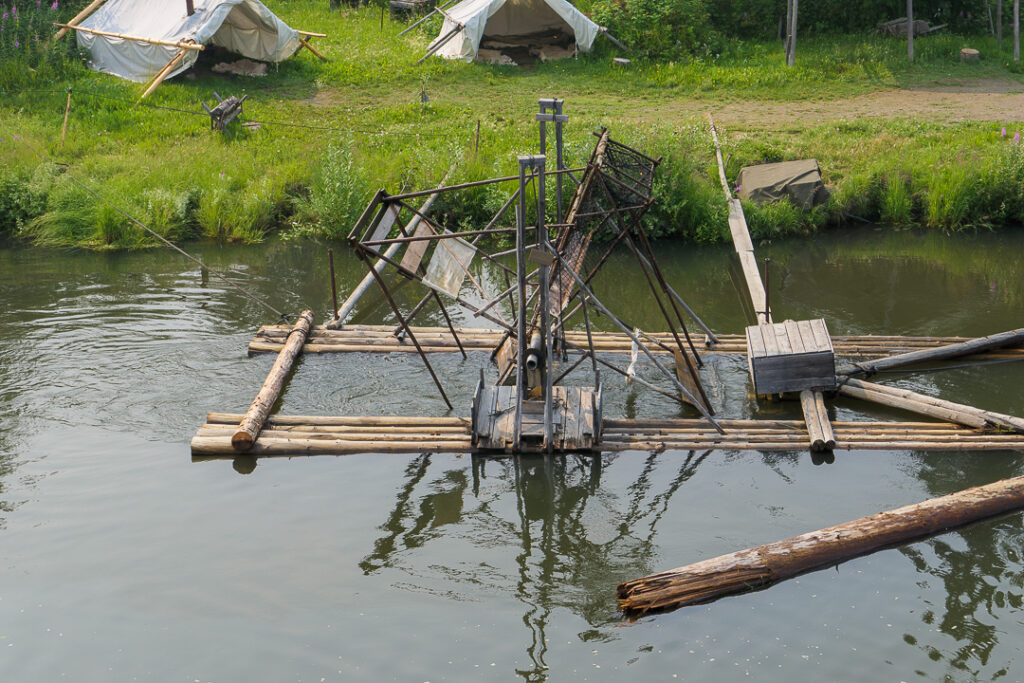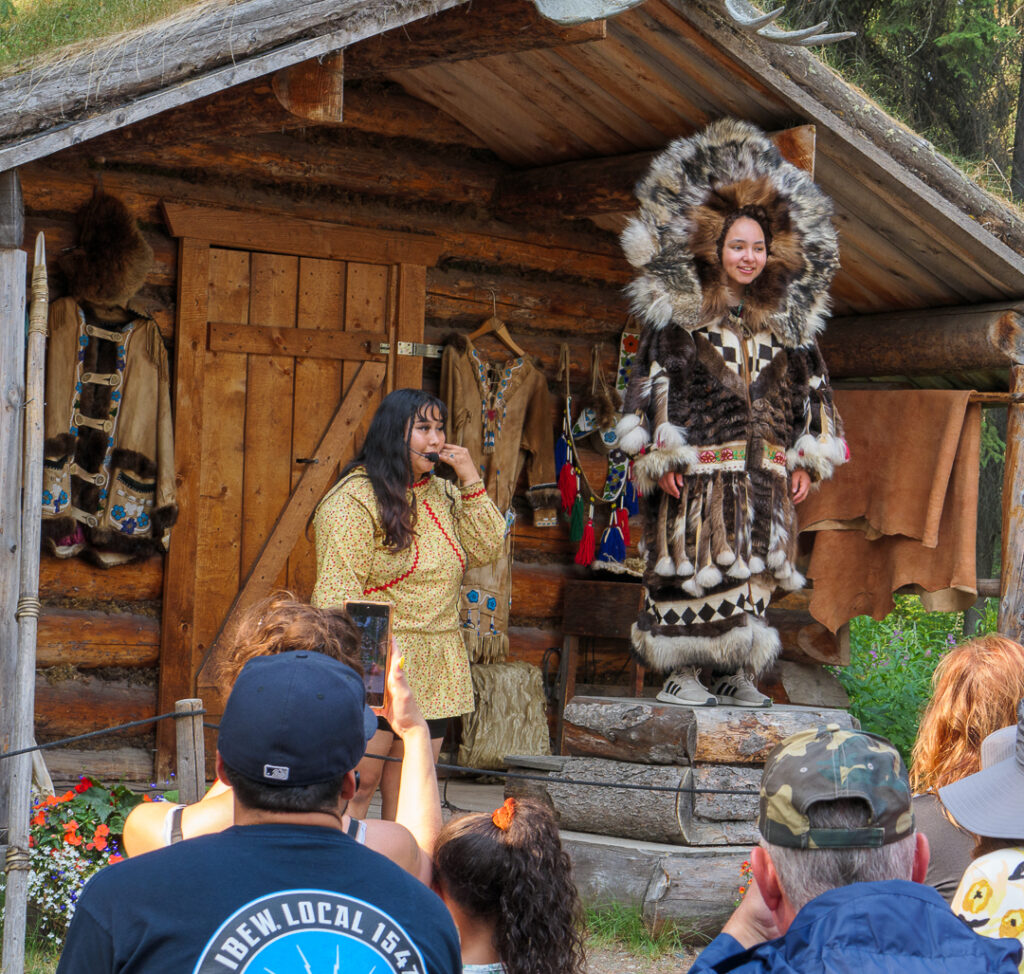 And then it was back to the hotel for dinner and packing – we leave for Denali early tomorrow morning.