We touched down in Cape Town a little before 11am local time – this flight was on a plane with BA's new "Club Suite" arrangement, and it's a huge improvement over their old "Club World" that we'd flown from SFO. Everyone faces front, everyone has direct aisle access, and there's even some usable storage around the seat.
I slept better than I did on the previous leg – it wasn't the best night's sleep of my life, but it sufficed.
We landed a few minutes early; we hadn't checked any luggage and were near the debarkation door, so we were almost the first people to arrive at Passport Control and didn't have to wait in line there. Total time from off-the-plane to find-our-driver was less than 15 minutes. We were lucky – our driver said that six international flights arrive within a few minutes of one another, and people on the final flight often have to wait a couple of hours!
We stopped to get a picture to prove we'd been to Cape Town, and then it was off to our hotel, the South Beach Hotel in Camps Bay.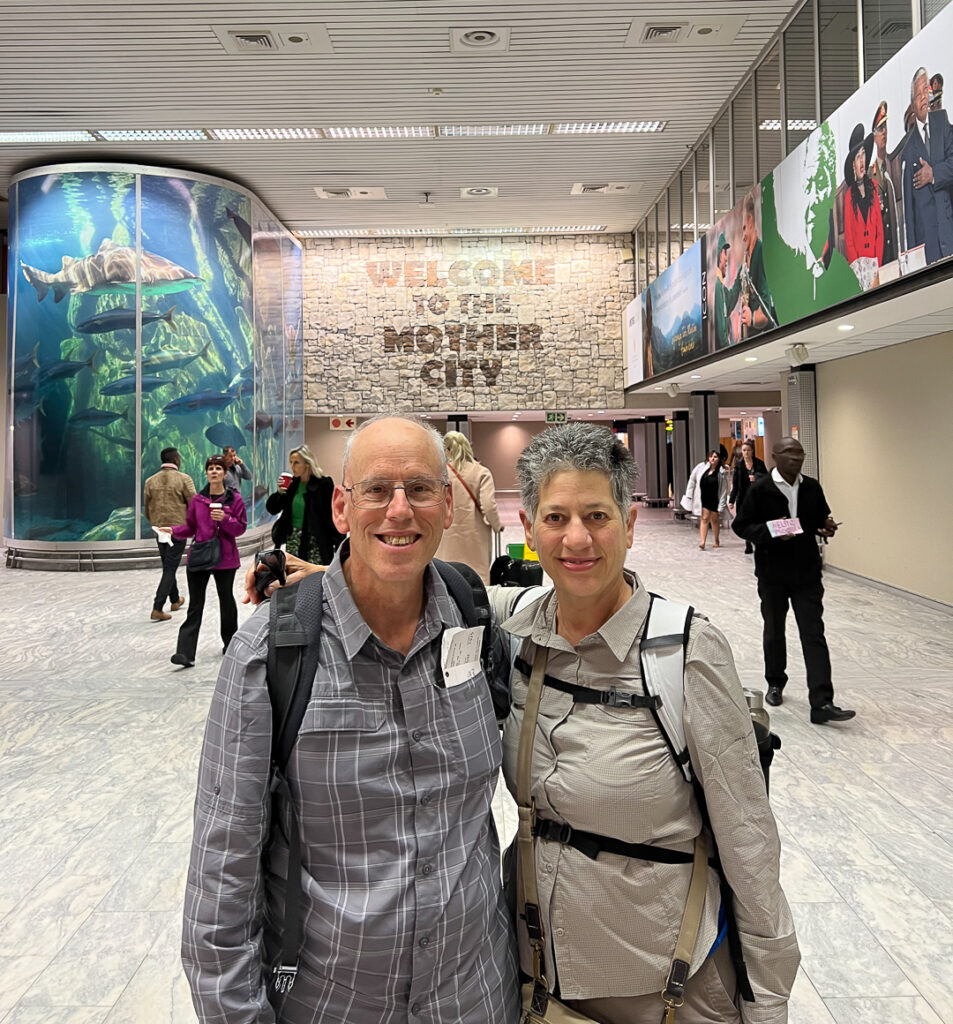 Our travel agent told us to be alert for the first view of Table Mountain – we didn't have to wait long; it was visible a minute after we left the airport. Unfortunately, it was slightly rainy and I had somehow set my camera to ISO 12800, so the photo leaves much to the imagination.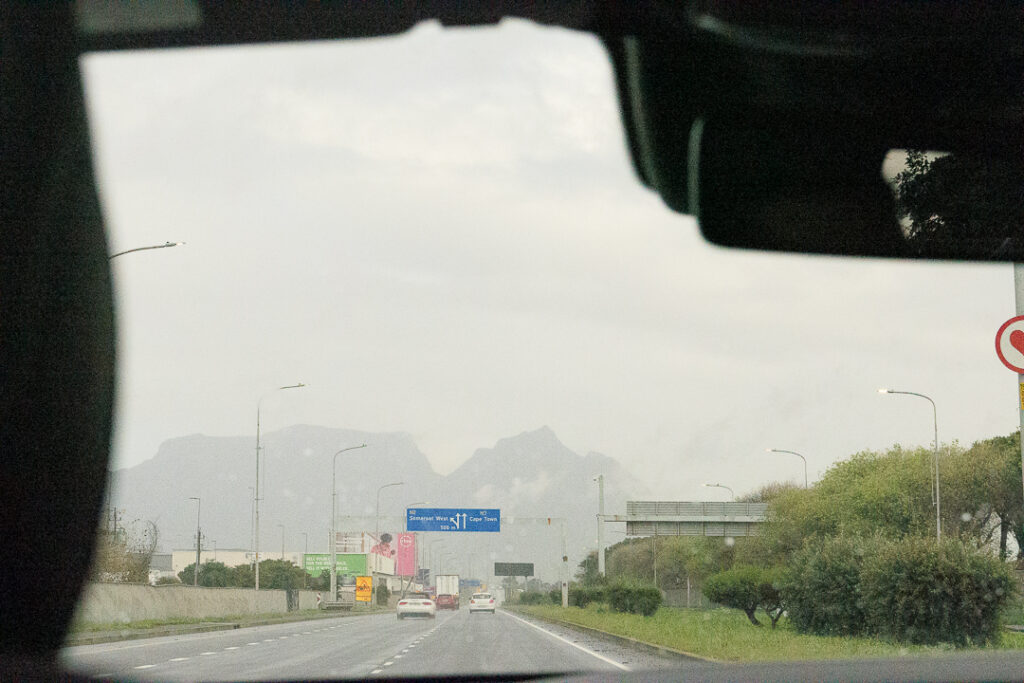 We'd arrived early, so our room was not quite ready; we left our luggage and took a stroll around the neighborhood. The weather had improved considerably on our drive from the airport; it was sunny and not too cool, and we could see Table Mountain almost as soon as we stepped out.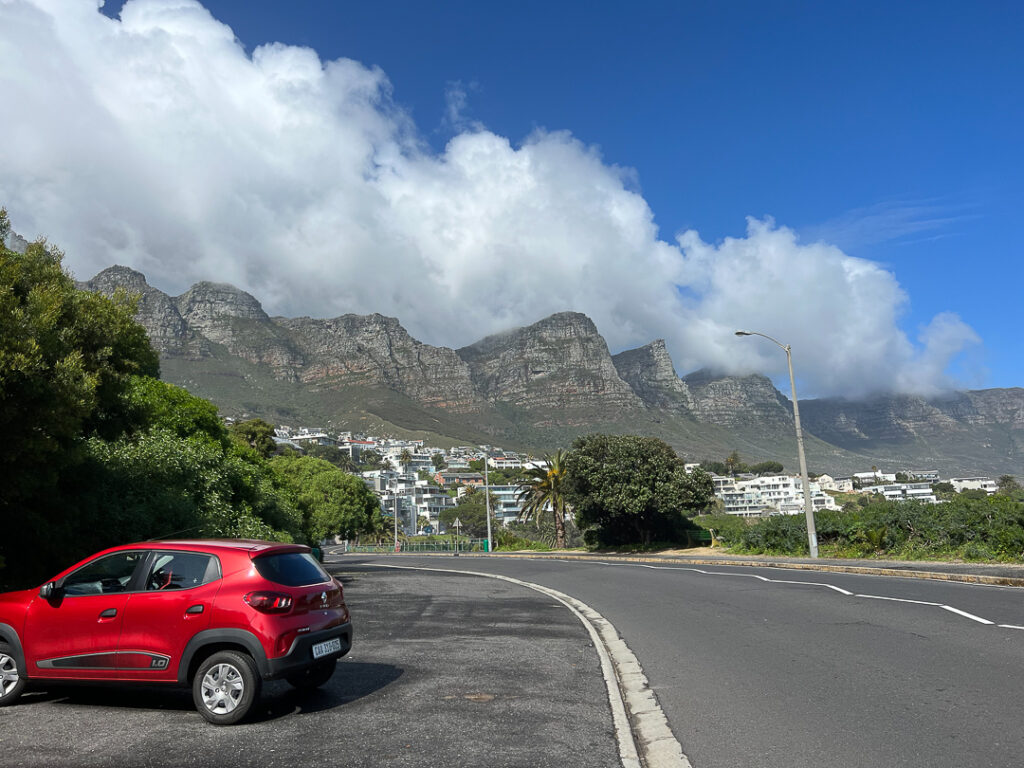 We were also just a block from the beach; it's on the Atlantic, and there's a lot of wave action.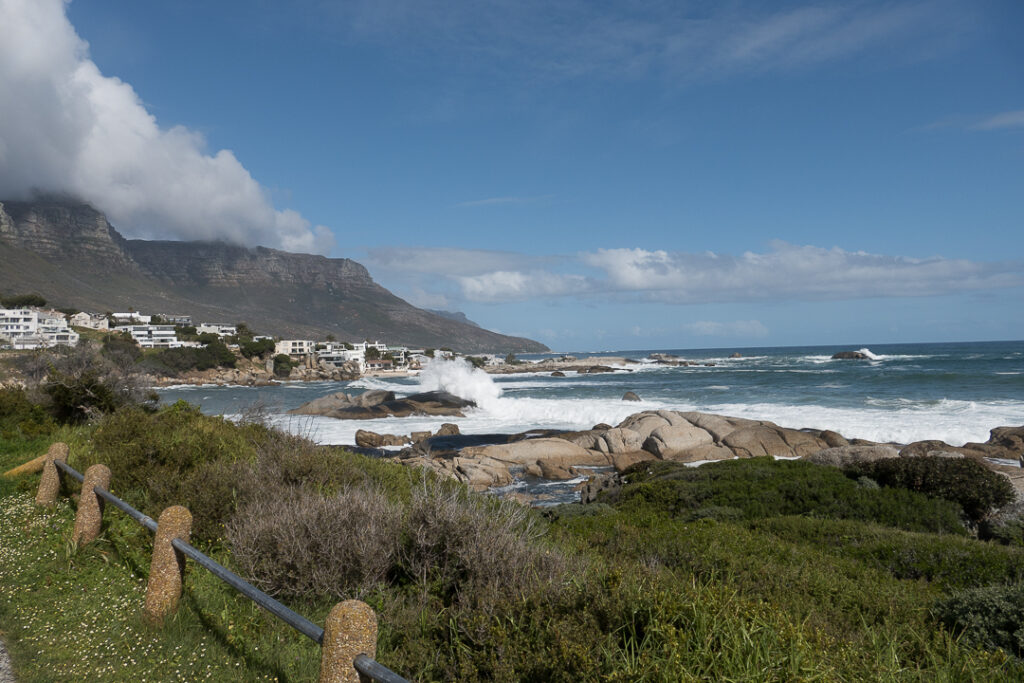 Our hotel is in an upmarket area; it's next to the "Theatre on the Bay" and a couple of blocks from the Promenade shopping center and lots of restaurants.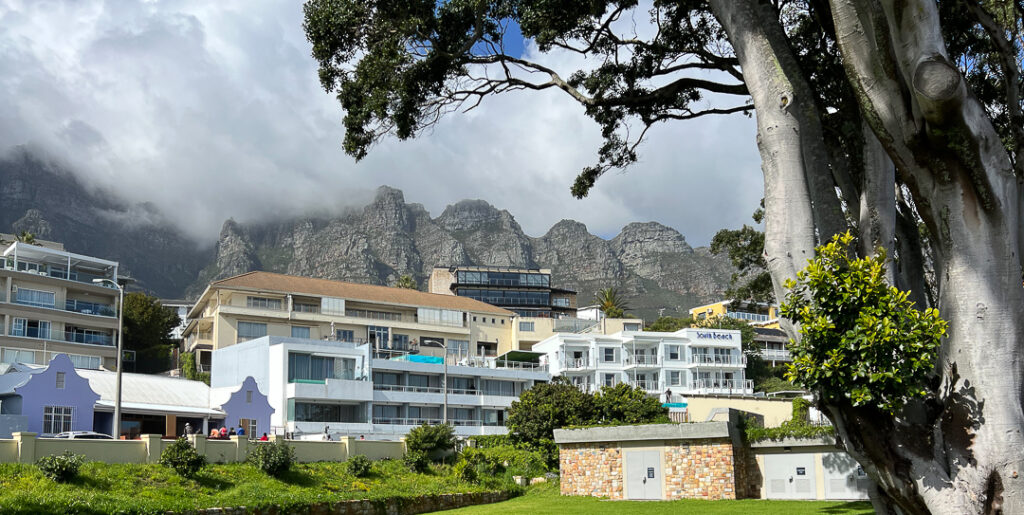 We returned to the hotel and they'd finished inspecting the room to make sure it was up to snuff.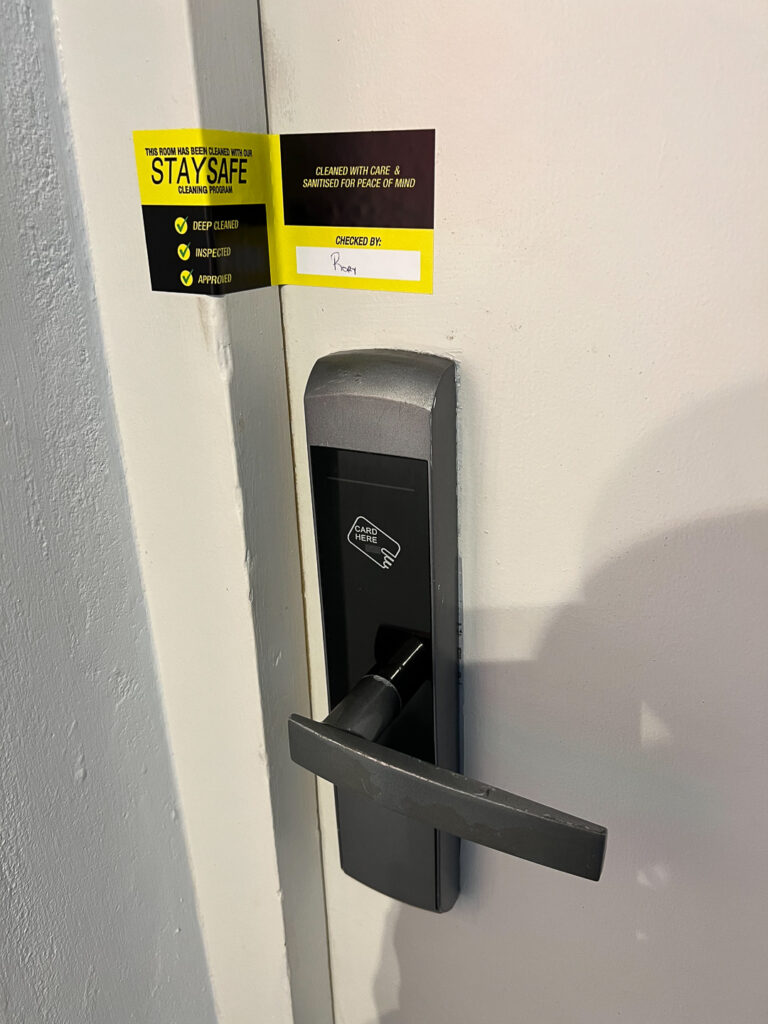 It's a very nice room – kitchenette, living area, and a view.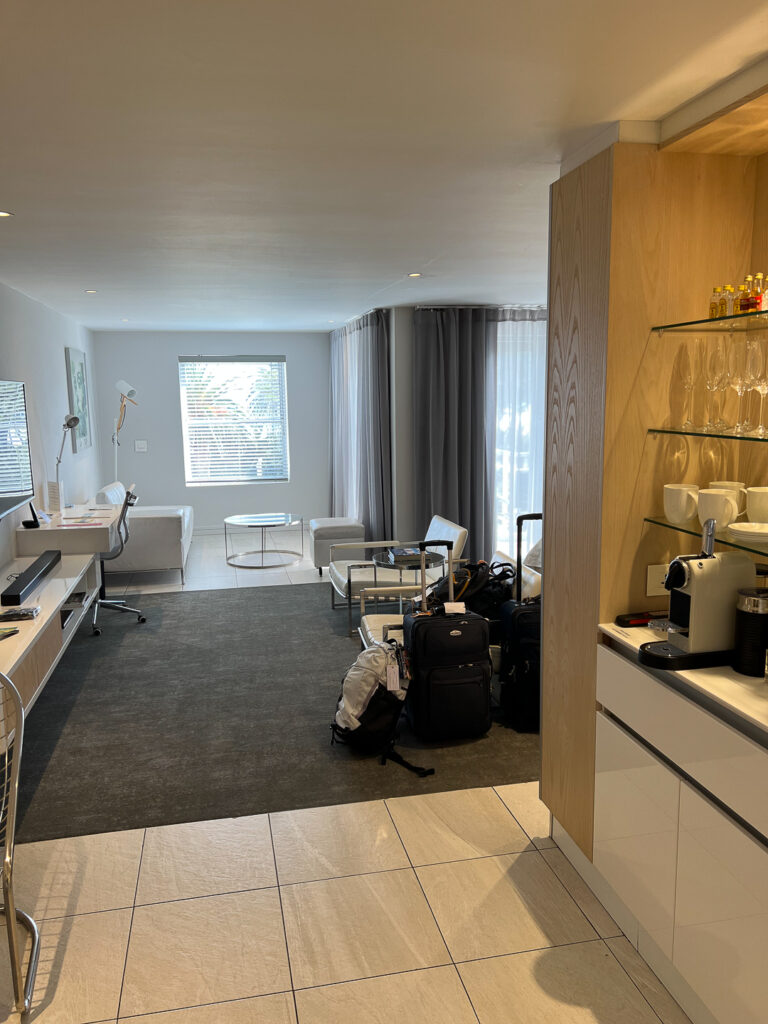 We had lunch at Primi, chosen because our travel agent mentioned it, the hotel desk said it was good, and it was the first restaurant we found. It was quite good – worth a return trip.
After lunch, we wandered around the area a little more before going back to unpack. There are a lot of ways to spend time and money here.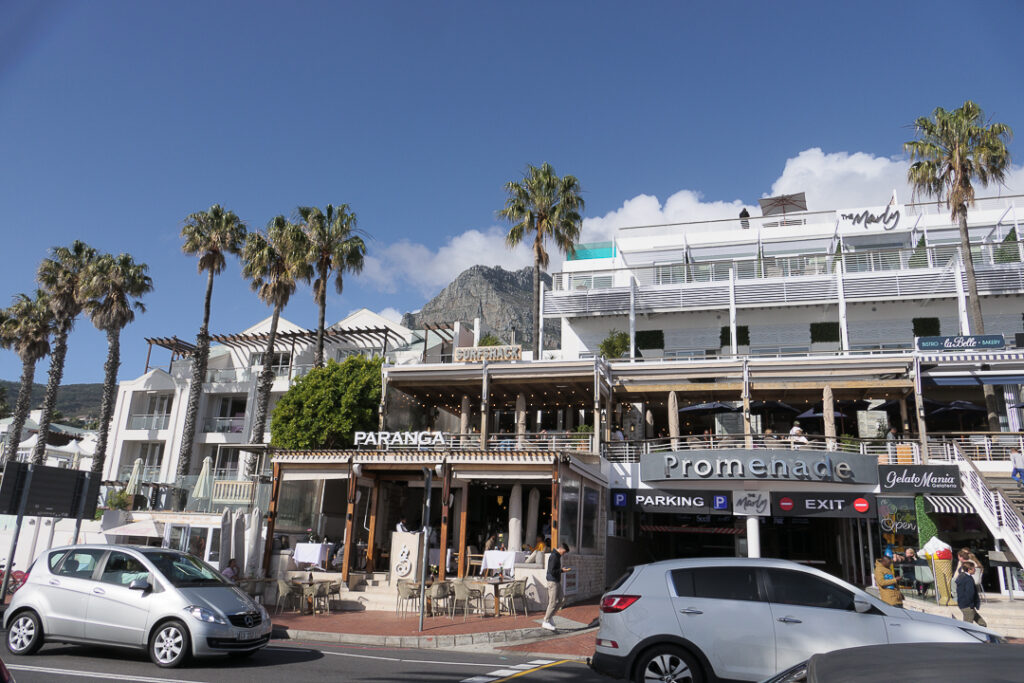 We went back to the beach to enjoy the sunset; we were not alone.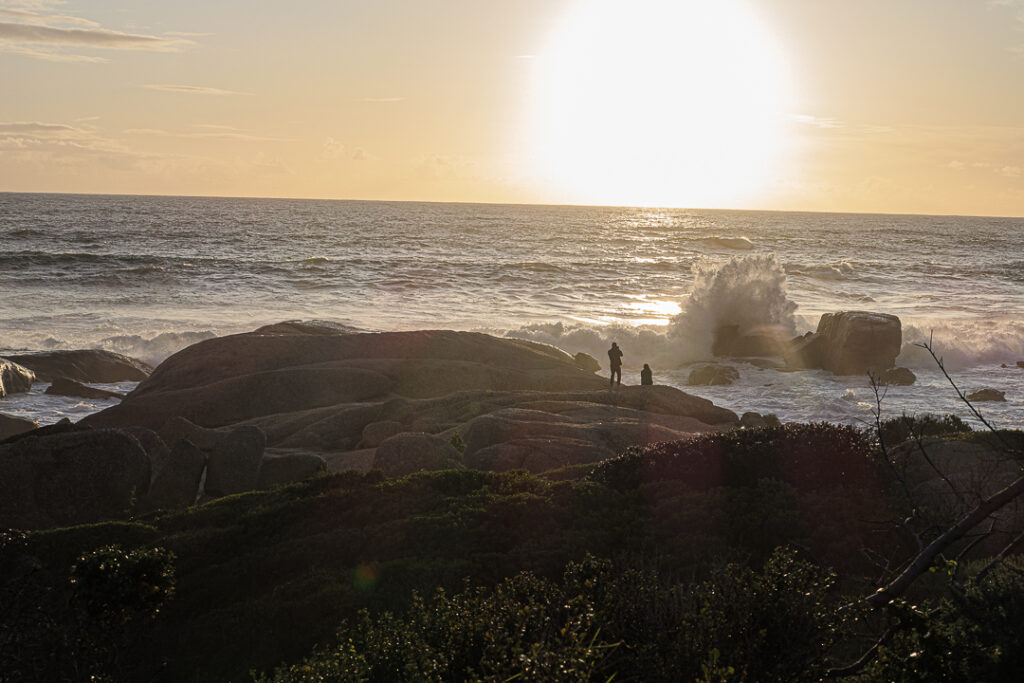 Table Mountain attracts hang gliders – I bet the view is amazing!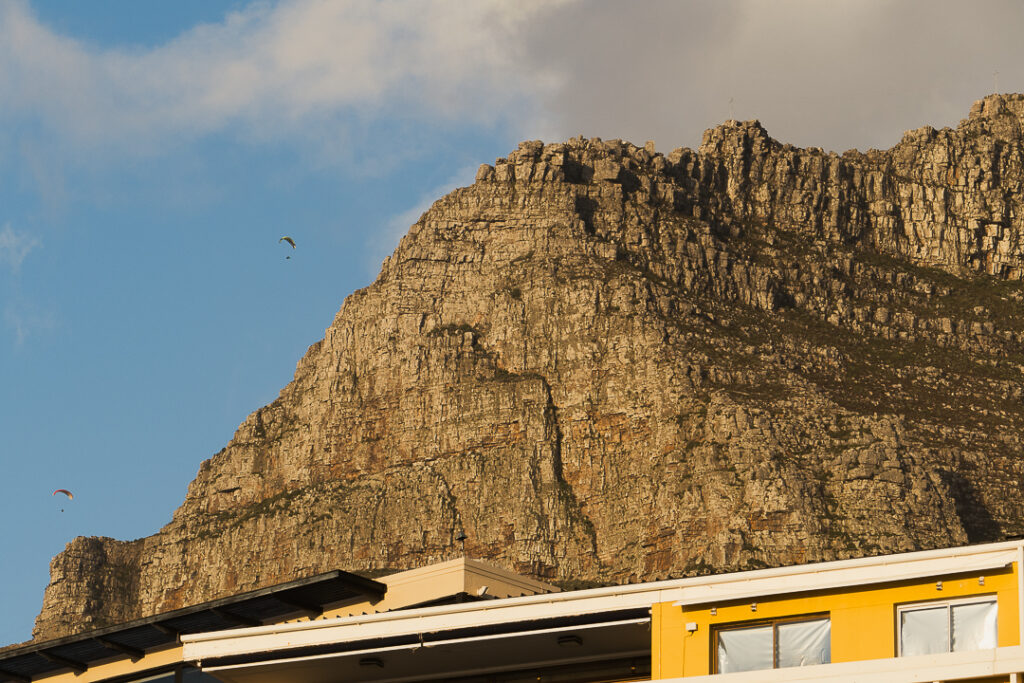 We had dinner with the other couple from our group who have already arrived. We wound up back at Primi for the same reasons as we'd chosen it in the first place – well-recommended and close! Luckily, it was as good in the evening as it was in the afternoon.
I am looking forward to sleeping in a real bed tonight. Soon!