The phone rang at 7:30am; it was Best Buy, telling me that they'd be here to install the new TV by 1pm and asking if it would be OK if they came earlier, maybe 11am. I said "yes", and we went out for a walk in the rain.
The phone rang again at 10:30am; it was Best Buy, asking if they could come in 10 minutes. I said "yes".
They had a little trouble removing the old TV – it had been sitting in one place for years, and the weight of the TV made the rubber feet on the stand adhere VERY firmly to the glass table. But they got the stand to loosen its death grip and took the old TV away, giving me just enough time to clean the glass thoroughly (Bosch cooktop cleaner does a great job!) before they assembled the new TV to its stand and put it on the table.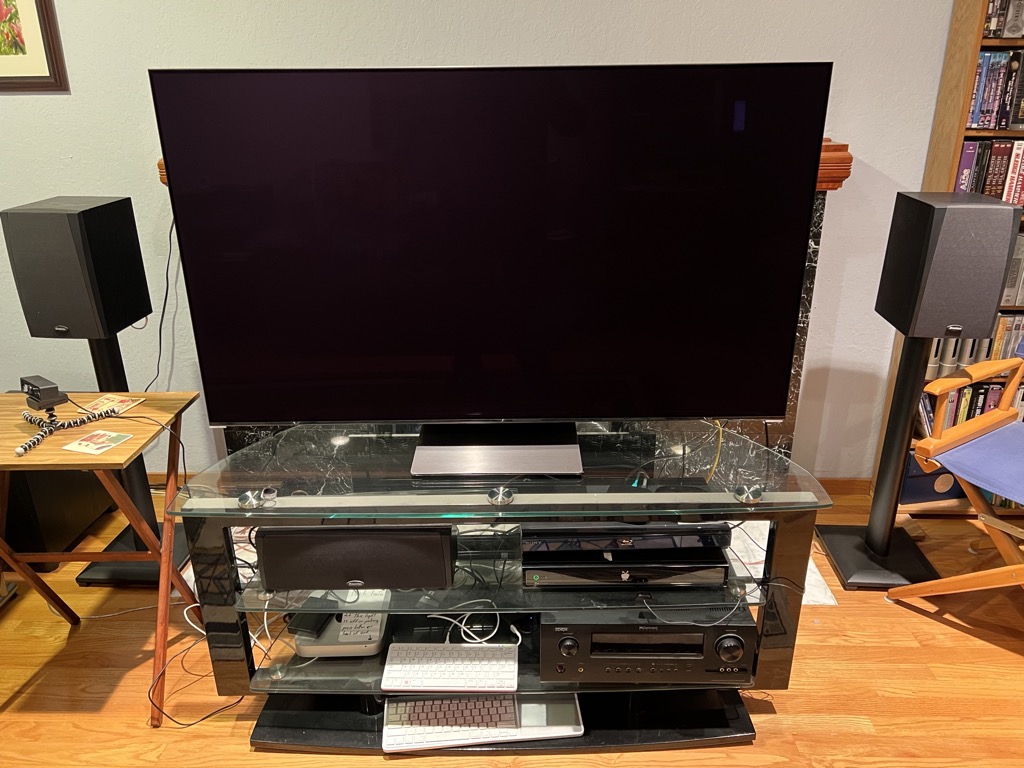 The picture was spectacular, as I'd expected; it was set to full brightness and contrast, so it almost popped out of the screen; I've toned it down a little bit, and I'll try Consumer Reports' recommended settings tomorrow.
I don't particularly like the Samsung remote – it is VERY minimal (it doesn't even have a mute button – you have to press down on the volume switch), so I expect to stick with the Harmony as the main remote.
I hooked up the Apple TV, Mac mini, and Raspberry Pi directly to the TV, since they're all 4K-capable; I left the TiVo and Blu-Ray player attached to the A/V receiver. It's awkward, though I was able to program my Harmony remote to handle everything. I'm looking forward to getting a new 4K-capable A/V receiver soon – Best Buy will have the one I want (Denon AVR-X1700H) in stock locally again next weekend, and I have built up some credit in the Best Buy rewards program in the last few months.
Shabbat Shalom!