Today, we had a choice between a manta ray snorkeling expedition that left the ship at 7am and was advertised as being for "advanced snorkelers" or the 8, 9, or 10am trip to Coral Bay for a glass-bottom boat ride and some beach snorkeling. We chose the 9am trip to the glass-bottom boat.
The ride over on the Zodiac was smooth, though disembarkation was tricky because the waves were breaking hard on the beach and the bus ride to Coral Bay was quick. I'd accidentally left my phone on the ship and had chosen not to bring my big camera, so I was free to just look around. When we arrived at the beach where the expedition team had set up shop, we got the bad news – the first two glass-bottom boat trips had been canceled because of the high waves (you'd have to swim aboard) and the last one didn't look too promising.
So we walked the few hundred meters to the Coral Bay Shopping Arcade to see if we could find anything interesting. The newsagent had some Total Eclipse t-shirts (a slight exaggeration), but only in sizes 2XL and larger, so we passed. Diane found a t-shirt she liked and I found a waterproof iPhone case and a little pouch with an aboriginal design that I will find some use for.
There was a small supermarket in the arcade; they sold food, bait, fishing gear, camping gear, hardware, and t-shirts (but no eclipse shirts). I stocked up on XXX mints.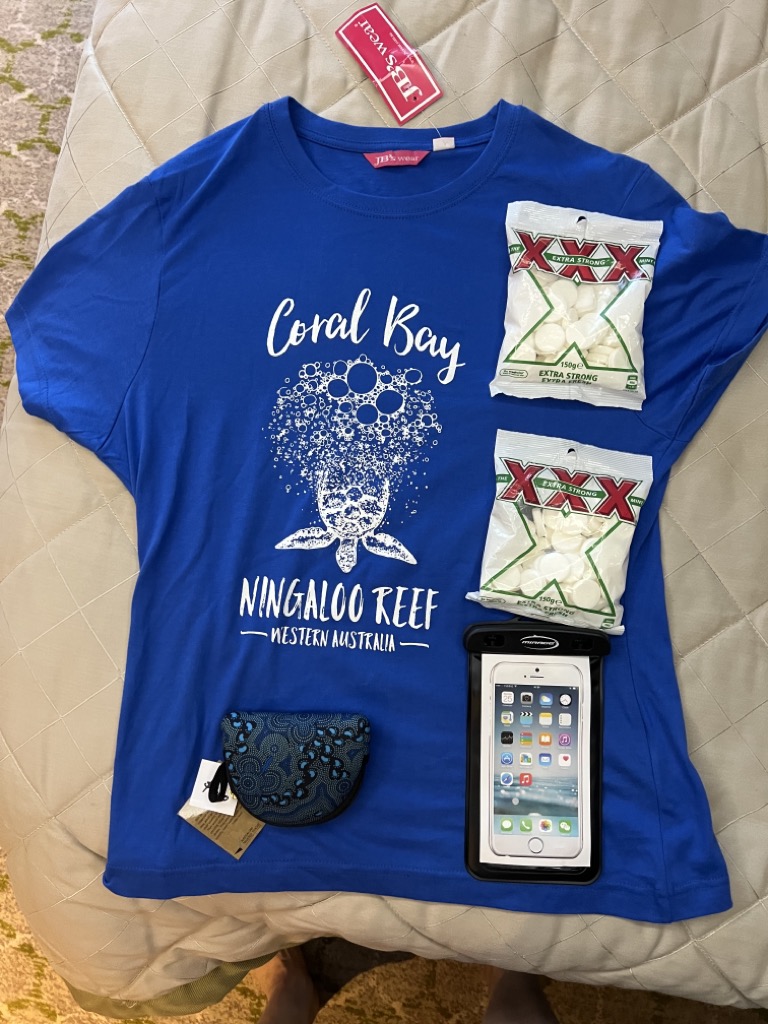 We walked back to the drop-off point and weren't surprised to learn that the 11am cruise had been cancelled, too, so we took the bus back to the beach and the Zodiac. It was a wet trip back, but we're here in time for lunch!
The rest of the day is quiet; the manta ray people should be back around 4, and Joe Henrich is giving a lecture on "Understanding Human Diversity" at 5.
Maybe we'll get wetter tomorrow. :-)