We watched last night's Late Show with Stephen Colbert this afternoon so we could see the interview with the cast of The West Wing, which created a "not a reunion" show on HBO Max starting Thursday. We're looking forward to it, even though we haven't seen all of The West Wing (I'm not sure we've seen the episode they're re-enacting, Hartsfield's Landing, but we plan to fix that before Thursday).
I wanted to make sure our HBO Max subscription was properly set up, so I did the "authorize through Xfinity" dance and watched the trailer for Thursday's episode. I was curious what else might be available, and scrolled down until I saw "Looney Tunes", which made me think of some of my favorite cartoons, including What's Opera, Doc?, so I clicked through and took a look.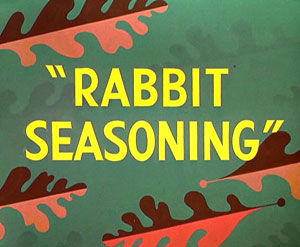 I wanted to watch the cartoon with "pronoun trouble", but I couldn't quite remember its name, so I went to Wikipedia and searched there. It reminded me that the title was Rabbit Seasoning, but the article also mentioned that it was the second cartoon in a trilogy. The others are Rabbit Fire and Duck! Rabbit! Duck!, neither of which I'd seen.
So I went back to HBO Max and watched Rabbit Fire and Rabbit Seasoning and enjoyed them immensely – but Duck! Rabbit! Duck! was nowhere to be found.
Off to IMDB, which pointed me at the Amazon listing for Looney Tunes Golden Collection: Volume 3, which could be mine for the low, low price of $25.96, or the Looney Tunes Platinum Collection: Volume 2 for a mere $9.96 (note: affiliate links, in case you're feeling generous).
I wanted to see the third cartoon, but not ten bucks' worth of wanting. Instead, I looked at the Los Gatos Library's catalog, and they have the Golden Collection on hand. The library isn't actually open, but they fill holds on a daily basis, so I expect to pick up the DVDs next week.
Hope it's worth watching!