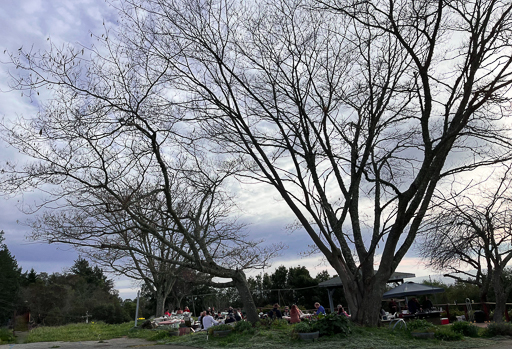 This afternoon, we went to Silver Mountain Winery for a pick-up party – it was almost like a pre-pandemic event. We shared a table with another couple, we were able to go to the bar to get wines to taste (instead of having a set of 4 pre-filled glasses delivered to the table), and they provided a cheese and fruit platter for each table. But because of the pandemic, each couple got their own knife. :-)
The winery is in Santa Cruz County and the event was outside, so there were no mask requirements; we still wore ours when we went in to pick up our wine, though.
They had some of our favorite wines on sale at $12.45 per bottle, too – their 2012 Alloy and 2012 Tondre's Grapefield Pinot Noir. We had to buy a case of each to get that price, but we were willing to make that sacrifice!