Today's exploration was bookmarked by bus rides. We started with a trip to the Battery and a walk though the Edmondston-Alston House, which had an incredible collection of furnishings and artifacts. Photos aren't allowed inside, but they took us out on the second floor piazza so we could enjoy the harbor view; this time, I actually did take a picture of Fort Sumter!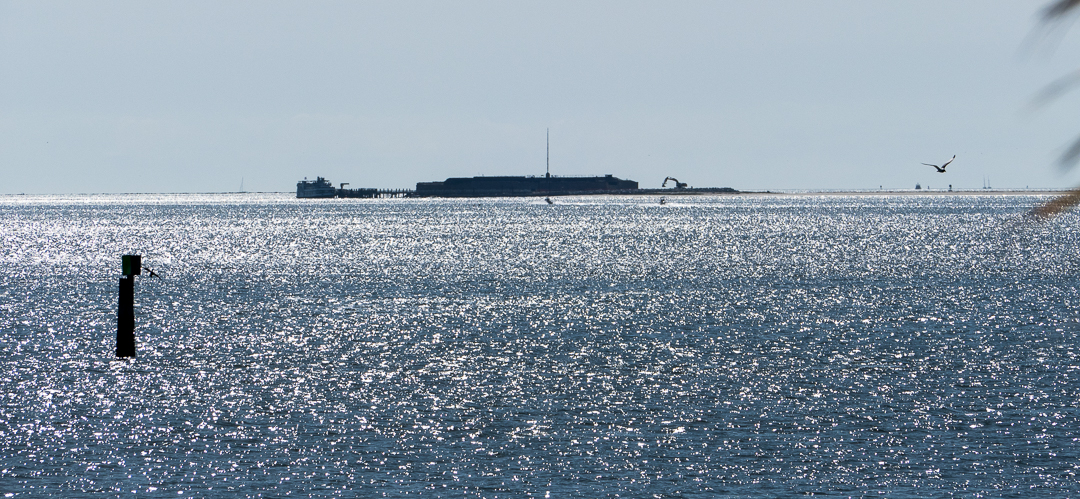 From there, we walked along the Battery before going inland to tour the Heyward Washington House (Washington actually slept there, so they added his name to improve its attractiveness to tourists).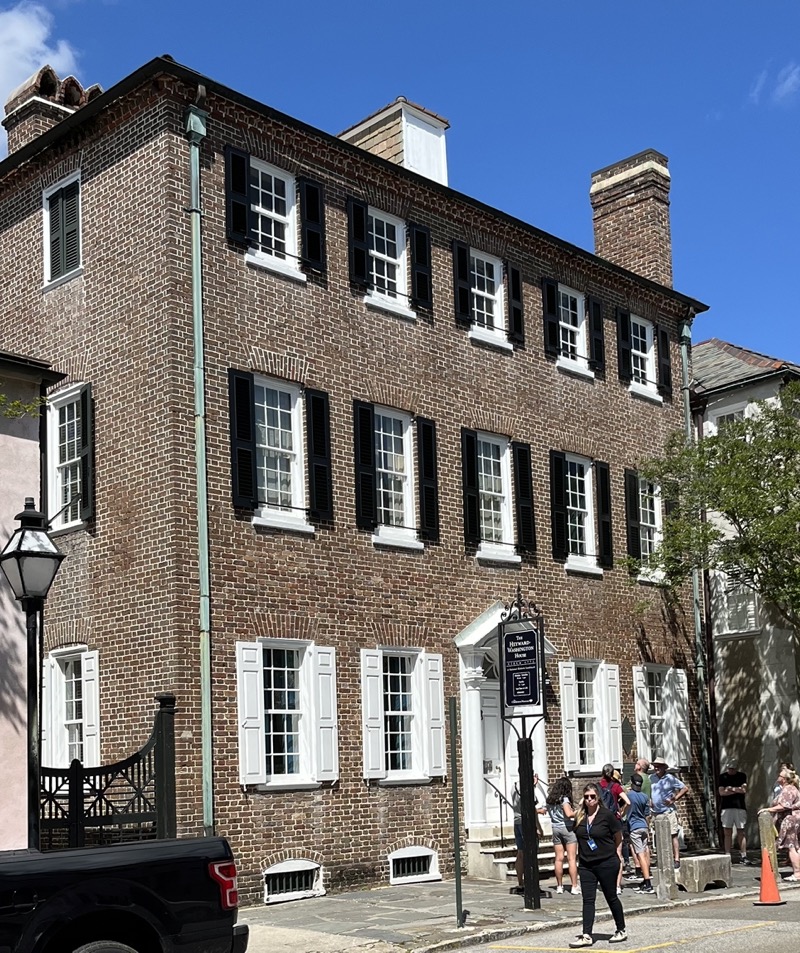 Lunch was at Eli's Table; we got to choose our own entrée, but the tour had pre-ordered appetizers (fried green tomatoes) and desserts (beignets) to save time. When I told the server that Diane and I couldn't eat shellfish and I was actually allergic, he told me that he'd have to find alternative appetizers and desserts for us, because of possible cross-contamination. I think we won – the appetizer was a waffle with an amazing cinnamon spread, and dessert was a peanut-butter caramel cheesecake!
We didn't get to walk off much of the lunch because our next stop was at the Gibbes Museum of Art, nearly 100 yards away. We got a quick tour of the permanent collection – I liked the painting of the Bombardment of Fort Sumter.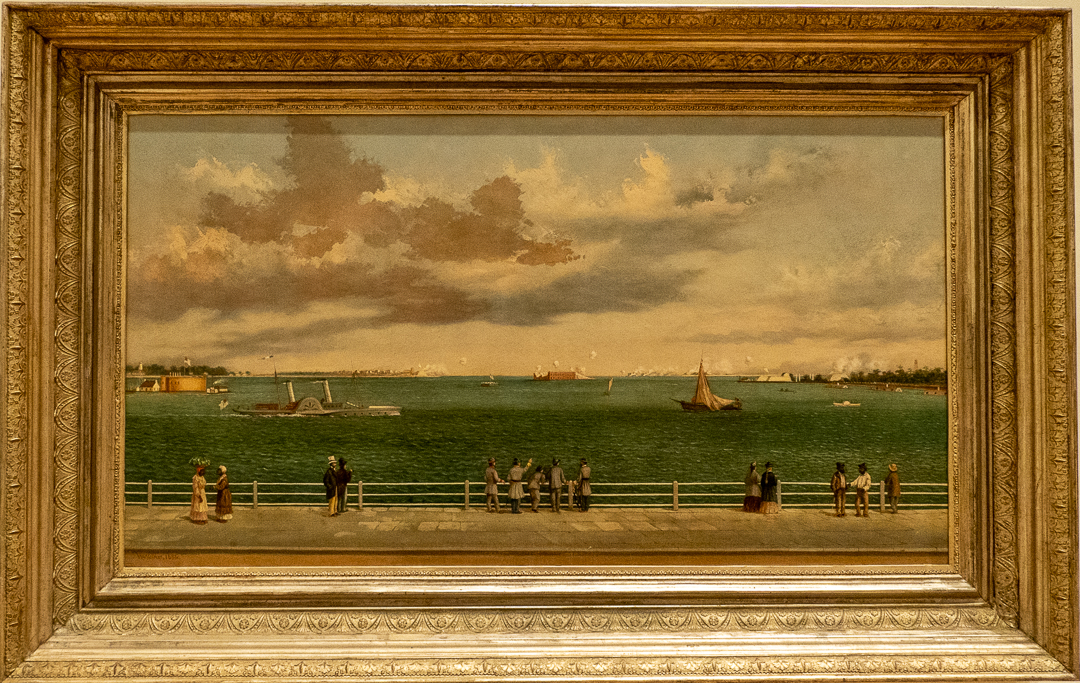 I was also amazed that someone could sculpt a very realistic veil in marble.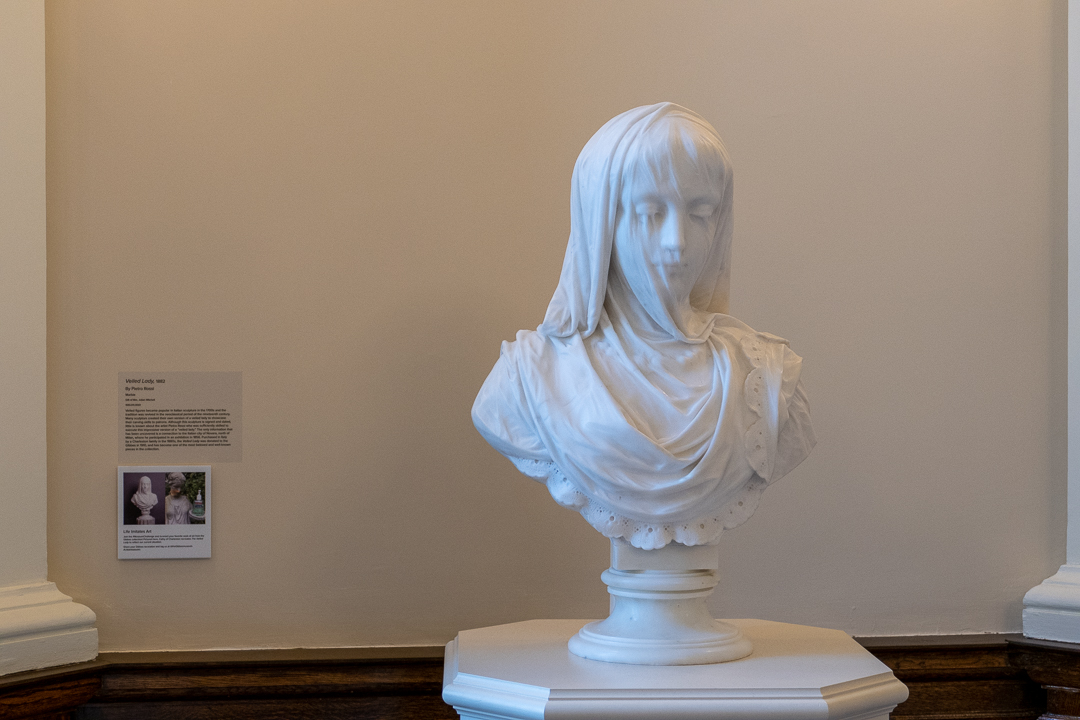 Then it was back to the bus and the hotel to rest up for our evening adventure. Except that we needed some insect repellant, so we walked to Walgreens across the street. And as long as we were out, we continued on to the first Reform synagogue in the US, Kahal Kadosh Beth Elohim (KKBE).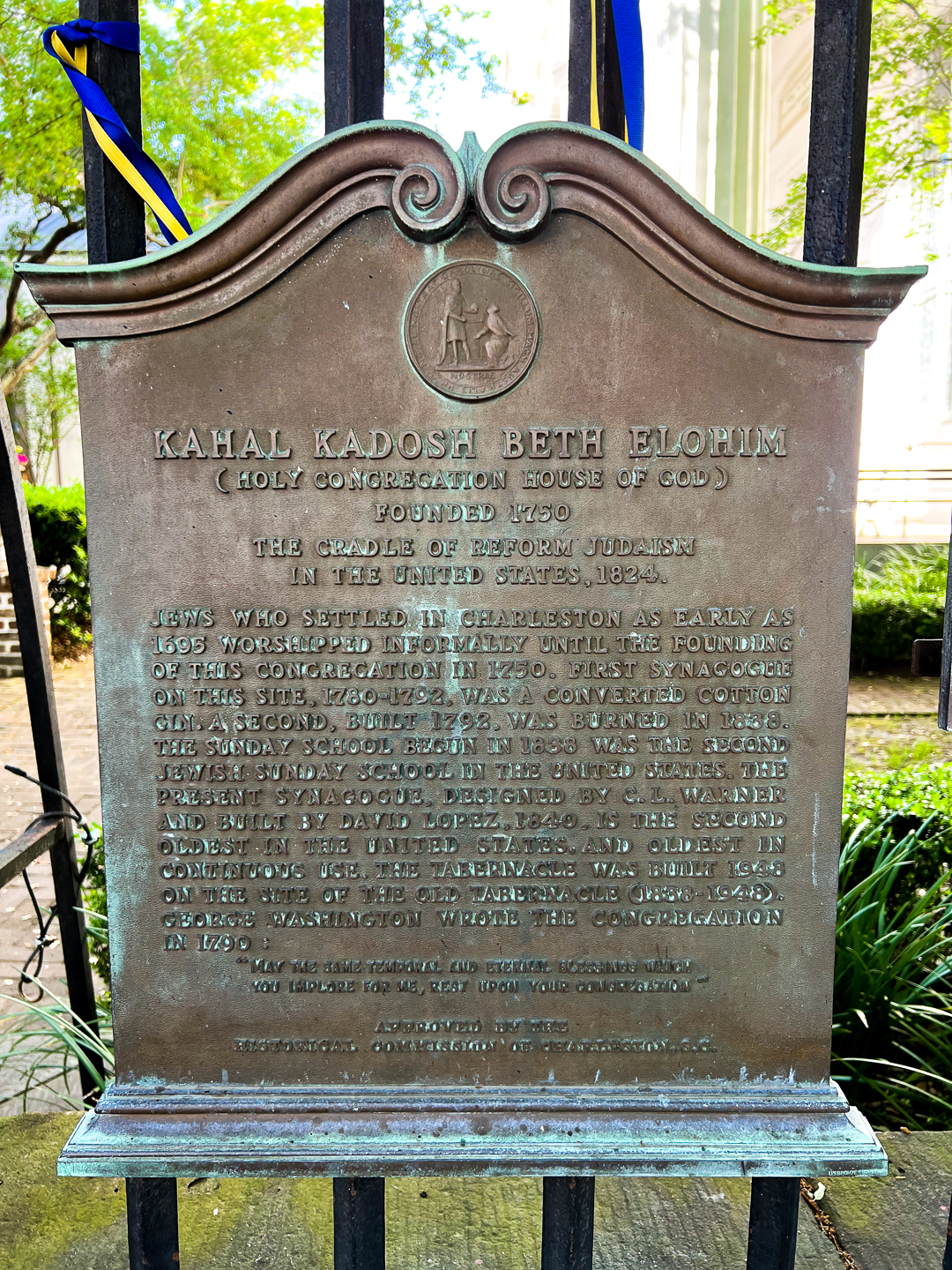 The gate into the courtyard wasn't locked, but it didn't want to open easily, so we were just about to go back to the hotel when another couple walked up and levered the gate open. We walked in with them and took a couple of photos, one of the sign over the entrance to the Sanctuary building and one of a much newer sign.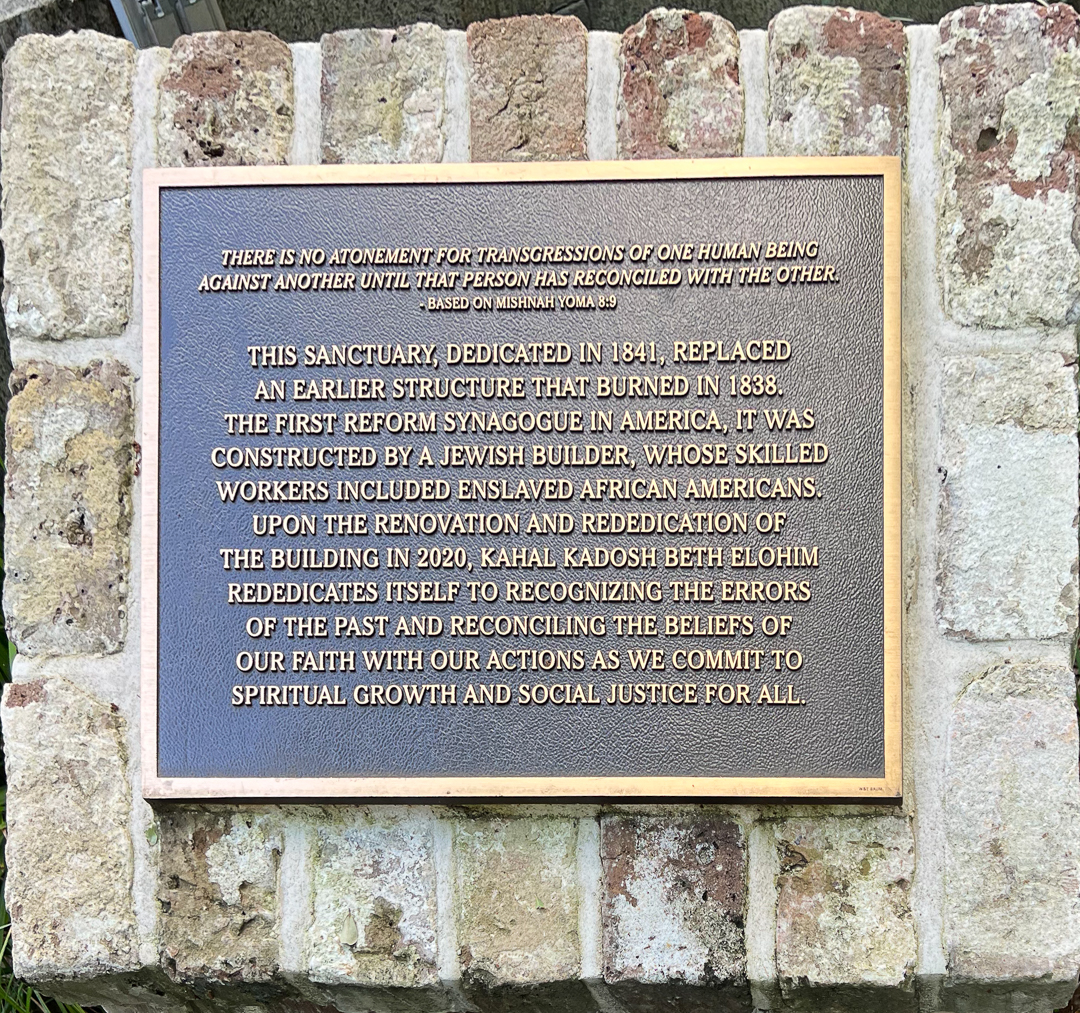 We were interrupted by a guard. As he came out, I could hear him telling someone that "I guess I didn't lock the gate"; he decided we looked harmless and told us we could enjoy the courtyard for a few minutes, but if we wanted to come back, we should book a tour. We'll be back on Thursday.
Dinner tonight was different – the group went to Bowen's Island for a Low Country Oyster Roast. We had a private dining area out on the dock so we didn't have to wait in the line.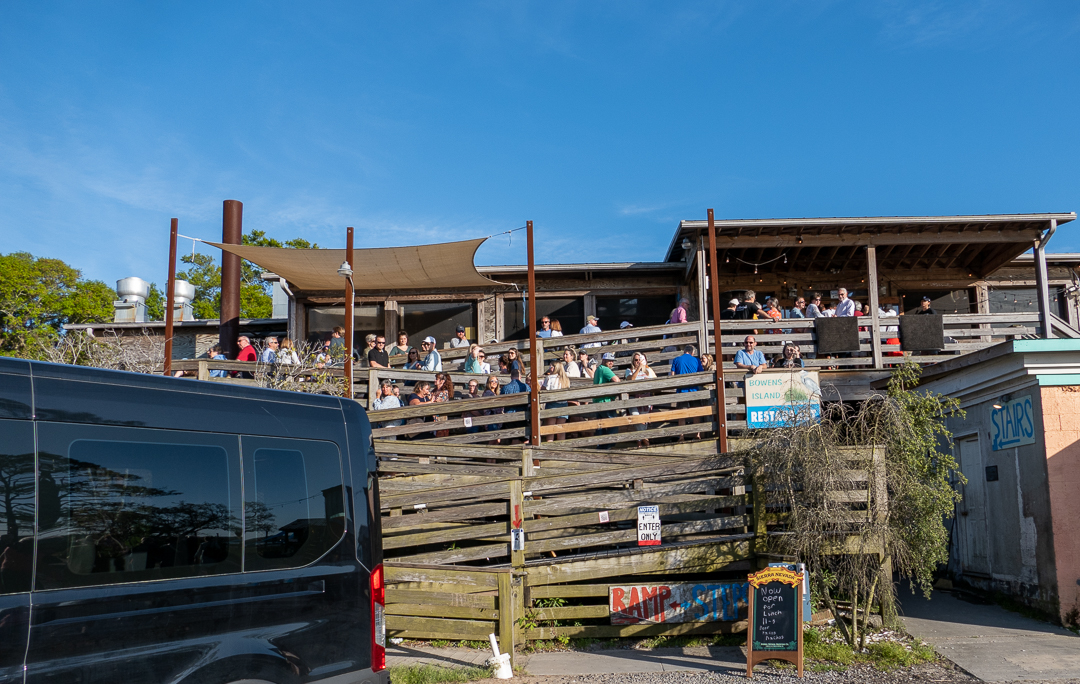 It was a beautiful evening – we'd been warned to bring mosquito repellent, but we didn't need it.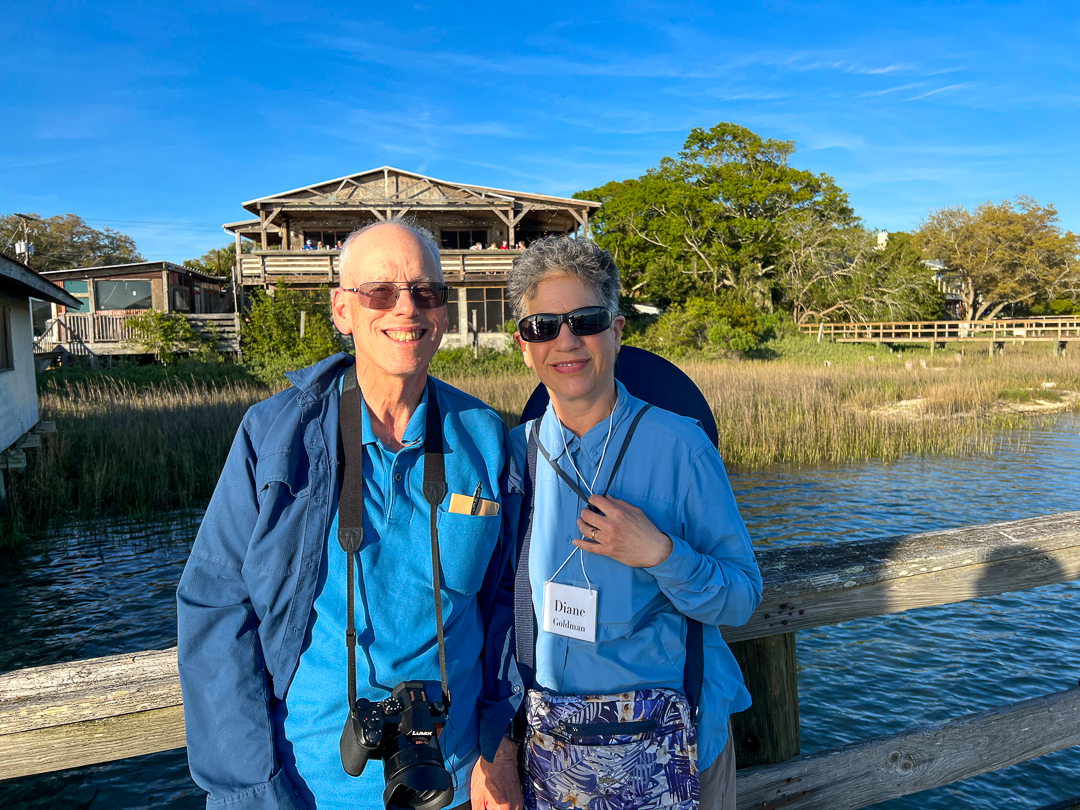 Lots of people were enjoying the late afternoon sunshine on the water, too.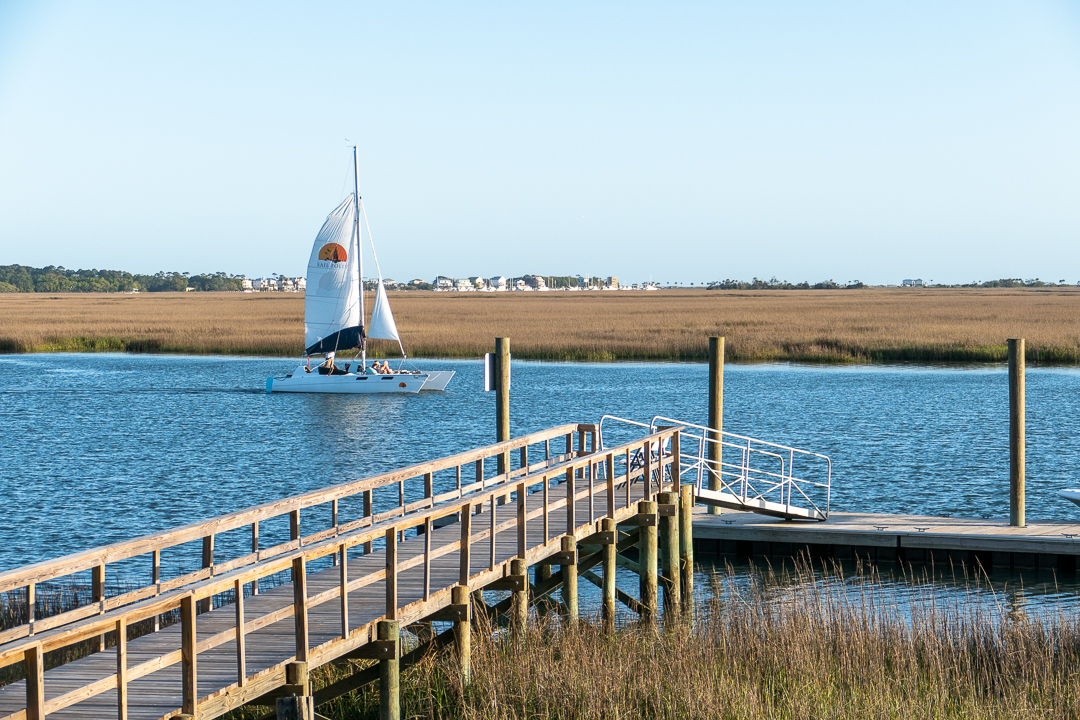 We took a walk and saw the oystermen hard at work steaming the oysters.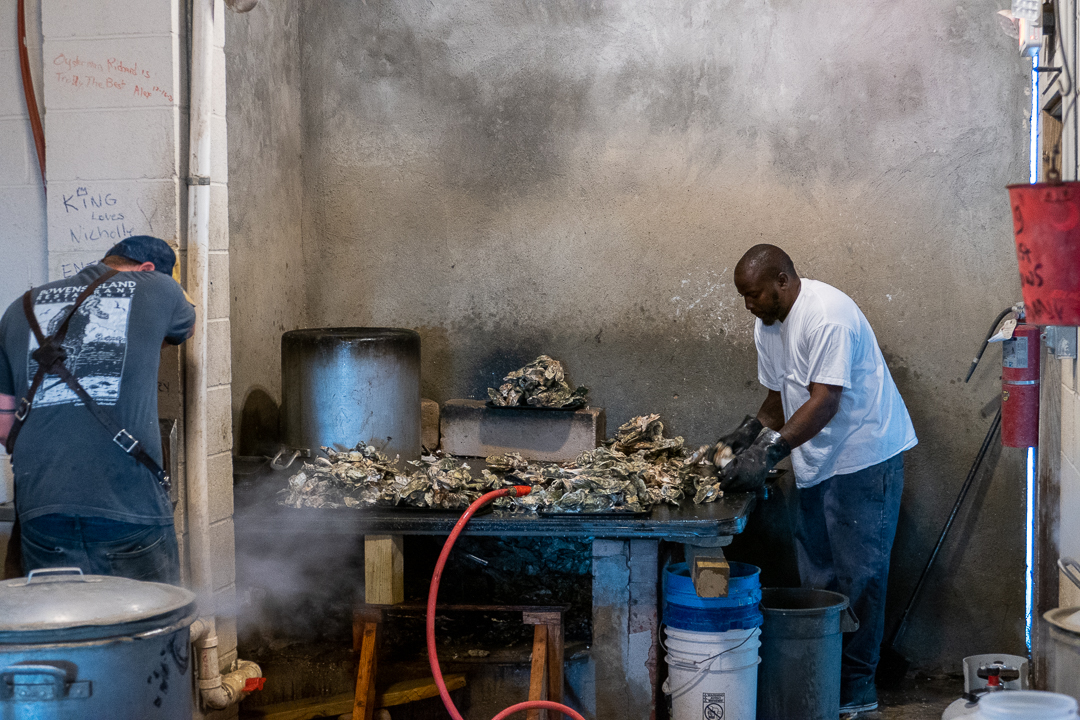 Soon enough, oysters were delivered to the table and our host, Austin, showed people how to shuck them.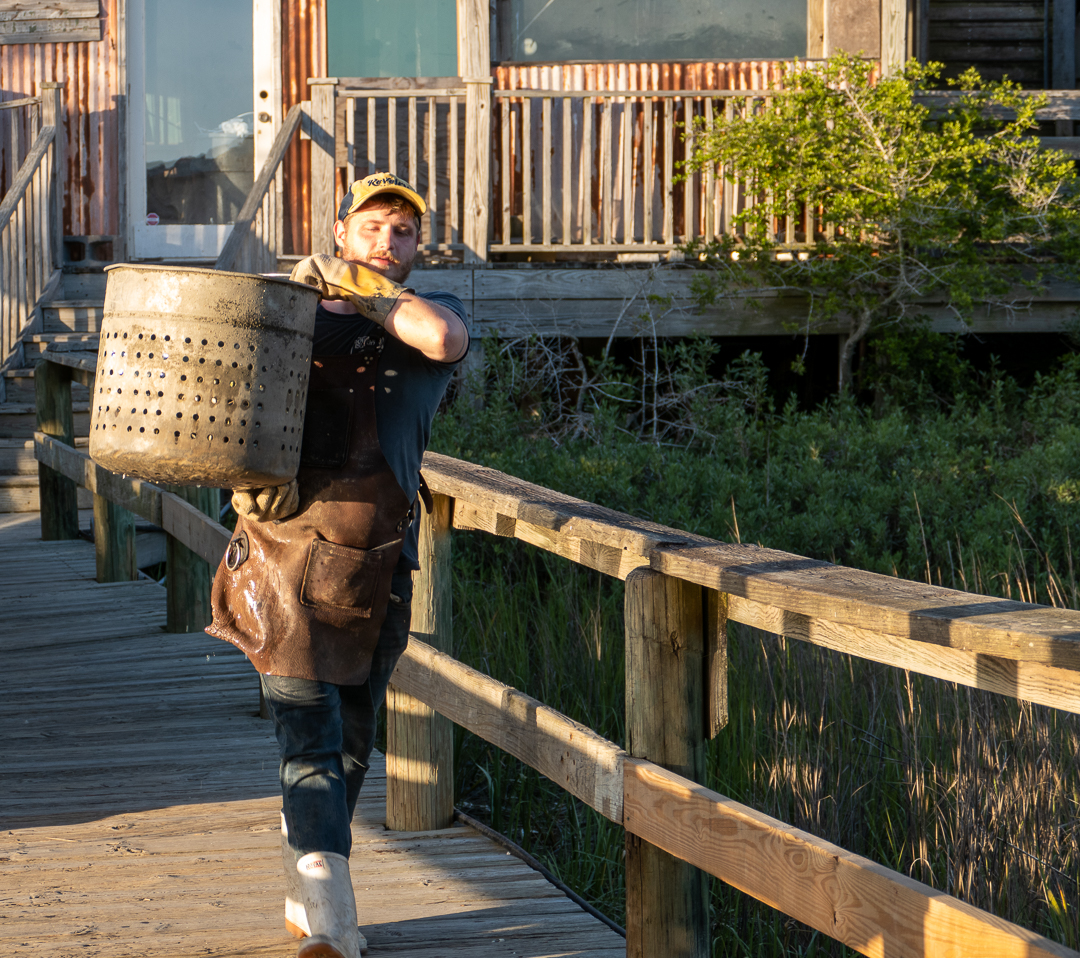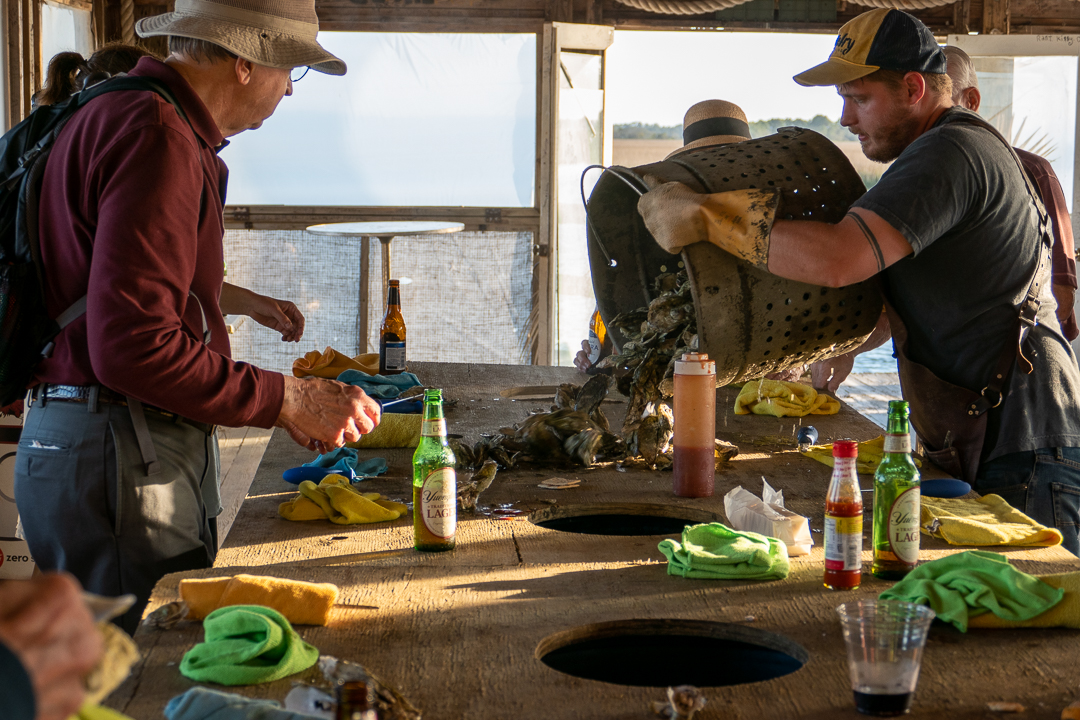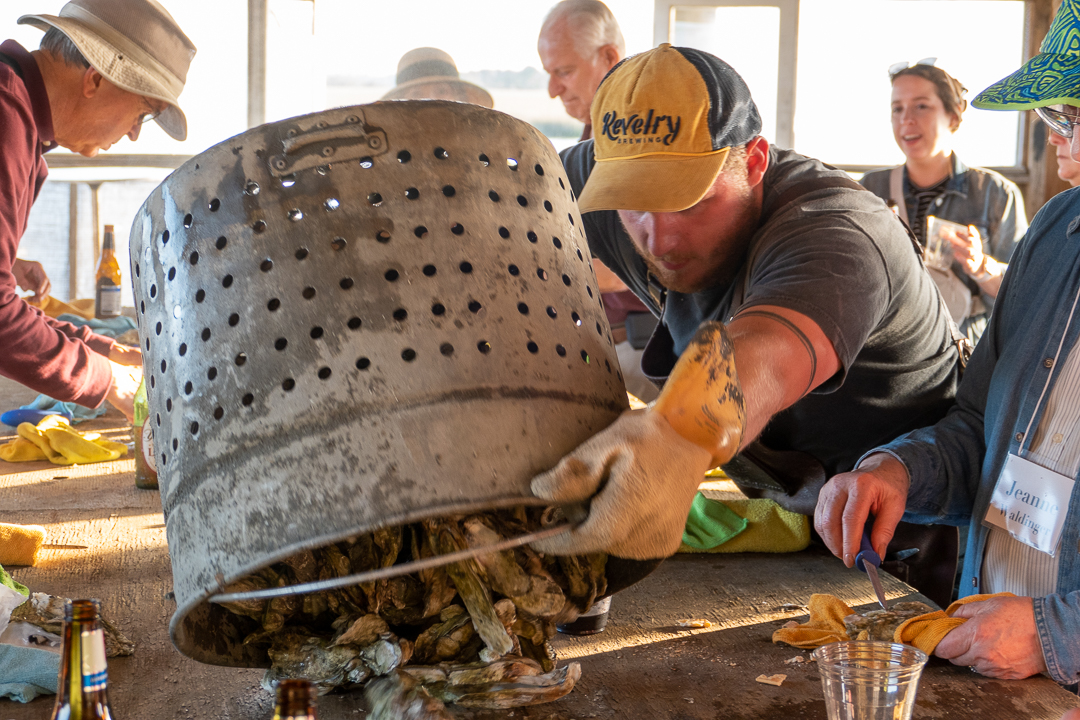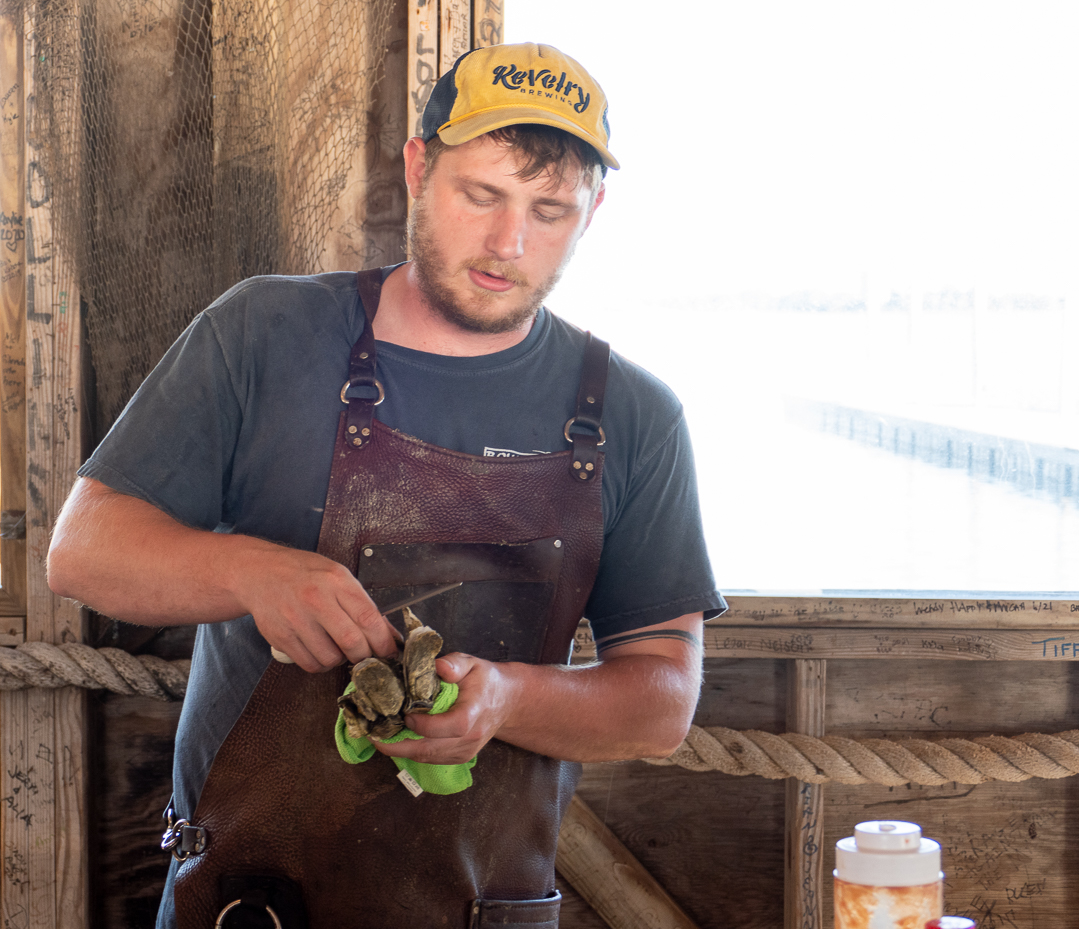 Everyone seemed to get the idea and they made short work of the oysters and the Frogmore Stew which followed. Well, everyone but Diane and me – our dinner was salad and pasta (not photo-worthy, I'm afraid).
Sunset was almost too pretty to be true.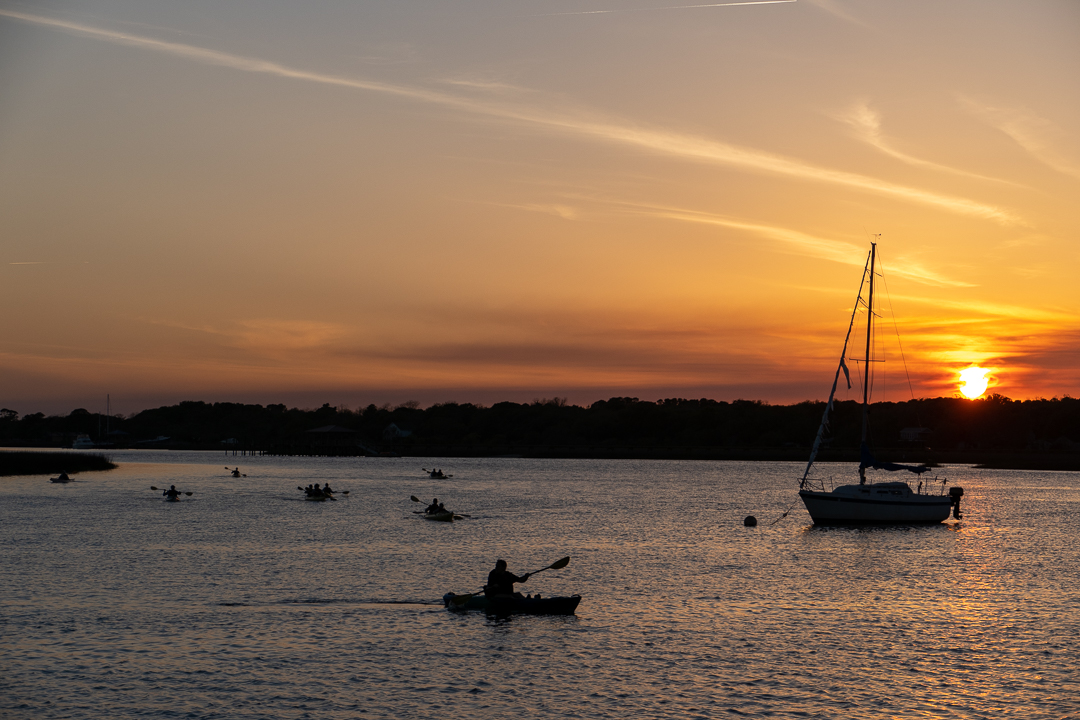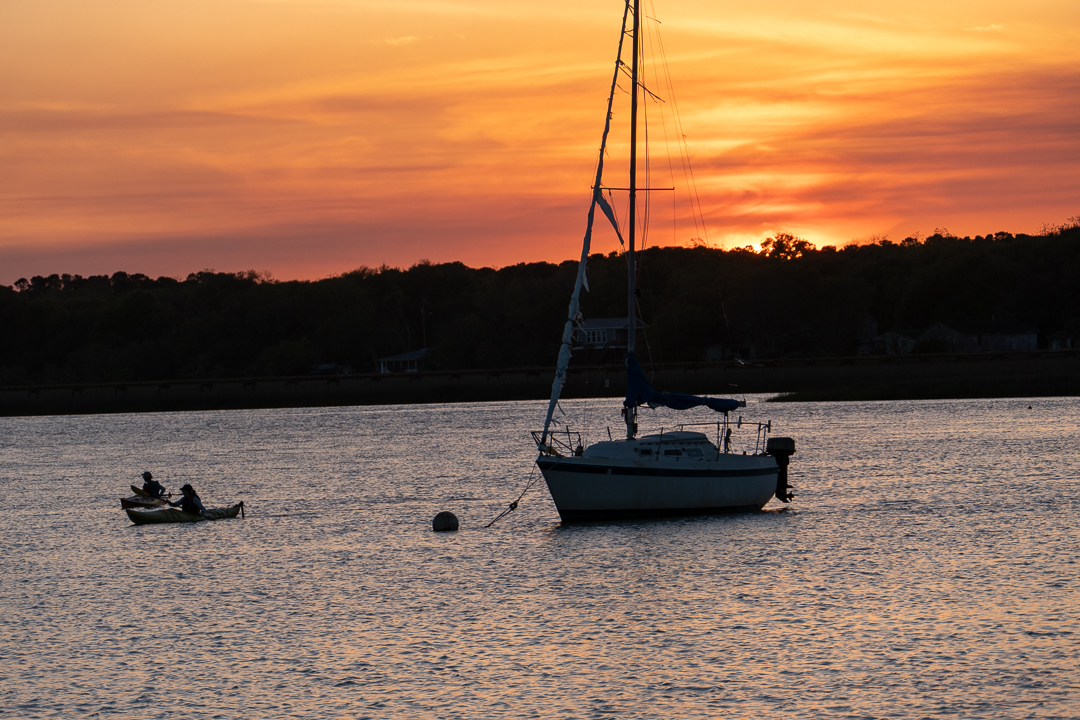 It had been a good evening, but we had to get back on the bus and return to Charleston.