I went to bed soon after writing yesterday's blog post (which I've revised to add another photo and make some corrections) and slept pretty well; I didn't hear the ship leave port nor did I notice our transit through the final lock of the trip. But I still felt under the weather, and when I sat down for breakfast, I had no appetite. My sister-in-law offered me a Covid test, and I wasn't exactly surprised to see a second line appear.
I called the cruise director and she told me that I should stay in my room until all of the excursions had left; then I was free to leave the ship and walk around Arles. I had a small breakfast delivered and ate it with a surprisingly good appetite; I guess knowing the situation made me feel better.
Diane also took a test and came out negative, so she went out on the morning's excursion; I carried a mask with me and explored Arles. I had three specific goals for the day:
Buy some Covid tests
Break a 50 Euro bill
Visit the Orange store in the mall and get my eSIM properly registered.
The first was easy; there was a pharmacy a few minutes' walk from the ship. Since I was wearing a mask when I walked in, the cashier had no problem figuring out what I needed, and now I have a couple of French Covid tests (if I'm reading the box right, they have English instructions inside anyway).
After I left the pharmacy, I started exploring. I knew I couldn't (or at least shouldn't) go into any museums, but I wanted to see what I could see from the outside. Fairly soon, I was walking through a narrow residential/commercial street and marveling at the skill of the local driver.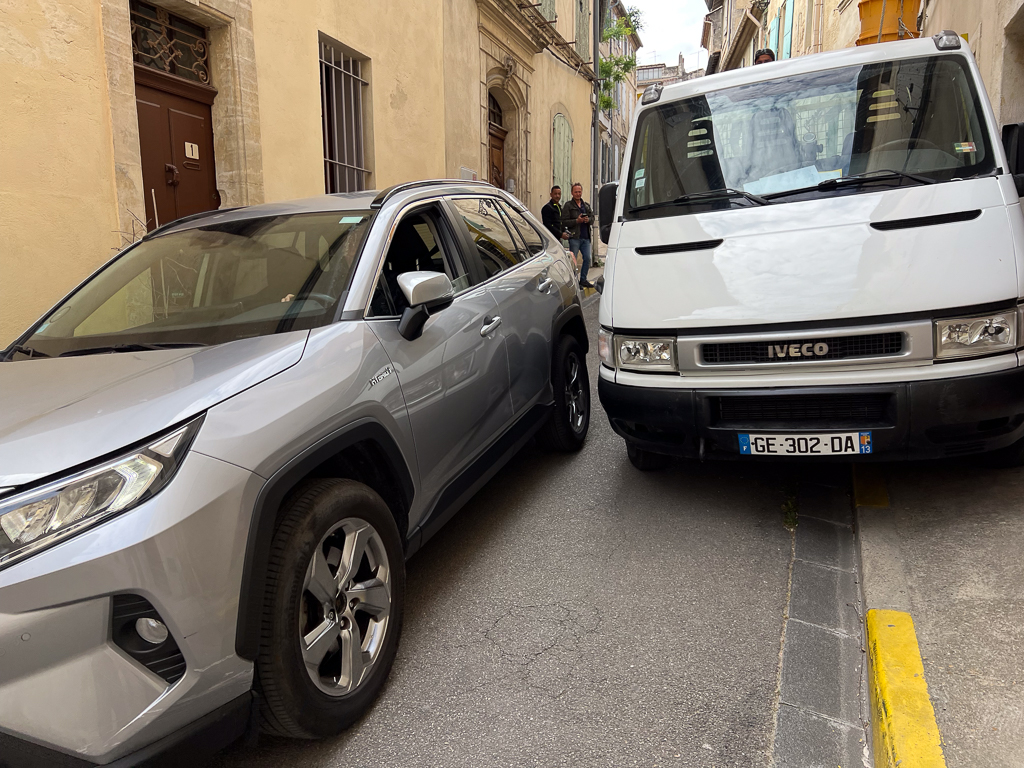 I walked over to the Arles Amphitheatre which would have been difficult to miss; it is a UNESCO World Heritage site and is still used as an amphitheatre a few times a year.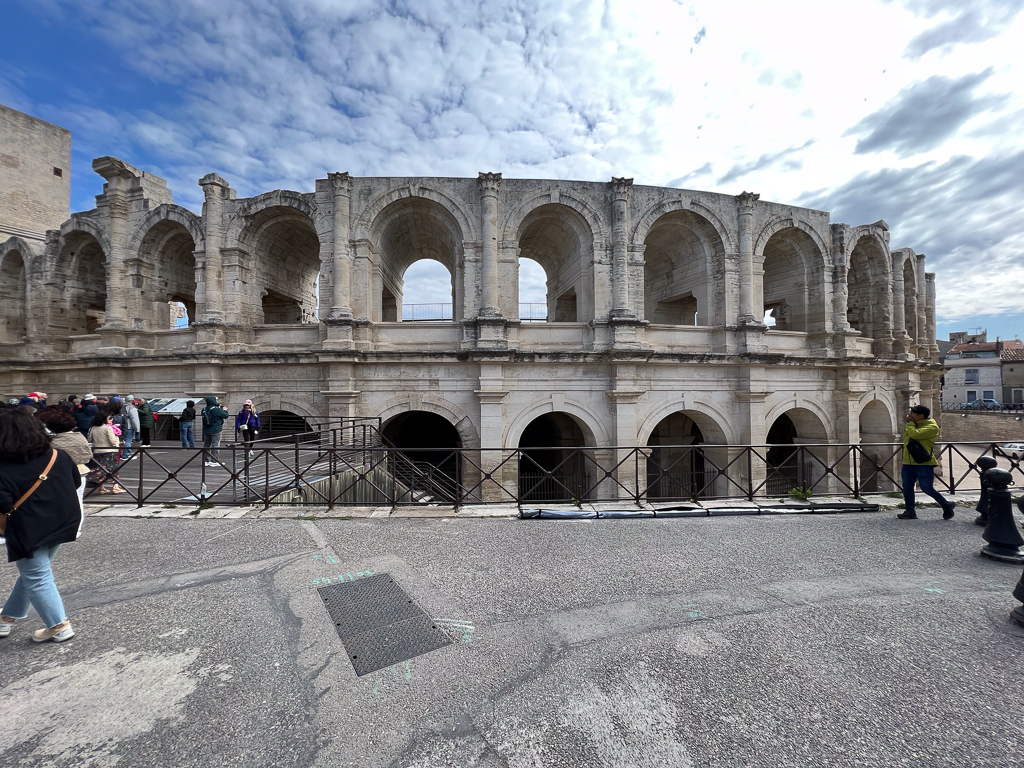 I followed another ship's tour group over to the Roman Theatre of Arles; it had not fared as well as the Amphitheatre, having been used as a quarry during the Middle Ages, like many other Roman structures.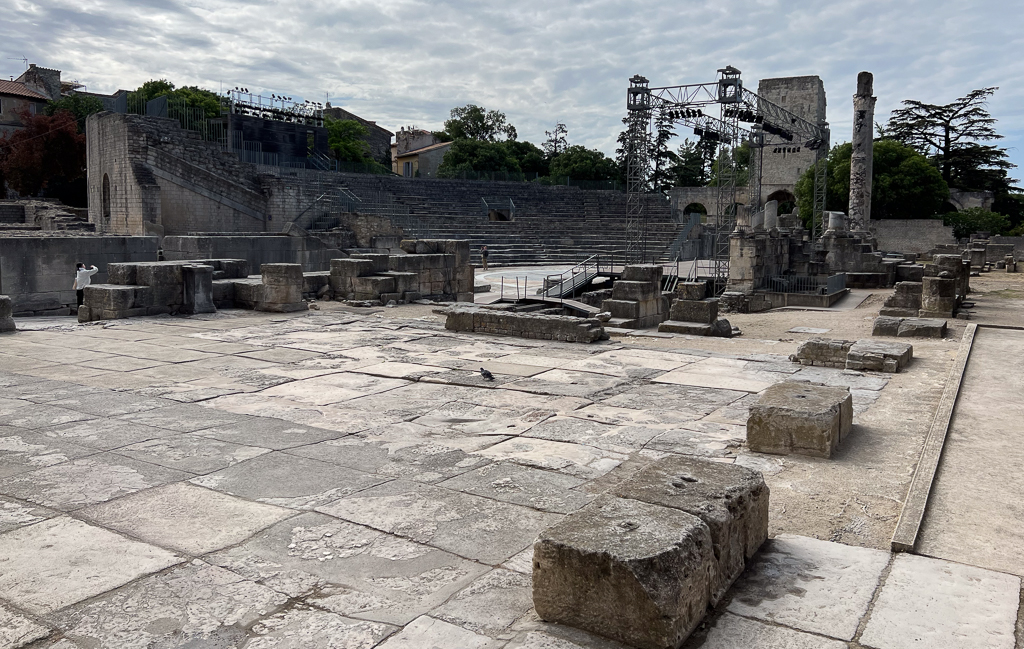 My next stop was the Fondation Vincent van Gogh Arles. I didn't miss anything there by having Covid because it's closed until early June to install a new exhibition.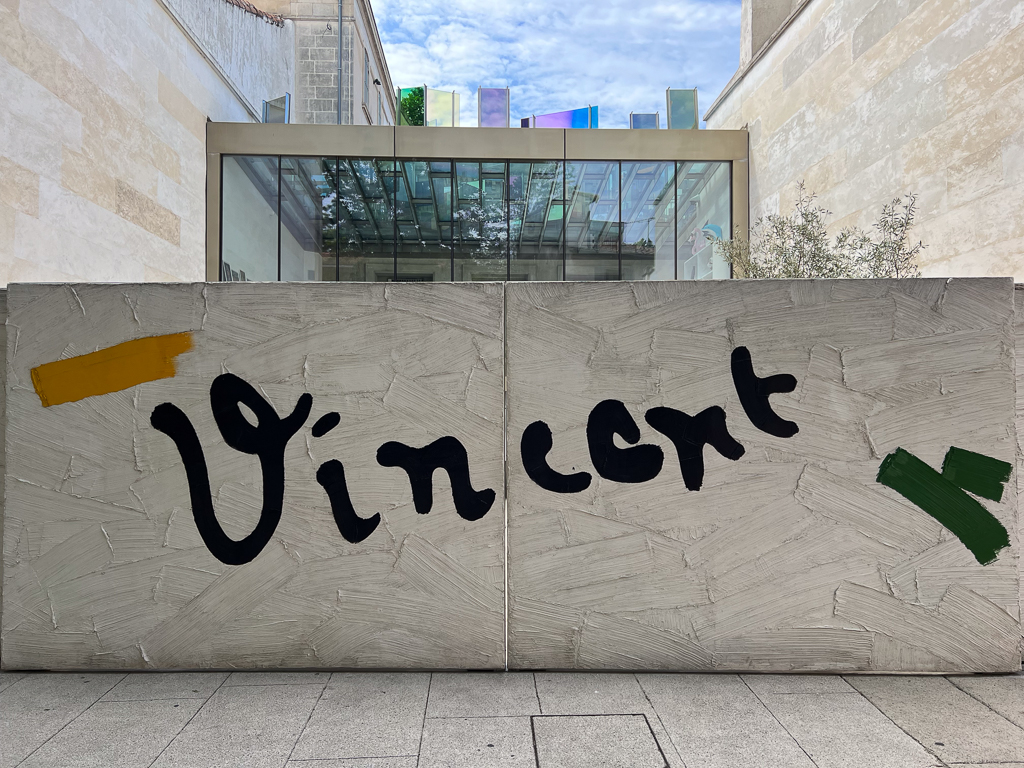 My next goal was to get my 50 Euro note changed. I walked through the streets adjacent to the Fondation in search of a bank, seeing quiet neighborhoods and the Hôtel-Dieu, which I'm pretty sure is the place Van Gogh stayed. It was being reconstructed, so I couldn't see the courtyard.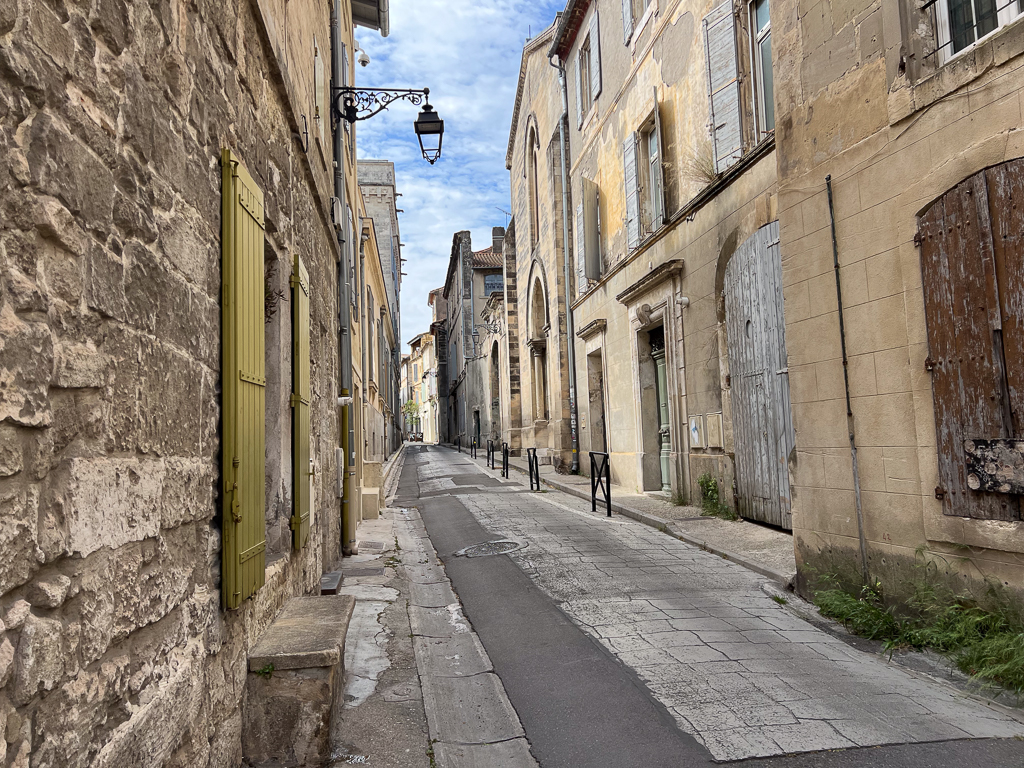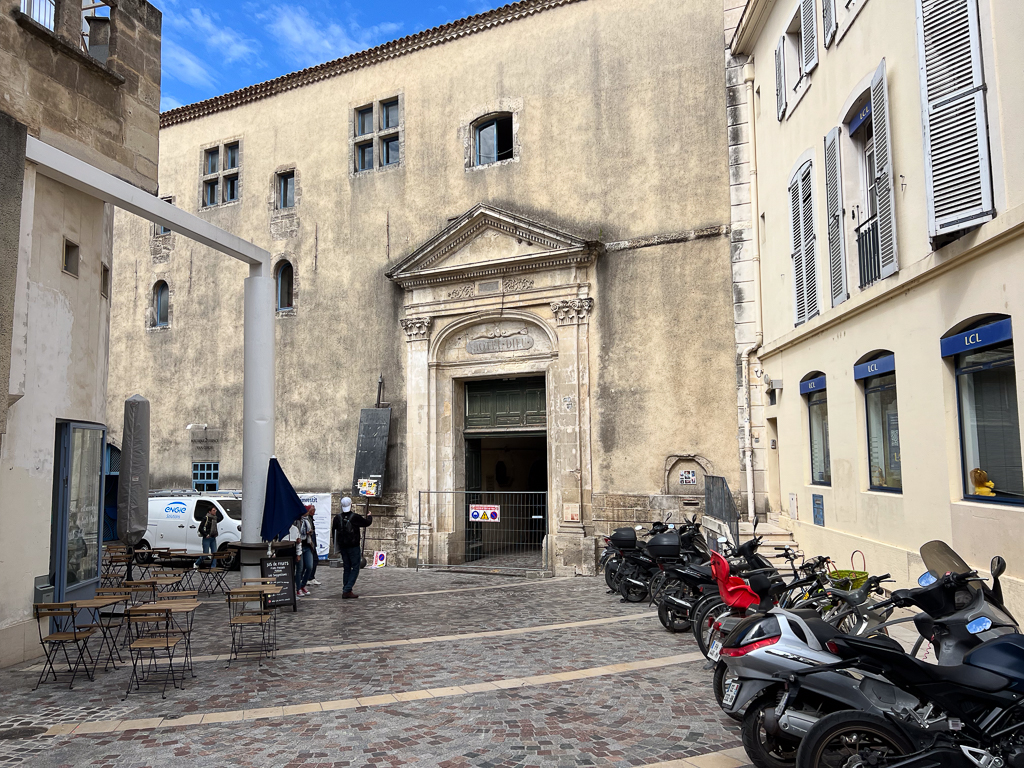 I visited two banks – both said "no change". I guess I should have bought the Covid tests with the 50 Euro bill!
My next goal was the Orange shop in a shopping mall a couple of kilometers away, near the bottom of the path on this map (our ship was docked near the top).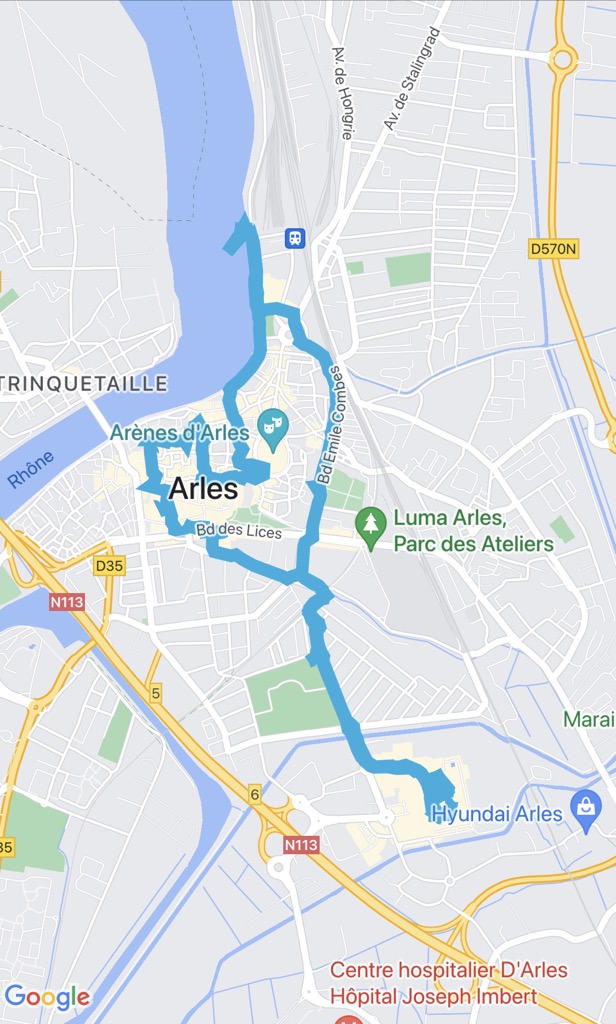 It wasn't a terribly interesting walk; I could have visited Alyscamps along the way. It's an old Roman necropolis (I guess there isn't any other kind, is there?) but I didn't want to spend the time or money.
The mall was disappointing (though it did have free toilets, not always the case in France!). It, like so many of the other structures I saw today, was mostly empty, though it did boast two hypermarkets, an electronics store, and three mobile phone stores, including the Orange store which was my goal. No one there knew English, and my small attempts at French were unsuccessful. I'm pretty sure that they don't sell the tourist-oriented eSIM that I wanted to register and even more sure that they weren't interested in spending time on a transaction that wouldn't generate a commission. Orange will have to comply with French law and invalidate my eSIM after 30 days, I guess, though I might try a store in Paris anyway.
There were some other large shopping centers nearby; one of them found an interesting use for some of their spare parking spaces.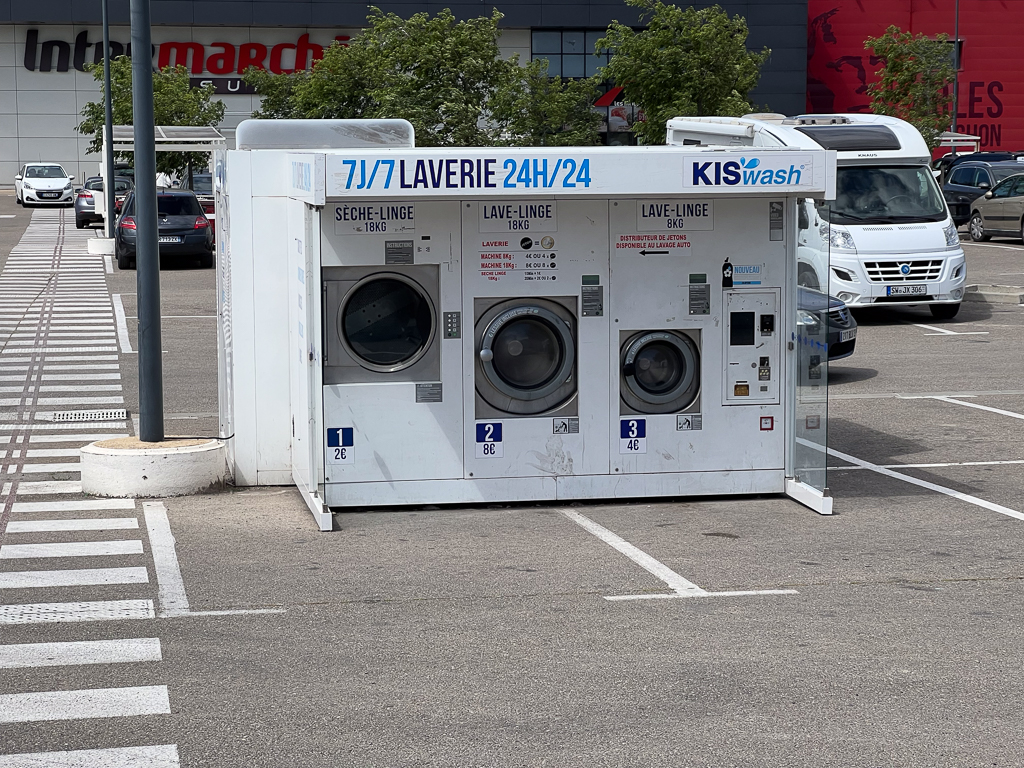 I took a more direct route back to the ship, passing the Tour des Mourgues, named for an old monastery nearby.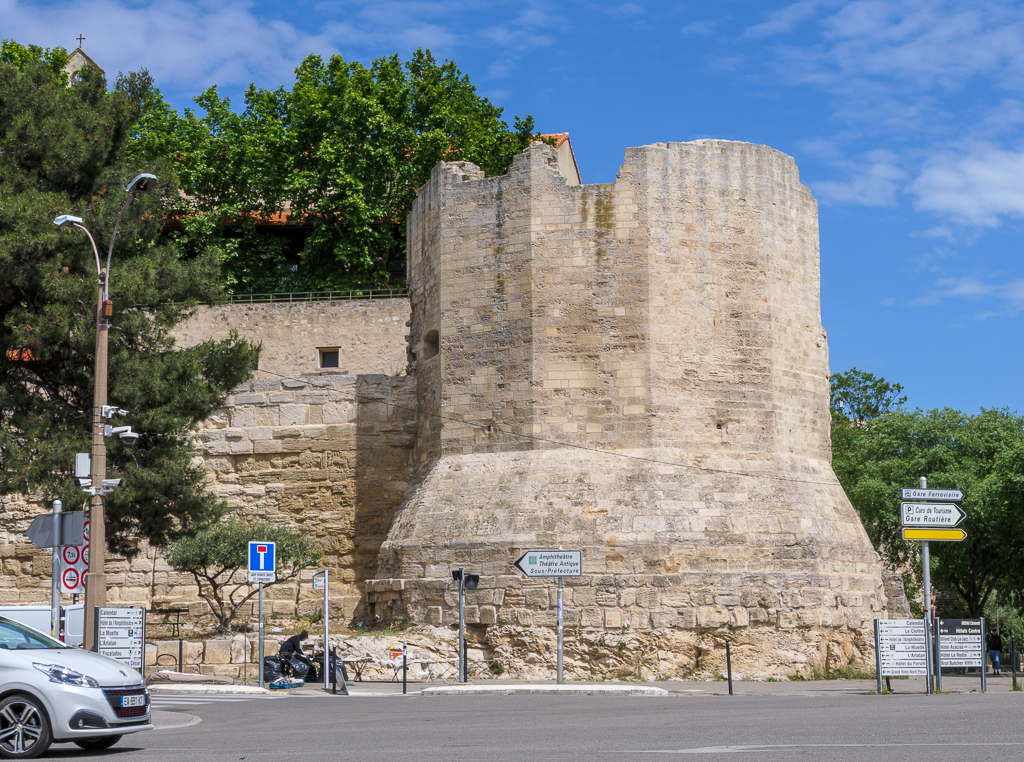 I also passed the Cimetière central d'Arles which reminded me of cemeteries we'd visited in New Orleans.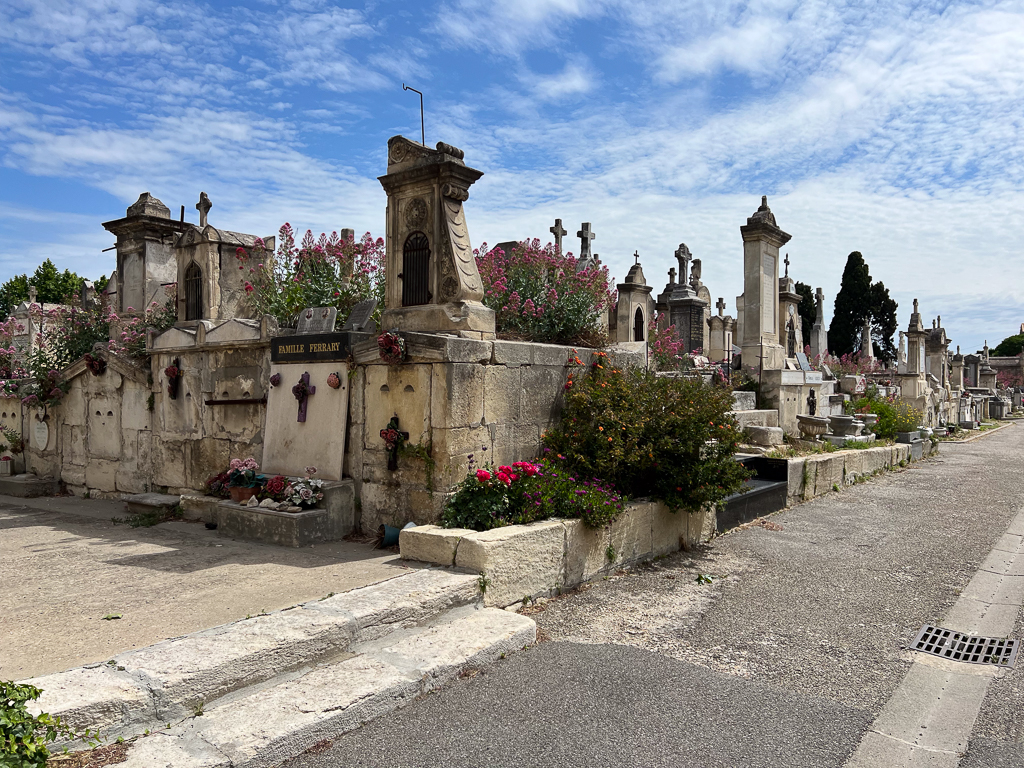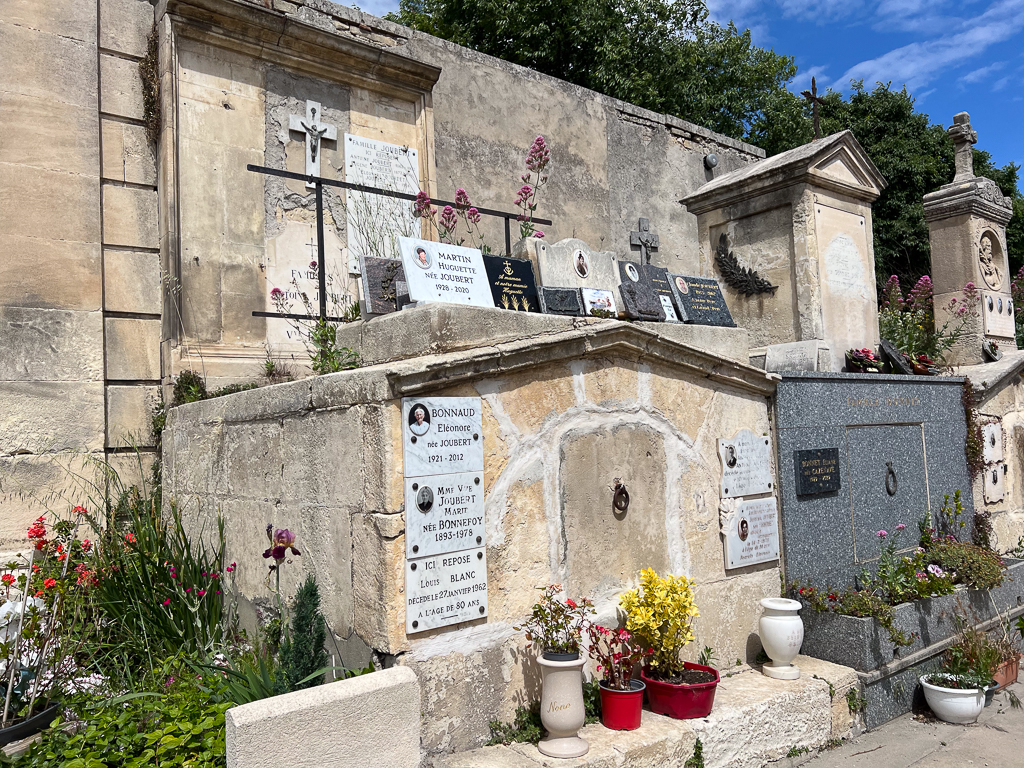 The Monument to the deported, Maquis, and Resistance fighters killed by the Nazis was just across the street.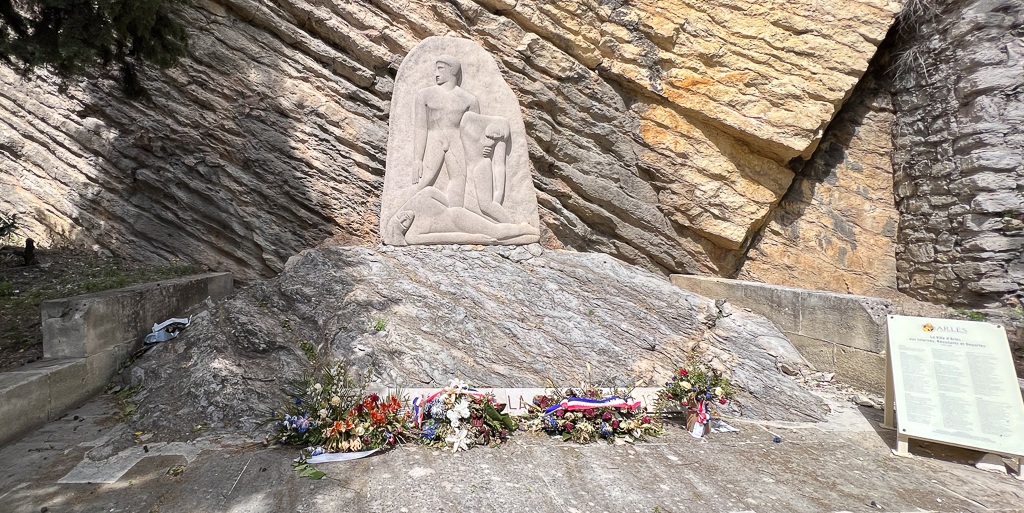 I walked past the Arles Open Air Market and was tempted to get a chicken pizza from one of the vendors, but I didn't see anywhere to eat it. I was also getting a bit tired; I'd walked over four miles by that point.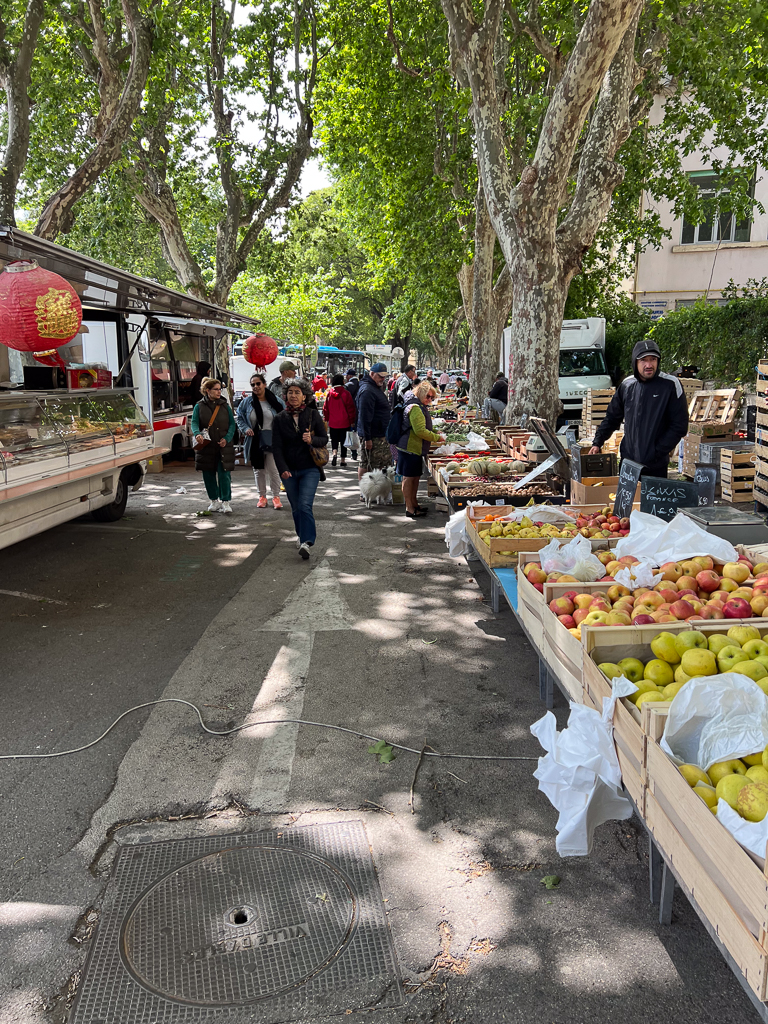 I was less than a kilometer from the ship and arrived well before Diane's excursion got back. She had lunch in the dining room; I had room service.
I had planned to go out for another walk this afternoon while Diane was on another excursion, but I fell asleep for an hour, and I've been writing this blog post since I woke up. The ship's Wi-Fi works much better when most people are away. :-)
For a day which started out with bad news, it was pretty good!